HSBC Women's World Championship
South Korea's Hyo Joo Kim becomes latest top-ranked player to end LPGA winless streak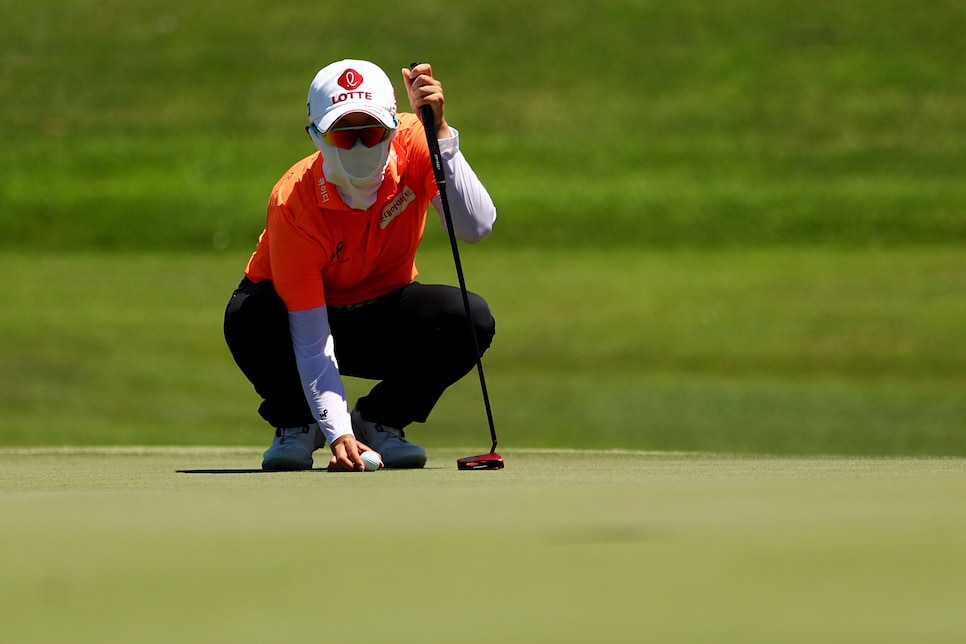 Hyo Joo Kim lines up her putt on the 18th green as she closed out a eight-under 64 to come from behind and win the HSBC Women's World Championship.
Yong Teck Lim
Hyo Joo Kim wore a full-face mask all week at the HSBC Women's World Championship, not because of COVID concerns but due to a severe sun allergy. Kim's hat and sunglasses covered the rest of her face, giving her the appearance of a beekeeper heading to work.
The coverings kept secret the emotions the 25-year-old South Korean was feeling as she made up a five-shot deficit coming into the final round at Singapore's Sentosa Country Club. With a bogey-free 64, Kim rallied for her fourth career LPGA Tour victory, but the first since the 2016 Pure-Silk Bahamas LPGA Classic.
"Winning after such a long time, it feels like my first win of all," said the former major champion (2014 Evian) through her translator after finishing at 17-under 271 for the tournament. "It feels like a dream at this moment."
Kim delivered a dream-like performance on Sunday, passing nine players en route to victory. Her first birdie came on the par-5 fifth and from there, she got on a roll, making seven more over her next 10 holes.
As Kim made her comeback, her biggest challengers came from her own group and the final threesome of the day. Patty Tavatanakit, recent ANA Inspiration winner, was playing beside Kim and made seven birdies of her own. A closing 65 left Tavatanakit at 15 under, two back of Kim, and eventually in a tie for third along with 54-hole lead Xiyu Lin and Inbee Park.
When Kim made her last birdie on the 15th hole, she also held a two-shot edge over Australia's Hannah Green, who was playing in the last group with Lin and Park. Green came into the tournament with momentum, posting top-15 finishes in her last three starts, including a T-3 a week ago at the Hugel-Air Premia LA Open. She lingered on the leader board Sunday before holing out for eagle on the par-4 14th, her second eagle hole out of the weekend, to tie Kim at 17 under.
As Kim watched from the players' lounge, eating a hot pot with friends to curb her hunger in case she had more golf to play, Green grabbed the lead with a birdie on the 16th hole. But the Aussie couldn't seal her third career LPGA win, her putter betraying her on the 17th and 18th holes. Back-to-back three-putt bogeys saw her finish one stroke back of Kim.
"Made a really good putt on 16 to make birdie, but obviously pretty disappointed to have two three-putts finishing," Green said, posting a closing 69.
After not playing at all on the LPGA Tour in 2020, deciding to remain in Korea and play the KLPGA in the midst of the COVID pandemic (where she won twice), Kim set a goal for 2021 to end her LPGA victory drought. Taking the title, however, also gives her some breathing room in trying to qualify for the South Korean team that will compete at this summer's Olympics in Tokyo. Ranked No. 9 in the Rolex Women's Rankings, Kim was solidly in the fourth and final spot on the team starting the week, with Jeongeun Lee6 the next closest Korean at No. 17. Kim missed out on representing her country in Rio in 2016.
The current four players slotted to represent Korea—Jin Young Ko (first in the Rolex Ranking), Inbee Park (second) and Sei Young Kim (third) joining Kim (9th)—have all won once on the LPGA in the last six months. Qualifying for the team ends June 28.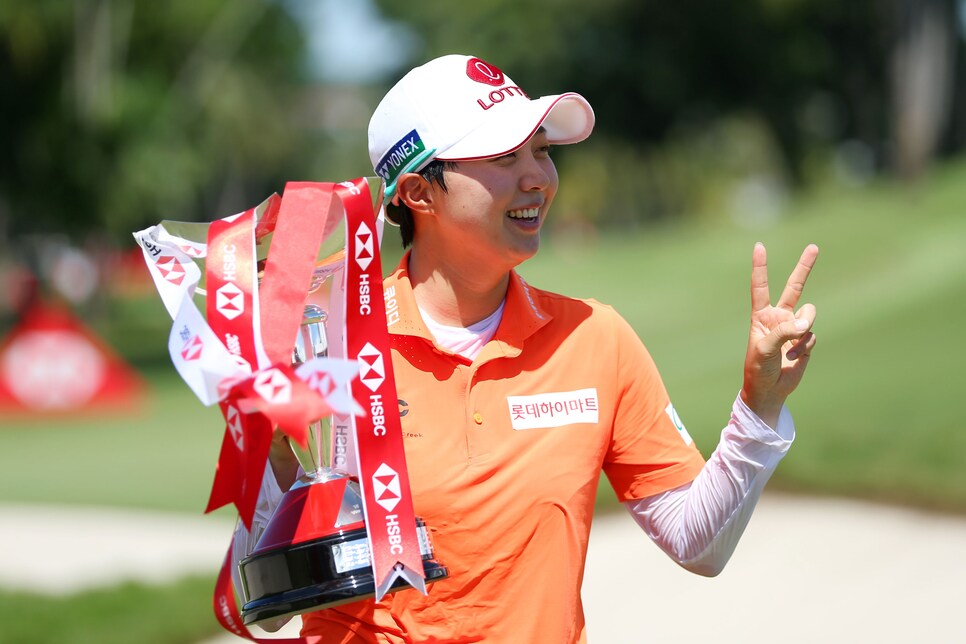 Hyo Joo Kim poses with the trophy after winning on Sunday at Sentosa Golf Club.
Lionel Ng
"I didn't really give a lot of thought about going to the Olympics," Kim said, "but I heard from my fans that they want me to end up on the Olympics. So with this win, I feel very confident to represent Korea."
Not to mention proud to be an LPGA winner once more.