USGA
Paula Creamer gets special exemption into U.S. Women's Open as she prepares to resume her playing career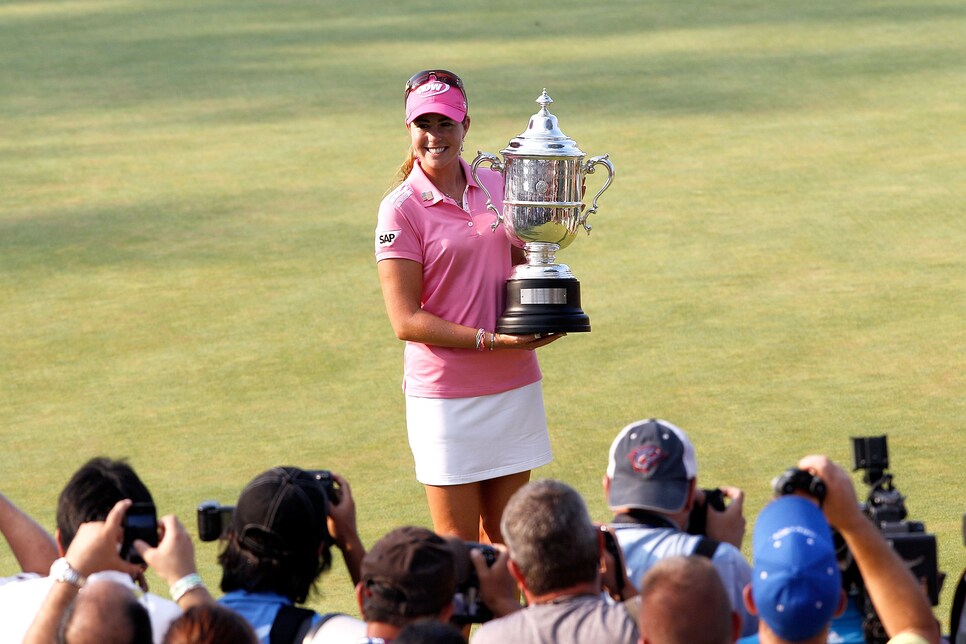 Paula Creamer poses with the trophy after winning the 2010 U.S. Women's Open at Oakmont Country Club.
Sam Greenwood
Just days after adding her name to the field at this month's Pure Silk Championship to resume her LPGA career after an 18-month hiatus, Paula Creamer has another tournament already lined up, this one a major.
On Monday, the USGA announced that it was giving Creamer, 34, a special exemption into the U.S. Women's Open, to be played at The Olympic Club in San Francisco, June 3-6.
Creamer, who won the championship in 2010 at Oakmont, the biggest of her 10 LPGA titles, saw the 10-year exemption into the Women's Open that came with that victory expire last year. With this year's championship being held essentially in her old backyard—Creamer grew up 45 miles from San Francisco in Pleasanton, Calif.—and being unable to play in last year's Open due to a nagging wrist injury, the special exemption was particularly meaningful to Creamer.
"Growing up in Northern California, one of my fondest golf memories is attending the 1998 U.S. Open at The Olympic Club with my father, which truly sparked my love for USGA championships and the complete test they present to the players," Creamer said during a virtual press conference. In addition to her 2010 victory, Creamer has five top-10 and 11 top-20 finishes in 17 career U.S. Women's Open appearances.
Creamer, who now lives in Florida, hasn't play on the LPGA since the BMW Ladies Championship in October 2019 for two reasons, according to her agent. Given the COVID-19 pandemic, Creamer only left her Windemere home to take a few trips to see her family. Additionally, her doctors advised giving her surgically repaired left wrist additional time to heal.
In September 2017, Creamer underwent season-ending surgery on her left hand. She returned to action the following March, but continued to have trouble the next two years. After taking the lead during the first round at the 2019 Evian Championship, her play noticeably dwindled. She finished T-55 and missed every cut in her remaining starts that had a cut. It culminated with a WD at the Volunteers of America Classic after missing five cuts in a row. After two weeks off following her WD, she played two events, the Buick LPGA Shanghai and BMW Ladies Championship.
In 2020, Creamer was hoping to start playing again, with plans to return in April. Once the pandemic shut the LPGA Tour down, her medical team told her she had no reason to pick up a club. When the LPGA announced that status from 2019 would carry over into 2021, her team did not apply for a medical extension. She has category 11 status from finishing 91st on the official money list in 2019, guaranteeing her status for the entire 2021 season.
Creamer focused instead on rest, not touching a club until November 2020 where she tested it on a range.
"It was quite the sight. I can tell you I hit some golf shots that I just never thought I could do," Creamer said. "I was very upset with myself for taking that much time off, as we always say. Two weeks is something, but when you take off seven, eight months that's a whole 'nother ballgame right there, but it was nice to be able to get the club in my hands."
The break has granted a reprieve for Creamer. It's the first time she has been pain-free in a long time. Her wrist feels healthier than it has since 2010, letting her feel comfortable practicing all day if she felt like it.
Creamer reconnected with her old coach David Whelan in late 2020 to get ready for tournament play again. Creamer last worked with him in 2018. He coached Creamer when she was at the IMG Academy as a teenager in the 2000s.
Creamer recently tested out her game competitively after a couple of months of practice. She played two events on the National Women's Golf Association in late March and late April. Her last start was April 20-21 at Hawks Landing Golf Club in Orlando, Florida, where she shot one over for the two day event.
She debated starting earlier in the 2021 season, but settled on Kingsmill, where she finished second in 2012, losing a playoff to Jiyai Shin on the ninth extra hole. Creamer anticipates playing full time from now on.