The Grind
Jason Day's Mother's Day comeback, Tiger Woods' challenge to Charlie and an 'unplayable' pin placement wreaks havoc
Welcome to another edition of The Grind, where we have a major announcement to make that doesn't involve this week's major championship at all. I'm happy to report that Christopher Powers and I will be joining forces (and struggling golf games) to compete in the inaugural Golf Digest Open. If you don't know about the GD Open, check out this SIZZLE reel below then head here for more info on signing up:
Yep, this is MAJOR, indeed. Some might even say it's GLORY'S LAST SHOT. At least, for two washed up golf writers. OK, let's talk about everything else going on in golf right now, including, yes, that other major on tap.
Jason Day: Don't you love it when a good script comes together? Five years after his last win and while honoring his mom, who died in 2022 after a long battle with lung cancer, on Mother's Day, the Aussie shot a final-round 62 to win the 2023 AT&T Byron Nelson.
Since starting the 2022-2023 PGA Tour season ranked No. 175 in the world, Day had been enjoying a resurgence with six top-10s, but this was a whole other level. A level, of course, that we used to expect from the former World No. 1. And, yes, TPC Craig Ranch was playing particularly easy on Sunday, but that chip on 17 to save par and this wedge on 18 to set up the winning birdie were sensational:
Not surprisingly, Day was pretty emotional after. The guy has been through a lot with his mom. And the chronic back pain. And the vertigo. And you can tell just how long its been since he's won by looking at how much bigger Dash Day is than from Jason's last win: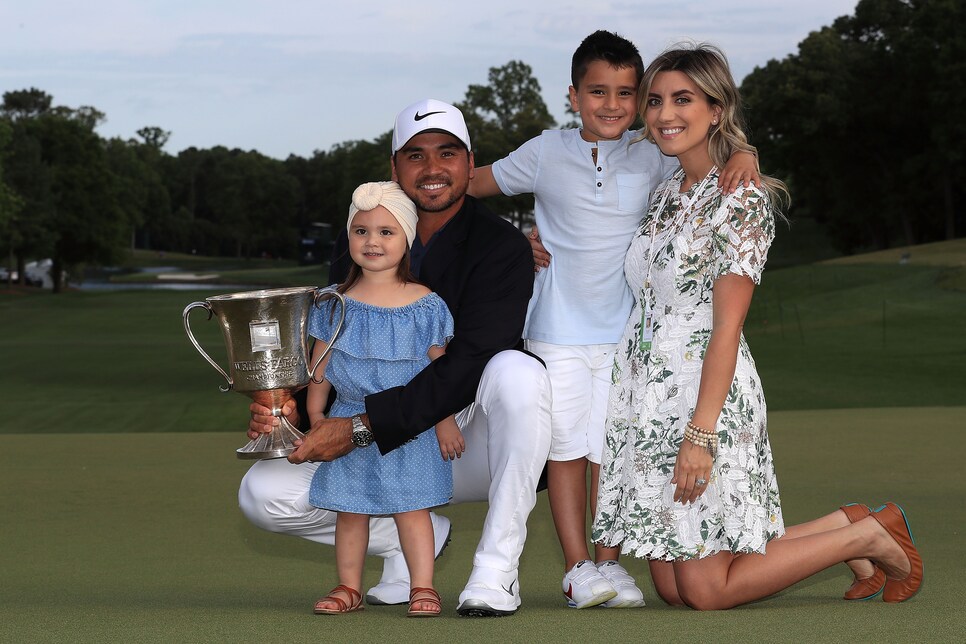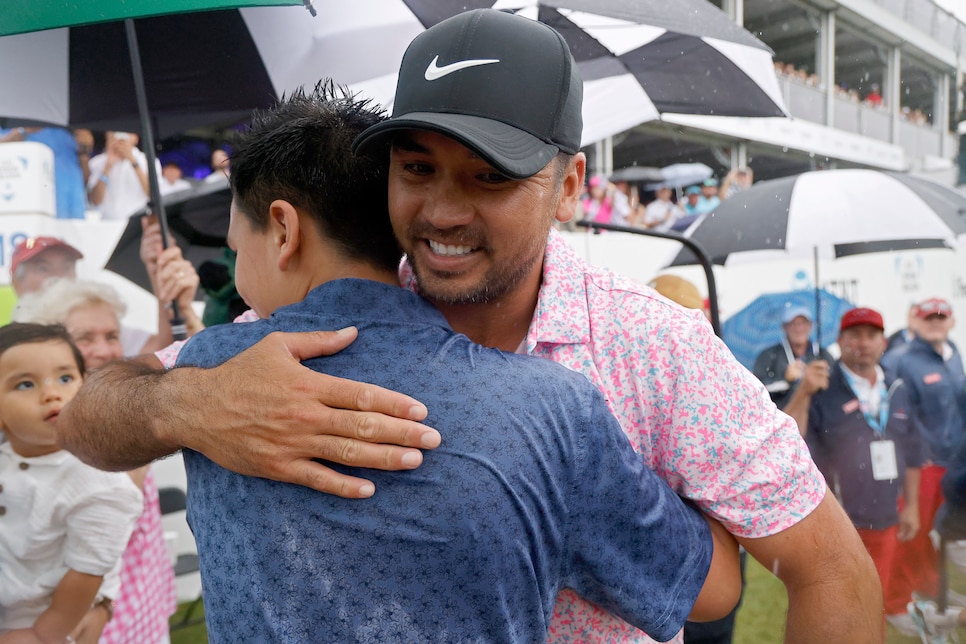 Little man looks all grown up! Anyway, it's great to see Jason—and Dash—back in the winner's circle.
Jin Young Ko: Speaking of another former World No. 1 who looks back in top form, Ko beat Minjee Lee in a playoff to win the LPGA's Cognizant Founders Cup. After going a year without a win (seemingly an eternity for someone of her skill), she won in March and now another victory signals she could be just starting another heater.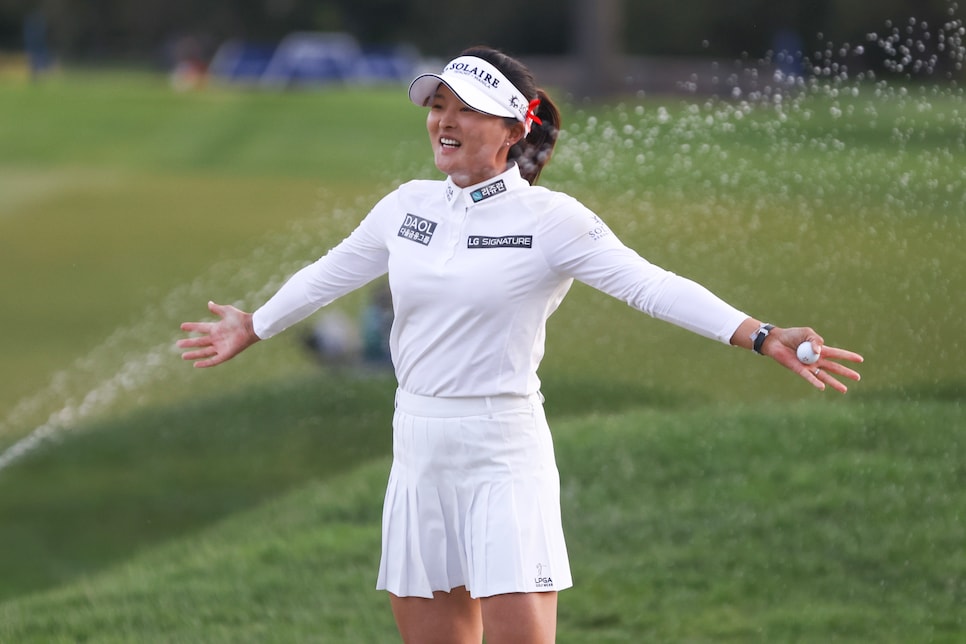 Ko is now back up to World No. 2 following her 15th career LPGA win. And she now has 20 Hall of Fame points of the 27 needed. At this rate, she could get there by the end of this year.
Howard University: The Golden State Warriors dynasty may be coming to an end in the NBA, but Steph Curry has started another one by funding the Howard men's golf team. Last week, the Bison authored their strongest performance yet, winning the PGA Works Collegiate Championship by a staggering 57(!) shots.
Everett Whitten Jr. led the way by winning the individual championship and ending teammate Greg Odom Jr.'s chance at a three-peat. Still, it was Odom who went viral for this amazing shot and reaction during the first round at Shoal Creek:
What swagger! So confident in a shot you don't even have to watch? Yep, Steph must be proud.
LIV Golf's big finish: Earlier this year, I knocked LIV's biggest stars for their poor play so it's only fair to point out that they're playing well now. The result was a dream scenario for CEO Greg Norman, a playoff between Dustin Johnson and Cameron Smith (and Branden Grace) that Johnson wound up winning.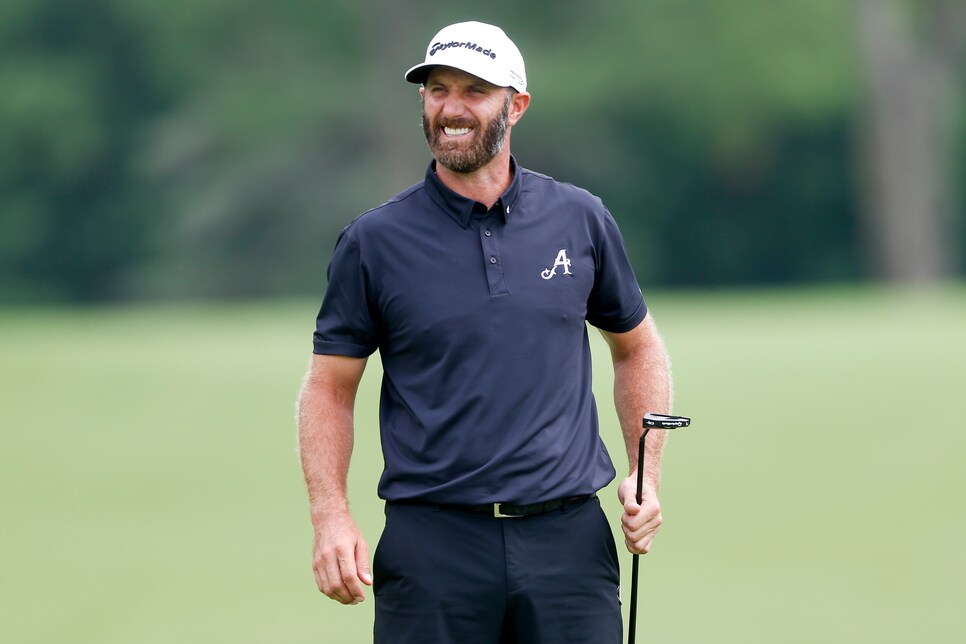 Those guys look to be shaping up nicely for this week's PGA Championship, and as we know from the Masters, guys like Brooks Koepka and Phil Mickelson are still capable of contending in the big events. But more importantly for LIV, you need your stars playing well to put butts in the seats. That being said …
LIV Golf's big whiff: Many of the fans watching on their butts at home missed the dramatic finish with most affiliates of the CW switching to already-scheduled programming when the rain-delayed golf tournament ran past its allotted time slot. In some markets, this transition was rather abrupt:
Rough. And the list of shows seen instead (from Penn & Teller to Modern Family to Family Feud) was something else. Yes, you could still watch on either the CW or LIV app, but for a league trying so hard to be taken seriously, this turned out to be a frustrating finish.
Sungjae Im's travel schedule: Golf's new Road Warrior is no stranger to a dizzying schedule and racking up frequent flier miles, but what Sungjae is doing this month is wild even for him. Im went directly from the Wells Fargo in Charlotte, N.C., to South Korea and now is back in Rochester, N.Y., just days later for this week's PGA Championship. Oh, yeah, the guy won in Korea:
What a stud. Somewhere, Gary Player is shedding a tear of joy.
This pin position: It seems like once a year viral videos of a crazy pin placement go viral, but never has one led to such a stunning result. After more than half the field finished their third round at the NCAA D3 Women's Golf Championship, the committee running the tournament decided to wipe out all the scores from that day due to this particularly devilish hole location on the 308-yard, par-4 sixth at Mission Inn and Resort's El Campeon Course in Howey-in-the-Hills, Fla.:
And before you make any "The greenskeeper woke up on the wrong side of the bed that morning!" jokes, know that this was the NCAA's doing. So I guess the NCAA woke up on the wrong side of the bed that morning. Or was still asleep during that decision.
Mark Daigneault's golf swing: The Oklahoma City Thunder head coach participated in the LIV Golf pro-am in Tulsa, and, well, yikes:
Oh, boy. He's going to be hearing about that from his players for a long, long time.
The PGA Tour heads to Rochester, AKA the home of Wegman's, for the PGA Championship, AKA the one with the biggest trophy. This is also the men's major run by the PGA of America, which is different from the PGA Tour. And for all those out there who are still confused by this and what other organizations run what in pro golf, I put together this handy idiot's guide. Also, we're pretty sure the PGA of America won't have any pin positions like that D3 one. If this was the USGA, however … well, you never know. Oh, and to get you ready for the PGA, have a listen to our chat with legendary instructor and TV/radio star Michael Breed on this week's The Loop podcast:
Random tournament fact: Ten years ago, Jason Dufner won his lone major at Oak Hill—and then got the worst-looking plaque ever made in someone's honor:
Dufner withdrew from the event last week. It's unclear if the plaque had anything to do with it.
RANDOM PROP BETS OF THE WEEK
—Chris and I will win the Golf Digest Open: 1 MILLION-to-1 odds
—Justin Thomas will win the PGA for a second straight year: 28-to-1 odds (Actual odds)
—Chris and I will drink more beer regardless of the outcome: LOCK
That is wild. At least she picked a decent name. Also, great tweeting, pards!
CLUB PRO GUY TWEET OF THE WEEK
And that's why I haven't used a golf glove for more than a decade. Those things get nasty quick when your hands sweat like mine. Plus, I was tired of giving so much money to BIG GLOVE.
VIRAL VIDEO(S) OF THE WEEK
First, this TaylorMade gem of Tiger Woods telling Scottie Scheffler he doesn't take divots when he's in the zone made the rounds:
As Christopher Powers, my co-worker and GD Open teammate, pointed out, I love Tiger's casual cockiness. As well as Scottie's stunned reaction. And in another one of these, Tiger gets a bit cocky again when talking to Collin Morikawa about competing with his son, Charlie, on the course:
"Good luck." Perfect. Get well soon, Big Cat.
THIS WEEK IN PUBLIC DISPLAYS OF AFFECTION
Brooks gave flowers to all the moms of the LIV Golf staff:
Awww. Jena Sims must have gotten an entire garden of roses then.
THIS WEEK IN PUBLIC DISPLAYS OF ATTIRE
Speaking of significant others, the PGA Tour Wives Association celebrated its 35th anniversary with a swanky dinner that included a red carpet entrance. Which led to golfers giving great responses when asked "Who are you wearing?"
We did not see Stewart Cink being such a style king, but the rest of the video went as we expected.
"But I feel a lot cleaner and healthier and feel like I can live to over 100 now finally. A year and a half ago I was like, oh, man, that thing that I talked about living to 120, I don't know if I can get there now with the weight I put on. A little different now." —Bryson DeChambeau. He might be back, folks.
Congrats to Steve Stricker for winning the Regions Tradition by six shots for his fifth career PGA Tour Champions major. This result was so obvious he barely shed a tear. … John Daly withdrew from the PGA Championship, joining fellow past champs Vijay Singh, Davis Love III, Jason Dufner and Martin Kaymer on the sidelines. Good news for alternates this week! … Kudos to Will Knauth for shooting a second-round 71 at the Byron Nelson. Why? Because he's an amateur currently working on a PhD in stats at Columbia. Talk about a guy you'd want your daughter to bring home. … And, finally, speaking of great catches, in case you missed it, Calvin Johnson was on last week's episode of The Loop podcast—and I'm still pinching myself: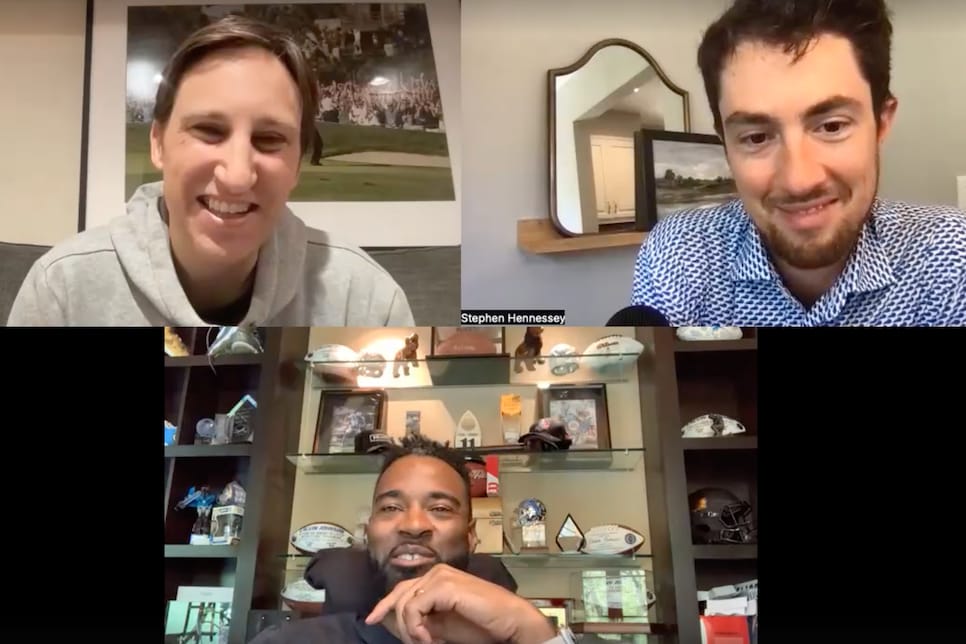 I'm also kicking myself for dressing like a bum on these. If Stewart Cink is watching/reading, I promise to do better.
RANDOM QUESTIONS TO PONDER
Would Calvin consider coming out of retirement to join the Giants?
How long will Bryson DeChambeau actually live to?
Does Michael Breed have any free time before the GD Open?