Slumps happen to all golfers, and they happen for any number of reasons. But slumps tend to end for just one reason—a player's steadfast refusal to let the game beat him.
Heartsick over the failing health of his mother and frustrated over his own myriad maladies that prevented him from remaining one of golf's top players, much less enjoying a game that had meant so much to him since he was a boy, Jason Day nearly called it a career a couple of years ago. Chronic back problems not only made golf more challenging but also downright painful. He couldn't practice like he wanted to—or needed to. He played too many events simply because he had to. "It was a stressful time," he said.
His mother, Dening, lost her five-year battle with cancer last year. It was Dening who sacrificed for her son so he could chase his dream of a career in golf. And then it was his wife Ellie who offered continual support and encouragement as Day went about rebuilding his game with swing coach Chris Como.
On Sunday, Mother's Day, both women were on his mind.
Having shown signs of a resurgence most of the year, Day finally found his way back to the top, winning for the first time in more than five years with a one-stroke victory at the AT&T Byron Nelson in McKinney, Texas. It took an impeccable performance, which perhaps made it all the more satisfying, as Day assembled a bogey-free nine-under 62 at TPC Craig Ranch.
The victory, worth $1.710 million, was the 35-year-old Australian's 13th on the PGA Tour and it came 13 years after his first one, also at the Nelson. In outdueling a half-dozen challengers on a damp afternoon, the former World No. 1 snapped a winless drought stretching 1,835 days. Day, who lived in Dallas when he won that first time in 2010 (when the event was played at TPC Four Seasons Resort) capped a 23-under 261 total with a two-foot birdie putt on the par-5 home to edge Si Woo Kim and rookie Austin Eckroat.
"It's been a struggling few years, and to be able to go out … five years since my last win ... and to be able to go out and get the win the way I played today, was really special," Day said, surrounded by a pregnant Ellie and their four children. "I'm very pleased how things have progressed over the last couple of years for me.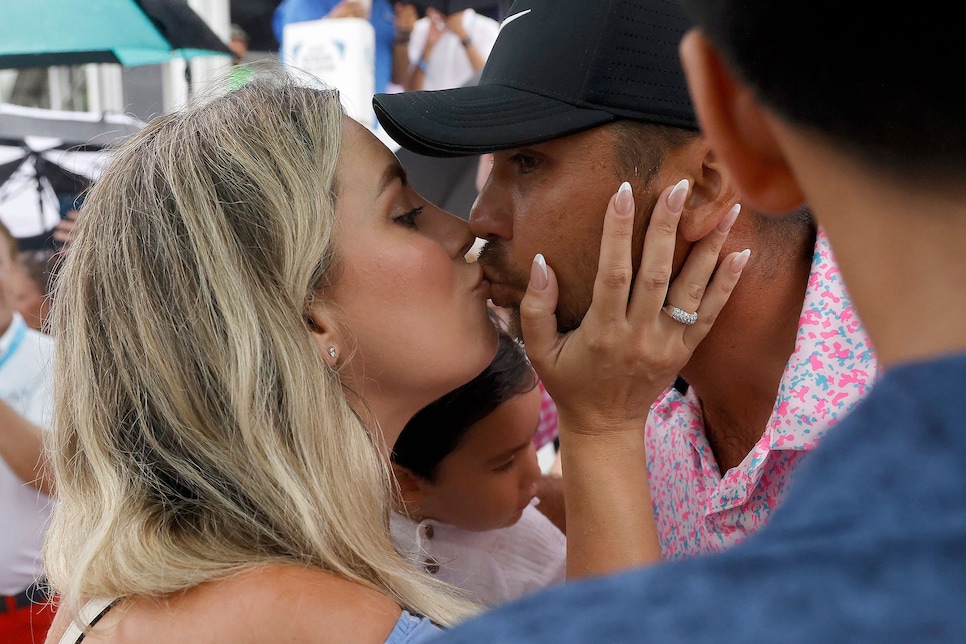 "Just nonstop grinding and nonstop wanting to improve and trying to get better," Day added, talking about his career comeback. "I've had a lot of injuries with my back and for a moment there I thought I wasn't going to play again. Just trying to get through those two years, just trying to get through a tournament was difficult. To be on the other side of it, to be healthy, feeling good about my game, finally winning again … yeah, it's no better feeling."
Day broke down in tears after the victory hit home. It wasn't just because of the length of time between wins but because all that had happened in that span.
"Yeah, I was in tears for a little bit there, and to think about what my mom went through from 2017 on to her passing last year and then to know that … it was very emotional to go through and to experience what she was going through," he said. "Then I had injuries on top of all of that going on in my life. To be honest, I was very close to calling it quits. I never told my wife that, but I was OK with it, just because it was a very stressful part of my life.
"Ellie, she never gave up on me trying to get back to the winner's circle again. She just always was pushing me to try and get better."
Of course, Day, who began the 2022-23 PGA Tour season last September ranked 175th in the world, realized that he wasn't ready to let his career fade away. He won five times in 2015, including the PGA Championship at Whistling Straits in record fashion, and reached the top of the World Ranking, and even if he couldn't work on his game as assiduously as he once did in recent years after hooking up with Como in late 2020, he never stopped thinking about it.
"I would be up at 2 in the morning thinking about my golf swing, 1 in the morning calling Chris saying, 'Hey, man, like I've got this thought, what do you think?' And then I'd go out and practice the next day," he said, underscoring how determined he was to rebuild his game.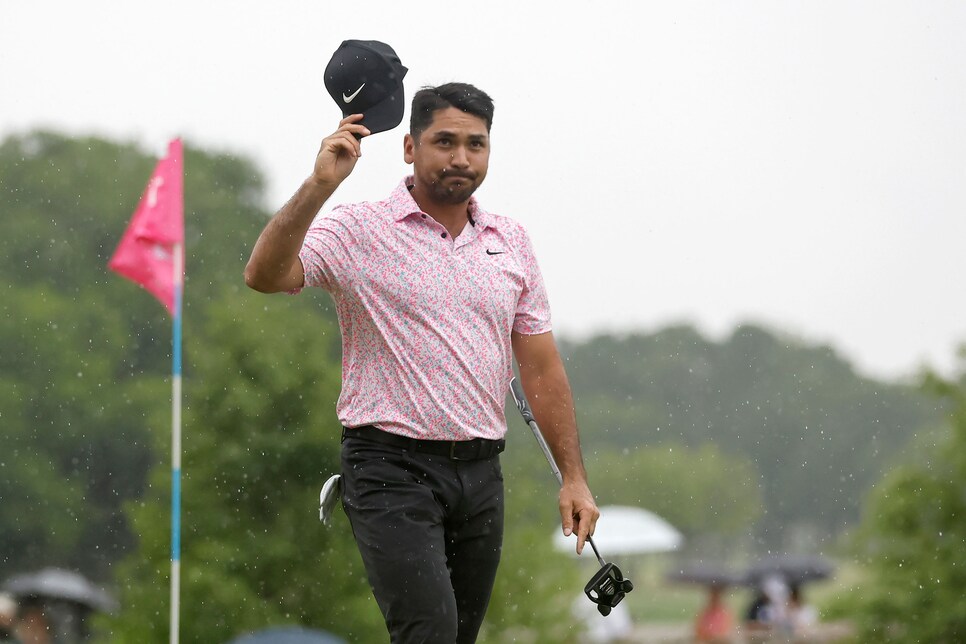 That's a far cry from what he was thinking just a year or two earlier. He explained his tortured mindset: "Yeah, it was at least a couple years ago when I was just struggling. My thought process was to go, 'OK what's my contract minimum that I have to play?' It's 20 events. Can't practice Monday, Tuesday or Wednesday really. If I'm playing the pro-am then I'll struggle to get through that, that's fine, I'll get through that. Get in Thursday, Friday, if I make the cut, great, and if I don't, that's a tick off the tournament list. To have that mindset, to even just think about the way that I was thinking, just to try and get through a tournament because of how much pain I was in, it's not a healthy way of playing golf in general, not a healthy way of just living in general."
Day was hardly ever in trouble or struggling on Sunday and led the field in strokes gained/tee to green for the week at 2.736 strokes. But it was his still-sparkling short game that put him on the path to victory amid a bunched leaderboard.
He was part of a five-way tie for the lead until he chipped in for birdie from 37 feet at the par-4 12th hole—the most difficult on the golf course—to get to 20 under. He was caught briefly by Dallas resident and World No. 2 Scottie Scheffler at the short par-4 14th, but Day never trailed the rest of the way, regaining the lead alone again when he two-putted the 14th for birdie.
In all seven players held at least a share of the lead at one point on a day of intermittent showers that became a downpour in the final 30 minutes. The final round was played using preferred lies, as if the field needed more help to pummel defenseless TPC Craig Ranch. The final-round scoring average was a blistering 67.048 and 75 of the 84 players who made the cut bettered par.
Kim, a South Korean native who calls Dallas his "second hometown" closed with a 63 after missing the cut last year. Eckroat had a 65 after sharing the 54-hole lead with Texas native Ryan Palmer and Zecheng "Marty" Dou, who is a member at TPC Craig Ranch. Eckroat had a chance to tie Day on 18 but came up well short and right on a 63-footer for eagle from the back of the green. He still enjoyed his career-best finish.
"Yeah, all of us got off to a decent start, and then I looked on hole 9 and saw I don't know how many guys, but 10, 15 guys had a chance to win realistically, and it was crazy," said Eckroat, 24, who rose to 77th in the FedEx Cup standings after starting the week 136th. The T-2 was his best finish in 31 tour starts and the $845,500 he earned more than doubled his career earnings. "I mean, you're just trying to get up there, and it was fun to get some separation at the end and see if you could get a chance to win, like I did, and it was a really fun battle on the back nine," he said.
Dou, who had a 67, looked like he would take control of the tournament when he birdied four of his first seven to reach 20 under, but he suffered a double bogey at the par-4 eighth after flying his approach from the right rough over the green and out of bounds, and it opened the door to a logjam that would take hours to unravel. He ended up T-5 (still much better than the T-17 that was his previous best career finish in 44 starts) with Scheffler (65) and Tyrrell Hatton (64).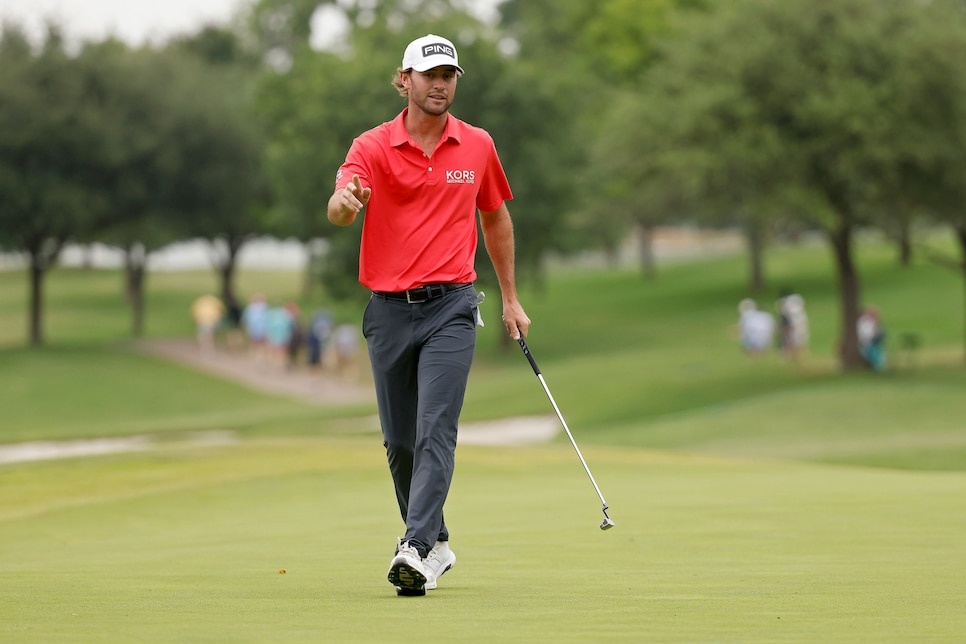 Neither Austin Eckroat (left) and Marty Dou puttled out their maiden wins on Sunday, but both had their best career finishes on the PGA Tour.
Mike Mulholland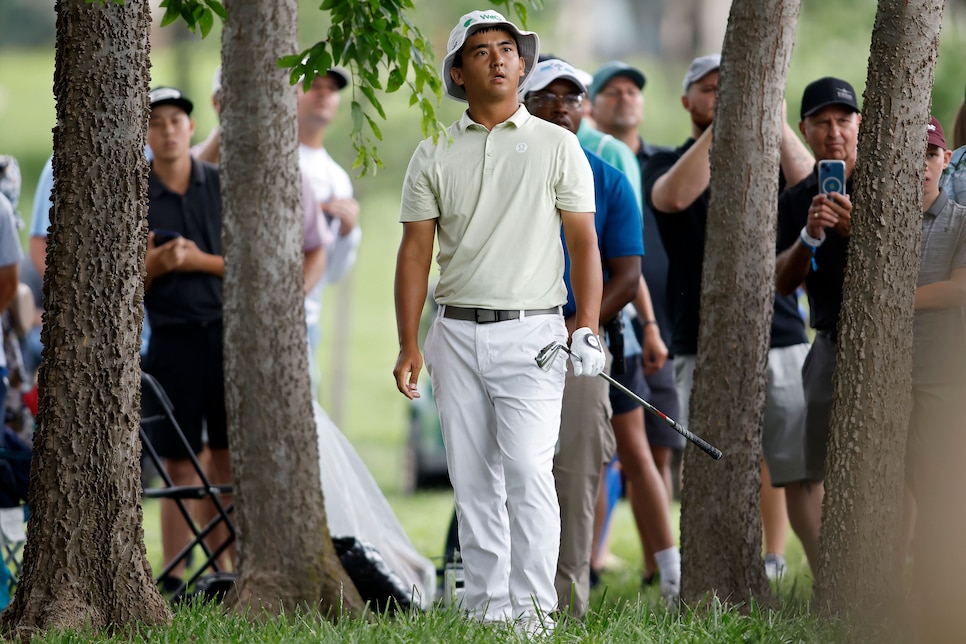 Day, who has risen to 20th in the world, had already posted six top-10 finishes in 15 starts this year, but he had missed the cut at last week's Wells Fargo Championship, which just so happened to be the site of his most recent win before Sunday. That didn't sit well with him. But it turned out to be a blessing. The guy who hasn't been sleeping at night thinking about his swing decided to forget about it.
"I was kind of fed up with having to go over like a lot of technical thoughts with my swing. So I just decided I'm just going to go out and just try and play some golf," he explained. "For some reason, I just thought that I was going to win the tournament. It's easy to say that now because I won it, but that's just … for some reason I just had this sort of calmness about it. It's weird because when you're playing golf and you're in the hunt or around the lead, sometimes there's moments in your round that you think, 'Oh, it's kind of not my time.' I really never had that thought at all this week."
It was definitely his time. Perhaps because it was about time.