HISTORIC CEREMONY
'No country does it better than Scotland' as Jack Nicklaus and others receive special honors during emotional ceremony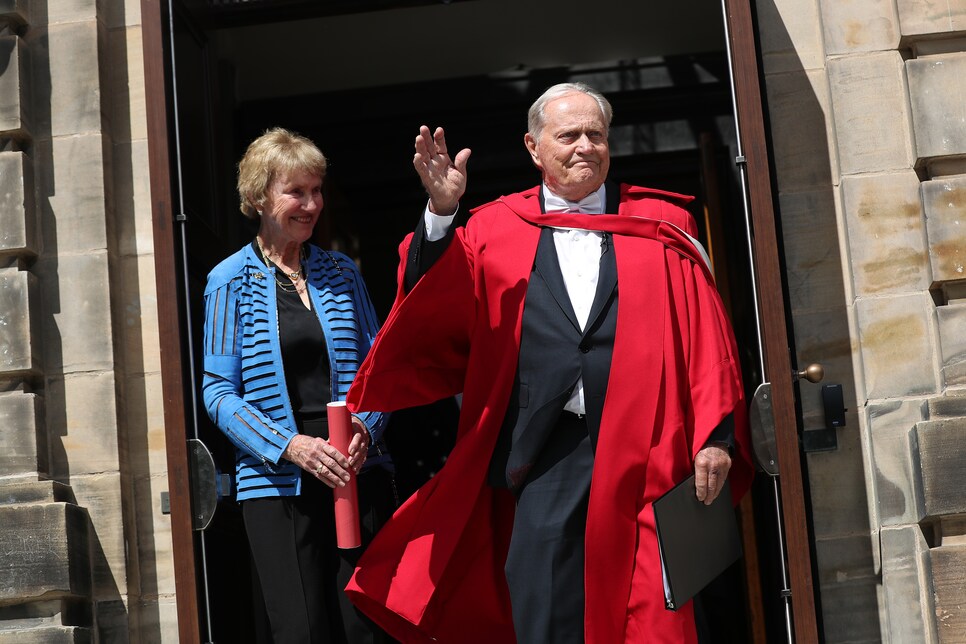 Jack Nicklaus leaves Younger Hall after receiving the Freedom of St Andrews, with his wife Barbara prior to the 150th Open at St Andrews Old Course.
Oisin Keniry/R&A
ST. ANDREWS, Scotland — In Britain, the natives have long been accomplished in the arts of both pomp and circumstance. Ceremony too, as was the case when the University of St. Andrews and the Royal Burgh of St. Andrews Community Council hosted a wee get-together Tuesday to give out five honorary degrees and make Jack Nicklaus—already Dr. Nicklaus in their academic eyes—an honorary citizen of the Auld Grey Toon.
Watched by a packed audience in the Younger Hall on North Street—which included PGA Tour commissioner Jay Monahan, USGA executive director Mike Whan and Augusta National president Fred Ridley among others—Catriona Matthew, Jose Maria Olazabal, Sandy Lyle, Lee Trevino and Bob Charles all emerged as "Doctors of Law." Previous recipients include Gary Player, Colin Montgomerie, Seve Ballesteros, Peter Alliss, Nick Faldo, Peter Thomson, Charlie Sifford, Renee Powell, Tom Watson, Padraig Harrington, Arnold Palmer and Paul Lawrie.
All of which added another unforgettable chapter to the story of the place where, 64 years earlier, Bobby Jones had famously accepted the Freedom of St. Andrews. He, Benjamin Franklin and now Nicklaus (with the modern equivalent) are the only three Americans so honored.
This time was just as emotional, especially for 82-year-old Nicklaus. Back at the Home of Golf for the first time in 17 years, the 18-time major champion—two of which he won at the Old Course—was at times unable to continue. Just as he had done back in 1966, when he completed the career Grand Slam with victory in the Open Championship at Muirfield, the Golden Bear took refuge in the same phrase: "Do you mind if I just pause and enjoy this for a minute?"
No one did. One of the great things about the greatest game in the land where it began is the deep affection the Scots have always had for the truly great American players. As Nicklaus has more than once noted, he, Jones, Palmer and Ben Hogan have almost enjoyed more popularity in Scotland than in the United States.
Nicklaus was typically modest during his short address, drawing on a quote from the late, great American journalist Grantland Rice that ends with the line that even the most famous are "replaced by others and soon forgotten." There was also time to remember the four shots Jack expended in Hell Bunker en route to a quintuple-bogey 10 on the Old Course's par-5 14th hole during the 1995 Open. "I don't want to go to hell again," he said with a smile.
No one in the room was having any of that, of course. As Nicklaus wound up by thanking the St. Andrewans, "for remembering me and allowing me to be one of you," everyone rose in what turned into a prolonged ovation. All of which again evoked memories of 1958, when a nearly-disabled Jones noted that he, "could take out of my life everything except my experiences at St. Andrews and I would still have a rich, full life." The only thing missing this time was a poignant rendition of the old Scottish song, "Will ye no come back again?"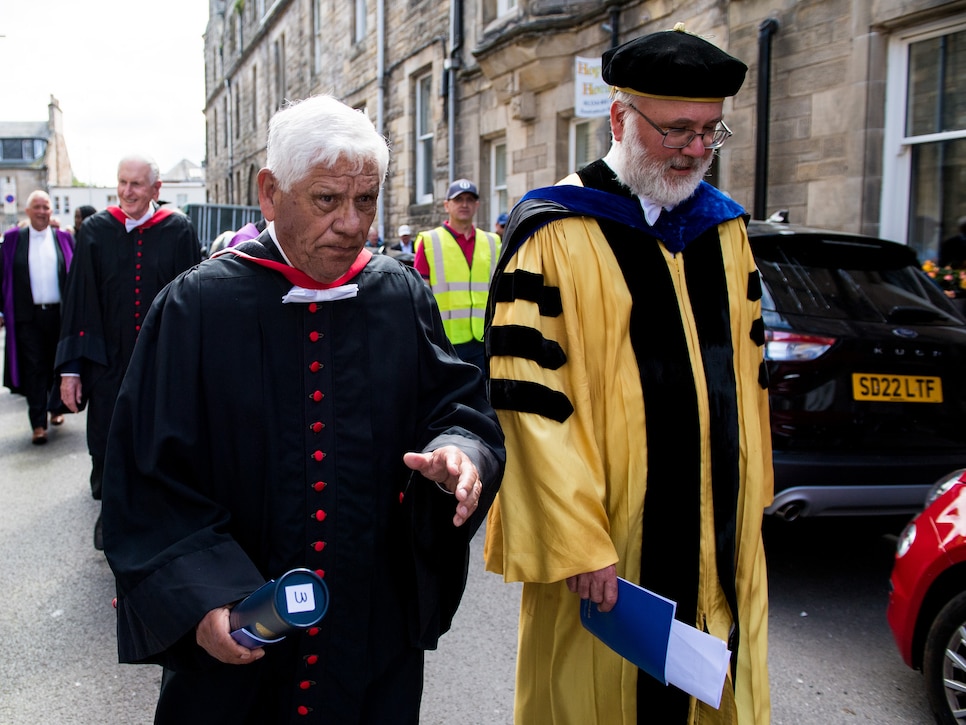 Lee Trevino during a procession from the Younger Hall after Jack Nicklaus has been made an Honorary Citizen of St. Andrews by the Royal Burgh of St. Andrews Community Council.
Ross Parker - SNS Group
Earlier, the graduation rituals—immaculately hosted by University Principal and Vice-Chancellor Sally Mapstone—provoked only occasional emotion from the recipients, although Olazabal was moved to tears by the presentation read by the university's head of development operations, Louise Taylor.
There were laughs too. How could there not be with Trevino in the room? After telling the next man up, Charles, to get comfortable in his seat as he was going to talk "for a while," the two-time Open champion made a typically witty speech. Inevitably, he found space for an old favorite amongst his many jokes.
"I have trouble getting to sleep," he said. "Because I can't wait to get up and hear what I have to say in the morning."
And of course, the Merry Mex was moved to pay tribute to Nicklaus, an old friend as well as rival. Back when the Senior Tour first came into being, Trevino sent a dozen red roses to Barbara Nicklaus every week she kept husband Jack at home and "off the tour." In 1990 that added up to 31 dozen flowers.
In conclusion though, even Trevino was serious. This is a man who has travelled further than perhaps any other golfer. Humble does not begin to describe his start in life. The first paragraph of his history in the program says it all:
"Lee Buck Trevino was born in a three-room shack with no plumbing on a cotton farm in Garland, Texas in December 1939 and raised by his mother, Juanita, and grandfather, Joe, a gravedigger. At the age of three he was picking cotton, at six helping irrigate the cemetery at night. The family moved to falls next to the then Glen Lakes GC, where Trevino learned to play on a makeshift three-hole dirt course in the caddie yard."
"This is the greatest honor I've ever had," he said. "This place is truly special."
As was this ceremony. "No sport celebrates its heroes better than golf," was Olazabal's verdict. "And no country does it better than Scotland."
MORE OPEN CHAMPIONSHIP 2022 STORIES FROM GOLF DIGEST