FIRE PIT COLLECTIVE
British Open 2022: Lee Trevino, the last pure golfer, steals the show at the Old Course
Editor's Note: This article first appeared in Fire Pit Collective, a Golf Digest content partner.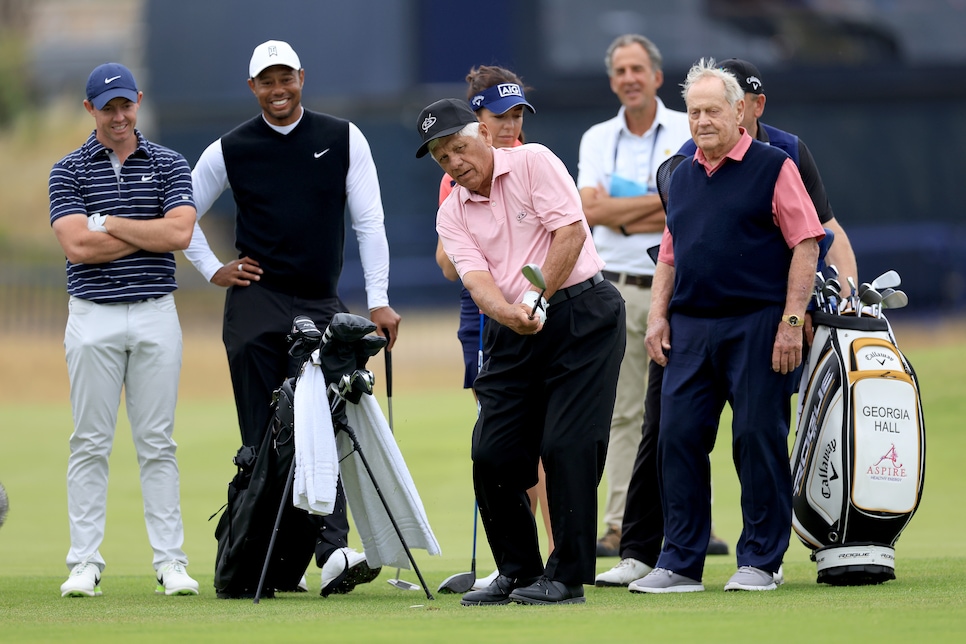 ST. ANDREWS — A small group of golf fans and autograph-collectors were on one side of a flimsy metal chain-link fence and Lee Trevino was on the other. This was near the driving range, at the Old Course on Monday afternoon. The fence started to topple over, in Trevino's direction. The brief, sudden roar that announces unfolding chaos went up. A security guard went running over.
"Mr. Trevino, Mr. Trevino, are you all right?"
Mr. Trevino was busy just then. The 82-year-old golfing icon, activating his big bottom and short arms and bare hands — the tools of his profession, along with his mind — was holding the fence up while telling the people on the other side to pull as he pushed. Order was restored in no time. Trevino resumed signing.
Trevino has been struck by lightning. He has been broke and rich and broke and rich. He has been through periods where he was at odds with certain business partners, with his back, with the lords of Augusta. He could handle a falling fence and a group of polite, exuberant fans without batting an eye. He was handling everything.
"I watch you," Trevino told the American golfer Brian Harman. "I see everything you're doing."
It was not meant as a literal truth. It was meant to convey: I'm current in this game, and the things I know will last forever. That was Harman's take.
The left-handed golfer chatted with Trevino for a few minutes at the driving range. Harman was asking how closed you could get with your lead foot without getting too closed. Trevino talked about the relationship between the front foot and the back. Trevino has a PhD in the yin and the yang of golf. It was the first time Harman had spent time with him.
"Here's a legend, on the range," Harman said later. "To have a chance to talk to Lee Trevino and not do it, that would be just wrong. He has the gift for making the golf swing simple. Sometimes you get so stuck in the TrackMan numbers, and all the numbers, you lose that the golf swing is more art than science." For Trevino, Harman said, golf was more art than science. He hopes it is for him too.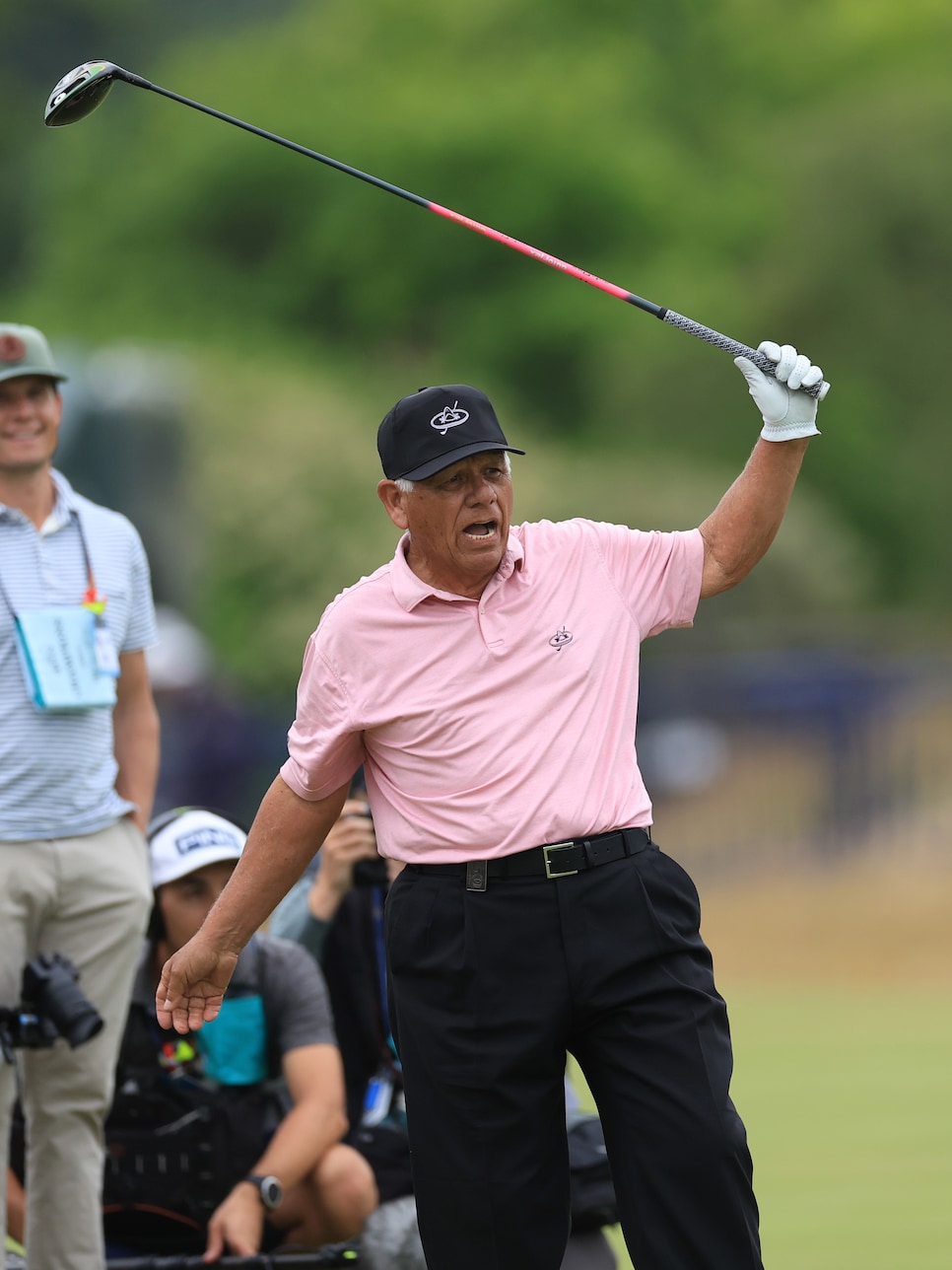 What Trevino did in his one-of-a-kind golfing life, he did by himself. (He won two U.S. Opens, two Open Championships, two PGA Championships and scores of other events.) What he knows about golf, he figured out for himself. Whatever doors he opened in this world, through his skill at golf and savant-like understanding of it, he opened himself. Some of us are always drawn to golfers like that. Lee Elder. Moe Norman. Carlos Franco. Larry Nelson. Earl Woods, in his own way, had those qualities. He didn't become an elite golfer, but his youngest son did.
About the only thing Trevino seems to need in his at-large golfing life is an audience to validate him. Jack Nicklaus never needed an audience. Neither did Ben Hogan or Mickey Wright or Woods. Arnold Palmer did. Seve Ballesteros did. Phil Mickelson does, even though he declined to play in Monday's outing. Lee Trevino did and Lee Trevino does.
He doesn't have that many opportunities to show off what he knows to the tiny population of the world that will understand what he's talking about. Monday was one of those opportunities. He was on the course for about four hours, warming up, playing, hanging out, and he seemed completely, uniquely alive.
Regarding the validation thing: That's OK. If we were all the same, the world would be a dull place. It's the very thing that keeps Trevino young. He was playing in the four-hole exhibition for former champions on Monday afternoon. Nicklaus, his contemporary and foil, was not. "Come join us on 17 and 18 and I'll ride in with you," Trevino told Nicklaus as they gathered on the 1st tee. Yes, filling in as a 1st-tee starter. Trevino's foursome included Woods, Rory McIlroy and Georgia Hall, the English golfer who won the 2018 Women's British Open. They played the 1st and 2nd holes and when they arrived at the 17th tee, Nicklaus was there. There was a lot of talk and a lot of laughing. Trevino did a killing imitation of Nicklaus over a putt and Nicklaus laying sod over a long-ago pitch shot. Nicklaus was giggling. Woods was cracking up. Hall was trying to understand it.
But the most telling thing was this: Trevino bragging about his sand wedge, with 17 degrees of bounce! (Half that is more typical.) "For soft sand," Trevino said. Like, in case he got into the Road Hole bunker. All his life, Trevino collected golf clubs like they were friends, and he put the exact clubs in play he needed for each round. His youngest son, Daniel, carried them in a small, plain black bag on Monday.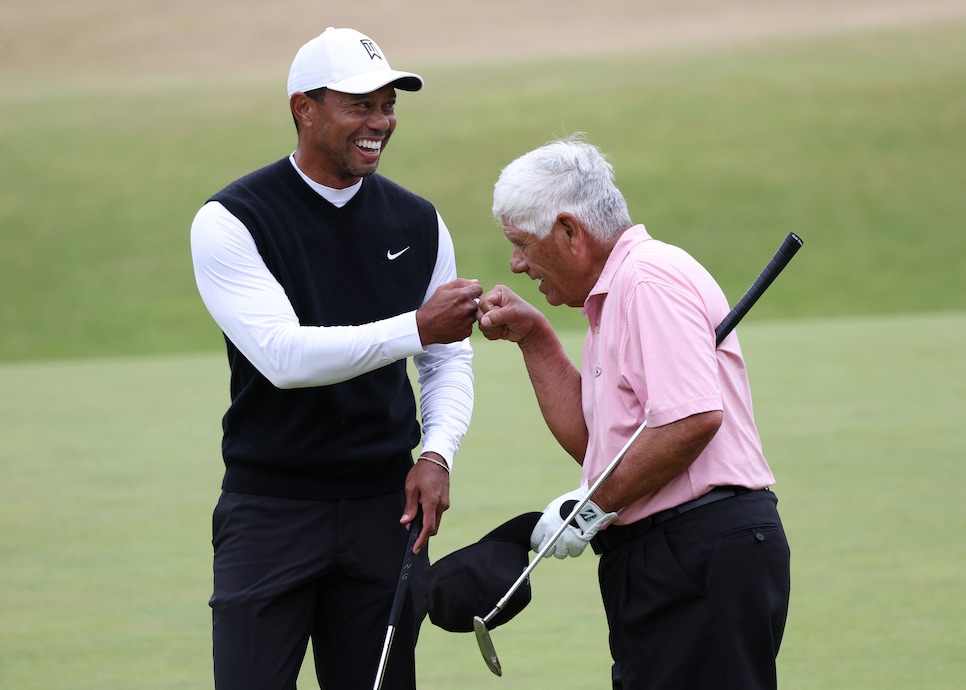 A crowd had assembled in front of the Jigger Inn, there to see Tiger and Rory — and Trevino. Adam Scott came out of the Old Course Hotel to watch. He sees all of Tiger and Rory he needs to see. He was there to watch Trevino, walking, waggling, swinging. Pontificating. Trevino's gait remains nearly perfect. When he walks into a golf ball and positions his feet, he looks completely at home. Nicklaus's mind is still incredibly sharp, but playing even four flat, short holes for public consumption holds no interest for him and walking can be a struggle. Whatever Trevino is doing, it's working.
On the range and by the practice green, an international parade of golfers and golf people — Harman, Jon Rahm of Spain, Sungjae Im of South Korea, the notably international golf instructors Dave Phillips and Pete Cowan — were hanging on Trevino's every word. Shot after shot after shot was on the face. He hooked putts. He sliced putts. His putting stroke looks like a golf swing, not something produced by a machine. It's hard to think of a golfer who putts like that today. Tiger released the clubhead, but Trevino released the body.
Trevino, forever, has been able to turn on and off his showman switch like you're silencing your phone. When he feels the need, Trevino can be a storyteller, a comedian, a golf historian, a charmer. He wrapped up his day, the public portion of it, by telling a film crew about the charms of the R&A museum here, the scores of early Open winners, the numbers of holes they played, his love of history. It was extraordinary. The day was giving him what he needed. But here's the more significant thing. He was giving us what we need: pure golf, at the place where it all began. He jumpstarted this week. He gave us what golf, the actual game, desperately needs.