Memory Lane
Open Championship 2022: Jack Nicklaus is not worried about the Old Course giving up low scores—'So what?'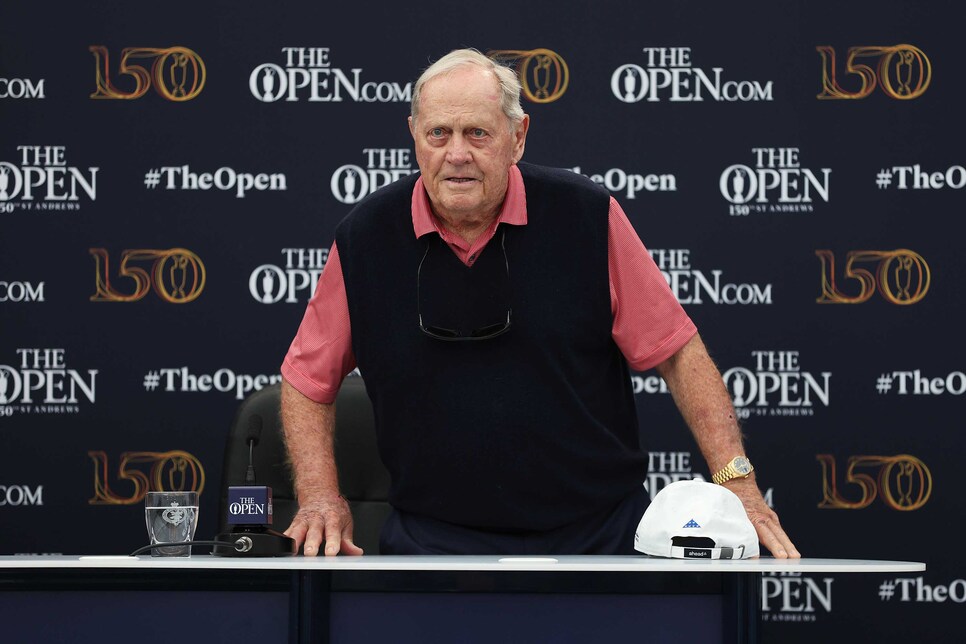 Jack Nicklaus speaks in a press conference at the Open Championship ahead of being named an honorary citizen of St. Andrews.
Richard Heathcote/R&A
ST. ANDREWS, Scotland — Long a member of golf's "Big Three" alongside Arnold Palmer and Gary Player, Jack Nicklaus is to become the third member of an even more elite trio. At a ceremony in the town's Younger Hall Tuesday, the Golden Bear will be made an honorary citizen of the Royal Burgh of St. Andrews. Only two Americans have previously been so honored: Benjamin Franklin and Bobby Jones.
In what is his first visit to the Home of Golf since he bade a final farewell to the Open Championship over the Old Course in 2005, Nicklaus will be the centerpiece of a grand occasion in which Lee Trevino, Jose Maria Olazabal, Bob Charles, Sandy Lyle and Catriona Matthew will receive honorary degrees from the University of St. Andrews.
"It's pretty special," Nicklaus agreed. "I'm very flattered, and I'm sure it will be a humbling experience tomorrow."
Nicklaus first saw the most historic course on the planet back in 1964, when he finished runner-up behind the late Tony Lema in what was his third Open appearance. He loved it then and he loves it still.
"In 1964, I couldn't believe that St. Andrews was a course that would still test the golfers of that time," he said. "That's, what, 60 years ago? Close. And it still tests the golfers at this time. It's a magical course. The conditions, the weather, where you actually choose to put the pins, whether the golf course gets dry, whether the golf course gets wet, all those things make St. Andrews a magical place. And to believe the game of golf essentially started here, it is mind-boggling to me that it still stands up to the golfers of today."
"They might shoot low," he said. "So what? That's sort of the way I look at it. They're shooting low now compared to what they shot 100 years ago. But times change and golfers get better, equipment gets better, conditions get better. So they shoot low scores. But I don't think it really makes a whole lot of difference, frankly. It's St. Andrews, and it is what it is. It will produce a good champion. It always has."
At which point the 82-year-old was off around the course he knows so well, the memories—even the time he took four shots to escape Hell Bunker on the par-5 14th back in 1995—flooding back.
"If you really play well, play smart at St. Andrews, you're playing by where the bunkers are," he explained. "You're probably going to take a couple of chances during the week, but most of the time you don't. When I won at Muirfield, I had a plan. I hit four drivers a day. And the last day I had a little wind in my face at 14, so instead of hitting 3-wood, I hit driver. And I knocked it right in the frickin' bunker, which almost cost me the tournament. Discipline is such an important part of playing over here. You get frustrated. And once you get frustrated, say 'bye-bye, we'll see you next time.' You've got to play to what the golf course gives you.
"St. Andrews is played to the left. And if you're going to miss, you miss left," he continued, warming to his theme. "Most of your problems are right—the out-of-bounds, the bad bunkers. So the philosophy is to keep the ball favoring the center of the course. Play a club off the tee that doesn't get you in a bunker. Putting is really difficult in the wind here. You've got to figure out how not to leave your ball in a place where you leave yourself with an impossible putt."
"Bobby Jones always said that a golfer's resume is not complete unless he's won at St Andrews," he said. "In '78, the people were just unbelievable. They were hanging off rooftops, out of windows. Walking up the 18th fairway, it got dangerous. People were running all over. I don't know how many security guys I had trying to keep the people off of us. I actually had tears rolling down my eyes as I'm walking up because I get pretty sentimental about that kind of stuff. I remember my caddie Jimmy [Dickinson] hit me on the back. He said, 'we've got another hole to finish. Get with it.' "
After a brief diversion into Greg Norman's already infamous absence from the Champions Challenge and Dinner this week—"We've been friends for a long time, and regardless of what happens, he's going to remain a friend. Unfortunately, he and I just don't see eye to eye with what's going on."—Nickalus moved to another favorite subject, his relationship with Bobby Jones. The pair first met at the U.S. Junior Championship when Nicklaus was 15.
"We had a very nice relationship," he said. "I still have the letter he sent me when I turned professional. He had hoped that I would remain an amateur. But he understood what pulled at me to play professional golf. He finished the letter by saying he'd had an awfully nice relationship with Spalding through many years. So he thought I should maybe talk with them. I got a big kick out of that. He was a good friend, but I never saw him hit a shot."
Ah yes, Jack, but the Auld Grey Toon saw you. And is about to thank you for them all.