Instruction
Golf tips: How to escape trouble more often from the gnarliest lies
The waste areas at Kiawah's Ocean Course have challenged everyone at this week's PGA Championship. Even the world's best have been stumped by the thick grass and sandy lies in the natural areas surrounding the course.
So how should average golfers go about hitting out of similar conditions if you encounter them? We asked two of Golf Digest's Coach Connect instructors, Erika Larkin from The Club at Creighton Farms in Aldie, Va., and James Kyle from East Lake Woodlands Country Club in Oldsmar, Fla. They shared their best tips for getting it out and giving yourself a chance at making a bogey or better.
Larkin, who has seen the conditions first-hand coaching Virginia club pro Larkin Gross at the PGA Championship this week, gave us three keys to getting out of trouble.
Take your most lofted club
A higher-lofted club is needed to fight the subtle elevation changes and keep your clubface from shutting or digging through impact. "You might not be able to tell from what you see on TV, but the waste areas are like a complete drop off," Larkin explains.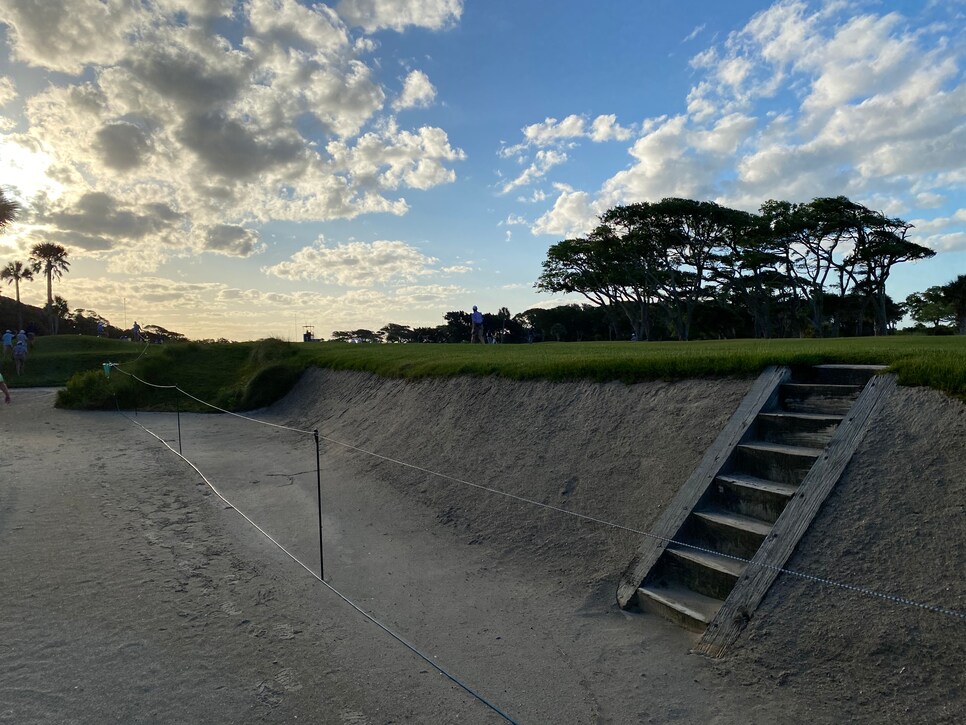 Using a club with more loft will also help you control the clubface. "There's so much thick grass through impact that the likelihood of you maintaining a square clubface through impact would take a tremendous amount of grip strength," Larkin says. While the pros have the power and strength necessary to hold the face open, Larkin says you can achieve this kind of control by opening the face before setting up to your shot. She also says to remember that, you'll need more grip pressure than a normal shot when hitting out of the wild fescue grass.
Treat your recovery like a punch shot
"Remember that when you're hitting out it's not about distance control, it's about damage control," Larkin explains.
"Use a steep swing and apply your energy down on the golf ball with a chopping motion and the ball should pop out."
How to adjust when you can't make a full follow-through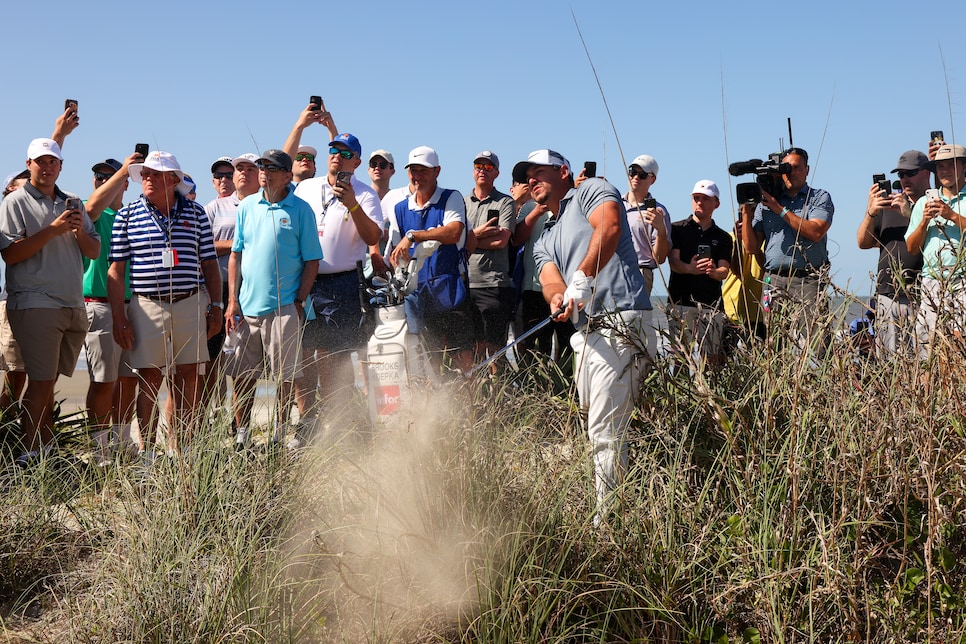 "Your hands are going to stop because of the rough, but don't let your body stop," Larkin says. Try to keep your hips and shoulders moving towards your target through impact. "Think: hold and rotate," Larkin explains.
Know when to punch out and when to go for it
Both Larkin and Kyle said that reading your lie is crucial when you're determining how to play your shot from thick grass like you see at Kiawah's Ocean Course. "Look to see how high or low the ball is sitting in the grass. If the ball is sitting high up, you'll want to be careful not to go under it," Larkin warns. If you can, she recommends creating a scale from one to 10 that you can use to judge your shots. "If it's anything over a five, punch out," Larkin says, "but if it's below that, look to see how much grass is behind the ball to determine if you should lay up or go for it."
In order to go for it, Kyle explains that you want your lie to be firm and have nothing behind the ball. "This will give you complete control of the spin and distance control when it lands," he says.

Stay balanced to improve your contact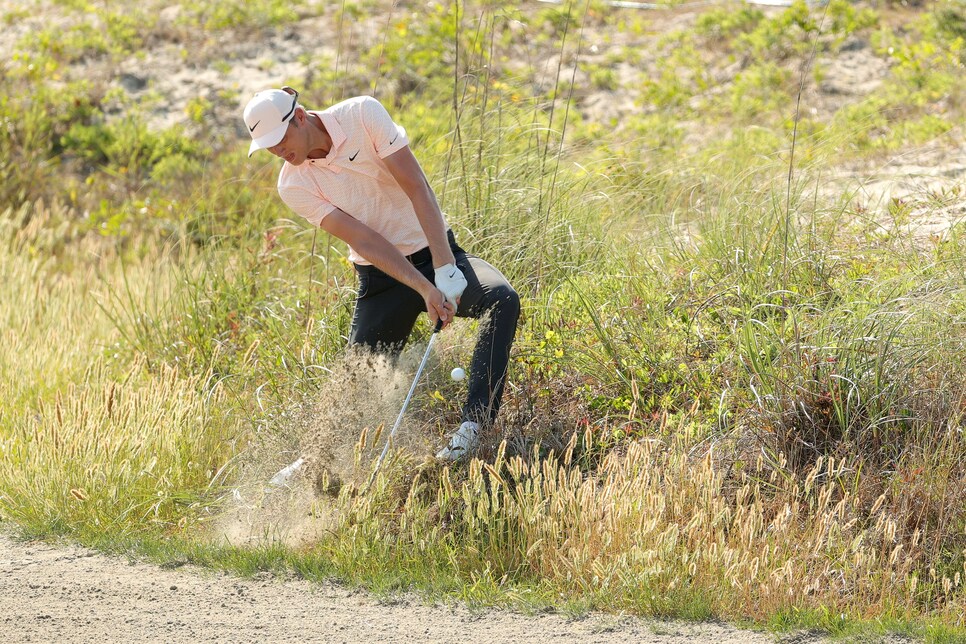 Kyle, who's a Golf Digest Coach Connect competitive play coach, says that the most important thing is making ball-first contact. "That's critical," he says.
To be sure you're making ball-first contact, Kyle says to double check your setup. Be sure that you're staying balanced and keeping your weight forward. "The pros are really good at keeping their feet planted and their weight forward," he explains, "while most amateurs tend to lean back in an effort to help the ball out." He says to have 75 percent of your weight in your front foot and 25 percent in your back foot.
Get it close when facing trouble around the greens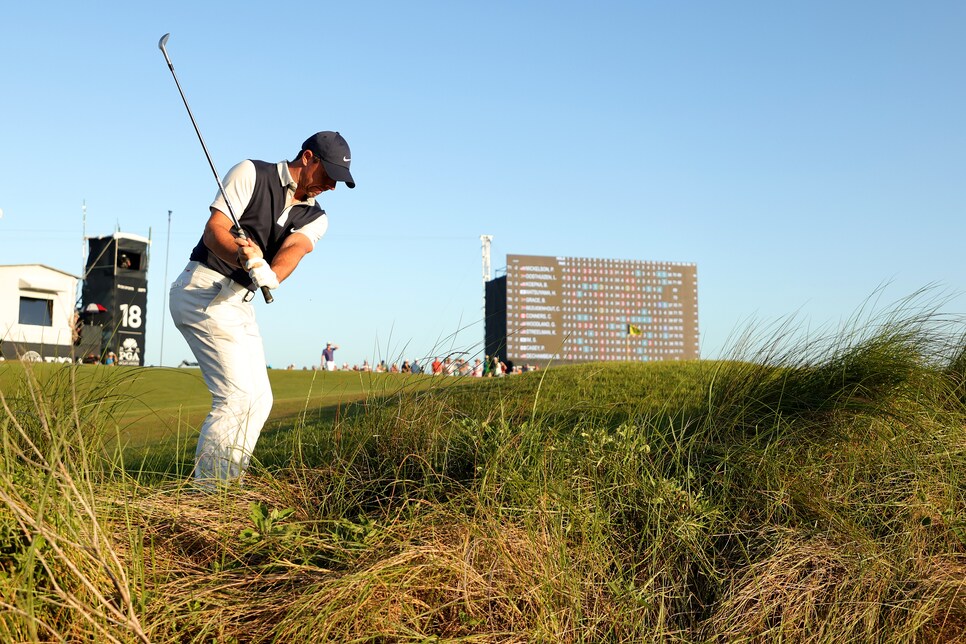 "Play the ball middle to forward in your stance and as you swing down, let the clubface release," he says.
"I call it an unhinging, and the effect will be almost exactly opposite of a bump and run."
Kyle says there are two crucial pieces to hitting this hop and stop shot from the waste area. "Use the bounce of your club and swing a little slower coming through," he says, "the ball will run up the face of the club, and when it lands, it will spin and stop."
This will allow you to fly the ball further and land it closer to the hole. When hitting this shot, Kyle says to use your highest lofted wedge. "Use the same swing every time," he explains, "and when you need to add a little more distance, simply grab the next wedge in your bag."
Personalized instruction on the go
While these tips are a great place to start, it's always a good idea to reach out to your coach for instruction that's specific to your swing. With Golf Digest Schools newest feature, Coach Connect, you can get in touch with world-class golf instructors right from your phone.
All you have to do is send over a video of your swing, short game or even your putting stroke to start getting help from one of our trusted coaches, like Erika Larkin and James Kyle. Sign up today to find the right instructor for you!