The narrative began as soon as the last Ryder Cup had ended: Was the 19-9 battering of the Old World by the New at Whistling Straits the beginning of a new era of American dominance in golf's most interesting biennial event?
It's a reasonable question. Apparently out-classed, the European team of 2021 was also, relative to their American opposition, old. While it was reasonable—just—to see the likes of a 45-year-old Ian Poulter and a 48-year-old Lee Westwood lining up in Wisconsin, the prevailing feeling was that both were making their last appearances in the blue and gold. Throw in Sergio Garcia and Paul Casey—two more 40-somethings—and it is clear that newly named European skipper Henrik Stenson is likely to be leading a largely new-look side in Italy in 2023.
OK, who and what are we likely to see? As ever, there are a few ifs and buts involved. This is, after all golf we are talking about.
Still, it is surely safe to assume that the heart of the team will be made up of three exceptional individuals: Jon Rahm, Rory McIlroy and Viktor Hovland. And if all three perform to anything like their best at the Marco Simone club just outside Rome—a not unreasonable assumption—Europe will at least be competitive. Team matches have always been that way. If your best players play well and win most of their games, then the worst-case scenario immediately becomes a narrow defeat.
Think about it. On Saturday evening at Whistling Straits the score was 11-5 in favor of the United States. Six points. Which is, at first glance, a lot. But is it? Fine lines were at play there. If the under-performing—and at that stage, pointless—McIlroy had been replaced by a "normal Rory" who had won all three of his matches, the score is suddenly 8-8.
So it is that, even now, 18 months out, Stenson will know that an absolute pre-requisite of a home victory will be his top men playing somewhere close to their best. If that happens, history tells us that the rest of the side should be capable of cobbling together enough points to get over the 14½ winning line.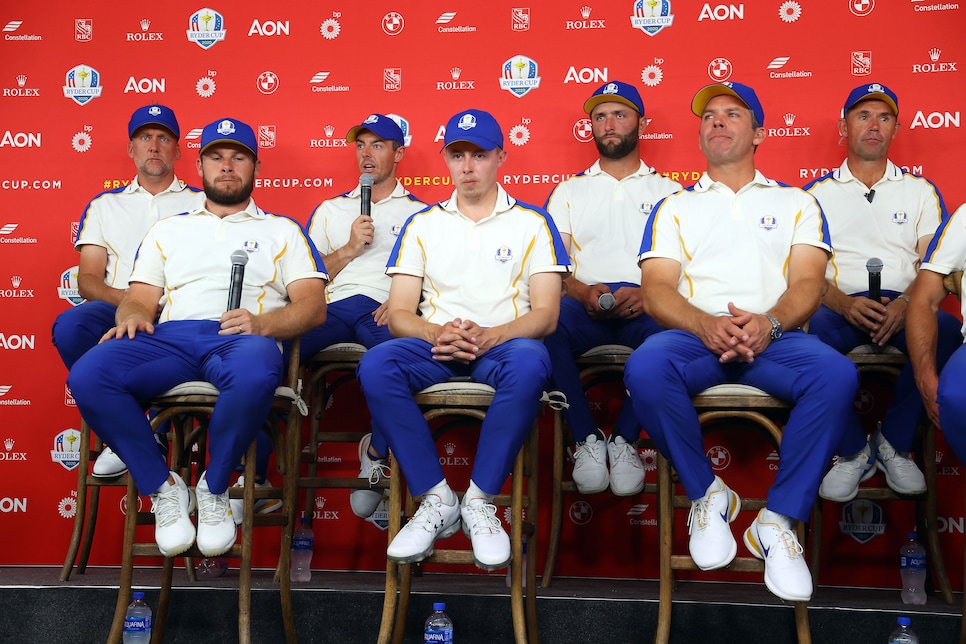 A dejected European team speaks to the press after losing 19-9 at Whistling Straits last September.
Andrew Redington
As to the identities of the other nine members of the Stenson squad, things start to get a little murkier. In the "more than likely" category we can place Europe's record points scorer, Garcia; former Open champion Shane Lowry; Casey; Tommy Fleetwood; Tyrrell Hatton; and Matt Fitzpatrick. Even there, however, ominous questions hang over four of that sextet.
Would it be one-too-many matches for Garcia, whose game appears to be showing signs of (understandable) decline given his age?
Can Casey continue to bely the passing years and continue to perform at a level just below the very best in the game?
Which Fleetwood will appear in 2023? The 2019 version was half of the potent partnership with Francesco Molinari (remember him?) that annexed four points out of four at Le Golf National and provided the biggest building block in Europe's overwhelming victory. But the 2021 version lost his PGA Tour card and is currently struggling to stay in the world's top-50 players.
And, while Fitzpatrick, continues to impress most weeks with a game that is one of the most dependable among golf's elite, the fact remains that in two Ryder Cup appearances, the young Englishman has yet to win a match or even half a point from eight games. Should he take up his expected place next year, he will at least have a mental hurdle to overcome.
Still, let's assume that all six "likelies" will be in Italy. That leaves three spots to fill on a team looking to continue its streak of six straight "home" Ryder Cup wins dating back to 1997. And here we are in the midst or real speculation. A few names do spring immediately to mind. The Danish Hojgaard twins, Rasmus and Nicolai, possess enormous promise and will surely have continued their rapid improvements by September next year. But neither has yet progressed beyond the winning of second-tier DP World Tour events. So at least for now, they represent hope and expectation rather than certainty.
The same is true of Scotland's Bob MacIntyre. The young left-hander has performed with some distinction in more than one major championship. But, like the Hojgaards, his win column contains only a lesser DP World event. He needs to kick on—and soon.
Other names in the frame? Here the "ifs" gain in stature. But it is hardly outlandish to claim that at least a couple of the following names will play well enough to make the European team.
Thomas Pieters is showing signs of returning to the form that saw the powerful Belgian—with help from McIlroy—become one of the few European success stories in the 2016 Ryder Cup at Hazeltine National.
Seamus Power is making real progress on the PGA Tour. Should that continue, the Irishman has every chance of teeing-up in Italy.
Few would complain if Alex Noren, one of the game's most reliable performers, were to catch Stenson's fellow-Swedish eye over the next 18 months.
Throw in someone we haven't thought of—that nearly always happens—and Stenson is hardly going to enter the fray devoid of hope.
Which is where we came in. But can a mixture of all of the above beat a team currently boasting 11 of the top-20 players on the planet? A tall order indeed.