PONTE VEDRA BEACH — One of the last players in was one of the first players finished and finished the day first on the leader board, which, last we checked, was the first real sign that things are turning around after last year's disappointing results.
Tommy Fleetwood, who hasn't necessarily fallen on hard times but has found golf harder than he's used to, began the rain-soaked Players Championship on Thursday with a six-under 66, his best round of golf on the PGA Tour since opening the Wyndham Championship last August with a similar score. When daylight expired over the Stadium Course at TPC Sawgrass, the Englishman held a share of the lead with recent AT&T Pebble Beach winner Tom Hoge.
Given that less than half the field completed 18 holes, this Thursday night lead doesn't have quite as much meaning. Unless you haven't reacquainted yourself with a leader board in a while. Thus, Fleetwood wasn't going to turn his nose up at his lofty status, not when he was just happy to be in the 144-player field vying for a slice of the $20 million purse.
"I feel very comfortable sitting on this position," said Fleetwood, his face wearing a wide grin but not his customary lush beard and mustache, which he razed partly out of frustration for how he has been playing. Apparently, it came down to snapping a few club shafts or shaving his facial hair and, well, all credit to him for realizing only one of those grows back.
Fleetwood, 31, lost his exempt status on the PGA Tour last season after a rather substandard campaign that left him 137th in the FedEx Cup standings. He qualified for his fifth Players via being in the top 50 in the Official World Golf Ranking following the Honda Classic. His rank at the time: 50th. Thank you, sweet fractional math equations.
"Close enough," said Fleetwood, who is now 49th in the world after making the cut on the number and then climbing to T-20 at last week's Arnold Palmer Invitational. "I was the last person into the event, pretty much, so it's great being here. I've had a great first round. So, try and make the most of it now and be grateful whenever we do get to play to go out and challenge yourself."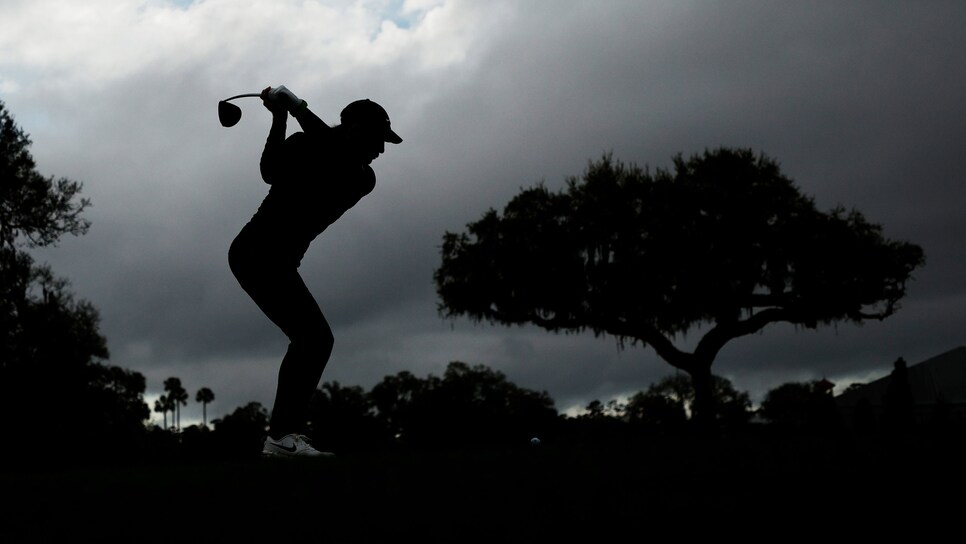 Fleetwood's 66 was his lowest round on the PGA Tour since last August at the Wyndham Championship.
Jared C. Tilton
Yeah, about that. Fleetwood might be facing his most relaxing tournament Friday in memory. You don't have to worry about a cutline when you just shot 66 and might not hit another ball in anger until Saturday. Rain delays lasting five-plus hours on Thursday meant less than half the field finished their rounds. The afternoon wave will thus come back at 7:15 a.m. Friday, and faces another dismal weather forecast. Fleetwood can sleep in and breathe easy. For now.
As to what has been sapping his oxygen for the better part of a year, well, it's really quite simple. The results haven't been terrible, he said, but they haven't been all that satisfying, either.
"I haven't played well," he said with the quickest summation one can conjure. "I think there's been certain things in my swing, if you like, that I haven't quite understood. And I would say feelings and shots that I have seen haven't quite matched up with what I've always felt and thought like. So, then your confidence takes a hit because you're not quite comfortable out on the golf course.
"If you're not playing very well, especially out here, the standard is so, so high and it keeps getting higher, when you're off the pace and you're lacking confidence, the game becomes very, very difficult."
Save for the starting and stopping, the Stadium Course was far from difficult on Thursday. Fleetwood took advantage of soft turf and soft breezes by converting seven birdies against a lone bogey. He hit nine fairways and 13 greens in regulation and needed just 26 putts. He chipped in for a birdie on the difficult par-4 18th, and his first shot coming out of the lengthy afternoon suspension was a nine-foot birdie putt that he calmly jarred.
Soft or not, it was a handsome score, the second-best in his career at TPC Sawgrass. "I still had to hit the shots," he pointed out.
And most of them were quite good. Whether or not he still is in first place when he resumes play isn't all that crucial. Just as long as it leaves a lasting impression in his mind when he does get back on the course.