Weather Woes
Players 2022: How a Sunday, Monday and even a Tuesday finish are all possible at TPC Sawgrass (UPDATE: Monday is definite)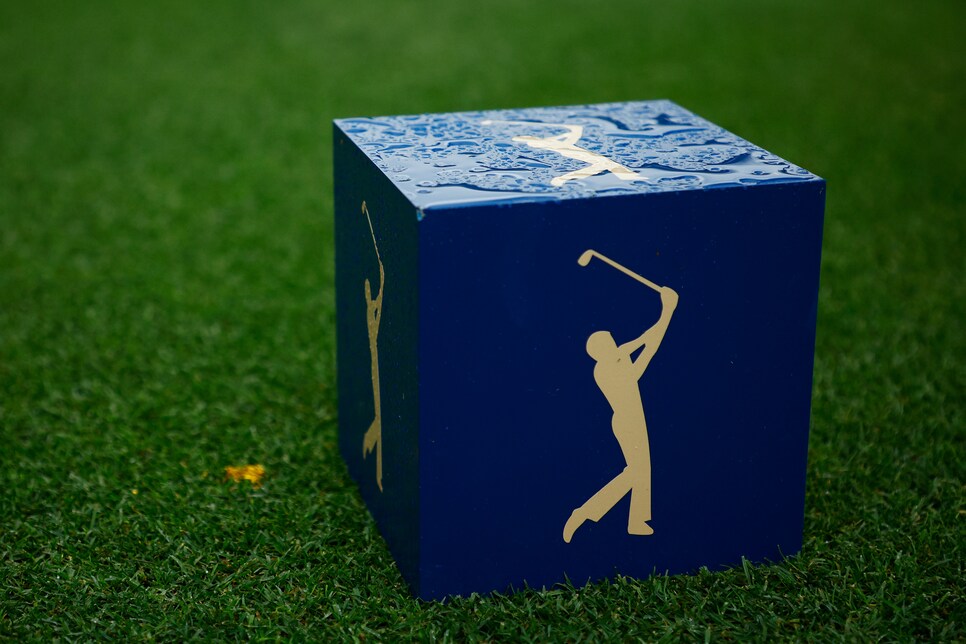 PONTE VEDRA BEACH — It's been said that "you're still away" are the three worst words in golf. "Monday finish likely" might take exception.
That's precisely what's staring at the field at this week's Players Championship, something that hasn't happened at TPC Sawgrass since 2005. That year, play was suspended in the second, third and fourth rounds because of rain and unplayable conditions. The only reason it didn't extend all the way to Tuesday was because Fred Funk holed a six-foot par putt at the 18th hole to win, avoiding a four-way playoff with Tom Lehman, Luke Donald and Joe Durant that would have had to been completed on Tuesday morning.
This time, we might not be so lucky. A horrendous weather forecast for Thursday, Friday and Saturday has loomed all week, with the Thursday part coming to fruition when tee times got pushed back a full hour in the opening round due to overnight rainfall and thunderstorms. Once play began, it lasted all of two hours and 15 minutes. At 11 a.m., play was officially suspended due to dangerous weather, a delay that lasted four hours and 15 minutes. All told then, five hours and 15 minutes of weather delays played out and that was before most in the morning wave even came close to making the turn. When play ended due to darkness on Thursday, only 69 golfers had finished their rounds, Tommy Fleetwood and Tom Hoge leading with six-under 66s. Meanwhile, 12 players from the original afternoon wave didn't tee off on Thursday.
Given the remarkable run of weather the PGA Tour had seen in the 2021-22 season, this was bound to happen soon. It happening in tour's flagship event, though, is particularly cruel.
What hurts worse, though, is that the 2019 return of the event to March had been a roaring weather success, albeit in a small sample size. Not including the 2020's COVID cancelation, only one of the eight competition days in the two completed March Players had truly "iffy" weather (final round, 2019), and even then it was just a light drizzle and some chilly temperatures, at least for Florida.
That said, history shows that March has been the worse weather month than the years the Players was played in May. There have been five Monday finishes at TPC Sawgrass, and all five have come in March.
Is it possible to avoid a sixth? Or worse, a Tuesday finish? Anything is possible with the right mindset. But here is how each of three possible outcomes might come to pass.
Glass-half full: Sunday finish
In order for this tournament to finish on Sunday, a couple of miracles things would have to occur. For starters, the Friday and Saturday forecasts would have to be wrong. Like comically wrong. As of now, both days are expected to be worse than Thursday. On Friday, per The Weather Channel, there's a 90 percent chance of rain in the morning and more thunderstorms expected. And, unlike Thursday, it doesn't appear as though the afternoon will be much better, with scattered showers and thunderstorms expected. Saturday looks to be the worst of the four days, with a 100 percent chance of rain all morning and a potential for "severe" thunderstorms. It is expected to clear up in the afternoon, so there's that.
If all of that is somehow incorrect, it would still take an awful lot to get all 72 holes in after the delayed Thursday start. The afternoon wave from Thursday (60 of the 72 players in the afternoon wave began their first round Thursday, none completed) would have to keep it moving on Friday morning (not something PGA Tour pros are too fond of), and if they could complete the first round and get the second underway, they'd at least be on pace to complete the second round on Saturday. That opens up a chance for 36 holes to be played on Sunday by those who make the cut, assuming the tour doesn't re-pair for the final round. Also, while Sunday is expected to be freezing for Florida, with a high of 55 and a low of 49, there's no rain in the forecast! Yes, we do find the comedy in expecting you to trust the Sunday forecast but pray the Friday and Saturday forecasts are all sorts of wrong.
Glass-half empty: Monday finish
If Friday and Saturday are as bad as we're being told, there's a chance the first round is not completed until Saturday, though the PGA Tour is more optimistic, tweeting out that first round play will resume Friday morning at 7:15 a.m ET. If that doesn't happen and the first round does bleed into Saturday, they'll be lucky get the second round underway and anywhere close to finished before it gets dark. Fortunately, as mentioned above, Sunday is clear, and the extra hour of daylight will allow for as many holes as possible. Whatever's left should be able to be finished on Monday, too, as Monday's forecast calls of a high of 69 degrees and just a few clouds.
Glass-completely-bone-dry: Tuesday finish
Pessimists, unite. A Tuesday finish would mean Friday and/or Saturday were essentially a complete wash out. Minimal holes played, second round doesn't start until Sunday, etc. Also, there's always the threat of a playoff, just like there was back in 2005. Hopefully, someone channels their inner Fred Funk if such a situation were to arise.
UPDATE: On Friday, first-round play resumed at 7:15 a.m. ET, an the entire morning wave from Thursday was able to complete their opening round. The afternoon wave made it all the way until 11:15 a.m. before play was suspended again, as a steady rain became a heavy rain to the point where the course became unplayable.
"We've received about 2.5 inches of rain at this point in the last 24 hours," said Gary Young, chief referee of the Players Championship. "The golf course, we battled through some pretty tough conditions this morning. The staff did a great job keeping up with the greens as much as we could, squeegeeing, trying to manage play through some really difficult cells that we were facing.
"Unfortunately, we have reached a point now where there's just no window behind this area that we're moving into now. There's some lightning that is headed in this direction. We knew it was just going to be a point where we're just going to be battling too hard to keep up. The golf course has reached a point where it's unplayable, and we will ride this out as long as we can this afternoon. If a window of opportunity presents itself, we'll get back out there later today."
There is a chance, albeit a slim one, that play can resume at some point Friday. That would be assuming two things: 1. The rain/thunderstorms stop around 4 p.m., as they are currently forecasted to, and 2. They can get to course into a playable condition. By the time that even occurs, they'll already be pushing up against darkness.
If they cannot get back out on Friday, Young says finishing 72 holes by Sunday is pretty much out of the question.
"We may be in a situation where, if we don't get back out there today, we're assured of a Monday finish, and we're also going to have some conversations about whether or not we re-pair following Round 3."
Of course, a Monday finish is no sure thing, either. Winds are expected to reach 60 mph on Saturday, which means there will be debris on the course that will need to be cleaned up before they can resume play Saturday. Another of many hurdles ahead.
"I'm talking a little bit about scenarios down the road, but I want to be careful about too many expectations," Young said. "I would say, if we don't play any more golf today, we all know that we'll be here on Monday."
As for a possible Tuesday finish, well....
"The potential is there. The potential, but let's hope not. I think everything that we're looking at, we feel very confident that we can finish this tournament by Monday."