Live Blog
Players 2022 live updates: Tommy Fleetwood, Tom Hoge share clubhouse lead in delayed first round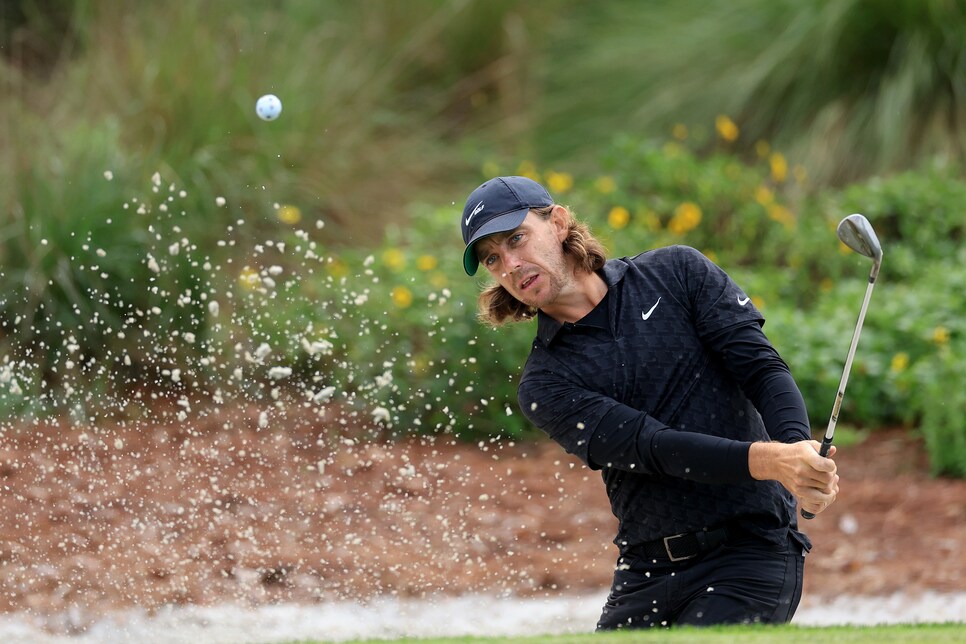 Tommy Fleetwood plays his third shot on the 14th hole during the first round of the Players Championship.
David Cannon
In a round that quite literally ended in the dark because of three hours of rain delays, Tommy Fleetwood and Tom Hoge each shot six-under-par 66 to share the clubhouse lead at the Players Championship. And they may now have a very long time to wait to tee it up again.
Less than half the field completed Round 1 and 12 golfers had yet to tee off when play was suspended at 6:36 p.m. ET. With thunderstorms predicted for throughout the day on Friday, it's likely that some golfers won't begin their second round until sometime on Saturday, with a chance the event's conclusion will need to be pushed to Monday.
Fleetwood made seven birdies in his 66, while Hoge eagled the par-5 second hole en route to his 66. Fleetwood has two top-10 finishes in the Players, while Hoge has a T-22 last year as his best result in three Players starts.
Kramer Hickok, Joaquin Niemann, Keith Mitchell and Anirban Lahiri each scored 67. Lahiri was among those who played in the dark as players rushed to fiinish. Brian Harman, Abraham Ancer and Sam Burns were in with 68s.
(Scroll down for the latest updates from TPC Sawgrass)
Players 2022 live updates:
7:22 p.m.: The PGA Tour's summary of this wet and wild day.
6:49 p.m.: The weather-delayed first round of the Players was officially called at 6:36 p.m., though the groups trying to finish continued play it out, much to the amazment of Golf Channel's David Feherty, who said, "You need to be a vamptire to play at this time of night." Ian Poulter, by the way, parred the last hole and shot one-over 73.
6:38 p.m.: Hilarious scene as it gets dark at TPC Sawgrass. Guys badly wanted to finish their first rounds, and Ian Poulter hit his tee shot at the 17th, stuck it to about three feet and took off in a full sprint. As Golf Channel pointed out, Poulter did the same thing in 2011. The point: The 46-year-old was trying to finish the 17th to tee off on the 18th before officials sounded the horn to stop play. Poulter made the birdie putt and took off sprinting again, with the players in front of him moving out of the way so he hit his drive. A horrible drive, to be honest. Badly sliced. But like a great Ryder Cupper he is, he took one for the team.
6:15 p.m.: Backspin has killed some guys today. Not the case for Anirban Lahiri. There have been quite a few eagles. This one is probably the best, and set up the happiest celebration, getting him to four under. The pink pants are a nice touch.
5:41 p.m.: Did Patrick Reed just flip off his ball? Probably frustrated that he was one over, Reed missed a birdie putt on 18, groaned, and it sure looked like he made a middle-fingered gesture, along with possibly uttering what you usually do with that display. Interestingly, the screen blurred in the seconds after that. The visual version of the mute button?
5:27 p.m.: It figured that in this early bad weather a European might climb to the top, and it's not a surprise about who that guy from across the pond is. Tommy Fleetwood made seven birdies against just one bogey to shoot 66 and get the clubhouse lead. The Englishman's putter cooperated; he gained 3.199 strokes putting to rank No. 2 Fleetwood opened the 2019 Players with a 65 and contended until Sunday, when he stumbled with a 73 and got a T-5.
5:01 p.m.: Harold Varner and Will Zalatoris would like the last half-hour back. Varner followed up his triple at 17 with a bogey at 18 and ended up shooting three-under 69. Zalatoris got through 17 OK, but three-putted from 46 feet for double bogey at 18 to also shoot 69. When they finished they were three behind Tommy Fleetwood, who was playing the ninth (his 18th).
4:42 p.m.: Harold Varner—five weeks removed from his huge win in the Saudi International—was absolutely cruising. When he birdied the 16th, he was at seven under and had a two-shot lead. Varner had played the last eight holes in six under. Note the past tense and the hole number. Hello 17, and one more disaster. With the island hole playing benignly, with no balls having hit the water, Varner found the green, but a hard-spinning ball sucked back about 40 feet and tipped into the water. He chose the drop area from which to hit his third shot, came up short and then three-putted for a triple-bogey 6. Just like that, Varner went from solo first to T-4.
3:59 p.m.: Tommy Fleetwood has it going folks. The Englishman just rolled in his sixth birdie of the day -- this one at the fifth hole -- to get to 6-under.
It's obviously (very) early, but Fleetwood is in a familiar position -- atop the leaderboard of one of golf's biggest events, like he so often is. He might not look so familiar this week, though -- as it appears the Englishman gave himself a clean look before the week.
3:54 p.m.: Will Zalatoris is back around the lead, and the announcing crew is back to making mysterious noises as the 25-year-old takes the putter back. Sheesh, he just rattled home a three-footer for par at 14, but man ... it really does look like he fans the putterhead open before squaring the face. Not a putting stroke for the weak-hearted.
Willy Z is one back (-4) with five birdies to make up for an opening bogey at the opening hole.
3:38 p.m.: Harold Varner III has missed his past two cuts (by a lot) after his big-time victory in Saudi Arabia last month, but HV3 is HOT at TPC Sawgrass right now, birdieing four of his past five holes to tie Tommy Fleetwood atop the lead. His latest red number was a 9-footer holed at the par-3 13th hole to get to 5-under.
3:18 p.m.: Tommy Fleetwood had a very long time to think about his birdie putt at the second hole (his 11th), but he nails it from above the hole and becomes the first player to reach 5-under here at TPC Sawgrass.
3:15 p.m.: Play is resuming now at TPC Sawgrass, and the weather is actually quite nice now. The wind is minimal, and the fairways and greens are in great shape. You don't want to find the rough, as it's extra lush (and actually a little longer than normal). You wouldn't think this morning wave would be at an advantage considering all the stopping and starting, but for the afternoon wave who will barely get any golf in today, they will have a VERY early day tomorrow, which is nice to avoid!
2:33 p.m.: The official word is here: Play will resume at 3:15. Yes, you will be able to watch some live golf on Thursday. About a three-hour delay in total ... which will cause some residual effects on how this tournament plays out this weekend. Plus, the ominous forecast for Friday. But let's enjoy today!
2:16 p.m.: Some encouraging news: The range is open as of 2:15. Officials are back on the course to assess its playability. The grounds crew is hoping that by 2:30 or so, they'll be able to set a 3:15 or 3:30 restart time. The radar looks clear after that, so hopefully it's smooth sailing until darkness once play does finally resume.
1:57 p.m.: Mike Tirico says on the broadcast that we're at least a half hour from play resuming, which means that not every player will start his first round today. No player that has started has finished more than a dozen holes. They'll have until about 6:30 p.m. until sunset, and weather permitting, will play right up until it's too dark to see.
1:10 p.m.: Well, there was good news and there was bad news from the PGA Tour's meterologist Wade Stettner when he spoke to Golf Channel a bit ago. He said the current thunderstorms—an ugly band of yellow on his computer monitor—looked like they would pass in about 45 minutes, though he added the qualifier that the course would still need to be assessed—presumably for areas of standing water because we've seen puddles on the greens. That was encouraging, BUT he said this about the forecast on Friday: "Tomorrow looks like a rough day. It looks like we could be battling thunderstorms through most of the day. They kind of develop in the morning and they come at us in waves throughout the day." Golf Channel then went inside with Mike Tirico talking to the tour's chief referee for the week, Gary Young, who qupped, "We're going to have to work on Wade's positivity." Young went on to say that setup considerations will get interesting beacuse the second round will most likely be finishing on Saturday, when the winds are expected to change direction, making the course play very different from the guys who finish two rounds earlier.
12:35 p.m.: We were promised an update on the weather situation at 12:30. And now we've been promised another one at 1 p.m. Hang tight, folks.
11:05 a.m.: Ruh-roh. Play has been suspended due to dangerous weather in the area. It's already the second weather delay of the day. We'll let you know as soon as there's been an update to when play will resume.
11:01 a.m.: Well, it took a couple hours, but we have our first real carnage of the tournament by a big name. And wouldn't you know, but it's a guy I bet on. Of course! Adam Scott was cruising along niceley until he sniped a tee shot into the water on No. 18. And then he did it again. By the time he finished the hole, it was a quadruple bogey, AKA the ol dreaded snowman. Not great—especially for me. Well, and Adam.
10:53 a.m.: Patrick Reed may not have been getting a lot of love from oddsmakers, but Will Zalatoris was a popular bet and he has now moved into a tie for first at four under after a two-putt birdie at the par-5 11th. The reigning PGA Tour Rookie of the Year is still looking for his maiden win despite several close calls, most notably runner-ups at last year's Masters and at Torrey Pines in January. Zalatoris is currently tied with Tommy Fleetwood and Harold Varner III, so make that a trio of players looking for their first PGA Tour title at the PGA Tour's flagship event.
10:49 a.m.: How about Patrick Reed?! In such a slump that his pre-tournament odds had fallen as low as 250-1, the 2018 Masters champ is off to a fantastic start. Playing the back nine first, Reed took advantage of the par 5s, birdieing 11 and eagleing 16. He's headed to the first tee at three under, one behind Tommy Fleetwood.
10:30 a.m.: Tommy Fleetwood went with a clean-shaved look this week and now he's shaving strokes off his game. After narrowly qualifying for this event, the 31-year-old Brit is off to a fantastic start after birdieing the difficult 18th hole to shoot three under on his opening nine. A five-time winner on the DP World Tour, Fleetwood is still searching for his first PGA Tour title—something Paul Azinger won't mind pointing out this week.
10:22 a.m.: We're going to see plenty of water balls on 17 this week, but how about a highlight-reel shot on the famed par 3? Doc Redman provides the first one of those of the week after aggressively firing at that back pin and finishing about two feet from the hole. Guessing we wouldn't see this without the soft conditions! Regardless, Redman's third consecutive birdie moved him to two under early.
10:06 a.m.: We've got our first player at the PLAYERS to three under par. Kramer Hickok birdies the par-5 ninth hole to make the turn in 33. Hickok, if you recall, gave the interview last month in which he revealed he knew of 17 players who were joining the Saudi-backed Super Golf League. So far, that hasn't happened, because those players would not be playing in the PLAYERS.
9:29 a.m.: There are now 20 players who are tied at 1-under currently at TPC Sawgrass. They're all T-4 right now, trailing Kramer Hickok, who birdied the second and sixth holes so far to start his day; Will Zalatoris, who has made up for an opening bogey at 10 with three birdies (at 2, 4 and 6); and Cameron Smith, who has birdied two of his opening three holes (11 asnd 12).
9:20 a.m.: Ouch, Jon Rahm had a great tee shot cutting the corner at the par-5 11th hole, but his ball ended up in the first cut. And there ain't no lift, clean, place in the first cut. The effects of the overnight rains are showing already ... forcing Rahm to have to lay up short of the water on a hole that's playing as one of the easiest early on Thursday.
Though Rahm probably made the prudent play with the unpredictability of the mud on his ball, he hit a very sub-standard approach to 34 feet but gets away with a par after running the birdie putt about 4 feet past. No harm, no foul ... good call Mr. Hayes.
9:05 a.m.: The marquee group of the morning is now on the course. Patrick Cantlay and Jon Rahm both burned the edge with their long-range birdie putts at 10, and Viktor Hovland, who looks like he got a fresh haircut since Sunday when he held the lead for much of the final round at Bay Hill, just missed his 13-footer for birdie.
By the way, you might not remember but last year, Viktor Hovland's mother informed her son of a penalty she saw him commit on the par-4 14th hole, which led to a two-stroke penalty and his eventual WD. We wonder what kind of viewing setup Miss. Hovland's has this morning.
8:37 a.m.: The 11th hole appears to be playing quite easy so far this morning—Tommy Fleetwood joins the group at 1-under par early with a nine-footer for birdie. Will Zalatoris made up for a dropped shot at 10 with a birdie at 11 as well.
Going the other way early is Webb Simpson, whose tee shot at the 10th hole went out of bounds, never to be found again. It's been a tough couple months with some injuries for Webb, and it looks like the former Players champion will be behind the eight-ball early here at TPC Sawgrass.
8:30 a.m.: We got some under-par scores folks. Mito Pereira buried an 11-footer for birdie at the 10th hole to start his round at 1-under. Beau Hossler and Russell Knox each converted birdie putts at the par-5 11th and Kramer Hickok started his day with a birdie at No. 1.
We hope their families are here for the screenshots to memoralize their guys topping the leader board in one of the biggest tournaments of the year. What a time to be alive.
8:15 a.m.: Will Zalatoris has started his Players Championship with a bogey at the opening hole. The 24-year-old is on everyone's watch list for the season with his success in the biggest events thus far. But not an ideal start for boy wonder.
8:04 a.m.: The PGA Tour JUST announced that Hideki Matsuyama has withdrawn from The Players, and he'll be replaced in the field by Patrick Rodgers.
Hideki apparently met with some media from Japan last night and told them his neck is still not 100 percent. Of course, his sights are set on his Masters defense in a few weeks, but this was a late announcement for a WD. If you're in a Players pool or play fantasy golf ... well, Hideki is not your favorite person right now, costing you a precious spot on your team. Hideki of course is one of a handful of players to hold the course record at TPC Sawgrass when he shot the opening 63 during the first round of the canceled 2020 Players.
7:45 a.m.: OK, play has started after an hour delay to the first round following heavy rains overnight.
We have a few big numbers already: Adam Schenk dropped a shot on the first hole, which is no handshake opener from Pete Dye. And Brian Harman is 1-over through 1 starting on the 10th hole, which is also a tough one to get your round going on.
6:30 a.m.: The PGA Tour announced lift, clean and place will be in effect for Round 1 due to the overnight rain. That speaks to just how much rain Ponte Vedra Beach got last night—even with the TPC Sawgrass' SubAir system, it couldn't pump out enough moisture.
Now things have been delayed an hour (so far) and they'll be playing the ball up. Not quite the start you'd envision to the biggest golf tournament of the year so far.
Here are all the pin positions for the first round at TPC Sawgrass: