The Sawgrass swimmer
Players 2022: Drunker than most—How a fan crashed a playoff at TPC Sawgrass by jumping into the water at the 17th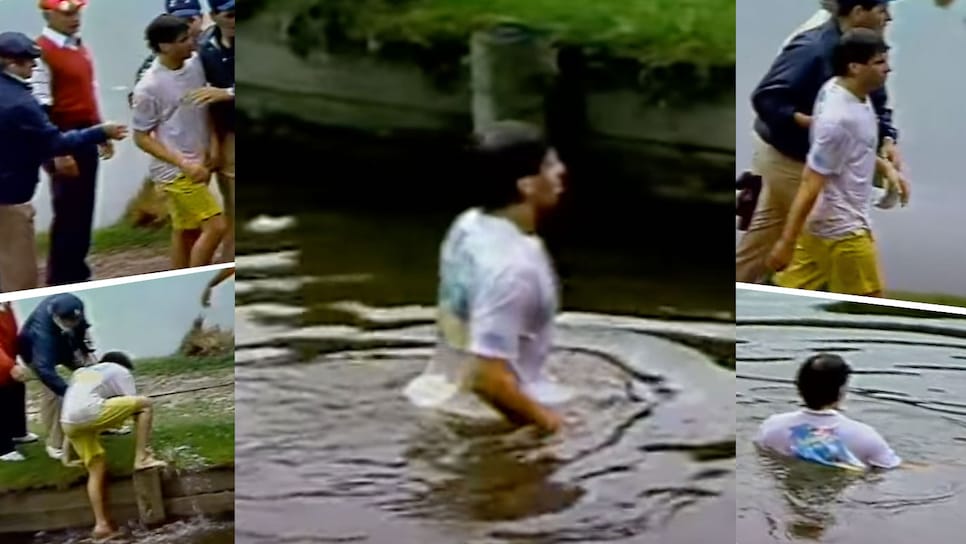 Hal Valdes said he was trying to win a $500 bet from a fraternity brother when he went for a swin at the 17th hole in the middle of a playoff to decide the 1987 Players Championship.
Today he's just a beer guy, but 35 years ago, if Hal Valdes had to guess, it was probably a lot of "Crown or screwdrivers."
That was the fuel abetting Valdes' decision to take up his buddy's challenge to jump in the water hazard that surrounds Pete Dye's "island" 17th green at TPC Sawgrass. It's arguably the most famous par 3 in the world, the scene of countless memorable triumphs and disasters—Tiger Woods's "better than most" putt, Rickie Fowler's magic show, Bob Tway's 12, Sergio's splash, Brendon Todd's shank, the Chainsmokers, the list goes on and on.
Valdes' moment is just as significant a part of the hole's history, even as it has receded from memory, becoming largely unknown to younger audiences who can only recall the 17th as a grand amphitheater surrounded by multi-story corporate chalets. His plunge came in 1987, still the nascent days of the Players Championship and just five years after its move to the Stadium Course.
"It was a bet from one of the guys I was there with," said Valdes, a student at Florida State at the time, who talked to Golf Digest earlier this week. "We had been out all night, and we got there and then we were at a corporate tent all day. It was one of those things that neither one of us had any idea what was going on at the time. We were just still hanging out and he just made a random bet, 'I bet you $500 you won't jump in.' $500 back in 1987 in college, that was probably three months worth of living."
As Valdes characterizes it now, it was not his "proudest moment." As far as drunken 21-year-old mistakes go, this victimless bit of idiocy typically would not rate. The problem, however, was timing. This was not a streaker running onto the field with the teams in the huddle during the third quarter or with the ball in the pitcher's hand during the top of the fifth. Valdes and his buddy, a fraternity brother at FSU, chose to interrupt the absolute climax of the entire championship—Jeff Sluman and Sandy Lyle on the second hole of a sudden-death playoff. "Chose" may be too strong a verb, given that he said the two were "kind of on a different planet" at the time. Whether intentional or just blind drunk, Valdes caused his ruckus just as Sluman stood over what he estimates was a five-foot putt to win his first PGA Tour event, $182,000 of the $1 million purse, and a career-changing 10-year exemption on tour.
"I was extremely close, probably within a second [to pulling the trigger on the putt]," Sluman recalled when reached on Thursday. "The thing that was confusing to me at the time was hearing booing. I had no idea what happened. As a golfer in a moment like that, you're kind of solely focused at the task at hand. You don't hear things. So I didn't hear, and to this day, I don't know if he slid, belly-flopped in, I didn't hear anything. All of sudden I just hear this whistling and booing so I step back."
Ben Wright, on the call for CBS, proclaimed, "I fancy he's going to hole this" and thought it was a mere formality, rattling off all the perks that were to come to Sluman with the win. Needless to say, Wright was horrified as the cameras panned out to the sopping patron wading around in the hazard. "Well we've got a momentary diversion, one of our slightly fortified customers," Wright moaned in his signature British accent. "That's really ridiculous at this stage. … We might feed him to the alligator. That's really tough for little Sluman, going for his first victory, to be disturbed by that kind of nonsense."
Despite the multiple exhortations on the telecast to feed the interloper to the alligators, which Sluman later added he assumed were a deterrent to someone jumping in, the wildlife was never a concern for Valdes. Because of the alcohol? "No, I've been born and raised in Florida all my life," he explained, brushing aside such un-Florida Man alligator apprehension.
Amid a sprinkling rain, Sluman, in the playoff after shooting a final-round 69, had hit one of the shots of his life to set up this potential winning putt, a position that held a major advantage over Lyle, who was 30 feet away. After striking his tee shot, Sluman, then a 29-year-old, immediately started walking off the tee box with the ball still climbing into the air, something the kids might call #TourSauce these days. It's similar to the darts Fowler repeatedly hit into that right pin position in 2015. Sluman thought he'd won it with that shot, which he felt was so close to the hole that even an army of pond-jumpers would not impact the putt.
"I can honestly tell you now, I was stunned it was that far away," Sluman said of the remaining putt. "I thought I put it up there like a leaner when I hit it. I'm watching it, and at those moments in your golf career, you have a tremendous amount of feel on different shots, and I thought it was going to be a foot, really. I don't think I've really ever said that out loud before but I really was … not that I was disappointed in the shot, just that I was stunned that it didn't get there and wasn't basically a leaner. It was still a pretty darn good shot under the circumstances."
But what was left was five feet and an intervening Valdes cannonball. Sluman backed off his putt at that final moment, waited for the authorities to fish Valdes out, then reset and missed the five-footer, which Wright said didn't have "much of a swing" to it, on the low side. "What can you say?" Wright added. "He had the Holy Grail in his grasp and let it slip."
Lyle, also 29 at the time and less than two years removed from his Open Championship win at Royal St. George's, would make his par putt to match Sluman's disappointing 3, and then the Scot would win the championship on the next playoff hole, a replaying of the 18th. Sluman said the two had "chuckles" about the incident at the 17th years later, but that "Sandy felt bad" about the circumstance in the immediate aftermath, despite having no control over the situation.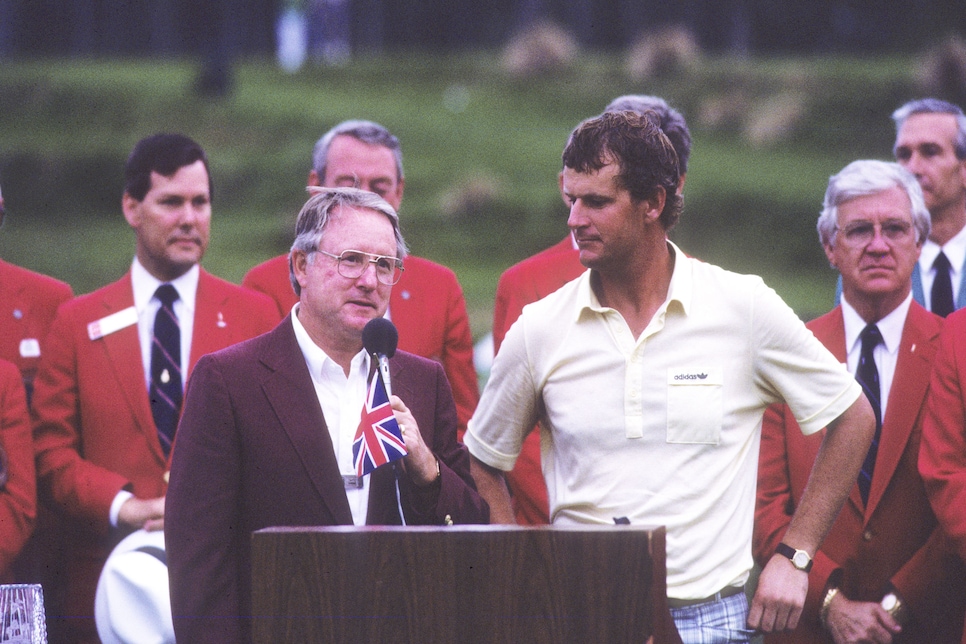 PGA Tour commissioner Deane Beman congratulates Sandy Lyle on his victory after the Scot won on third extra hole.
PGA TOUR
Sluman does not point the finger at Valdes for the missed putt and loss of the championship. But it's also not something he's cackling about, even 35 years later. "It's interesting as time goes on, and even the following year in 1988, people thought it was really funny, and it really wasn't," he said, adding an emphasis of incredulity on the word funny. "Especially within four or five years of it happening, it was still pretty raw for me. That doesn't mean I was going to make it. … It was one of those questions you'll never know: Would I have made it or not? Who knows. But people thought it was funny and it really wasn't that funny to me. As I've gotten older, I certainly didn't blame him for me losing the tournament, because I still had an opportunity to putt it."
Valdes, who never collected on the $500 bet with his friend (UPDATE: he says he has now since the publication of this story), escaped any legal punishment and was merely ferried out of sight. "I was escorted away," he tells it. "I don't know why I remember, but the guy just said, 'Hey, get over there and blend in with the crowd.' I thought that was kind of ironic, as I'm the only guy soaking wet from head to toe." There was no arrest and no ban, a frequently used term in Ponte Vedra these days, from TPC Sawgrass or the Players. He has been back both as a fan of the tournament and as an avid golfer who plays to a 10 handicap.
That's not to say his actions did not come without quick regret and some reckoning. "My dad was the president of a country club at the time," he said. "And I called him up to … I thought maybe I'd let him know. But before I could even talk, he said, 'You know what, they should put that guy and Sluman in a closet and give Sluman a 2-iron and let him beat the crap out of him.' And then I thought to myself, maybe that's not the right time to tell him that it was me.
"It was kind of stressful afterwards, and justifiably so. It was a moronic thing to do. I regretted it ever since, especially since I became an avid golfer and you understand the game now. It's not my proudest moment, let's put it that way. But it's been years and years and years down the road, and I think, I hope, nowadays if anybody did that, they'd be thrown into jail. So at least maybe it increased security or made sure it didn't happen in the future."
So hey, perhaps Valdes' jump was a trailblazing act that triggered some of the "protection" that future generations of PGA Tour members so covet.
The pond-jump was not some mistake that would trail Valdes for the rest of his life. Now 55, he became a successful businessman in Orlando, starting and eventually selling his own food manufacturing company. His college-aged mistake is long in the past, but it still comes up occasionally as his "smart-aleck daughters and their boyfriends" discovered the ignominious moment in the archives.
Sluman would have to wait about 16 months for his first win on the PGA Tour, but it would be a big one: the 1988 PGA Championship at Oak Tree. Valdes, who became a Sluman fan and still tracks his results on the PGA Tour Champions today, was "thrilled to death" with that major championship victory the next year, feeling like a "load had come off his shoulders." The tour pro undoubtedly had similar emotions of joy and relief, just for different reasons and at higher levels.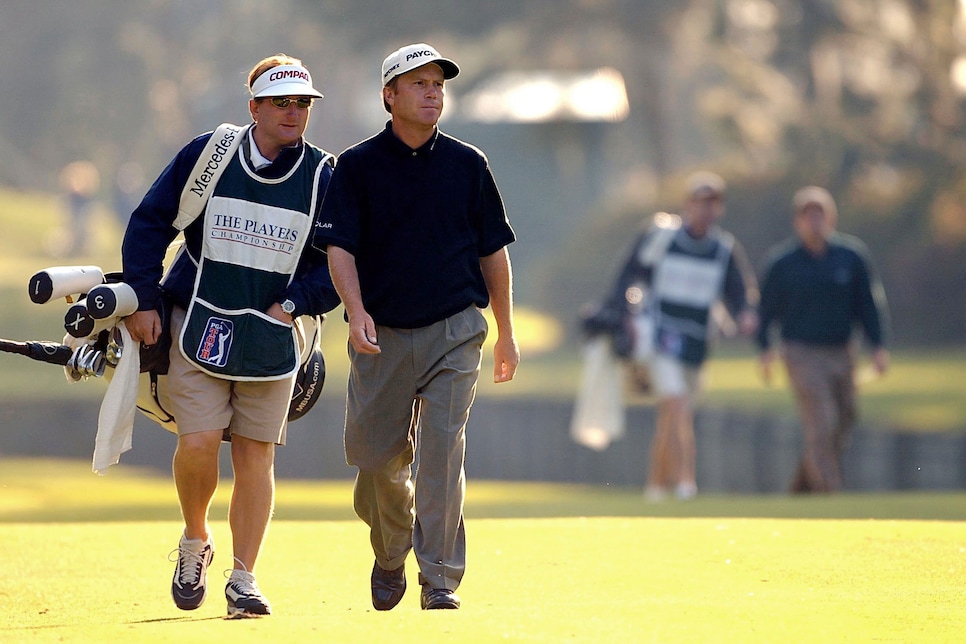 Sluman made 20 more Players starts after losing in 1987 in a playoff, missing the cut seven times and having just one top-15 finish: a T-4 in 2002.
Jamie Squire
There's been some communication over the years through intermediaries and attempts to be in the same place at the same time, Valdes claims. But the two, one a former Florida State cheerleader and the other a former FSU golfer, have never met. There were regrets and contrition, both then and now, and time has dulled the intensity of and brought equanimity about the moment for both men. Sluman does not consider it career-changing and he does not blame Valdes for the loss, and Valdes has lived a good successful life free of heaving himself into water hazards during PGA Tour events.
"Hey, we were all young once," said Sluman in his Champions Tour wisdom looking back 35 years after a career with 18 professional wins plus a major. "We were all overserved—not all of us, but certain people—you've been overserved in your life and done some silly, dumb stuff. That's just kind of the way it is. Overall, I kind of view it as maybe that made me a little tougher so the next time I had a chance, I was able to get it done, and that would have been the PGA the following year. Looking at the big picture, maybe that helped me win the PGA. … It's just kind of one of those things that I look back on it as not so much a golf historian, but I've been involved with professional golf for a long time and seen a lot of things, really haven't seen anything quite like that before or since, very strange."
At a hole that's seen so much, the interlude is a one-of-a-kind oddity, now often forgotten. It's a significant piece of history of both the 17th and the Players and it's also likely we never see it again, even if the gators are no longer inhabitants.