Cinderella champion
Players 2022: Craig Perks is TPC Sawgrass' most unlikely winner. He also could be the most grateful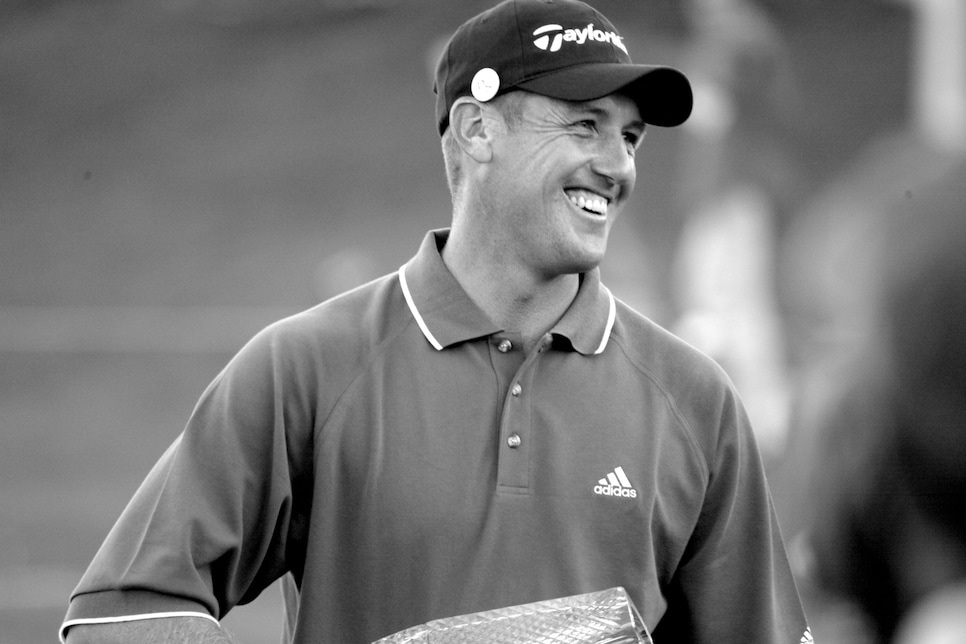 This coming Monday, as he has done every Monday the week of the Players since 2003, Carl Paulson renews a personal tradition and sends the same text to Craig Perks congratulating him—sort of—for his astonishing, stupefying, fairy-tale finish that resulted in his 2002 victory in the PGA Tour's flagship event, Perks' only career tour title. "I text him, 'Happy Craig not-so-nice words Perks Day' as a joke for what he did," Paulson said. "How that all played out … all you can say is it was definitely his time."
Who really knows how the vicissitudes of golf get jumbled over 72 holes to concoct an outcome favoring a relatively unaccomplished player? Sometimes the seven letters on the Scrabble tray spell destiny. Orville Moody's only tour win came at the 1969 U.S. Open. Shaun Micheel never won before or since he struck the 7-iron of his life on the 72nd hole to win the 2003 PGA Championship.
Then there's Perks, an unassuming New Zealander devoid of an illustrious résumé but not resolve. Twenty years ago, under withering pressure that exposed all his weaknesses, including his inexperience, Perks orchestrated arguably the most remarkable down-the-stretch scoring flourish at the Players Stadium Course at TPC Sawgrass. He chipped in for eagle at the par-5 16th. He buried a 30-foot downhiller for birdie at the famed island par-3 17th, his ball barely catching the left lip. Then, when it appeared he still might let it all slip away, he holed out again from the rough beside the 18th green for a par that left him two strokes ahead of Stephen Ames.
And left the golf world collectively stunned.
No one would have batted an eye if Tiger Woods, the defending champion that year, had authored such a momentous series of strokes. He'd already been producing such heroics. For someone like Perks to close so spectacularly, that just isn't done. Not by a 35-year-old journeyman who was ranked 203rd in the world, who was making his first start at TPC Sawgrass and who had missed 37 of 65 cuts since joining the tour in 2000. Woods was in the hunt that week to become the first man to capture back-to-back titles. Instead, Perks became the first to breakthrough for his first tour win at the Players.
"I understand the novelty of it, why even 20 years later people want to talk about it," Perks said by telephone from his home in Lafayette, La. "I was the unheralded—to use other people's words—player from a small town in New Zealand and outside the top 200 in the world. And it probably wouldn't have been quite the feat and have the uniqueness to it if I'd been more accomplished and just gone birdie-birdie-par, or something like that, in sort of a normal way, if there is such a thing at such an important championship.
"But, no, I've sort of lived off the finish for many years, and I've been thankful for the opportunities it's created, and for the memories that get rekindled. It never gets old because it's so memorable, I guess, to so many people."
A native of Palmerston, New Zealand, the same hometown that produced tour winner Grant Waite, Perks began the final round at eight-under 208, a stroke behind Paulson, who also was competing in his first Players and hadn't yet won on tour. Walking to the first tee for their 1:50 p.m. starting time, the two men, friends from their days together on mini-tours, repeated a question they had posed to each other as they passed in the interview room on Saturday night:
BLESSES WITH TREMENDOUS hand-eye coordination and a work ethic instilled in him by his late father Bob, Perks made progress haltingly toward his PGA Tour card after turning professional in 1993. He was an All-American at two colleges, Oklahoma and Louisiana-Lafayette, but he was forced to take a job as an assistant club pro when his tour prospects didn't immediately take off. He was undeterred, however, as the seasons fell away and he hadn't yet reached his quest to play on, he said, "the greatest tour in the history of the world." He laughs when he says this, but that's how he felt—and how he still feels.
"I had an athletic acumen that was built on hard work, and I had some ability," Perks said. "My dad always said that nothing is ever given to you, that you have to work for it. So, I was determined, and I had a great sense of self-belief."
Perks' Players win was one of just seven top-10 finishes in 202 career PGA Tour starts. He made $1,080,000 for the victory, which was 32.1 percent of his overall career tour earnings ($3,362,251).
Perks had known his share of athletic success before he came to the United States. He competed at the national level in swimming, was good at cricket and twice won junior national titles in table tennis, a sport at which his father excelled. He didn't pick up a golf club until he was 13, but the game fit his preternatural abilities. "I didn't have an incredible skill set but maybe more desire than most, and I thought if I outworked everyone else, I might be able to accomplish something."
Perks posted three top-10 finishes in his first two tour seasons (2000 and 2001) and had to return to Q-School in December 2000, where he finished T-8, to get back out in '01. He kept his card for the next season thanks mainly to a runner-up finish in the Honda Classic, and he began the 2002 campaign making the cut in all seven of his starts, including a T-5 at the Genuity Championship at Doral in Miami. He shot 71 in the final round paired with Woods and watched in awe as the World No. 1 reeled in Ernie Els by making up seven shots in his first 12 holes, only to finish second. "It was bedlam, and yet he never lost focus. I learned a lot," Perks said.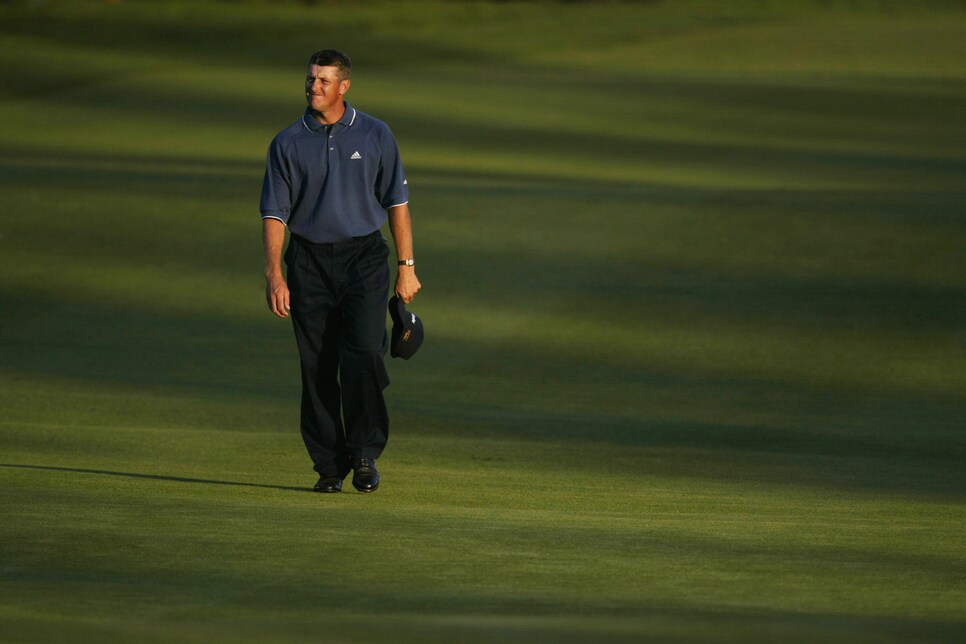 Perks needed several years to reach the PGA Tour after turning pro in 1993 and had to go back to Q school after his first season in 2000.
Jamie Squire
He wasn't sharp in his next two starts, teeing off early on Sunday in each, and he showed up at TPC Sawgrass feeling like his game was "in tatters." Perks was thrilled to finally qualify for the event but got off to an awful start in Thursday's opening round and figured he wouldn't be around long. Then it started raining.
"I remembered sitting in the locker room, and I think it was [David] Duval and Tiger … they used to have a little crow's nest up top, so the champions would wander up the stairs and sort of look down on us peasants from on high," Perks recalled. "And I sort of glanced up there and I'm like, 'Man, what would it be like to be up there one day?'
"So, we had this lengthy delay, and I thought about what I was doing. I had this two-way miss going, and I needed to figure it out. And when the range opened, I sort of messed around with my ball position, which was always key, and it just clicked. Without that weather delay, there's no way I would have made the cut."
'I was more nervous receiving the trophy from Tiger than actually winning the championship at that point, but that's when it really hit me what I accomplished.'
—Craig Perks
Perks birdied four of his last seven holes to salvage a one-under 71. He added rounds of 68 and 69, and there he was in Sunday's final pairing with Paulson while 13 players lurked within six strokes, including Woods, reigning PGA champion David Toms, Nick Faldo and Sergio Garcia.
On the road to contention in the tour's richest event, Perks had chipped in from off the green three times.
THE STADIUM COURSE was fiery that Sunday in Ponte Vedra Beach, Fla., and, somewhat predictably, the final twosome was melting on national television. Paulson, after a decent start, bogeyed four straight holes, turned in 39 and simply was trying to hang on for a high finish. The 6-foot-2 Perks, meanwhile, wearing a light blue Adidas shirt that appeared almost two sizes too large and draped over his lithe frame, was doing more scrambling than a short-order breakfast cook at Denny's. Over his final 14 holes Perks made just two pars. Twice he missed par putts on the icy greens that were no more than two feet.
"I didn't play very well, but for a large part of the round Craig didn't really play well, either," Paulson said. "Amazingly, as bad as I was going along, I still had a chance there at the end because no one really made a move, and Craig was struggling."
"The overriding feeling as we watched it unfold was that Perks was kind of unraveling. It was such a big moment for him," said Roger Maltbie, who was working the NBC broadcast as an on-course reporter walking with Perks and Paulson in the final round. "It seemed things were coming apart. We've seen it before. Some of us who have been there have experienced it before. The writing was on the wall. You could see it. And you were going to feel awful watching it. For as many times as I felt great watching people do great things on the golf course, and the feeling you get afterwards, there were more times I walked off feeling awful for somebody. It's hard to watch, but it's sport."
In 2012, on the 10th anniversary of his victory, Perks was invited to watch the raw feed of the final-round coverage in the Golf Channel studios. Off air, NBC's broadcasters were feeling for Perks because, as one of them said, "he can't keep it on the planet." Perks, who in his days after his playing career himself went into golf broadcasting, said that was spot on.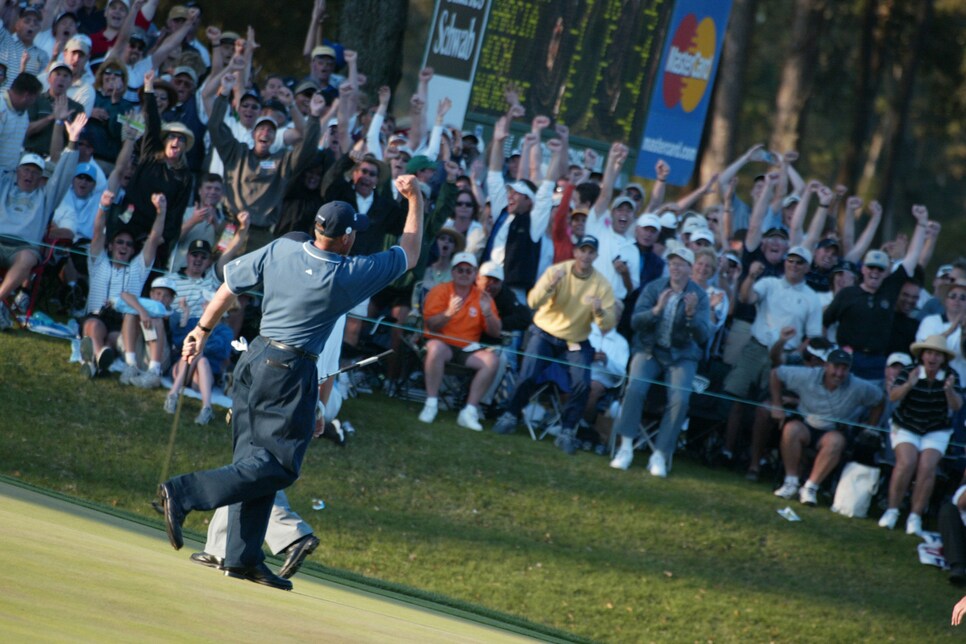 Perks offered up a Tiger-like fist pump after making his birdie putt on the 17th hole.
Susan Micals
Coming off bogeys at 14 and 15, Perks trailed Ames by a stroke. Ames, a native of Calgary, Canada, posted a brilliant 67 to surge into the clubhouse at six under par, and he was feeling good about his chances. "I thought six was a very good number," Ames said in the aftermath. "Then he [Perks] did his miracle stuff."
The miracle stuff actually started with the tee shot at 16, which Perks tattooed, leaving him 199 yards to the green. "That was probably the best drive of my life," Perks said unashamedly. "That really set everything in motion."
Rejuvenated, Perks stung a 4-iron that started to drift right, and Paulson thought it was wet. Then the ball fell slightly left and found a strip of rough between the green and the bulkhead.
VIDEO: PERKS' EAGLE AT 16
"The shot at 16, there was no way that didn't go in the water … but somehow it didn't," Paulson said. "That strip of grass between the green and the bulkhead was maybe 10-inches wide. The chip-in was epic. Then the putt on 17 was incredible. You make that putt one out of 100 times. It has to be the greatest finish in tournament history."
To Perks, the chip-in for eagle at 16 wasn't that complicated. The lie was good and the path to the hole was slightly uphill. "I don't want to sound like a narcissistic punk," said the soft-spoken Kiwi, "but I had so much confidence in my short game, and the shot was fairly straightforward. Obviously, I had to keep from getting swallowed up by the enormity of the moment."
Which Perks had to do again at 18 when he found himself right of the green, lying 3, and knowing if he doesn't get up and down, he faces a playoff with Ames. Paulson, meanwhile, had a 35-footer for birdie, and if he could make it, then he would join that playoff scenario. So Paulson let Perks go first, thinking that if his opponent popped one past the hole, he'd have to sweat a few extra minutes while Paulson sized up his birdie try.
VIDEO: PERKS' BIRDIE AT 17
Perks proceeded to flop it onto the green perfectly, and the ball crawled just over the lip of the hole. Perks threw a fist-pump with the same motion he had exhibited after holing out on 16 and 17—almost Tiger-like in mannerism—and then took off his hat and buried his face in it.
"My shoulders just slumped," Paulson conceded. "Then I three-putted and cost myself a bunch of cash. But how could you not be happy for him?"
"What happened at the end there, I think I shouted, 'You've got to be kidding me' when he chipped in on 18," Maltbie said. "It was a turnaround no one could have seen coming, including him. You think, 'How did that just happen?' It was an exciting and great moment because you've got to pull for the everyman kind of guy. Sometimes fortune just falls on your shoulders. That happened to Craig Perks."
"I've had shots that were much more difficult, but that's only if you remove what's at stake," Perks said. "I was on a slight upslope, the wind was slight but in my face. That helped. It was an excellent chip. But I considered myself to have one of the best short games in the world. I should have been at least able to get it up and down."
The pressure of the last few holes was nothing compared to the whirlwind he faced after signing for a 72 and 280 total. His only prior professional victory came in a Hooters Tour event where he pocketed $11,000. This title netted him $1.08 million—which worked out to be 32.1 percent of his entire career earnings on the PGA Tour ($3,362,251)—not that he had time to think about that. He found himself being whisked back to the 18th green for the trophy ceremony. There stood Tiger Woods to do the honors. Perks and his wife Maureen were tongue-tied.
"I was like, 'What the hell are we doing here?" And then I turned the corner and I'm like, 'What the hell is Tiger Woods doing here?' Then it sort of dawned on me. Tiger shook my hand, and then Tiger went to Maureen, and said, 'Hi, I'm Tiger Woods.' And Maureen looked up and all she could say was, 'Yeah, no shit.' And that's factual. We were overwhelmed.
"I was more nervous receiving the trophy from Tiger than actually winning the championship at that point, but that's when it really hit me what I accomplished."
"If I outwork everyone else, I might be able to accomplish something."
THAT HE DIDN'T accomplish more is a gnawing disappointment. Perks sought to strengthen his game, build himself into a more consistent contender, but changes he made backfired. He played 135 PGA Tour events after the win, but made the cut in just 39 starts (28.8 percent). He retired in late 2007 after his five-year exemption from the Players win expired.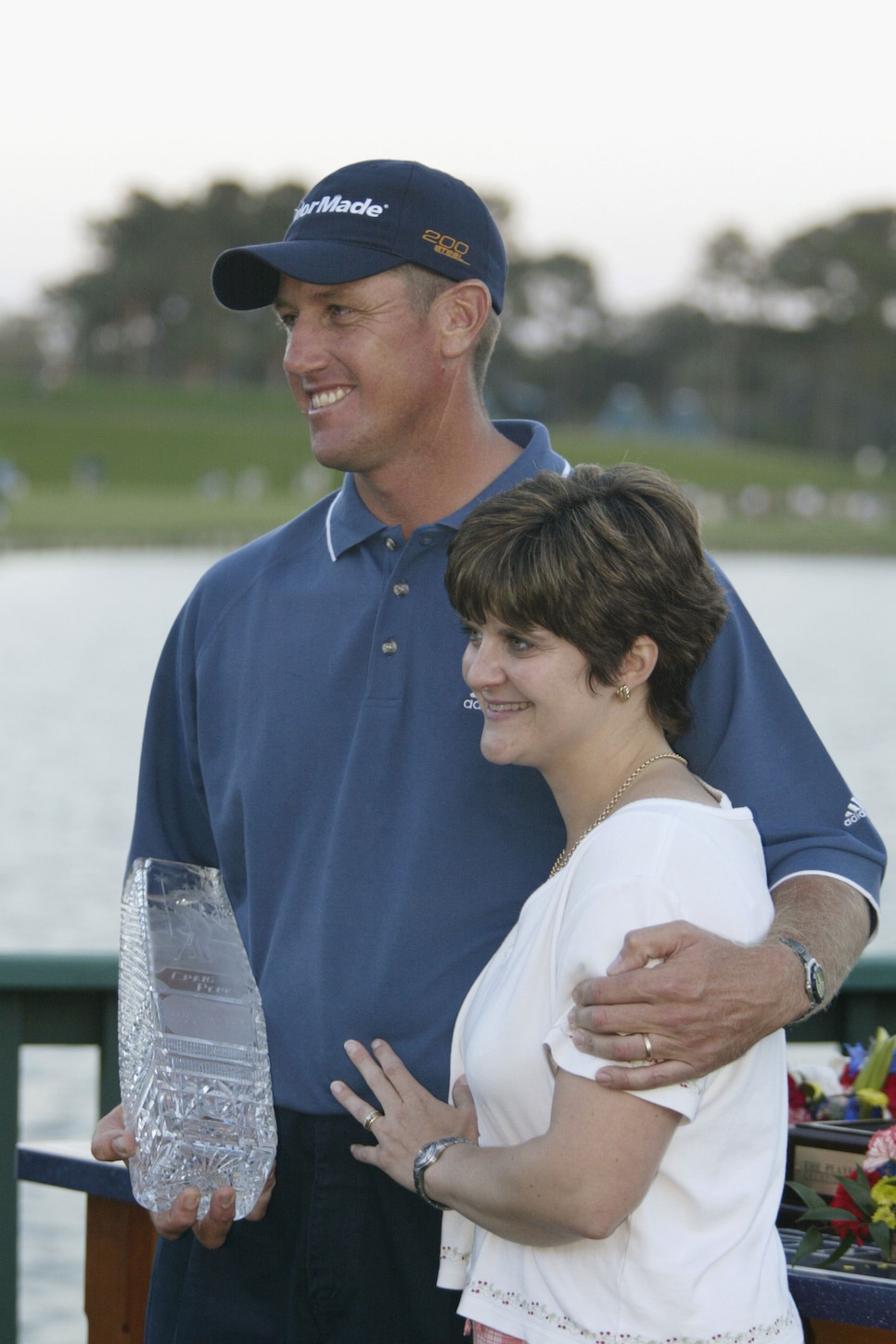 Perks, enjoying his victory with wife Maureen, was in shock after pulling out the unlikely win.
Andy Lyons
"I created my own barriers trying to be something I'm not, trying to live up to being a Players champion, and I got lost pretty quickly," he explained. "That led to the lack of self-belief and the self-image and all of those things sort of eroded away, and it left me sort of wandering around the abyss and then leaving the tour. I'm saddened how it ended, but I'm proud to have that one win. It has meant so much."
He still reaps some spoils from the victory, however. He has been a broadcaster the last 15 years, first for Golf Channel and these days for PGA Tour Live. Every year he returns to TPC Sawgrass for television duties, a bittersweet assignment. "You get a little melancholy at times, you know," he said wistfully. "I'll walk around trying to prepare for my analyst duties, and the memories become vivid again, the feelings and the scents and the sounds at certain spots on that golf course. And then I'm right back in that moment."
Having moved from Florida back to Louisiana recently, Perks said the crystal trophy is in his house, "but not in an obvious place." But don't deduce that he doesn't think about his achievement every single day. In fact, he sort of has to.
"You know, it happened on March 24. So, that's 3-24. And that's how I finished, three-two-four. So that's sort of how I remember it," Perks said, building to a revelation. "If you wanted to ever hack into any of my personal accounts, if you maybe put a three-two-four in the pass code, you'd probably get into them all."