The Loop
Greg Norman gets naked, Phil Mickelson jumps into the dessert business, and a new favorite golfer emerges
Welcome to another edition of The Grind, where we get super cautious paranoid the week of our annual buddies trip. The lawnmower gets put away and even doing something as tame as vacuuming can cause panicked conversations to run wild through my head. What if I trip over the cord and break my leg?! I'll never live down a vacuuming injury! Even Jason Day has never gotten hurt vacuuming! At least, I don't think. And wait, vacuuming has TWO "u"s in it? What a weird-looking word. . .
And I don't even have to do anything to get hurt. I woke up Sunday morning with a sore neck for the first time in years. Totally random. Or maybe it wasn't random. . . Damn it! I knew I shouldn't have vacuumed! Anyway, before I dislocate a finger typing, let's talk about everything else going on this week in golf.
Bubba Watson: Thanks to a Sunday 63, an incredible lob wedge on the final hole, and a vintage Paul Casey performance (Sorry, Paul Casey fans), Watson won the Travelers Championship for a third time. Now with 12 PGA Tour titles, including two Masters victories, there's (rightfully) been a lot of Hall of Fame talk surrounding Watson this week.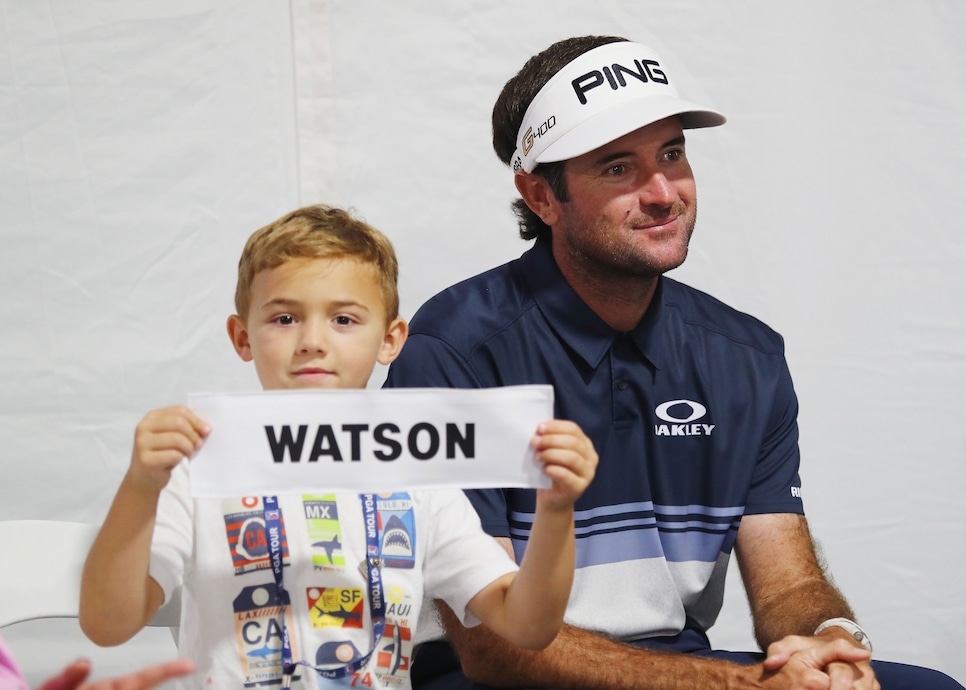 Tim Bradbury/Getty Images
Bryson DeChambeau's compass: To be clear, I'd never use one of these things, because I can't even be bothered to keep my own scorecard. But if Bryson wants to nerd out he should be allowed to, because the PGA Tour already allows those ridiculous green-reading books, and technically, he's not breaking any rule. Although, to be fair, I don't think Nostradamus himself could have envisioned a golfer using one of these things. Let's let Bryson be Bryson.
Hosung Choi is my new favorite golfer, indeed. I couldn't stop watching. Or laughing. Thankfully, Skratch TV put together this fantastic montage of this legend with "the fisherman swing":
The best is when he's so confused by where his tee shot is going that he points in both directions! And how about this body English on the greens?!
Unfortunately, Choi's T-5 at the Korean Open (he tied Kevin Na) wasn't enough to qualify for the British Open. But someone started a petition (I swear it wasn't me) calling for him to get a special exemption. Golf needs this man playing at Carnoustie — and yes, appearing in the pages of a future Golf Digest.
Paul Casey: On paper, a runner-up will go down as another strong result for one of the world's best golfers, but sadly, this was classic Casey. The Englishman entered Sunday with a four-shot lead and he wound up losing to Bubba Watson by three. He made one birdie (after a lucky break on No. 1) and shot the sixth-worst score of the day. Not good.
As a result, somehow, he's still stuck on three career PGA Tour titles. And now I'm really mad that the one time in the past nine-plus years that he's closed the deal in a PGA Tour event came at Tiger's expense earlier this year. Moving on. . .
Phil Mickelson's apology: Four days after that bizarre penalty at the U.S. Open, Mickelson issued a short statement apologizing for the incident and admitting he was frustrated and angry at the time (Duh). Sorry, but too little, too late. I'm glad Mickelson came clean, and I'm not one of those people who thought he should be DQed or quit the game in embarrassment, but he could have avoided so much of this fuss if he'd just said this right away. And if you are going to come up with some phony, calculated reason like he did, then own it. Anyway, speaking of Phil. . .
Robotic frozen yogurt shops: Phil Mickelson and his agent Steve Loy are opening up 30(!) of these joints in the San Diego area:
No one loves froyo as much as I do, but I also like to serve myself and load it up with toppings (until I get to the scale and see how much it costs). I saw a robotic bar in action in Vegas, but I'm not sure it works with this delicious dessert. And if the name isn't Robo Froyo, then what are we even doing here?
The PGA Tour heads to our nation's capital one last time for the Quicken Loans National, AKA that event that Tiger Woods used to host and is now sponsored by Cleveland Cavaliers owner Dan Gilbert. Dan can't be too pleased by the field, although Tiger is playing. Then there's the 25th annual HGGA (Don't ask) Championship in Charlottesville, Va., AKA my annual buddies trip I mentioned at the top. Which tournament has the stronger field is up for debate.
Random (HGGA) tournament fact: This is the first time the HGGA is being held in C-ville. In other words, this is a huge opportunity for the area. Don't blow it, C-ville.
RANDOM PROP BETS OF THE WEEK
— A tour pro will use a compass at the Quicken Loans: 1 million-to-1 odds
— Bryson DeChambeau wants in on the robotic froyo business: Even odds
— Dan Gilbert is more concerned with LeBron's future than this week's field: LOCK
When Gary Player appeared in ESPN's "Body Issue" five years ago we joked that Greg Norman must be lobbying for the same treatment. Well, here it is: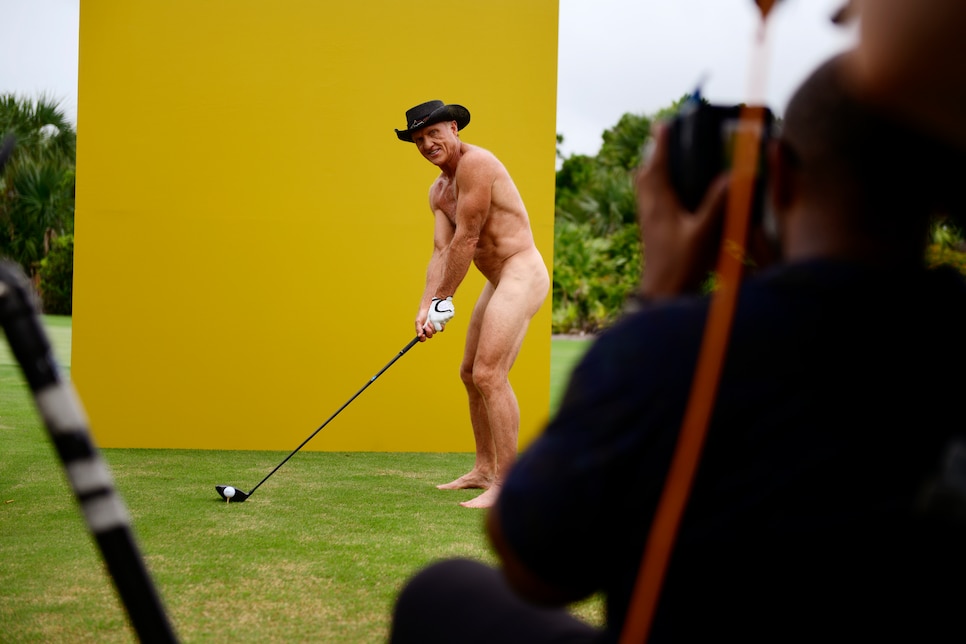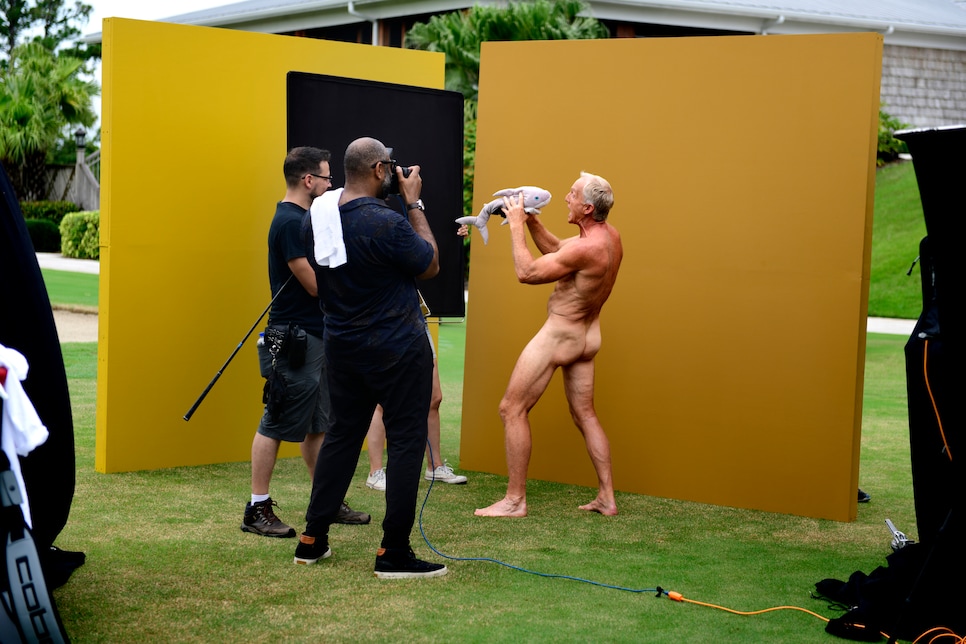 Haters like Nick Faldo can hate all they want, but the guy looks incredible for a 63-year-old. Hell, we'd be impressed if he were a 23-year-old. What a stud. Of course, Greg's Instagram feed is a constant body issue so this is nothing new. We're only surprised it took this long.
Alex Rodriguez and Jennifer Lopez (maybe) expertly trolled Phil Mickelson with this video of the entertainer missing a putt badly and then whacking her golf ball while it was still moving:
Regardless of whether the video had a hidden meaning, it spawned a fantastic golf nickname: J-Lo(side).
VIRAL VIDEO OF THE WEEK (WILDLIFE DIVISION)
Rory McIlroy's third round at the Travelers Championship was delayed by a squirrel. And incredibly rude squirrel:
THIS WEEK IN DUSTIN JOHNSON-PAULINA GRETZKY PUBLIC DISPLAYS OF AFFECTION
Just checking in on DJ after that disappointing finish at the U.S. Open. Hey, bud, how ya do—
Never mind. You look well.
"It's a private fraternity and you abide by their rules. [USGA CEO] Mike Davis is Dean Wormer, except the ending is not as good as Animal House." — Anonymous major champ. Ouch.
THIS WEEK IN TOUR PROS ARE JUST LIKE US!
Zach Johnson waited for his hanging golf ball to drop. . . and it did! Only problem is it took too long to count:
Hopefully, the guys you play with every weekend are a bit more lenient.
Ernie Els kinda confirmed that wild story that he turns private flights into his own personal fight club. Please think long and hard before accepting a plane ride from this maniac. . . . Justin Rose's wife's racehorse finished a disappointing 12th at Royal Ascot. But Master Merion is one heckuva name. . . . Ping's director of product development Marty Jertson qualified for this year's PGA Championship with a T-9 at the PGA Professional Championship. Dude has been testing a lot of clubs, huh? . . . A British teen had his driver's license suspended for a year after drunkenly taking a golf cart to a McDonald's drive through. To be fair, after a long night of drinking, there's nothing better than those fries. . . . And finally, Kevin Na posted a photo of him from 16 years ago, and, well, he looks exactly the same:
RANDOM QUESTIONS TO PONDER
Is the secret to aging well (gulp) slow play?
Where will LeBron end up (other than my Knicks)?
Where has Hosung Choi been my whole life?