News
Our Favorite Viral Videos Of 2013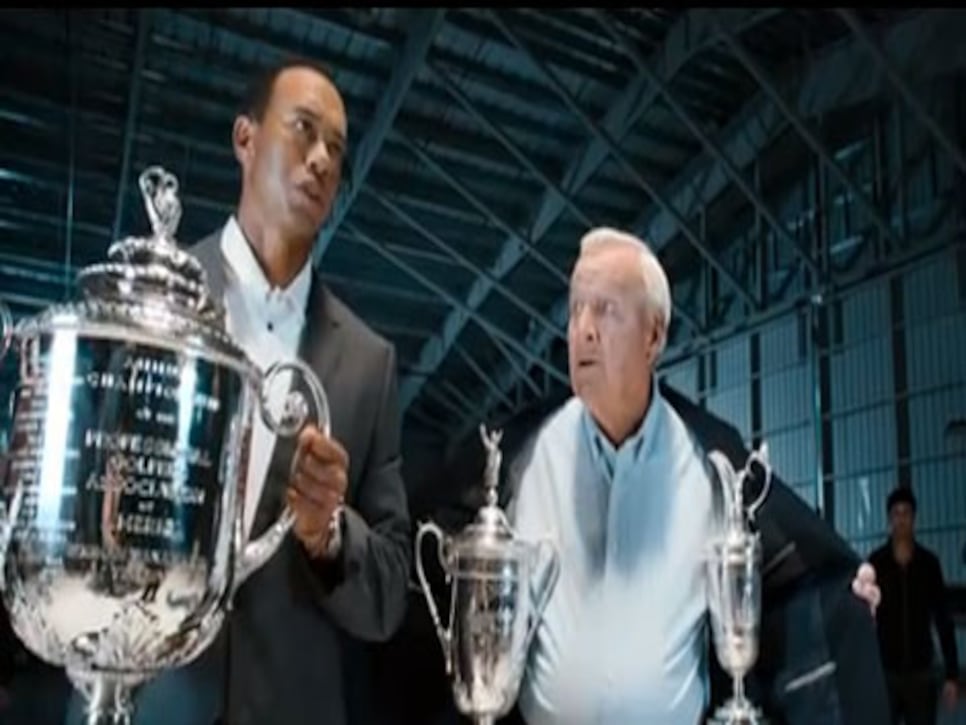 Where did the epic Woods-Palmer EA Sports commercial, "The Rumble," rank in our list?
A lot happened during 2013 in golf, and fortunately, most of it was recorded on video. What clips stood out for you? We'd love to know -- not that it will change our minds. So, without further ado, here's our list of the 25 best viral golf videos of the year.
Tiger Woods may have been the MVP of the U.S. squad at this year's Presidents Cup, but "Sammy the Squirrel" wasn't far behind. Here, the two meet, thanks to Woods' girlfriend, Lindsey Vonn. Something tells us Woods didn't take the little guy home with him afterward.
23. Club pro makes SportsCenter
We tried to avoid great shots for this countdown, but when a club pro earns the No. 1 spot on ESPN's top plays, we'd say that's pretty viral. Congrats to Labritz on not only hitting the shot of his life to qualify for the PGA Championship
, but being lucky enough to have it caught on video:
21. Ben Crane makes fun of himself
by making fun of his reputation for being a slow player. In the video, Crane sees a therapist about being slow at other daily activities like driving and brushing his teeth. We'd still like to see him pick up the pace on the course, but we love that he's willing to poke fun of himself on this issue.
19. Golf Boys "2.Oh" music video
Many have been critical of this group's musical/dancing talents, but we enjoyed its second music video
more than the first, thanks in part to a seemingly high budget. We also give these guys a lot of credit for being so comfortable in their own skin, especially considering none of them are what you would call physical specimens.
17. European Tour goes "Happy Gilmore"
It's surprising that the golf world had to wait this long for a well-done video incorporating Adam Sandler's unorthodox swing in the movie "Happy Gilmore." Better late than never. Two surprises from the clip? Padraig Harrington hitting a ball 328 yards
and Phil Mickelson not coming close to pulling off this trick shot.
__15. We're going streaking! __
The pictures of Presidents Cup streaker Kimberly Webster drew most of the attention, but the video was pretty good since it gave us a sense of her quickness. And yes, this would be much higher up on the list if the clip was better quality. Obviously.
. After finishing his final hole, Woods carried his four-year-old son, Charlie, who saw his father win for the first time. Awwww.
12. Sergio Garcia climbs a tree to hit a shot
Yes, this is one of our own, but c'mon! It's Kate Upton giving Arnold Palmer a putting lesson!
in a dark Nashville parking lot__
7. The world's cutest golf rapper
. We're not sure how official that title is, but we dare anyone to argue. Young Mr. C provided us with a trio of fun music videos. Here's his latest and best, "Puttin' 101":
5. Jason Dufner's wedding day video
. Fortunately, we were wrong.
3. Phil Mickelson hits cart path shot, gives lesson
. He broke down the shot and even gave directions to Golf Channel producers to pause the clip so that he could better explain things to his audience. What a showman.
in Chattanooga, Tenn., pointed a camera-phone at himself and basically shouted the phrase "We buy golf clubs!" for about a minute. Brilliant.