News
Justin Thomas has arrived
Golf World's Newsmaker of the Year showcases a paradigm shift in professional golf, where you're never too young to dominate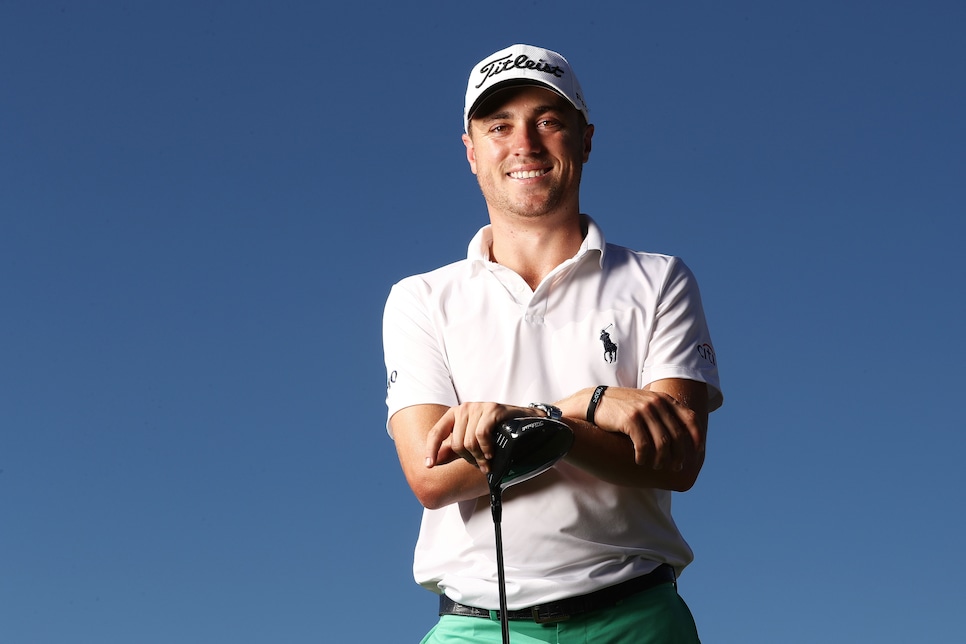 Photo By: Sam Greenwood/Getty Images
History teaches that in golf, the classic athletic ideals of "higher, faster, stronger" tend to lose to the wily triumvirate of experience, poise and precision. Conventional wisdom says that touring pros reach their playing primes in their early to mid-30s, later than their cohorts from other sports. Down the stretch of a major, the smart call has been maturity over futurity.
Not anymore. The lesson of 2017 is that golfers are gaining vital knowledge sooner and maturing faster. And perhaps the game they are playing is built more on physical prowess than nuanced skill. Bottom line, the latest group of Young Guns/Young Lions/Roaring 20s is simply more ready.
"It's such a young man's game right now," says Justin Thomas, 24, who by virtue of winning of five tournaments including the PGA Championship, the FedEx Cup, and PGA Tour Player of the Year honors, happens to be Golf World's Newsmaker of the Year.
The big data is convincing. Consider that since 1980, there have only been two PGA Tour seasons in which there were six or more different winners younger than age 25: the 2015-'16 wraparound, when there were seven, and the just completed 2016-'17 season, in which there were nine. All told last season, there were 18 victories by players who hadn't yet turned 25. The previous record was 10. The average age of the PGA Tour winner was 28.9, the youngest ever recorded.
'I think Justin has the ideal competitive disposition for the game. He acts like he's playing with his dad at home, sitting in a cart and sipping a beer.' —Jim (Bones) Mackay
Plenty of youth movements have been claimed in the past, and this year checked all the boxes. A dominating young superstar in the mold of early Nicklaus and Woods? Thomas comes respectably close. Two young guns pushing each other to heights like Nicklaus and Gary Player did in completing the career Grand Slam within a year of each other? Junior golf friends Thomas and Jordan Spieth—members of what is already being recorded as the historic high school Class of 2011—became the first under 25s to win back-to-back majors since Bobby Jones and Gene Sarazen did it in 1923.
But more convincing than the top names is the collective. There have been previous groups of 20-somethings that changed the guard. The wave in the mid-1970s comes to mind, led by Johnny Miller, Lanny Wadkins, Tom Watson, Jerry Pate and Ben Crenshaw. But the current group is younger, and there are more of them.
The roster includes Brooks Koepka, 27, winner of the U.S. Open. Hideki Matsuyama (now 25) won three times at age 24. The youngest winner of the year, 22-year-old Si Woo Kim, was also the youngest Players champion. Xander Schauffele, 24, won at Greenbrier and the Tour Championship and was Rookie of the Year. On the European Tour, the winner of the Race to Dubai was Tommy Fleetwood, 26. Jon Rahm won three times around the world, and at 22, the big Spaniard has the most runway to grow. And three other 24-year-old winners are intriguing for their individuality: Daniel Berger, Bryson DeChambeau and Grayson Murray.
Fittingly, the player who best represents the current group's trademark camaraderie and connection to the public, Rickie Fowler, who turned 29 last week, put a bow on the season with an explosive final-round 61 that won him the Hero World Challenge.
And consider that three of the biggest 20-something names had underachieving campaigns, as former No. 1s Rory McIlroy (28) and Jason Day (who turned 30 in November), along with Patrick Reed (27), all went winless.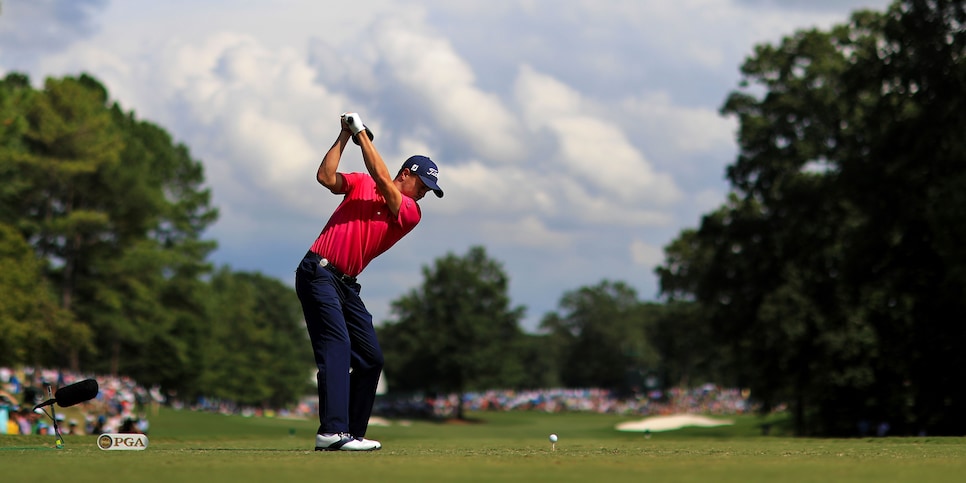 Mike Ehrmann/Getty Images
More than ever, the young lion mantra is, "Why wait?" The game's annals might be filled with evidence that the very best golf occurs in a player's 30s, like Ben Hogan winning all nine of his majors after age 34 and Arnold Palmer getting six of his seven majors after turning 29. Nicklaus, Player, Greg Norman, Nick Faldo and Phil Mickelson all played their best after 30, while Raymond Floyd and Vijay Singh saw their primetime at closer to 40.
But when Woods won 44 tournaments, including eight majors in his 20s, barriers were broken. McIlroy won four majors by 25 to equal the pace of Nicklaus, and Spieth, with his stirring Open Championship victory at Royal Birkdale, actually outdid Woods by winning three majors before turning 24. A new path has been blazed.
According to key talent evaluators—instructors, coaches, agents, long-time caddies and veteran golfers—there's no doubt players are getting better younger and faster. "Today's kids come out way more grown up as golfers," says Jim Mackay, Mickelson's former looper who is now a television commentator. "It's getting to be the new normal."
But while the Tiger example was built on a 100-year talent, his followers are emerging thanks to systemic changes: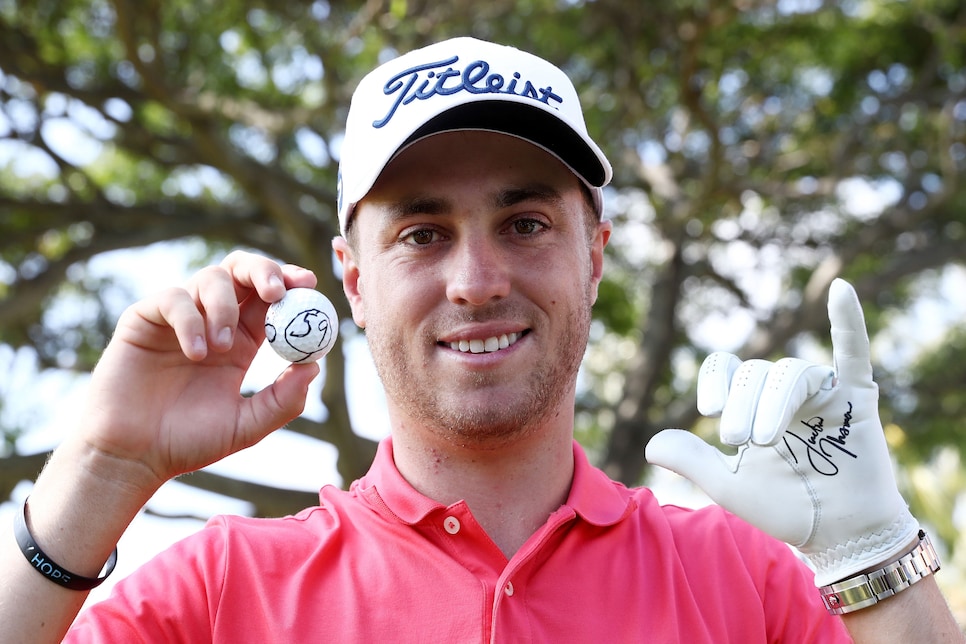 Sam Greenwood/Getty Images
• Golf is drawing superior athletes.
As the sport's longevity, potential lucre, safety and status all increase, more of the best athletes are making it their primary game. "I see more of the bigger, stronger, faster kids who used to concentrate on the big team sports choosing golf," says Dallas-based instructor Pat O'Brien. "That's going to accelerate because of the increased concerns parents are having about football." Internationally, think of the 6-foot-2, 220-pound Rahm, who was an outstanding soccer goalie growing up in Spain. Adds O'Brien, "Kids see the size and muscularity of Dustin Johnson or Koepka on television, and it tells them that real jocks think golf is cool."
•Instruction supplies more accurate information.
Advanced learning technology, such as portable launch monitors, force plates and cellphone accessibility to advanced video, has answered questions about the game with science that used to be disputed by opinions. "It would have been wonderful to have all these things that actually verify what you're doing, as opposed to what you think you're doing," says Faldo, who in the mid-1980s sacrificed two years of performance to rebuild his swing with David Leadbetter. "I did some great work with David, but there was a lot of trial and error. Now science tells you what's right immediately, and it saves so much time. You can stop looking and experimenting, and just focus your full work ethic on a few good things, which is so much efficient. You're seeing the results of those resources with so many great young golfers."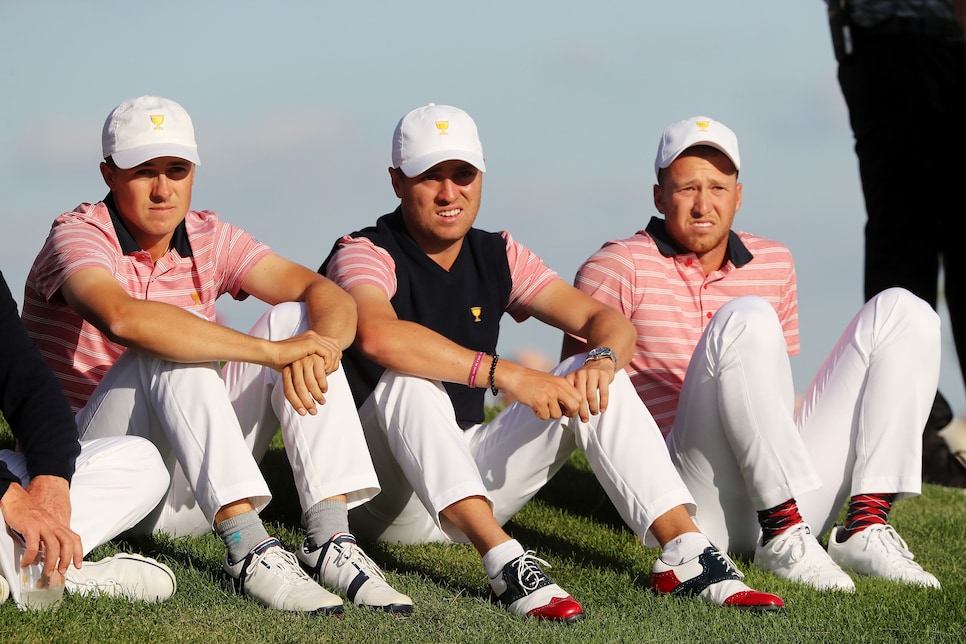 • Elite junior competition starts sooner and keeps getting deeper.
Spieth and Thomas were in grade school when they met at national junior tournaments, as did others from what became golf's high school Class of 2011. "These kids growing up have watched every level of tournament golf on Golf Channel, so from their swings to their clothes to the way they mark their ball, they conduct themselves like little pros," says renown instructor Jim McLean. "They are not in awe at the best players when they jump to a new age group, and they aren't in awe when they get to the PGA Tour."
• The goal is constant improvement.
"You used to see a lot of players on tour who would never address their weaknesses, never practice what they were bad at, just try to play around it," Mackay says. "But all these kids studied Tiger, how he was all about improving and trying to make a weakness a strength, and they see how Jordan [Spieth] is always building his game. They know that accepting a weakness means falling behind, and the peer pressure to keep up pushes them. The result is everyone is developing a more complete game at a young age, and the weaknesses are taken on."
•Equipment and the power game have evolved.
The familiar litany of technological advances in clubs and balls has increased both distance AND accuracy, which has made the "hit everything hard" power game—long considered too high risk and inconsistent to play winning golf at the top level—the percentage way to play. The ability to turn big drives into short-iron and wedge approaches, from fairway or even most rough, has helped shift more advantage toward younger players, whose faster and more flexible bodies have always given them a distance edge over older players.
Those players, young or old, not gifted with great distance, like Spieth, have to be superior in ball control and short-game magic to remain elite. It raises a counterargument that maintains the predominance of the power game is actually lessening the skill set of the world's best. Miller is willing to brave always flammable "our-era-was-better" territory to contend that playing the tour in the 1970s and 1980s required a deeper dive into the craft, which lengthened the learning curve and kept youth movements in check.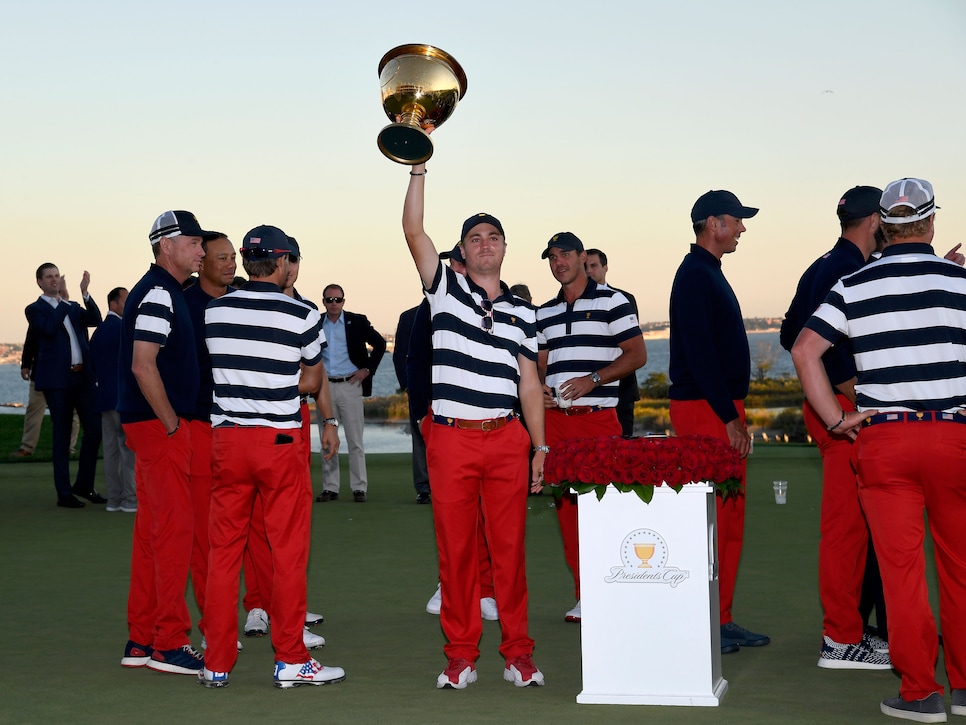 "There are more good players now, and with all the advances, it's a good time to be a pro golfer," Miller said in January after Thomas shot 59 on his way to winning in Hawaii. "But I don't think I'm living in the past to say it used to be harder to be good."
At the same time, Thomas is an intriguing and attractive mix of old school and new school. Both his father, Mike, and grandfather, Paul, were club professionals who have gently passed on some of the game's nuances to Justin. Though fundamentally sound, Thomas' ultra-dynamic action is not a studied swing. Said Mike, "My deal with Justin from an early age was, 'If you need me, holler, but try and figure of this stuff out yourself.' Because that's how you are going to get better."
Though undersized (he has filled out in the last year to 160 pounds), the 5-10 Thomas was pegged for stardom on the strength of his extraordinary skill with the driver. His "launch conditions" are eye-popping, achieving a combination of high launch (14 degrees) and low spin (less than 2000 rpm) that is near optimum in terms of achieving maximum distance. It's why Thomas could average nearly 310 yards off the tee last season (ranked eighth on tour) with a relatively modest 117-mph clubhead speed. No accident that he ranked first in the tour's total-driving efficiency statistic.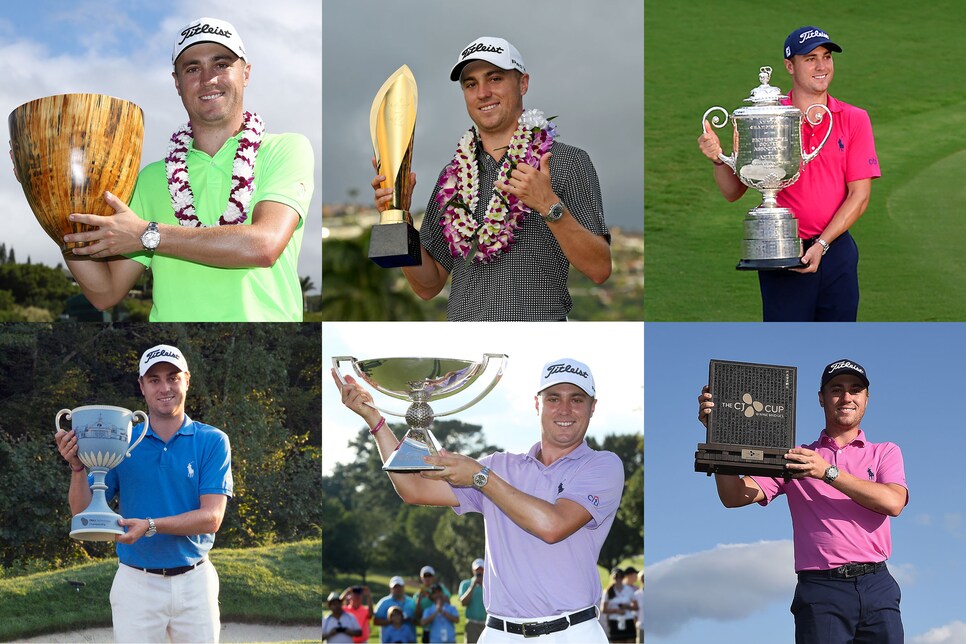 But in his first two seasons on tour, Thomas seemed a bit stuck in a raw power game that lacked sophisticated scoring skills of his friend Spieth. Thomas good-naturedly admits he was jealous of Spieth's accomplishments, and tired of comparisons that cast him as the prodigy who got left behind. It also hurt when he missed making the 2016 U.S. Ryder Cup team on points, and then got passed over for the final captain's pick in favor of Ryan Moore.
At the start of the 2016-'17 wraparound season, Thomas set some ambitious goals that represented dramatic improvements. Though he achieved winning a major and making the Presidents Cup team, it was the statistical goals in putting, scrambling and especially wedge play (first in proximity from 50 to 125 yards) that offered more tangible evidence that he'd made himself better. "I know I can get around golf courses without my best stuff," he said after winning the PGA Championship at Quail Hollow.
It was that week in Charlotte that also proved Thomas had come a long way mentally. Two months earlier, he had fired a Saturday 63 at Erin Hills to tie for the lead, but closed with a ragged 75 in which he'd pushed too hard. On Sunday at Quail Hollow, he took comfort from caddie Jimmy Johnson, a veteran of long tenures with Nick Price and Steve Stricker, who assured him, "Keep hitting our shots. Something good is going to happen."
On the back nine, Thomas played with restraint and stayed calm enough to make the kind of putts down the stretch that before 2017 he missed. At the dangerous 218-yard, par-3 17th hole, holding a one-stroke lead, Thomas factored in adrenalin and drew a geared-down 7-iron that landed precisely and softly on a slippery knoll and holed the remaining 10-footer to give himself a vital cushion. "That shot, I'll never forget the vision in my head," he said.
"I think Justin has the ideal competitive disposition for the game," Mackay says. "Watching his chemistry with Jimmy, he acts like he's playing with his dad at home, sitting in a cart and sipping a beer."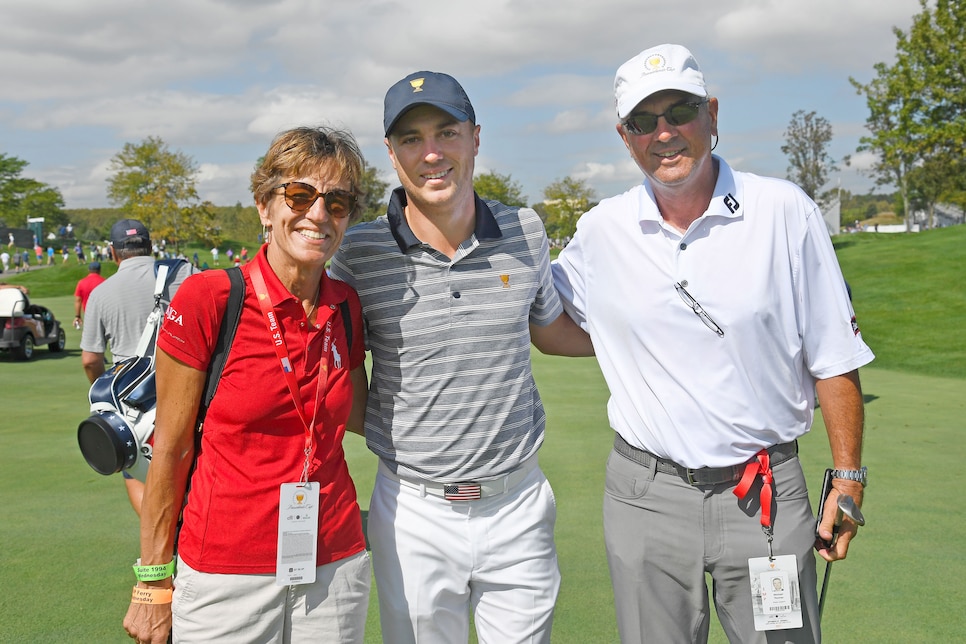 It's also helped that Thomas has befriended Woods, a Jupiter neighbor whom he shares agent Mark Steinberg of Excel Sports Management. "I've learned many shots from Tiger messing around with him at his house," he says. He also plans to use Woods, along with Spieth, as a sounding board for what lies ahead.
All this is not to say that the "old" guys in the golf world are done. Much the same discussion was being had last April going into the Masters. It turned out to be a shootout between Sergio Garcia, 37, and Justin Rose, 36.
And for all the projected long-term domination, there's the possibility today's young guys flame out. It's not unreasonable to think that the extent of the riches that today's young stars earn will lessen motivation and shorten careers. Or perhaps the most precocious will be more like Bobby Jones and Seve Ballesteros, world beaters in their 20s, has-beens in their 30s?
Or, more likely yet, the current group itself will be themselves overtaken by a new batch of "higher, faster, stronger" fireballs in their early 20s. The new normal is probably a double-edged sword.