News
Tiger Woods and the long, hard road to getting 'back'
His latest comeback attempt started well at the Hero World Challenge but there's more work ahead for the former World No. 1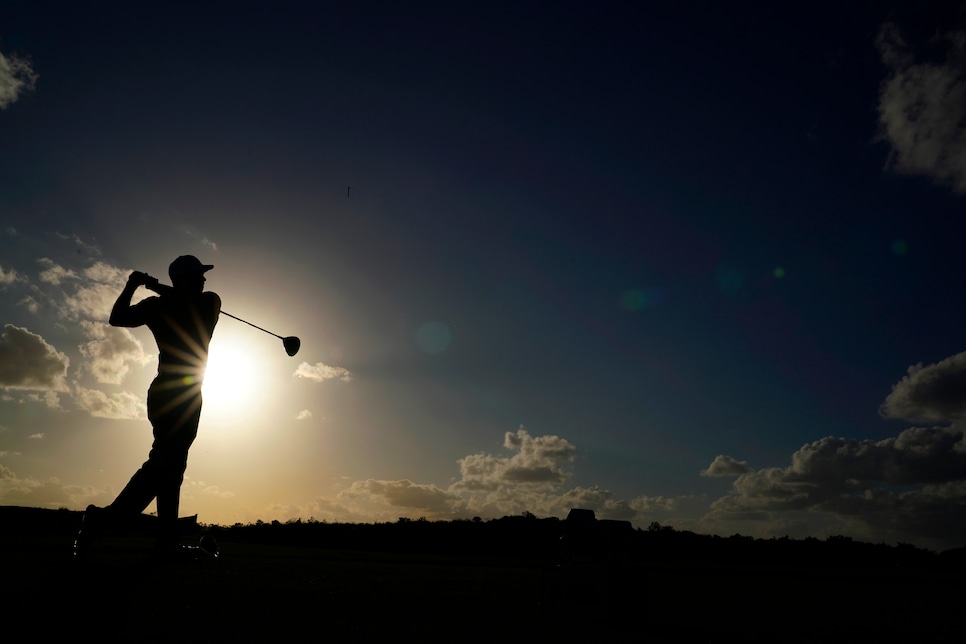 There was plenty to be optimistic about in Tiger Woods' latest comeback earlier this month at the Hero World Challenge, a moment brewed with two-parts anticipation and one-part anxiety. Start with the fact he made it through four rounds showing no signs of pain or fatigue. Granted it's a low bar to clear, but something that couldn't be assumed given the last images the public had of Tiger competing in a tournament, the former World No. 1, grimacing in pain in February, being driven off a golf course a half a world away.
Better still, in the Bahamas we saw Woods on occasion dial up the kinds of highlight-reel shots that were so common when he was at his best. A rocketing 2-iron from 272 yards on the par-5 third during the final round comes to mind.
Yet for all the positivity surrounding the return—that he finished higher than current World No. 1 Dustin Johnson and 2017 PGA Tour player of the year Justin Thomas; was atop the leader board midway through the second day; had a 310-yard driving average for the week; etc.—extrapolating this one data point into some grand answer of whether Woods is or isn't back would be akin to taking in the world through a telescope. It's not the full picture.
To determine whether Woods is truly back is something only time can tell, a measure that will require a healthy number of healthy starts in 2018. In the meantime, what the golf public—and Tiger himself—has is hope, something Woods was sorely lacking for most of 2017.
"I'm excited," Woods said after his T-9 finish at the Hero. "This is the way I've been playing at home, and when I came out here and played, I was playing very similar to this. Not quite hitting it as far, but I had the adrenaline going and, overall, I'm very pleased."
Others came away feeling the same as well. "He drove it very well," noted Joe LaCava, Woods' caddie, "got his [swing] speed back, was hitting the ball for the most part where he was looking, was hitting it both ways. Just in control, got better each day. And he's hitting it out with the young boys. He's driving it 315-ish off the tee, which makes life easier.
"You are always expecting good things, and I had a little advantage seeing him twice in the last month, so I knew it was getting better and getting closer. But I didn't think it was going to be quite as good as it is at the moment."
Asked if he thinks his boss can win again, LaCava said unequivocally: "Of course."
"I've seen him play before," said tennis great Rafael Nadal, who was vacationing in nearby Exuma and in attendance for the final round at Albany, "but I didn't expect to watch him play this well at the beginning."
Professionals tennis' current World No. 1 and a 16-time major winner, Nadal has battled his own myriad injuries throughout his Hall of Fame career and offers a unique perspective.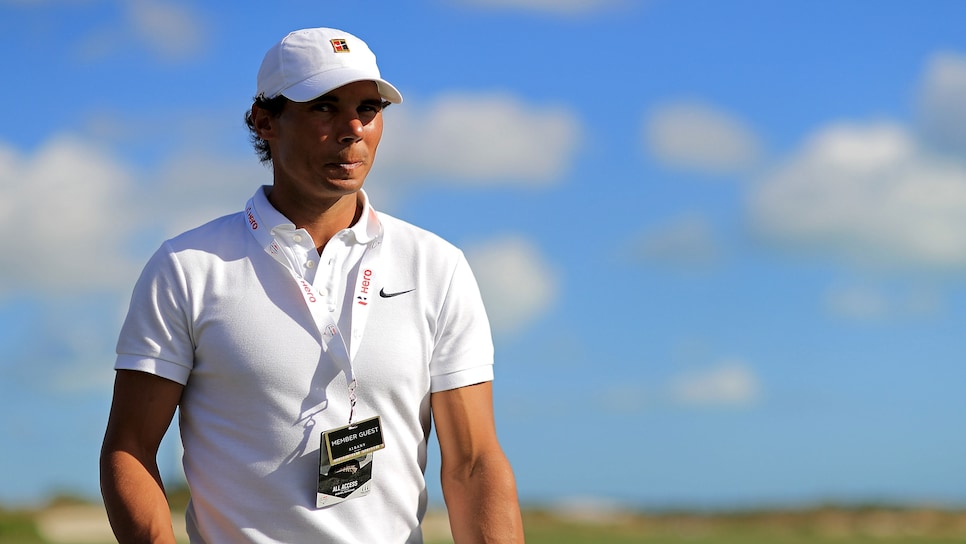 Mike Ehrmann/Getty Images
"The first thing is, you need to be healthy to practice again, as well as be mentally strong to do the things you think you need to do to be back to your top," said Nadal, who carries a 2.5 handicap and has become friendly with Woods in recent years. "I think this is a very important moment now for golf and himself and for all the people who love the sport in general. He's the most charismatic star golf has had in the past 50 years or so. For everyone to see him back is something great for the sport."
Again, though, expectations need to be tempered with reality. Woods' performance took place on a course with wide fairways, little rough, greens he is familiar with, and in as laidback an environment as possible: a tournament with no cut and just 17 other golfers who were there enjoying the spoils of a job well done for the year. In short, tougher tests await and will be far more telling.
So what can we expect for Woods as the calendar flips to 2018? There are three main areas that will have the greatest baring on whether we will be able to truly declare Tiger "back".
Woods will turn 42 on Dec. 30, and the number of ailments he has suffered is startling. In just the last four years there have been four surgeries: a pinched nerve in his back, a second microdisectomy, a follow-up procedure and, most recently, Anterior lumbar interbody fusion surgery.
That Woods was able to play nine straight days leading into the Hero is encouraging. That he is able to continue to practice in the weeks since, even more so. That wasn't the case a year ago; by the end of Hero week in 2016, Woods was wiped out and, for all intents and purposes, unable to practice in the six weeks until his next start.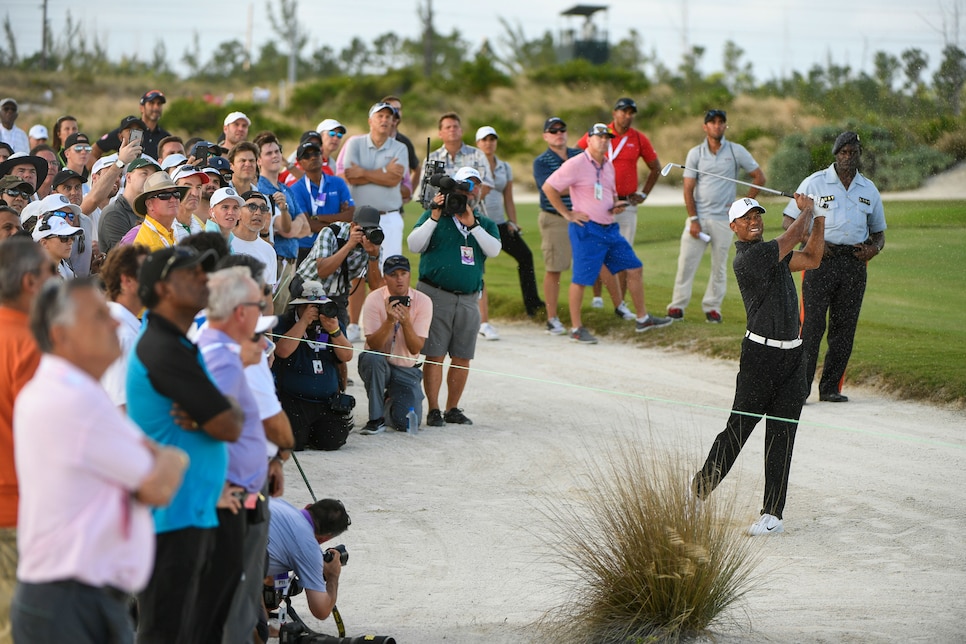 "When you are injured, as I went through a couple of times in my career, you don't think about what other people are thinking—you think about coming back and being healthy," Nadal said. "You know that the beginning is going to be tough, for sure, and you have to be ready for those tough situations. When you go through them, you are stronger. You have a lot of energy and passion because you weren't able to do what you used to be able to do for awhile."
The biggest question, then, isn't so much when will Woods tee it up again as can he go through an entire season healthy and withstand the rigors of playing tournament golf as well as all the preparation that goes into it?
If so, there's no reason to think, as LaCava said, that Woods won't win again. Golf is littered with players who have had success well into their 40s, most notably Vijay Singh, Sam Snead, Kenny Perry, Julius Boros, Steve Stricker, Gene Littler and Dutch Harrison. That group combined for 83 victories on the PGA Tour after turning 40, just four more than Woods' current number of wins, the last of which came in 2013.
In Woods' most recent prior comeback attempt, even he knew that playing four tournaments in a five-week span was overly aggressive. Never mind that one of those starts involved flying to the Middle East and back.
"That is a concern," Woods said in January 2017 of making so many starts in a short period. "There's no doubt about it."
A few rounds in, there was no doubt about Woods' declining health, either. After missing the cut at the Farmers Insurance Open in January, he withdrew midway through the event in Dubai, his comeback lasting all of three-plus competitive rounds. A month later, he still wasn't able to practice. He missed the Masters for a second straight year (and a third time in the last four), and soon after underwent spinal fusion surgery.
This time around Woods seems to have figured out that a cautious approach is the best approach.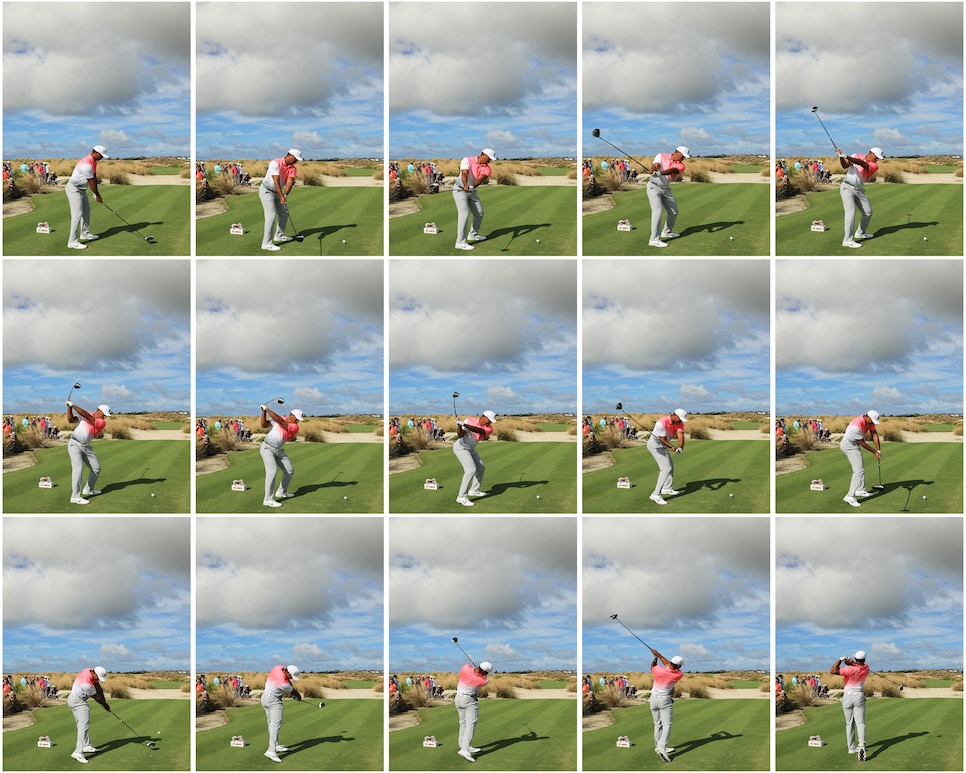 "I think we're going to sit down here and we're going to figure out what's the best way for me to build my schedule for the major championships," he said after the Hero. "Play enough, but don't play too much. I don't know what golf courses I'll be playing and what's the best way to go about it. We'll sit down with the whole team and we'll figure it out."
While Woods has been non-committal about specifics of where he will tee it up in 2018, he has long been a creature of habit when it comes to the golf courses he plays, with the occasional exception. Assuming he is healthy, you can expect his early 2018 schedule to unfold thusly: Farmers Insurance Open (Jan. 25-28); Genesis Open, which his foundation is tied to, (Feb. 15-18); the Honda Classic (Feb. 22-25); the Arnold Palmer Invitational (March 15-18); and then the Masters (April 5-8).
That's five starts over an 11-week span. Contrast that with, say, Rory McIlroy's early-season schedule, and it seems like semi-retirement. But McIlroy is 28 and healthy. Not mentioned: The two WGC events in Mexico and Texas, neither of which Woods is currently eligible. He could qualify for both, but it would take winning or a series of other top finishes to do so. If he wanted to add "reps" there are also stops in Puerto Rico and Tampa, though he has never played either event.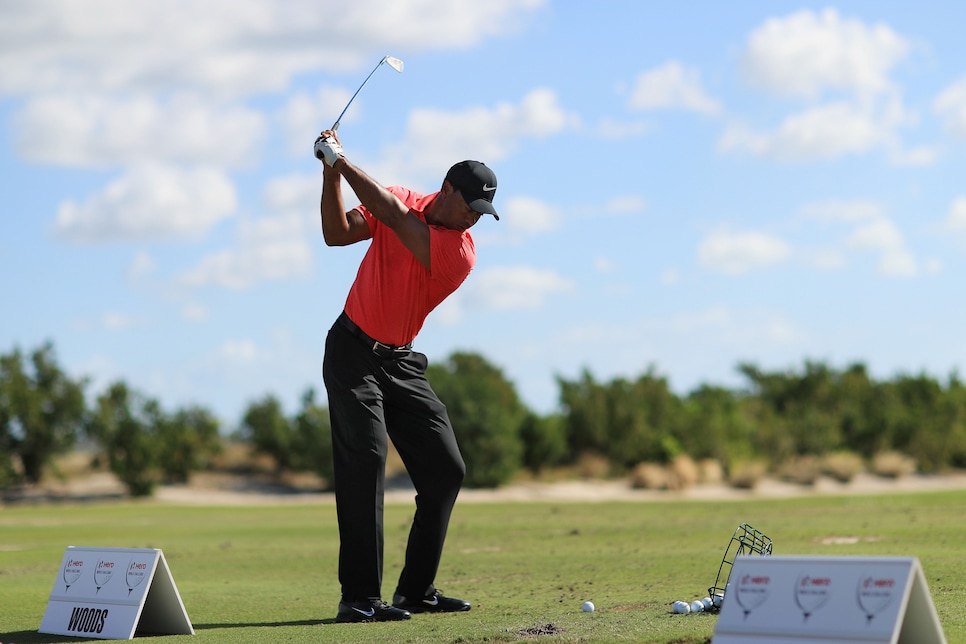 Mike Ehrmann/Getty Images
More than a few people in golf—Woods' former coach, Hank Haney, in particular—believed that after Woods' victory on a broken leg at the U.S. Open at Torrey Pines, and then sitting out the remainder of the 2008 season to heal from the injury, his interest and desire simply waned. Other than trying to chase down Jack Nicklaus' record of 18 major championships, what else was there for him to prove? Nothing. His best 10-year span when he won one of about every three tournaments he played was better than anyone's, including Nicklaus'.
So does he have the want to climb the mountain yet again? In the early going it appears so. Woods seems to have been rejuvenated by the generation that he helped spawn, regularly playing back home in South Florida with Rickie Fowler, Justin Thomas, Rory McIlroy and Dustin Johnson, all of whom have used length as the main ingredient in their taking over the sport the way Woods once did.
That he can hang with the kids is again promising. Woods isn't going to suddenly turn into a dinker and dunker, nor a ceremonial golfer.
Still, expectations should be modest. They also should be relative. The Tiger of the mid-2000s isn't walking to the first tee.
He also doesn't have to. Woods is as relevant as ever and once again intriguing in the one place that has always mattered most to most people: On the golf course.
"It's exciting, but you have to try and temper it a little bit," LaCava said. "We felt the same way last year. Let's not get too excited.
"But you have to like what you see, right?"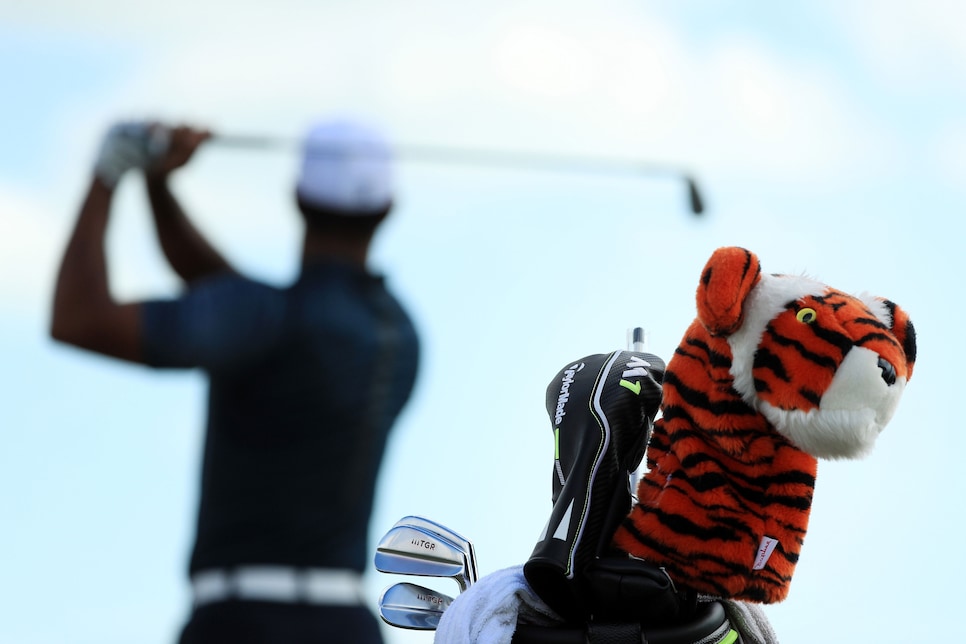 Mike Ehrmann/Getty Images