News
Tiger Woods' return: The good, the bad and the euphoria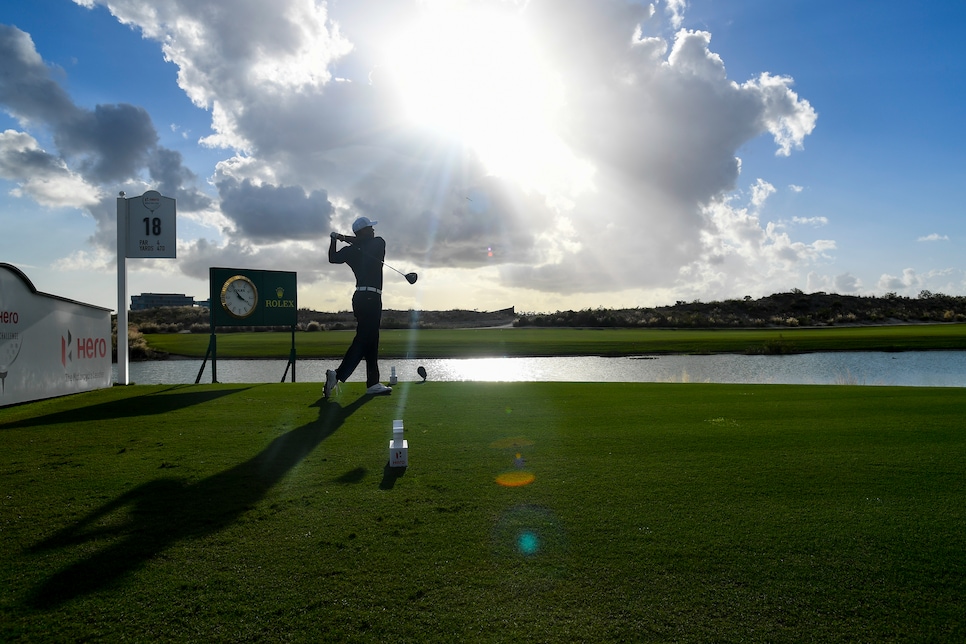 NEW PROVIDENCE, Bahamas — Excitement. Anticipation. Nervousness. Curiosity. Skepticism. Any of those words could accurately fill a thought bubble going into Tiger Woods' first tournament round in 301 days.
The emotion Woods felt Thursday when he woke up for the opening round of the Hero World Challenge?
"I was very thankful this morning," he said. "I was in my head thanking all the people who have helped me in giving me a chance to come back and play this round again.
"There were a lot of people that were instrumental in my life; friends, outside people I've never met before, obviously my surgeon."
The list, imaginably, is longer than that after a fourth back surgery earlier this year; the public humiliation that goes with being arrested on suspicion of DUI and having it recorded for all the world to see; and a subsequent stint in rehab to manage sleep and pain meds. Those were only the most recent travails—remember those chip yips and the other unimaginable shots from the 14-time major champion in his previous comeback?
Woods is hardly an open book or even the slightest bit forthcoming with information. You hear what he wants you to hear. But after all he has gone through, off the course and on it, he had reason to be grateful and to be thrilled. Woods was back in his element, the one place he has always been at his most comfortable.
"It was not only nice to get the first round out of the way, but also I'm only three shots out the lead." —Tiger Woods
His game was sort of back too, if only for just moments.
At 3:08 p.m. (EST) on Thursday, Woods made his fourth birdie of the day, on the par-4 14th at Albany, to climb within a stroke of the lead. The Internet was moments away from breaking, presumably.
The 14-time major champion and five-time winner of this event made a mess of the next hole, trying to obliterate his tee shot, only to block it way right and into some healthy island shrubbery. Reload.
The search was on with dozens of people clambering into the sandy area surrounding the par 5. Woods eventually found his ball to render the provisional useless, took a drop and went on to make bogey.
It was one of two bogeys on par 5s, which he played in a combined one over. Very un-Woods like.
But just as the world wide web was fine, Woods was too, save for a few other sloppy moments that go with 10 months away from the glare of tournament golf—even if the first round back was against just 17 other players in a no-cut event on a course that serves as Woods' home away from home.
His chipping was not sharp—a couple of flubs were enough evidence of that—and there were some other loose shots along the way as well. He hit 12 greens and seven fairways, though most often missed the latter by a only few yards.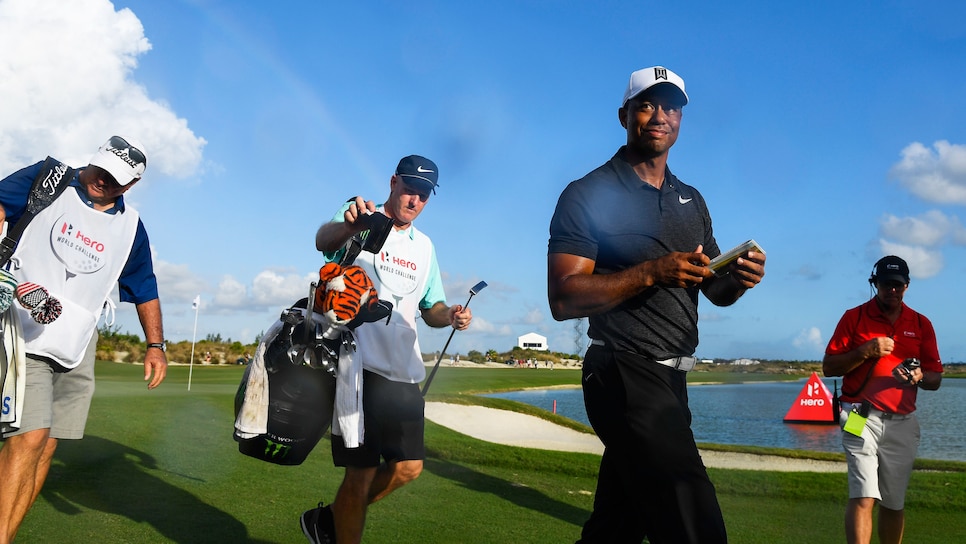 To that end, Woods was pleased with his driving as well as his putting. His opening tee shot was not surprisingly a missile, fueled by speed and adrenaline. He nipped Justin Thomas, one of the game's longest hitters, by an easy 30 yards.
On the par-5 third, he hit another bomb, reached the green in two and nearly jarred a 40-footer before tapping it in for his first of four birdies on the day en route to a three-under 69 that has him three strokes off the lead of Tommy Fleetwood.
"It was not only nice to get the first round out of the way, but also I'm only three shots out the lead," said Woods, who added that he felt good physically and wasn't tired after the round like he was a year ago when returning from a 15-month hiatus. "So to be able to put myself there after not playing for 10 months or so, in the neighborhood of that, it was nice to feel the adrenaline out there."
And for Woods' peers it was nice to have him back.
"Absolutely, we wanted the Tiger Woods update," said Matt Kuchar when asked if he found himself peeking at leader boards during the day. "On every hole we were trying to find an update. I think everybody was excited and couldn't wait to see how he would do."
That included Thomas, who played alongside Woods and also shot 69, and Rickie Fowler. Both had played casual rounds with Woods in South Florida in recent weeks.
How did Thursday stack up to what they saw in the days leading up to this moment? In short, not that much different.
"I think obviously taking this much off time from competition is hard," Thomas said. "I felt rusty starting after a month-and-a half, so I can't imagine what it felt like for him. He played well."
Fowler, playing a few groups away from Woods, heard a mini roar from the eighth hole. He knew what it meant. Like Thomas, he expected Woods to play well and added he wouldn't be surprised if he was in contention come Sunday.
"I just want him to come here and play solid golf and be healthy and feel good," Fowler said. "The biggest thing for him I saw playing at home with him, he was swinging it good enough, hitting it plenty far."
Which is how it went in the first round, too.
Tiger Woods is back. The latest chapter has begun. Let's see where it goes from here.