News
How Sergio Garcia found happiness*
*And it wasn't because he won the Masters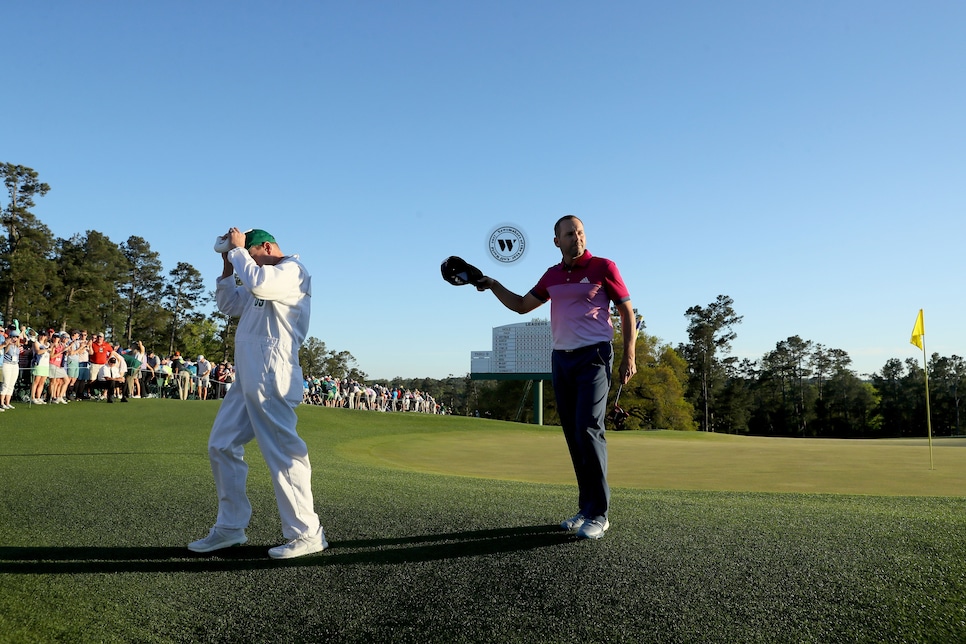 Photo By: Andrew Redington
There have always been golfers, even greats of the game, who tried too hard, who wanted something just a little too badly. They are the players who, all too often, ended up with "the thing." Greg Norman and Ernie Els at the Masters. Sam Snead and Phil Mickelson at the U.S. Open. Tom Watson and Arnold Palmer at the PGA Championship. Never the event they didn't care about. Always the one they wanted the most.
And that was Sergio Garcia. When it came to winning a major—any major— his burning desire to succeed was his biggest asset. And, even more obviously, his biggest liability.
"There is a lot to not taking golf too seriously," says 2006 U.S. Open champion Geoff Ogilvy. "Wanting to do it really well is fine, but living and dying by your results, as Sergio has always done, is not healthy. He doesn't hide anything, which is brilliant for the media. He is happy and brilliant when he wins. But he can be pouty and pissy when he loses. Either way though, he is always honest. He never pretends that it doesn't hurt to come second. That is his appeal."
But no longer his legacy. When the 37-year-old Spaniard beat Justin Rose in a playoff to win the Masters in April, the prodigy became the prodigal son. At last.
European Amateur champion at 15, British Amateur champion at 18 and leading amateur in the Masters at 19. Garcia's gifts were obvious from an early age. And he has proven to be just as significant in the professional game. Ogilvy calls him "the best ball-striker in the world for the last 20 years."
"We've all seen the petulance that occasionally scarred his performances. … He needed to get past that 'Why me?' nonsense." —Andrew Coltart
"All of the guys of my generation who have played a lot with Sergio would acknowledge that fact," says the 40-year-old Australian. "No one has been more consistent than Sergio. Nobody.
"Guys like Jason Day and Adam Scott and Rory McIlroy are, on their day, maybe a little better than Sergio at his best. But Sergio's worst day makes him one of the best ball-strikers of all-time. He just doesn't have bad days. He moves it both ways. He hits low shots into back pins. He hits shots into front pins. It is just proper golf. I've seen guys hit it better than Sergio. But I've never seen anyone so good for so long."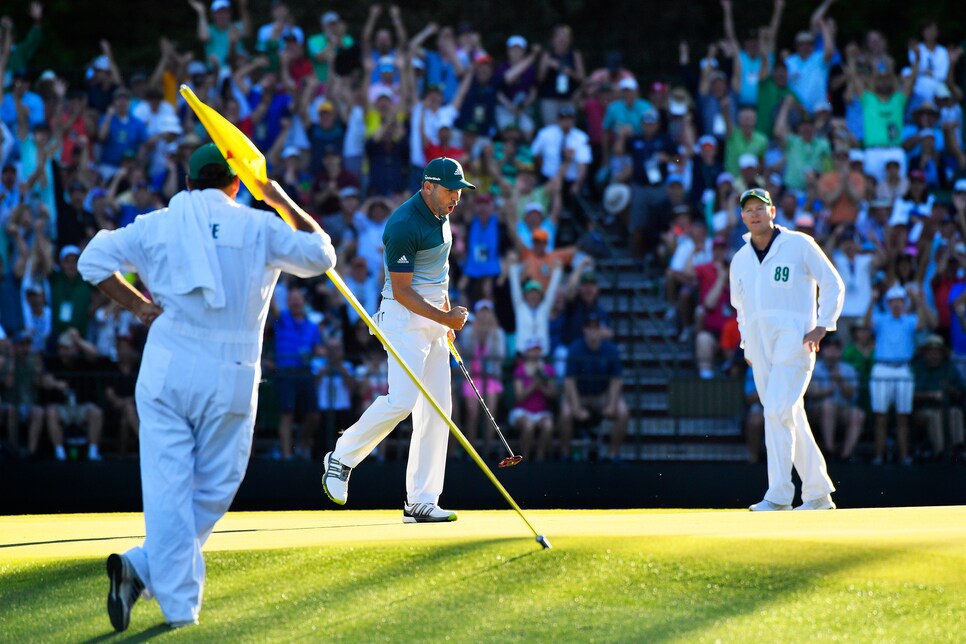 Ogilvy is far from alone in his assessment of Garcia's game tee-to-green.
"Sergio is exceptional, even at the highest level," confirms another former U.S. Open champion, Graeme McDowell. "He's a phenomenal driver of the ball and a great iron player. He's old school in the way he flights the ball so many different ways. He is one of a dying breed. He has all the shots and great imagination. If a fade is required, he will hit that fade. If a draw is the shot, that's what he hits. That's not the modern way, but it's his way."
Around the greens, Garcia may not be quite the equal of his fellow Spaniards, the late Seve Ballesteros and former Masters champion José Maria Olázabal. But he is close. Give that extraordinary pair of chipping and pitching geniuses 10-out-of-10 and their younger compatriot is at least an 8.5, maybe a 9.
Ah, but there is more to winning golf—never mind great golf—than the prosaic hitting of fairways and greens, even with the added dimension of extraordinary expertise over short shots. If you can't putt, you can't win. And that was, for long enough, Garcia's problem in the majors. His natural Spanish flair, so clear in his full swing, was absent in his putting, the succession of putting grips he has employed enough to make clear his struggles with the shortest club in his bag.
Too often, Garcia is "careful" and technical" in his approach to putting. Even en route to donning the green jacket, there was a lot of thinking going on when Garcia was over a putt. Which is not what he does when hitting a full shot. Then, he lets his natural talent take over. It is an easy trap to fall into. When players encounter putting problems, they go to technique in search of answers. And in doing so they get further and further away from what they did as kids and made them great putters in the first place.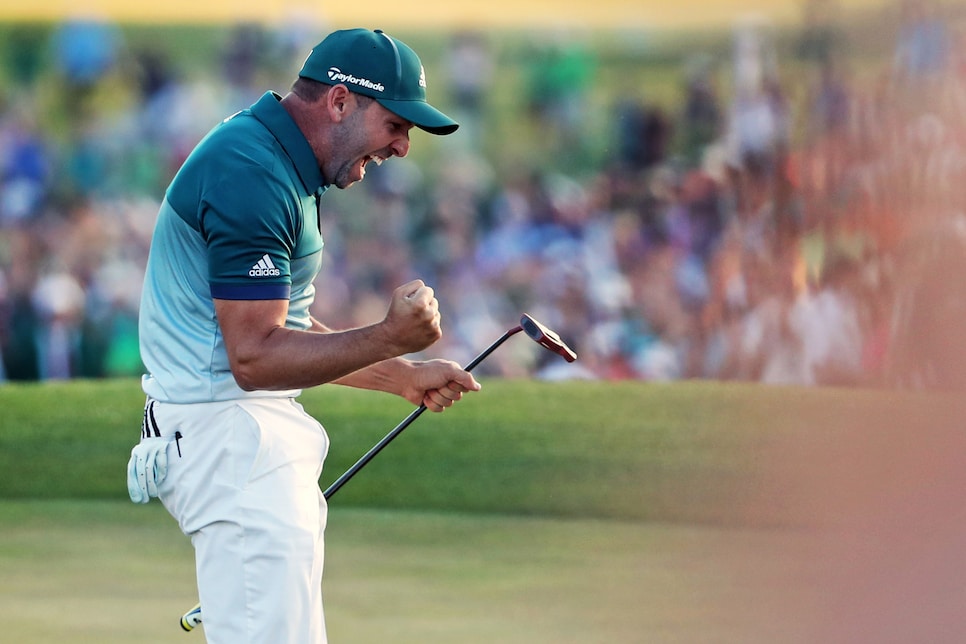 Still, as was obvious from his pained and often childlike reactions to defeat, Garcia's biggest problem was rooted in his volatile temperament. Calmness and authority under pressure—on and off the course—are not attributes Garcia has always owned.
• There was the extended re-gripping of the club at address that was the object of much ridicule and scorn at Bethpage Black during the 2002 U.S. Open.
• There was the petulant shoe-kicking performance during a now far-off World Match Play Championship at Wentworth.
• There was the prolonged depression (leading to a self-imposed sabbatical from the game) in the wake of the break-up of his relationship with Greg Norman's daughter, Morgan.
• There was the public display of self-pity that followed his lipped-out eight-foot putt to win the 2007 Open Championship at Carnoustie.
• There was the obvious petulance—and, it must be said, shocking breaches of basic etiquette—over the closing holes at Oakland Hills in the 2008 PGA Championship.
• There was the racially insensitive remark about Tiger Woods during a dinner at the European Tour's BMW PGA Championship.
• There was a grotesque expectoration into the cup on a green at Doral.
"Sergio is an emotional soul," says former European Ryder Cup player Andrew Coltart. "He plays that way, so it is no surprise that he is the same way off the course. The problem is that his personality can work against him. We've all seen the petulance that occasionally scarred his performances. There have been times when I have held my head at some of the things he has said. Feeling sorry for himself was silly. Everyone who has ever played golf has suffered a bad break or two. He needed to get past that 'why me?' nonsense."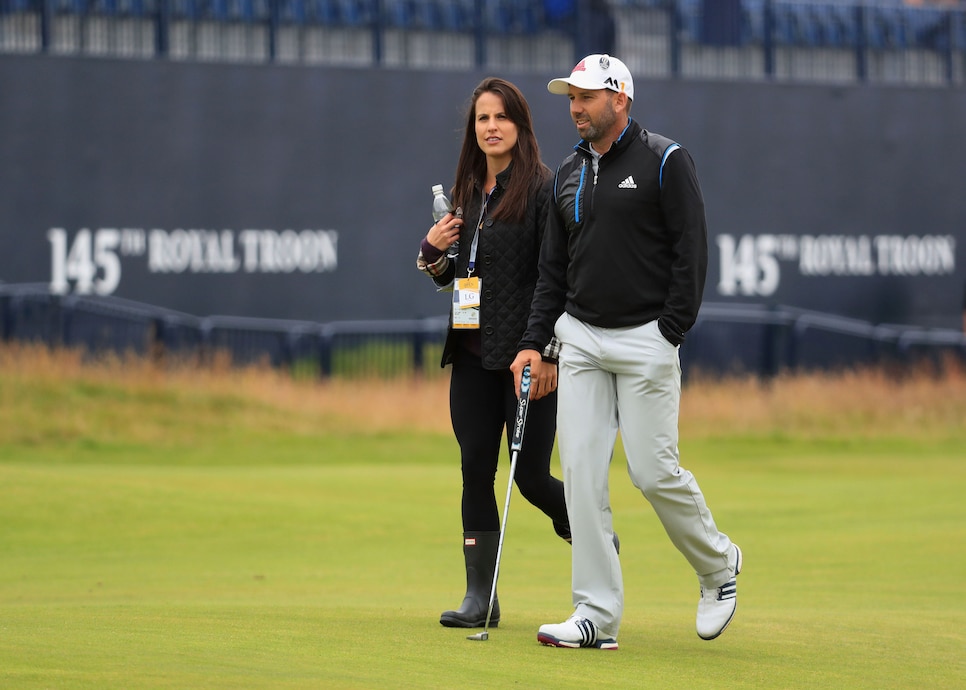 Matthew Lewis/Getty Images
It is surely no coincidence then, that the biggest win of Garcia's career came at a time in his life when golf had relinquished the top spot in his emotional psyche. Engaged to former Golf Channel reporter Angela Akins, the man who had notched up a remarkable 22 top-10 finishes in majors arrived in town relatively unnoticed and unfancied. No surprise. Exactly five years before, Garcia stood outside the Augusta National clubhouse and professed himself "not good enough" to win any of golf's four biggest events.
Since proving himself wrong in a major way, Garcia and Akins have married and are due to become parents in the New Year. Life is going well.
"It might have all gone differently if Sergio had met Angela earlier," Ogilvy says. "He is very family-oriented. He really craved his version of his upbringing. And that hurt his golf. But now he is content. I can see him winning more majors now. He still cares, but the desperation has gone."