News
Lucky or good? Jordan Spieth's 2017 season is hard to define
There's no such thing as an easy victory for the now three-time major champion, but that doesn't keep him from racking up wins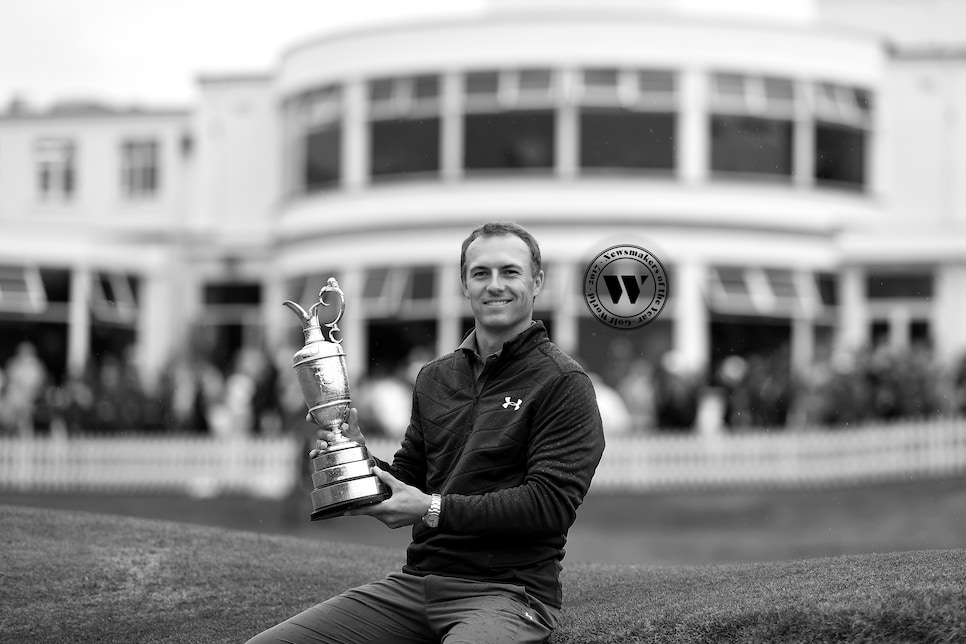 Photo By: Richard Heathcote/R&A
It's the bursts of perfection amid the flurries of imperfection that make Jordan Spieth the most enigmatic—and entertaining—player of this era. And one of the most successful, with 11 PGA Tour wins, including three majors, and two Australian Open titles.
There's a madness to his methods: A crazy belief that the next shot can be as magical as the previous one was mangled. That the affectation of something exquisite is possible not just at any moment but at the right moment. You might think Spieth were lucky if he weren't so good, and at times you're sure he's lucky when he appears so pedestrian.
But you don't luck into joining Tiger Woods as the only men with 10 PGA Tour wins before age 24. You don't luck into three legs of the career Grand Slam at a pace known only to Jack Nicklaus. Granted, the element of luck can't be wholly discounted, but no one is THIS lucky. Under the most withering pressure Spieth usually comes through—and in spectacular fashion.
"Yeah, it's been a really exciting career," he conceded recently at the Hero World Challenge. "It's been exciting in both ways, in the bad and in the good. I don't know why I have a knack for the craziness, but it just seems to take shape. I've had boring wins, too. You could argue the Masters in '15 was a boring win. This tournament was a boring win [in 2014, by 10 strokes]. But unless I'm really on, I struggle with the full commitment in my game that produces that three-, four-, five-shot win."
The Champion Golfer of the Year after his mesmerizing Open Championship performance at Royal Birkdale, Spieth has some Arnold Palmer in him, but without the hitch of the trousers. Maybe a sprinkling of Seve Ballesteros, too. Like theirs, Spieth's imperfections in the full swing only magnify his uncanny aptitude for what is supposed to be the dull science of making a score. He does it with inventiveness, smarts, grit and one of the best mid- to long-range putting strokes the game has ever seen.

It's not that he converts more than his share of 20-footers, but that you expect him to sink just about every 30- and 40-footer he lines up (or at least all the important ones). Which is weird, because, in another jarring contradiction, three- and four-footers often seem like an adventure for the young Texan.
The youngest American to win the Claret Jug after his harrowing two-stroke victory over Matt Kuchar in July, Spieth was at his bipolar best in the final round at Birkdale. Seemingly engulfed in a death spiral of errors, Spieth summoned not just one stroke of genius but a flurry of them over the final five holes. It was a performance still difficult to comprehend five months later for most everyone who witnessed it—except his coach, Cameron McCormick.
"He's always been a hellacious competitor. There's never been an occasion where he thought he was going to give up," said McCormick, who has been Spieth's only swing instructor. "Jordan always seems to find a way to figure it out when he gets near a lead."
That was the case when he lost all of a three-stroke lead to Kuchar through 13 holes of the final round only to play the final five holes in five under par with this string: 2-3-3-3-4. That's a birdie starting at the par-3 14th after he nearly aced it with a 6-iron from 199 yards. Then came an eagle putt from 50 feet, a birdie from 30 feet, another birdie from seven feet (after Kuchar converted from 20 to show he wasn't conceding anything), and a tap-in par at the last.
When he jarred the snaking 50-footer at 15, he glared at the hole for a split-second, found the eyes of his caddie Michael Greller, and barked "go get that" as he marched away, causing all of social media to drop its collective jaws.
The 2016 Masters aside, when he surrendered a five-stroke lead with nine holes to play, Spieth has a penchant for going and getting it done, just when it looks as if his chances are in peril.
"There is an element of belief there," Spieth said. "If you believe that you put yourself in the right positions—like, obviously, making a 50-footer for eagle, for that to go in, there's certainly luck involved. I put myself in position by executing to get it close, but if you have that extra element of belief that it's going to go in, then you're not surprised and you believe that it was you. Then you create a trend of your mental approach with it. And, obviously, it can go the other way real quickly. You can believe you are not going to get a break. And then you probably won't. It's amazing how it works."
Two weeks before his British Open miracle, Spieth was jabbing short putts astray during the final round of the Travelers Championship. Still, he somehow managed to scrape his way into a playoff with Daniel Berger with an even-par 70. The first playoff hole proved to be a microcosm of his ability to conquer an opponent and his own missteps with one immaculate stroke. After a wayward tee shot at the par-4 18th, Spieth's best option was to put his approach into the front bunker, from which he had saved par on the final hole of regulation. All he did next was sink the sand shot from 50 feet. Birdie. Victory. Head scratch.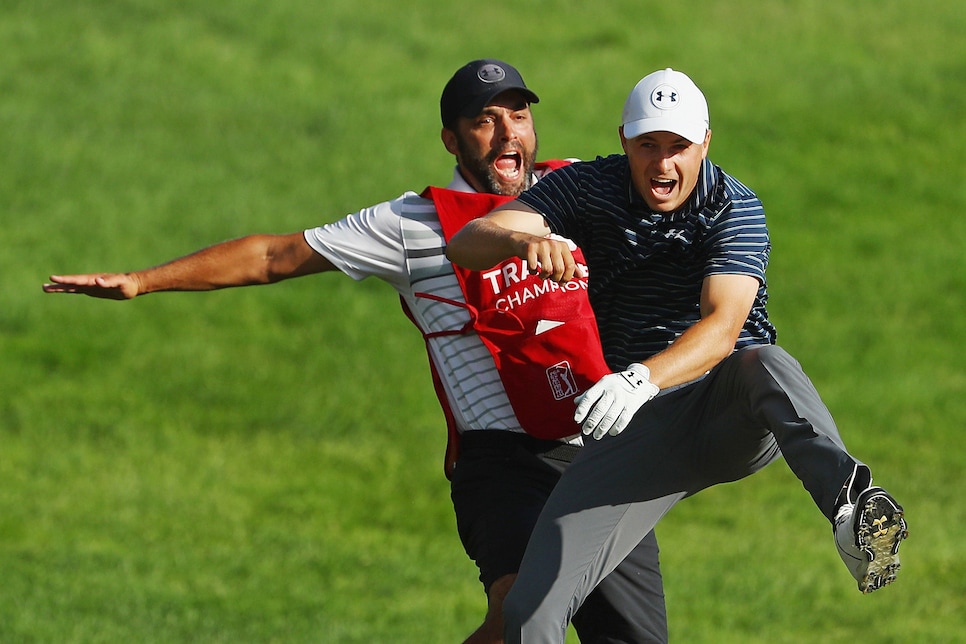 Maddie Meyer/Getty Images
No one is this lucky? Are they?
"Just Jordan doing Jordan things," Berger said magnanimously after feeling the burn of Spieth's serendipity.
And the way Jordan needs to do things. "After a bad tee shot, I played the hole the way I needed to play it to make sure I could play another hole," Spieth explained. "That was to hit a 5-iron, and if it happens to get on the green, great, [but] if it goes in that bunker I know it's an easy bunker shot because I had it in regulation. When I'm in the bunker, put it with the right speed a little further left to make it break to the right, and if it's on around the right speed it's going to get somewhat close."
Just to prove that he can assemble a controlled game, as he alluded to earlier, Spieth began the year with a workmanlike four-stroke victory in the AT&T Pebble Beach Pro-Am as he converted his first 54-hole lead since his 2016 Masters collapse into a stroll along Stillwater Cove. Heroics weren't required the final day as Spieth posted a two-under 70 featuring 16 pars and two birdies while hitting 17 greens in regulation.
That clinical performance was an outlier, however. Jordan Spieth is a high-wire act, his only net being his preternatural penchant for transcendent proficiency.
"My rounds on Sundays can be absolutely wild," he admitted. "I'll get momentum, and then I'll lose it, and then I'll gain it again. That's not on purpose. I don't know if that makes any sense, but it's what happens to me out there."
No, no one can be that lucky. It has to be, as Branch Rickey once said, the residue of design.