News
What's driving the remarkable resurgence of American team golf?
Talent and task forces only partially explain the lopsided U.S. victory at this year's Presidents Cup—and what it means for the future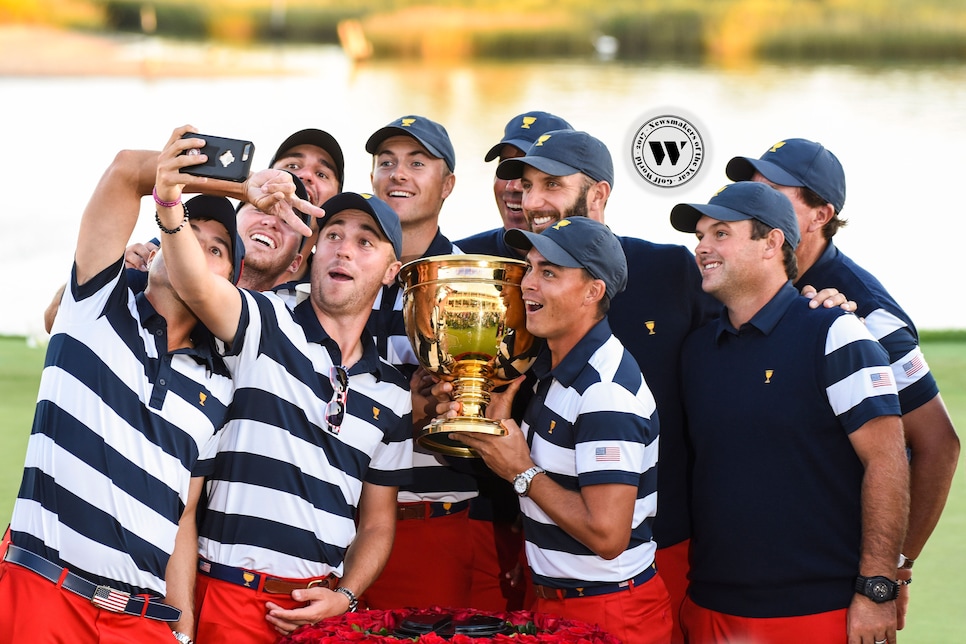 More than two months have passed since the United States crushed the International team in the most lopsided edition of the often lopsided Presidents Cup. And yet what to make of it isn't necessarily any clearer today than it was in early October. With the Americans needing just one point to clinch victory going into the 12 singles matches, the event was over (figuratively) even if it wasn't over (literally). But was what mercifully ended that Sunday at Liberty National the last chapter of a historic beatdown (literally) or the prologue of future team routes to come (figuratively)?
In the aftermath of the Americans' 19-11 blowout victory, U.S. captain Steve Stricker talked about how his team had confidently come into the event with a ton of momentum and explained how his job that week was about "getting out of their way."
The contrast to three years earlier couldn't have been more striking. At Gleneagles in 2014, the U.S. couldn't get out of its own way when it came to another international team competition. The American Ryder Cup squad was in utter disarray, losers of three straight and eight of the previous 10 biennial matches against the Europeans. The ineptitude and dysfunction going on behind closed doors reached its boiling point publicly in the form of Phil Mickelson's verbal takedown of his own captain, Tom Watson, in the post-event press conference at Gleneagles.
The scene was tense, awkward and embarrassing. It was also probably the best thing that could have happened.
"We needed it," Davis Love III says now. "It was unfortunate for Phil and Tom that it got out of the locker room, but in the long run it was great."
It led to a hard look at the state of American team golf and, ultimately, sweeping changes in how the players and the PGA of America, the organization in charge of the Ryder CUp, approached the matches. An open dialogue took place between many involved, and soon those thoughts were on a whiteboard, with a task force made up of three PGA of America officials, three previous captains (including Love) and eight players, notably Mickelson, Stricker, Rickie Fowler and Tiger Woods.
"Once that happened, we came out of it with a different attitude," Love says. "Tom Lehman making scouting trips to Minnesota, Jim Furyk going to stats meetings, Rickie Fowler saying this is what he sees. These are things that never happened before."
Well into the rebuilding process, which also has spilled over into the organization of the U.S. Presidents Cup team, most are convinced that American team golf is in the best shape it has been in decades. In turn, optimism that the U.S. squad can win the Ryder Cup for the first time on foreign soil in 25 years when the team competes next September in France has never been higher.
Yet just how did this transformation happen so quickly? Of course, while the infrastructure changes made were timely and necessary, it didn't hurt that they coincided with a critical shift in American golf from one generation to the next.
In 2011, Jordan Spieth, Justin Thomas and Daniel Berger, among another half-dozen or so players currently on the PGA Tour, all graduated from high school. By that point, however, they had already been competing against one another, as well as other top players of their generation, for years.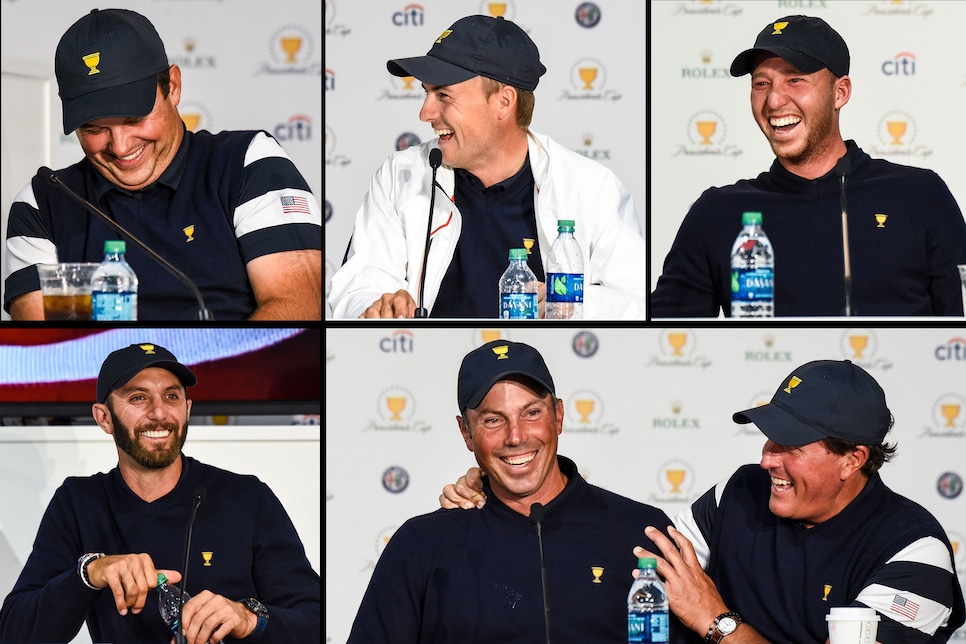 Nearly a decade earlier, in 2003, the American Junior Golf Association established a performance-based system with its events. Players earned stars for their finishes, and those with enough stars qualified for invitational tournaments that would bring together the best juniors in the country about a dozen a times a year. It proved to be a tremendous feeder system and one that would help players become better at an earlier age.
It also provided more opportunity for players to get to know each other. The story is well known by now but worth repeating: Spieth and Thomas first met at a junior tournament outside Dallas in the spring of 2007. The hometown kid dusted Thomas by five shots, and a few months later the two were headed to France for the Evian Masters Junior, where the top three finishers would earn a spot in the pro-am at that week's LPGA event. Spieth and Thomas shared a one-bedroom pad, and when Thomas finished third he got to play with Juli Inkster in the pro-am. Spieth carried his bag.
On it went like this with each having hugely successful amateur careers, often crossing paths and spending time with each other on and off the course. When Spieth turned pro in 2012 following one year at the University of Texas, and Thomas a year later after two seasons at Alabama, it was no different. The friendship continued. Other ones did, too.
Berger didn't have as decorated an amateur career as those two, but also turned pro after just two years at Florida State and, like Thomas, took just one year on the Web.com Tour to earn his PGA Tour card. He also lives near Thomas in South Florida, which a number of other 20-something players also call home, including Fowler. If one of them wants to find a game, it's easy. If some of them want to take a "Spring Break" trip together, they can do that too (and have, twice).
"These are relationships we've had for 10 years already," Berger said. "We're not just getting thrown together. We have been around each other for a long time, so it's pretty relaxing and tension-free All of us being around 25, we're going to be playing another 20 years, so it will be a lot of same guys. I think that's important to build that chemistry when you have a team competition."

Indeed. Though Woods and Zach Johnson had played on a handful of teams together, Woods had never so much as called Johnson in his spare time during the height of their careers. Nor were many of the previous generation's players spending time around each other off the course. One of Woods' close friends in that circle of players admitted the two had never had dinner together in all their years on the PGA Tour.
The game's current generation of stars operates a little differently.
"There's definitely more camaraderie," said Patrick Reed, 27 and a veteran of two Ryder Cup and two Presidents Cup teams, three times on the winning side. "It's hard to say what it was like from past teams, but a lot of us hang out together."
There was something else pushing the current crop of stars, too.
"Growing up watching Tiger Woods," Reed said. "Everyone saw what the standard was. Our generation practiced harder, got in the gym earlier. By the time [the younger guys] got to the tour, they were ready to win now."
By the time Spieth, Thomas and Berger played together on this year's Presidents Cup team, Spieth had already won 14 times around the world, including three majors, Thomas seven times (he added an eighth later), including a major, and Berger twice. The rest of the team was loaded, too, with World No. 1 and major winner Dustin Johnson, an "elder" statesman at 33, and reigning U.S. Open champion Brooks Koepka.
From the perspective of Love, Matt Kuchar and other veterans, the increased excitement among the younger generation is powerful and uplifting.
"I was so ready when I got to the Presidents Cup," Thomas said. "I couldn't wait to go play. I was upset I didn't make the Ryder Cup the year before. I love those team events."
Added Reed: "The biggest key was not only that young guys are better earlier, [but] our generation wasn't taking the beating the generation before us was. We were coming in fresh. The mental side is really big in golf, and if you have some heartbreaking loses, that's going to affect you and I think that showed."
Just as there is continuity and familiarity among many of the players who make up the U.S. team, there is among its leadership as well.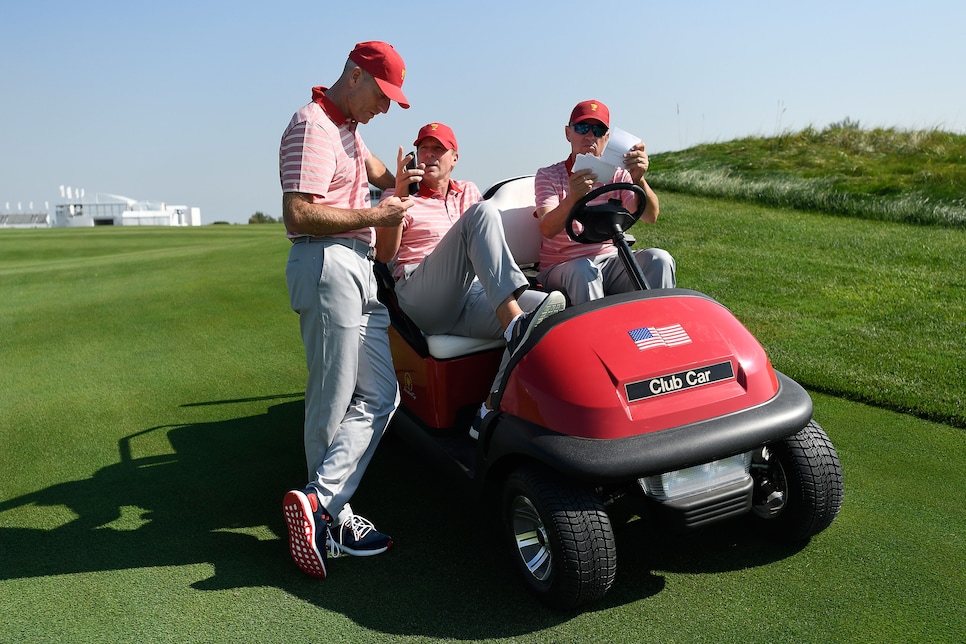 Stricker and Furyk both served as assistants to Love in a victorious 2016 Ryder Cup at Hazeltine National. Stricker then captained the Americans at the Presidents Cup. Furyk will lead the U.S. in next year's Ryder Cup in France. Stricker presumably will do the same in his home state in 2020, when the competition comes to Wisconsin's Whistling Straits. After that, it would hardly be a surprise to see Mickelson and Woods serve. No longer is the U.S. ripping it up and starting over every two years. They actually have a long-term plan in place.
"We went to Korea for the [2015] Presidents Cup on a mission to prepare us for the Ryder Cup," Love said. "Tiger was texting me at 5:30 in the morning. He was already getting ready for 2016 and being an assistant captain. I went from thinking he would never want to be a captain because of all the things that go into it, the media, the trips. Now, he's fired up. Now he'll tell you that if he's not playing he wants to be an assistant. What a shift in attitude.
"We have a group text still going from the Presidents Cup, and Fred Couples just the other day was still sending pictures. It's no longer, 'Hey, you did a great job. See you later.' Everyone has gotten to know each other on a much more personal level."
Still, talent helps. In hindsight, it was obvious the Internationals never had a chance at Liberty National.
"With or without a task force," said Kuchar, 39, a veteran of eight U.S. Ryder/Presidents Cup teams. "I think this team would've done pretty well."
And it looks like it will for the foreseeable future, too.