Ghouls and Golfers
The 9 best golf-themed Halloween costumes for 2023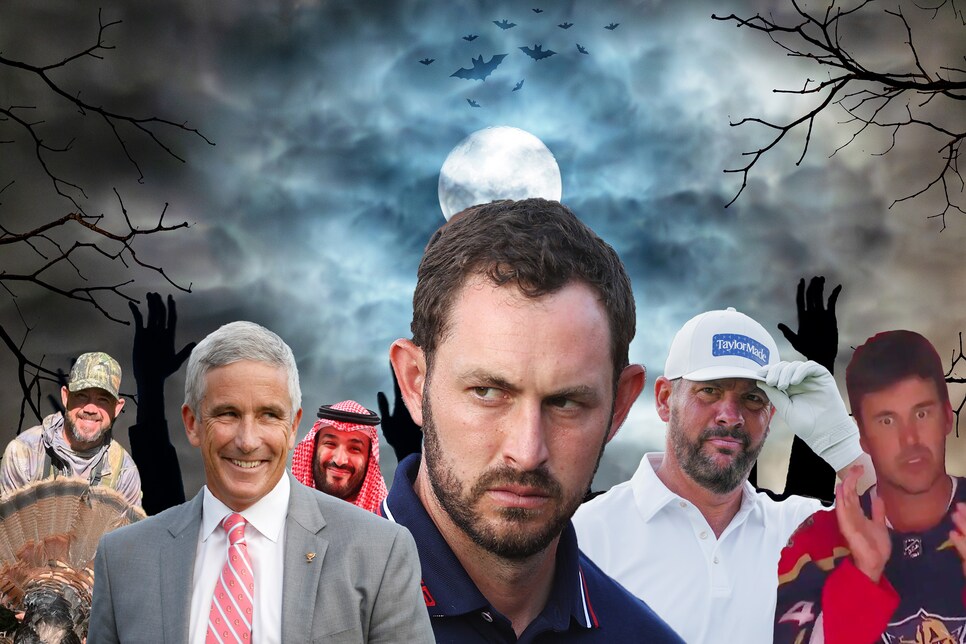 This is a safe space, go ahead and admit it:
You don't have a Halloween costume yet.
The big night has been approaching for weeks, but you've been dragging your feet. The missus is applying pressure, the clock is ticking and you have to come up with something better than "stick in the mud" before you're stuck being the Travis Kelce to someone's T-Swift. So what do you do? Where do you turn in this time of need? Well, to golf of course. 2023 has been rife with wacky characters and wild moments, all waiting to be plucked from the costume tree and given a spooky new spin. To that end, we've compiled nine can't-miss golf costume ideas from the year that was. From Ryder Cup references to the world's most famous sandbagger, we have the perfect disguise for every golf-mad ghost and goblin this Halloween.
Patrick "The Mad Hatter" Cantlay
Drape yourself in red, white and blue, put on the worst pair of khaki shorts you own and leave the hat on the rack. If you want to really complete the look, write "cash only" on your forehead with a marker (just make sure it's not permanent).
Brooks "Because it's the Cup" Koepka
What you'll need: A Florida Panthers sweater, pupil-dilating eye drops and half a bottle of caffeine pills. If you're worried about being mistaken for just another zooted-to-the-moon Miami bro, you can dust off one of your old Little League trophy and carry it around like Brooks' Wanamaker on its Fort Lauderdale victory lap.
Brian Harman, The Deer Hunter
Nobody expected Brian Harman to win The Open Championship this summer, least of all Brian Harman. But our friends across the pond were more surprised by the fact that Brian Harman's favorite hobby is [gasp] hunting. Apparently hunting isn't a thing in the UK, but it quickly became one as pictures of a camouflaged Harman posing with his prey were splattered across every spots section east of Ireland. Now you can pay tribute to the strangest golf controversy of the year by dressing up as Brian Harman x Elmer Fudd this Halloween. All you need is some camo, a splash of blaze orange and a lefty club and you're well on your way to Hoylake infamy.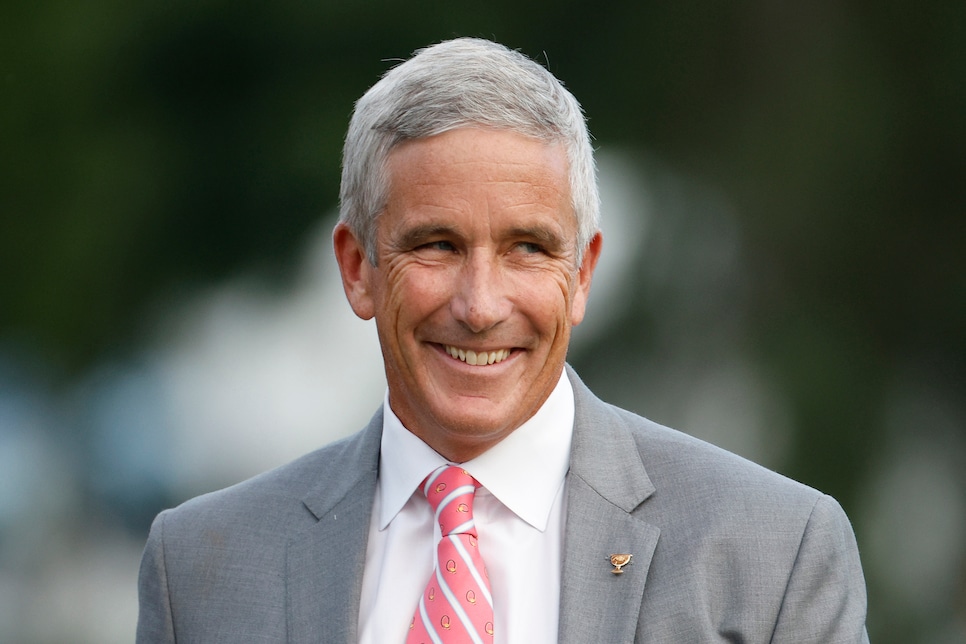 A riff on the classic angel-demon dilemma. To properly pull off embattled PGA Tour commissioner Jay Monahan this spooky season, you'll need a suit (preferably the most boring shade of gray you can find), a picture of Rory McIlroy perched on your left shoulder and a picture of Mohammed bin Salman Al Saud perched on your right. Make sure to add a healthy splash of eye shadow to accurately mimic the effect of not sleeping for days because everyone at work suddenly hates your guts.
Aaron Rodgers, Most Valuable Sandbagger
When Aaron Rodgers won the AT&T Pebble Beach Pro-Am alongside Canadian tour pro Ben Silverman, golfers smelled something fishy. Keith Mitchell, who finished runner-up with Buffalo Bills quarterback Josh Allen, called Rodgers' handicap "crap." Allen echoed those sentiments, saying Rodgers—who is listed as a 3.0 index at his home club but got 10 strokes at Pebble—"sandbagged the world" enroute to his celebrity golf Super Bowl. Buy it or sell it, that's up to you, but there's no doubt it makes for a hell of a Halloween costume. You'll want an Rodgers jersey, a bag full of sand and a concise explainer for anyone who asks what you are (please, don't torment the poor woman in the corner with GHIN talk all night).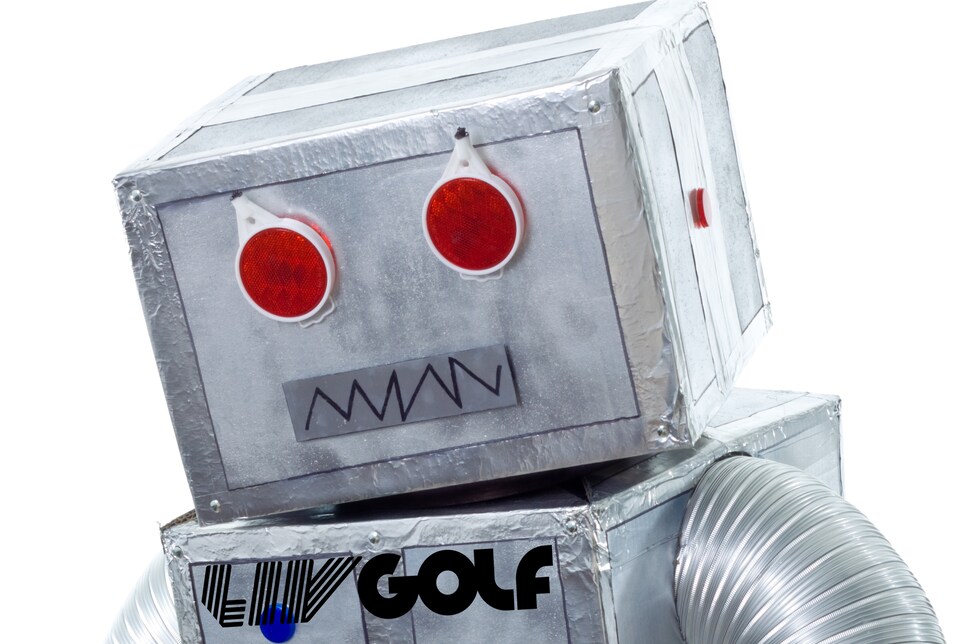 The cardboard-box robot is a costume as old as Samhain itself, but you can give it a golf-y spin this year by turning the time-tested get-up into the DREADED LIV TWITTER BOT [dun dun dun]! Just print out some of your favorite delusional pro-LIV Golf takes from Twitter eggs with seven followers, tape them to your makeshift robot and voila, an instant hit.
There's no question that Michael Block was one of the characters of the year in golf. The only problem is that the PGA professional, who made waves with his Cinderella run at Oak Hill, doesn't have a signature visual to carry a Halloween costume. He did, however, provide plenty of "blockbuster" highlights, so we present Michael Block-buster. Pun-centric Halloween costumes can be cringey if handled incorrectly, but all you need to pull this one off is a blue Blockbuster video shirt, a TaylorMade hat and Block's trademark 7 o' clock shadow. Slap on a golf glove and a "Michael Block" employee nametag if you really want to drive the joke home.
Viktor "Taste the Rainbow" Hovland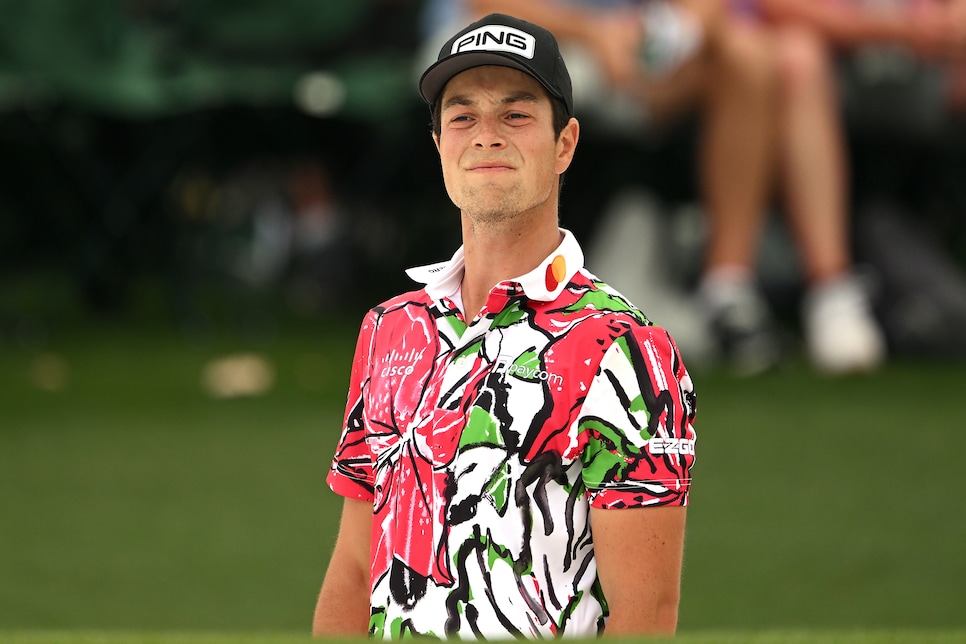 Nobody ruffled the feathers of golf's fashion police this year quite like Viktor Hovland. At seemingly every major, Hovland's colorful J. Lindeberg scripting was the talk of the town, drawing raised eyebrows and ample laughs. If you're looking for a vibrant golf costume, however, look no further than 2023 Tour champ. All you need to do is squint a bit, throw on some J. Lindeberg drip of your own (the more it looks like a grisly Care Bear crime scene, the better), and you'll be well on your way to a happy Hovlandween.
The Rumble in Rome (couples/friends costume)
No golf costume list would be complete with a couples and/or buddies idea and thankfully Rory McIlroy and Joe LaCava provided exactly that at last month's Ryder Cup, getting in an altercation after the latter spent roughly two years celebrating a decisive Patrick Cantlay birdie putt in McIlroy's airspace. Afterwards, the usually stoic McIlroy had to be restrained by Shane Lowry as he was seen shouting at someone off camera, rumored to be LaCava. For this one, all you have to do is dress up as McIlroy, have your partner dress up as the veteran looper and spar (please, not actually) at random intervals throughout the night. Boom, easy as taking candy from a baby (also please, not actually).