Editors Debate
Change your spikes or replace your golf shoes? A Golf Digest debate
*All products featured on Golf Digest are independently selected by our editors. However, when you buy something through our retail links, we may earn an affiliate commission.*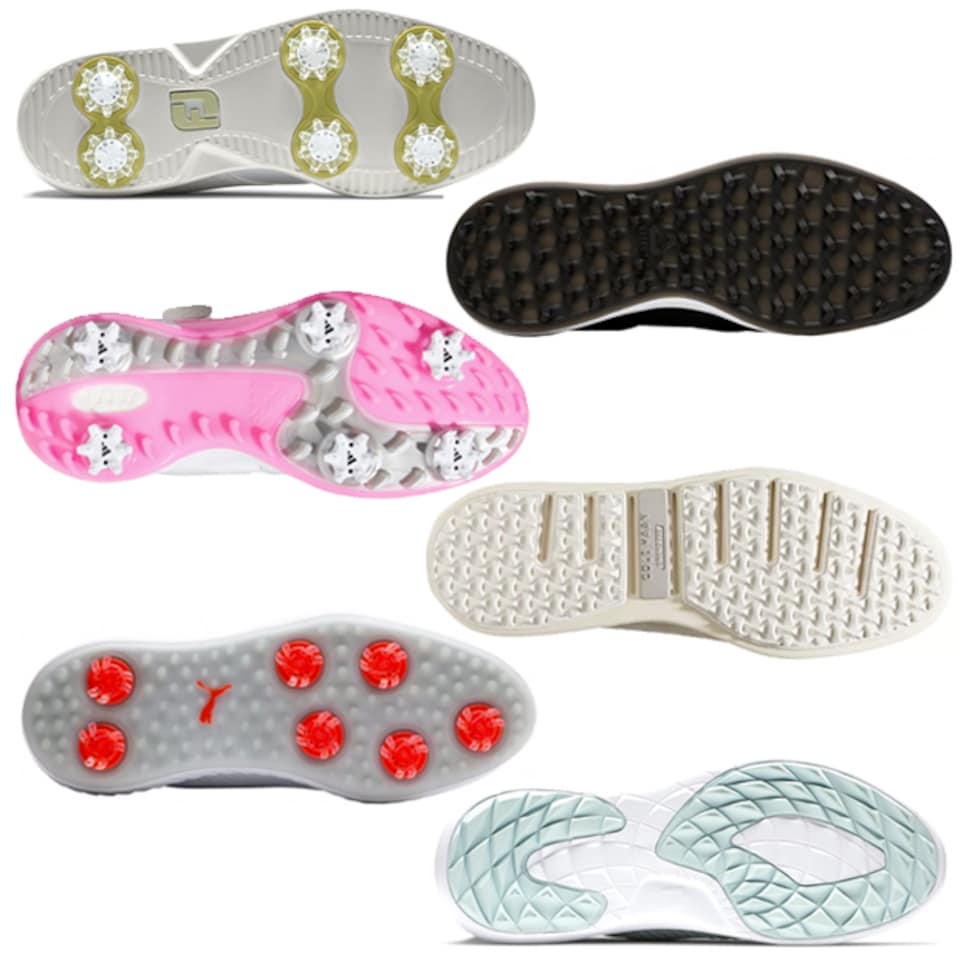 Be honest, when is the last time you thought deeply about the bottom of your golf shoes? Don't wait until your foot slips out during a crucial shot to take traction seriously—evaluate your footwear now. If you flip over your shoe to see worn cleats or nubs, it's time for a replacement. You have two options: Either replace the entire shoe, or if you've got a cleated pair of golf shoes, fix the traction issue. With the rise in popularity of spikeless golf shoes, many golfers are used to replacing their shoes, spikeless or not, and forget you can swap out cleats on spiked golf shoes. Is that practical and worth doing? Three of our editors weigh in on whether they swap spikes or swap shoes—and why.
RELATED: The best men's golf shoes of 2021 and The best women's golf shoes of 2021
"I love trendy golf shoes and switching up my style on the course, but it seems pretty wasteful and expensive to throw out a pair of shoes whenever the grip wears down, which happens pretty quickly for me. I find that changing out my spikes is not only a good way to get your money's worth out of your golf shoes, but it also gives you better grip when you're out on the course. There are also a lot of stylish golf shoes that feature adjustable spikes, and with the wide variety of spikes, you can customize your shoes to provide the support and grip you need when playing.
As for the amount of time it takes to change your spikes, you should at least be wiping down your shoes after every round to keep them clean, and switching out spikes should only tack on a few extra minutes to that.
For anyone wearing three to five pairs in a season, I would recommend investing in better golf shoes, like the ones shown below. While they might be a $50 to $100 difference from the pairs you're used to getting, they will last you a few years instead of a few months—which will save you money in the long run. I've never had a pair of good golf shoes wear out in a single season, even when I was walking four to six 18-hole rounds a week in college. All of this isn't to say that I hate spikeless shoes. I think they're a great option. However, if you're going through multiple pairs a season, maybe it's time to reconsider." —Maddi MacClurg, Assistant Editor
Opinion 2: Buying new golf shoes is worth it
"I currently rotate between a handful of different types of soft spikes and spikeless shoes. When whatever is on the bottom of my golf shoes wears down, I simply get new shoes. Would it be more cost effective to replace my spikes? Probably. Does that make me feel as good as getting new shoes does? No it does not. You know what they say: Look good, feel good, play good.
Also, many shoes, including one of my personal, oh-so-affordable favorites, the Nike Vapors, just have rubber soles molded into the shape of spikes. There's no option for replacing those. Similarly, the shoes in which I shot my best round ever, the Nike Air Zoom Infinity Tours, do not have replaceable spikes. When I start to feel a little unstable in either of those—I slipped on back-to-back tee boxes last weekend—I'll just grab a new pair. You're welcome for my business, Nike.
I also play a lot of golf, so I tend to wear through shoes rather quickly. And because I've grown up with spikeless options and those non-replaceable soft spikes, I don't think I even know how to replace a spike if I wanted to. I do have a pair of adidas Tour360XTs that I like enough to try it, but I also could just ditch those and slip into a lighter pair of the adidas CodeChaos (spikeless) or ZG21s (soft spikes), both of which are great for walking.
Outside of golf shoes, I am in love with sneakers. I have way too many and am constantly waiting for new ones to drop. In the ever-expanding world of golf shoes, there are so many options I want to try that I'm rarely attached to one for enough time that it would even make sense to go through with changing spikes. Most importantly, with the time I save by not changing my spikes, I can order another pair straight to my door that'll be here in time for the weekend anyway." —Jared Goldstein, Producer/Editor
"Should you replace your spikes or shoes is not a matter for debate, because the answer is "neither." Let me show you the path to spikeless shoes, a path that won't leave a path since, well, they don't have any spikes.
I see your reservations and know them well. I, too, once thought spikeless golf shoes were a sign of the apocalypse. But I also used to have blonde highlights and listen to Lil Wayne; people see the error of their ways. Because the spikeless shoe is a godsend. Forget about the pain of replacing spikes or cleaning them out or the cost of replacing and repairing them; the spikeless shoe does plenty in its own right to warrant the switch. It is the epitome of comfort, not only for your dogs but easing the strain on your back. Most look like a crosstrainer, making them not just functional outside the course but ensuring a sense of fashion if you wear them out. But most importantly, when I'm on the course or range, I've found a newfound sense of freedom with my swing as my feet are not as planted in the ground (think of Bryson DeChambeau, or better yet, Justin Rose's front foot on his follow-through).
So for the sake of your health, style, and game, go to the spikeless shoe. Unlike spikes and blonde highlights, I promise you they will stand the test of time." —Joel Beall, Senior Writer