Be Prepared
How to stock your golf bag to be prepared for any situation on the course
*All products featured on Golf Digest are independently selected by our editors. However, when you buy something through our retail links, we may earn an affiliate commission.*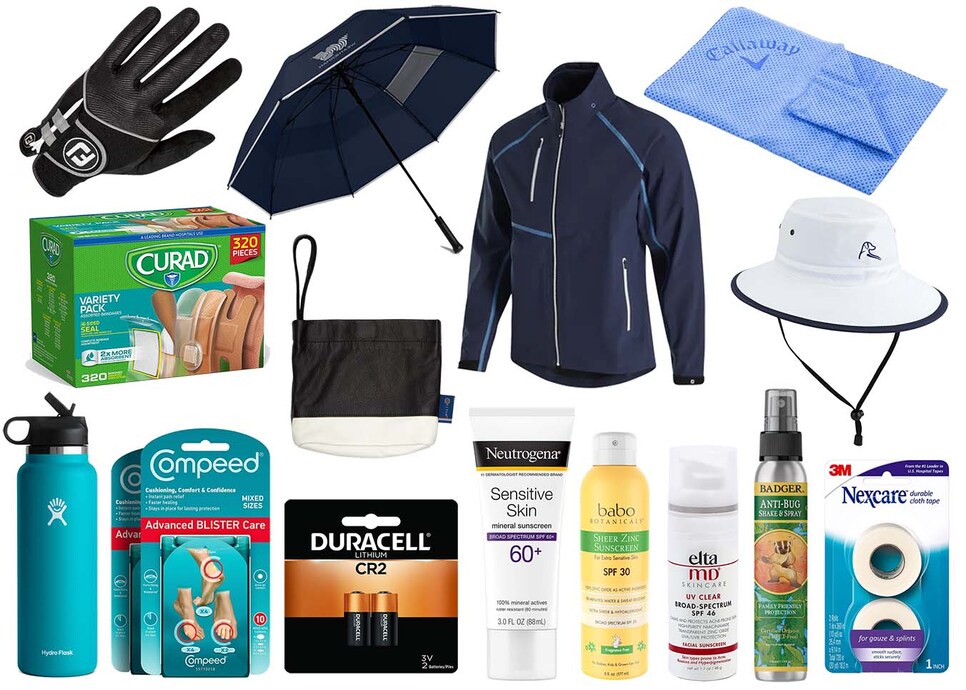 Golf is an unpredictable sport, and no two rounds are the same. From nasty blisters to a dead rangefinder, we often run into tricky situations on the course that we might not be prepared for. Plus, Mother Nature can always cause a round to go awry. Avid golfers know that no matter how clear the forecast may look for your tee time, it's always worth it to be a little extra prepared. The added pound or two that your golf umbrella might add is usually worth it: No one likes a soggy round.

If you adequately equip your golf bag with a few essential items, a lot of the potential problems you may run into on the course can be avoided. Although you might not have all of these items in your golf bag at once, it's always a good idea to go through a checklist of what you might need that day. Here are 15 products that every golfer should think about bringing to the course to avoid those tricky, unforeseen situations that are an inherent part of the game.
Unexpected rain:
Keeping some rain-related gear in your bag at all times is a good rule of thumb. A sudden rain shower doesn't have to derail your round, if you're adequately prepared. Rain jackets are lightweight and can easily be stuffed into the side pocket of almost any golf bag. Most weathered golfers agree, FootJoy's rain gloves are a must-have for either wet or humid conditions, where you need that extra hand traction.
RELATED: The best base layers and thermals for golfers braving the cold
Sun and heat:
Dangerous sun exposure and overheating are common threats on the golf course, even when forecasts predict milder temps. To combat that, every golfer should keep sunscreen in their golf bags to protect their skin from harmful UV rays. Whether it's a spray-on applicator or a dermatologist-suggested chemical-free face sunscreen, it's important to reapply several times throughout your round. To keep from overheating in the sun, consider buying a cooling towel, like this one from Callaway Golf, to wrap around your neck. And we can't stress enough that investing in a good water bottle is absolutely essential to have on the golf course to avoid dehydration, especially in high temperatures.
RELATED: Our favorite resort golf wear
Injuries and blisters:
Almost everyone will run into the occasional blister on the course. Maybe you haven't played in a while and your hands aren't in "golf shape," or you're breaking in a new pair of shoes that are bothering your heels. Either way, these tiny lesions are a nuisance and can really impact your golf swing. Tape, band-aids, and blister patches are lightweight and easy to store in your golf bag at all times.
RELATED: 6 products to help you get loose before off-season rounds
Miscellaneous:
Besides the basic rain, sun, and injury-related products, there are a few more items you might want to keep in your bag. Whether your rangefinder dies and you need extra batteries, or you need protection from mosquitos, or you just need a pouch to store the items listed above, these handy products will help keep external factors at bay, so you can focus on your golf game.