We're at the rookie media session, Players Championship week (legitimately a great opportunity for journalists, hat tip PGA Tour), where Mito Pereira, who was apparently a wunderkind everyone was constantly talking about—I missed this, as did everyone I've ever talked to—goes in for the Dreaded Contrast with Sahith Theegala, who will be playing the part of the unheralded rookie to Mito's Latin American Tiger Woods.
The idea behind this episode is two-fold: it's the story of two rookies, and also the story of how difficult it is to win on the PGA Tour. In a classic case of saying the episode title out loud, Rory gives a cheeky grin to the camera and hammers the point home: "Golf is hard."
We start out with Mito, who rolls with the tight-knit Latin American clique and his wife Antonia. They host a dinner at their house, with the likes of Joaquin Niemann and Alvaro Ortiz stopping by, and it all looks very fun. We learn about Mito's battlefield promotion, secured by winning three times on the Korn Ferry Tour in a single year, and his goal for 2022: "play really good."
Next it's Sahith, who is learning to do his own laundry. As an Indian-American golfer, he occupies a unique space, and it wasn't normal for someone in his family to fall in love with sports. Nevertheless, his father Murli recognized his talent, and got behind him without reservation.
The on-course centerpieces here are Phoenix, where Theegala comes achingly close to winning before a brutal hop on the 17th hole ends his dream, and the PGA Championship, where Pereira, of course, suffered his painful collapse on the 18th hole. The second half of the episode is all Mito, all the time, exploring his friendship with Niemann, and spending a very long time back at Southern Hills. When the nightmare is over, a group of Latin American players gather outside the clubhouse to console him, and Pereira tries to spin it as a positive: Now I know I can compete even in the biggest events. But the underlying lesson is clear, and the lesson is that winning is hard.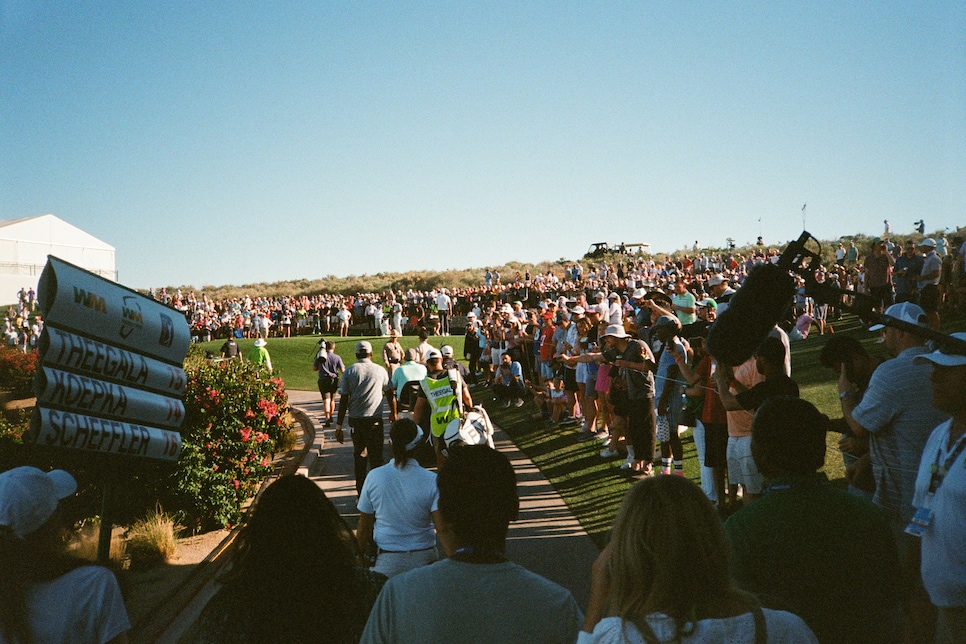 —Your mileage may vary, but I thought the Theegala material at the start of the episode was the high point here, and it reached an emotional peak when he broke down after losing in Phoenix. The coverage of the tournament itself was very solid, and for the cameras to capture his emotion afterward seems like the raison d'etre for the entire show—we want them there at these moments, and they nailed it. I covered Theegala here and there, but I wasn't at Phoenix, and I missed his post-round tears (I was probably doing something Super Bowl-related), which means even I learned something new here. A lot of people are going to come out of this liking Theegala. From comments I overheard, and from interviewing him last fall, I don't think he particularly liked having Netflix around, and I suspect he won't participate again, but I think it worked out for him.
—As Pereira hit that woeful drive on 18 at Southern Hills and proceeded to blow his chance at a major, Netflix made the choice to linger, and linger, and linger...and I thought it was brilliant. They turned the music off, they showed the long moments of Pereira walking to his ball, and they let you just exist in all that mounting misery. It was unbearable, and a really bold and smart choice. Every moment, from Pereira's wife trying to talk herself into something less devastating, to Pereira's attempts to cope in the moment, to the caddie's wife finally breaking down as her almost zealous positivity shattered, made you wince in sympathetic pain. It's not necessarily an easy watch, but if the job at hand was making you feel viscerally how much this sucked, and to get a sense of how the body must react when the nightmare is unfolding, well...job done.
—Speaking of moments that made you wince, I also thought the episode did a terrific job of exploring the strangeness of the dynamic when a friend has more success. We got this a little in the JT-Jordan episode, but at this point, they're both so accomplished that there's no real pain there. With Pereira and Niemann, though, it's fresh, and heightened by the fact that Pereira had a chance to flip the entire relationship on its head but lost it at the end. The simple scene where Niemann gets praised by Tiger when he wins the Genesis and Pereira has to stand there smiling and clapping was powerful—you know he felt happy for him, but you also know that on some level, it hurt.
—They don't really mention LIV a ton in this episode, but my major takeaway was that it's such a shame Pereira and Niemann are gone. Forgetting all the political stuff for a moment, the reality is that these are two really exciting young players, and now we don't get to watch them compete against most of the world's other best players. You can watch the PGA Tour, and you can watch LIV, and between them you can see who you want to see, but the schism means that you can't see them together, and that loses something really important.
—Just like Mike Thomas in the first episode, a dad—in this case, Murli Theegala—is the sneaky star of this episode. I walked with him (at a distance) in Memphis while working on the "how this was made" feature that you can read here, and from that perspective all I could really tell was that he loved to talk. Here, you see that not only was he supportive of his son, but sprinkled in some really good lessons along the way. "Why temper your emotions?" Theegala asks in one interview, paraphrasing advice from his dad. "You should show when you're angry, when you're sad."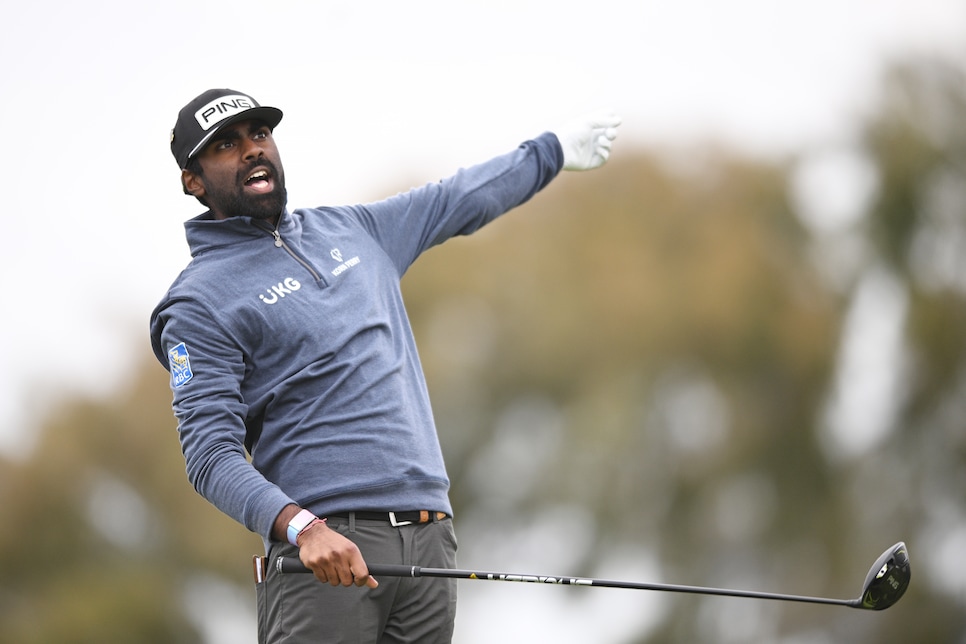 —The Invented Discourse was a runaway train at times here, and it was totally unnecessary. Theegala and Pereira were interesting enough without having to pretend one was a hot young phenom and the other was a dark horse.
—This episode highlighted better than any other the weakness of Netflix's episodic approach to their structure. They decided at some point they wanted a JT-Jordan episode and a rookies episode and a Brooks-Scheffler episode, and by forcing those restrictions, they ran into the awkward problem of having to revisit the same sites over and over. It's just plain weird to come back to Phoenix and Southern Hills so often, and watching this, the solution seemed so simple from my couch: If they wanted contrasts so badly, why not just do Thomas and Pereira? Then you can have a PGA Championship episode, and frankly, what do you lose? The Spieth-Thomas friendship stuff? That was a dude, and there was nothing especially compelling about the "rookies" theme either. As they showed here, you can force a contrast on literally anything, and there's no reason a Theegala-Brooks episode focused on Phoenix, a JT-Pereira ep at the PGA, and on and on and on, couldn't have worked just as well and given the whole series a more chronological flow. This, to me, is probably the biggest blunder of the whole series.
—The most interesting thing anyone said the entire episode was when Niemann mentioned that Pereira flat-out quit golf at one point. And that was it! No explanation, no follow-up, nothing. It's pretty weird for a pro golfer to just quit golf at some point during the formative years, and whether there's a good story or not, it deserves a bit of investigation. It'd be like telling someone about your day, spending 20 minutes on a grocery store run, casually mentioning an alien encounter, and then moving on to your yoga class. I want to hear about the aliens!
—Theegala had a pretty interesting year after Phoenix that included a couple more close calls, and some great play to get him into the Tour Championship. As with Morikawa last episode, I didn't like the decision to drop him halfway.
—Literally one of the first things we hear in the whole show is that Mito Pereira comes in with high expectations, is one of the Tour's young stars, and has "garnered a huge amount of attention." I get that it's impressive to win three Web.com events to get the battlefield promotion, but, uh...none of that is true. Sorry, it just isn't. There was very, very little buzz around this guy, and most normal fans hadn't heard of him before the PGA Championship. The idea that he had a ton of pressure on him while Theegala could fly under the radar is just bogus. Especially between Phoenix and the PGA Championship, I guarantee you most casual to slightly-more-than-casual golf fans knew Theegala. The fact that I'm guessing most of these voiceovers were recorded after all the drama went down makes it more egregious.
—Theegala, on himself: "A lot of people are like, oh, he's just happy to be there, he's not really a competitor." The Fake Haters strike again!
—At this point, I don't know if the Latin American players gathering to console Mito was real, staged, or somewhere in between. I actually saw this play out in person, and while it was affecting to see, it was almost impossible not to notice the camera ready to capture it all, and how the players almost seemed to be arranged in a tableau. Again, no inside dope here, but it made me wonder.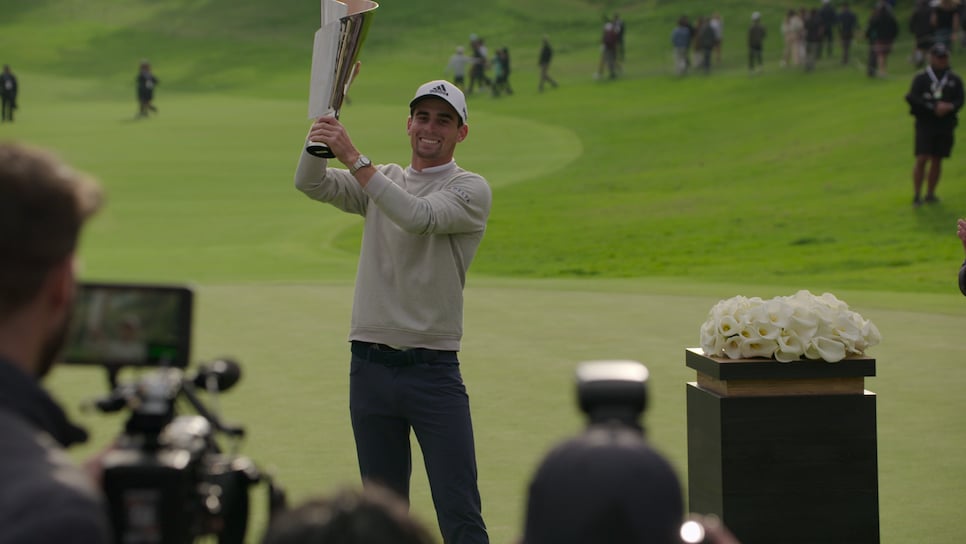 —One of the most interesting characters in this episode is the chef. Needed a lot more of him.
—Put Mito's description of his wife in the spouse hall of fame: "She's a little short, but really charming."
—Sahith, my friend, you are overloading that washing machine.
—Theegala's mom, watching his chip shot on 17 at Phoenix, duplicated my sequence of thoughts on literally every chip I've ever taken: "Go! Go! Come on, go! No, sit! Sit! Oh God, please sit!"
—The sequence after Southern Hills where Niemann asks Pereira if he finished second, and Pereira has to say, "no, third," seemed particularly excruciating for Pereira, and I'm not sure why. It's certainly not as bad as the collapse itself, but one of those little indignities that just adds some bite to the sting. I wanted him to yell at Niemann, "Did you see me in the playoff?! No?! Then how would I have finished second, MW$*%&#($*&#?!"
—"Mito"chondria, as a nickname? Not bad.
—Loved Pereira's wife in the car asking if he was lost. I was raised by TV and movies to believe this would happen my entire life, but then smartphones pretty much eliminated the whole argument genre. A true throwback here.
—I've never had a Piscola before, but I have had a Pisco Sour (in Rochester, N.Y., of all places, while covering the PGA Championship at Oak Hill), and let me tell you, don't miss a chance to try a Pisco drink if you get the opportunity.
—Nick Faldo reallllly killed Pereira on the last hole. Not that he didn't deserve it, or that anything Faldo said was wrong, but as someone who covered the event in person and was hearing that commentary for the first time, I was cringing in secondhand pain.
They nailed the tournament stuff, both in Phoenix and Southern Hills, and extracted real emotion from Theegala's breakdown and Pereira's agonizing loss. The problems here are largely the same as they've been all series: forced narratives, and contrasts that don't make sense and never deliver much of a payoff.