Times Are Changing
Free agency has come to pro golf, and LIV's top team has reportedly made a big move already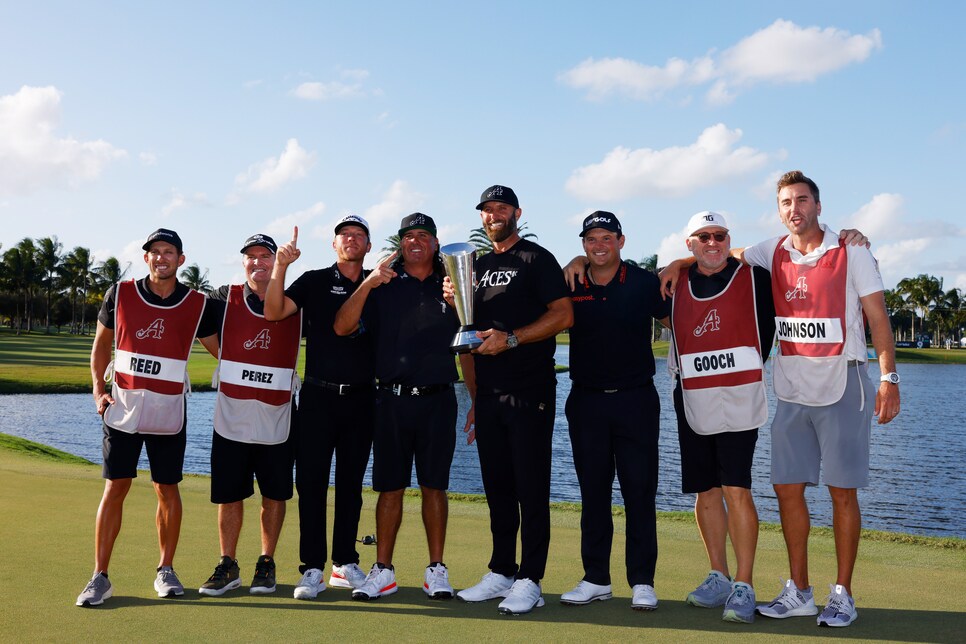 Following the conclusion of LIV Golf's inaugural first season, many questions remain about the controversial Saudi-backed league, including just how different it is from what currently exists in professional golf. But one way it promises to distinguish itself from the PGA Tour is with its team/franchise model, where LIV members play on four-man squads with the ability for team captains to sign and trade players like in other professional sports leagues. In turn, that creates a wrinkle that hasn't been seen previously in pro golf—the creation of player free agency and a transaction market. And apparently, no time is being wasted with this first "offseason" for big moves to be made.
Just two days after LIV Golf's season finale at Doral, ESPN reported a pretty shakeup with the newly crowned team champions. That's right, the juggernaut 4 Aces are already breaking up. Say it ain't so!
According to ESPN, Peter Uihlein will be joining Dustin Johnson's squad, while Talor Gooch is going to Bubba Watson's team. Or, rather, he's leaving for a team to be named later, because Bubba's franchise is planning on changing its name from Niblicks GC. That's great news if you're a Niblicks fan, but bad news if you own a Niblicks jersey.
OK, so it's not exactly LeBron's "THE DECISION." That being said, Uihlein is a bit of an unexpected commodity after finishing third on the regular season points list in LIV's debut year to earn a $4 million bonus, which matched his career PGA Tour earnings in over a decade as a pro.
According to Sports Illustrated's Alex Miceli, Uihlein entered the season with only a two-year contract to play on the LIV Golf circuit, but his high finish earned him another year. And while some players are locked into franchises as captains, there's freedom for others to move about.
"It's a good problem to have, I've got some obviously incredible captains talking to me," Uihlein told Miceli last week.
Peter Uihlein had suprising success playing on the LIV Golf circuit in 2022, making him attractive for other LIV teams to try to sign ahead of the 2023 season.
Jonathan Ferrey/LIV Golf
Gooch helped the 4 Aces emerge as the top LIV squad in 2022 as the squad claimed the $16 million prize on Sunday at Doral. He has also been one of the league's more vocal players in the ongoing battle with the PGA Tour. Did he become TOO BIG for the 4 Aces locker room? One can only wonder.
Sweeping changes—particularly to those initial team names—were to be expected. But while there are jokes to be made—How could DJ mess with years months of team chemistry?!—there's no denying that being more like other pro team sports differentiates LIV Golf from other pro tours.
Of course, that doesn't necessarily mean golf fans are going to care. Some like golf how it is and have no interest in it becoming a team sport filled with contracts and roster moves. And some are already tired of keeping up with their favorite teams' transactions—especially if those are bad teams making bad transactions.
In any event, the only free agency golf fans used to be able to get worked up for was when a TV guy like David Feherty changed networks or a top player switched equipment companies. Whether you like it or not, that's no longer the case.