DJ Being DJ
Dustin Johnson's exchange with reporters about his cracked driver might be the highlight of The Northern Trust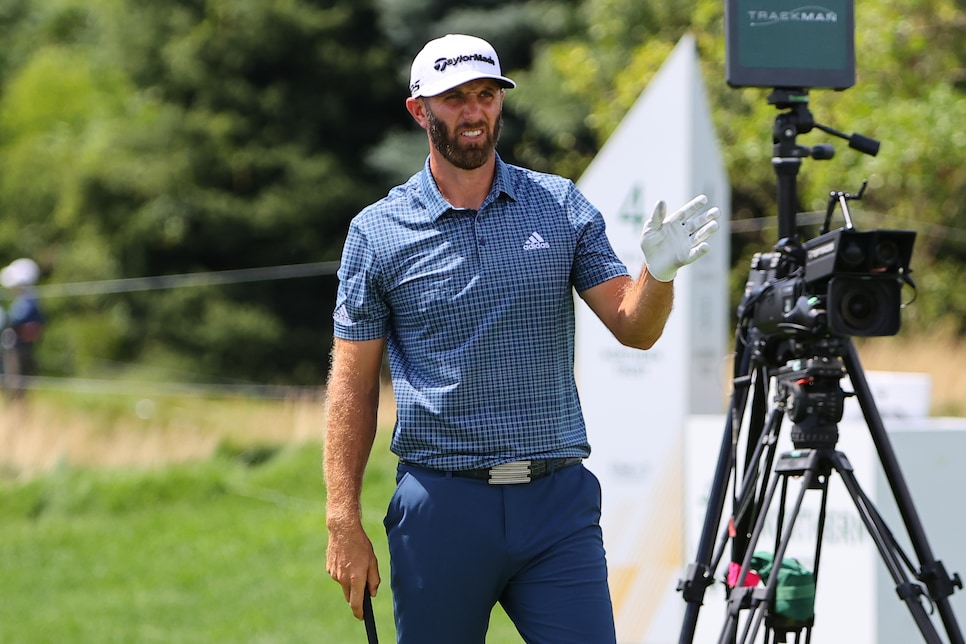 It's been an eventful week for Dustin Johnson at The Northern Trust—and that's before The Northern Trust even started. On Monday, he dined at one of the most famous restaurants in the world; on Wednesday, he got Golf Twitter going with a vintage DJ quote about the Ryder Cup; and on Thursday, he cracked his driver before the opening round.
Fortunately, the latter didn't hurt him too much as he still managed to shoot a one-under-par 70 at Liberty National. And golf fans were fortunate, too, because it led to another classic DJ exchange with reporters.
Johnson was asked SIXTEEN questions about his damaged piece of equipment and why he wound up playing with two 3-woods instead. And as you can imagine, anyone who is asked SIXTEEN questions about a single topic gets a little tired of talking about that topic by the end. Here's a sampling:
Q. Did you have a 3-wood at the beginning of the round?
Q. How come you didn't have that?
DUSTIN JOHNSON: I've got a 5-wood that I use for my 3-wood. It goes the distance I want it to. But I had a strong 3-wood in my car, so it helped a little bit, especially I hit some … I hit a nice … the first time I hit it was on 8. Just I hadn't hit it. It was brand new. So I hit it down the middle on 8, hit a good one, hit a good shot on 9. So from now on out, I hit it nicely, though, with it.
(Skip ahead a couple more … )
Q. So the fact that you ranked 53rd in driving distance with not having a driver, should the 70 guys behind you be embarrassed?
DUSTIN JOHNSON: I don't know. You can ask them that.
(Skip ahead a few more about his putter switch … )
Q. Is your backup driver back home, and will you get that mailed to you this week?
DUSTIN JOHNSON: I don't really have one. I'm going to go find one right now.
Q. Where are you going to find one?
DUSTIN JOHNSON: I've got a couple heads that I'm going to go try to hit. Keith got me a couple heads.
Q. This happens like 10 minutes before your round. How much time did you have to get down to your car and get the 3-wood?
DUSTIN JOHNSON: I didn't get it.
Q. I know you didn't, but how much time …
DUSTIN JOHNSON: I got it on the third hole or second hole.
Q. You started with 13 in the bag?
DUSTIN JOHNSON: I was going to play with 13. It was all right with me.
DUSTIN JOHNSON: I would have figured out a way. I figured out a way to shoot a decent score.
Q. The heads that you're going to test, are they the SIM or the SIM2?
DUSTIN JOHNSON: I don't know. I haven't seen them.
Q. You want to go find it right now, don't you?
DUSTIN JOHNSON: Yes. You all are holding me up.
Just a tour de force from DJ right there. It's tough to top the "Where?"-"What?" back and forth, but him finally admitting all these questions were keeping him from actually fixing the problem is the best.
Hey, the guy had an early Friday tee time to prepare for. And hopefully, another dinner reservation at Rao's.