Takeaways
Jordan Spieth nearly kills Brooks Koepka, the luckiest eagle of the year, and the best shot you didn't see on TV
JERSEY CITY, N.J. — For all the talk about the Brooks Koepka-Bryson DeChambeau rivalry this year, it was Jordan Spieth who nearly landed a knockout punch to Koepka on Thursday.
With the four-time major champ way left off the first hole at Liberty National, the three-time major champ went way left off the 18th tee, with his golf ball flying right over Koepka's head (and just right of mine) before, thankfully, landing harmlessly in the deep rough. Just look at the look Brooks made toward his fellow Ryder Cup teammate!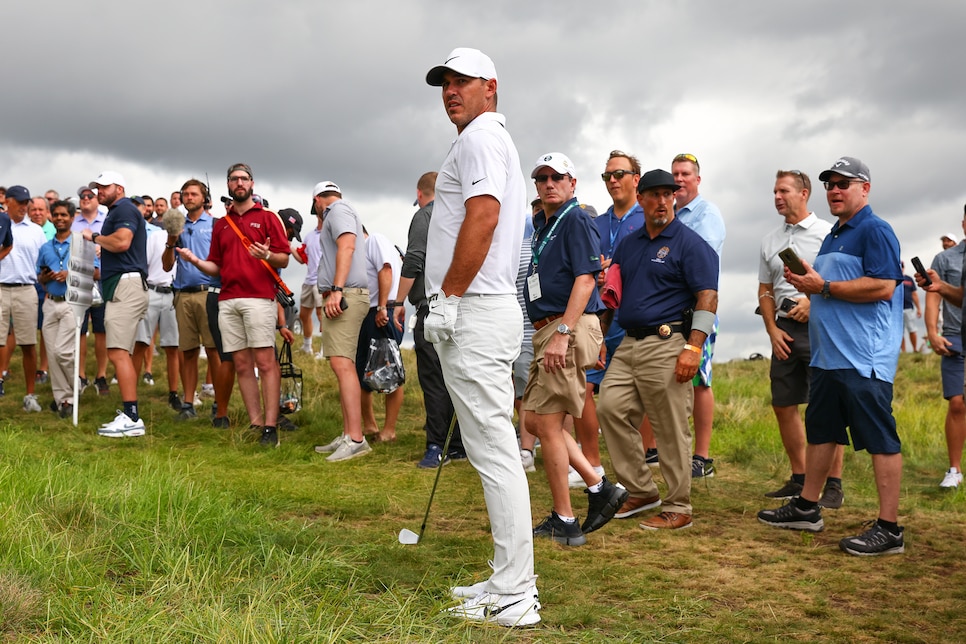 But that wasn't the only close call on Day 1 of The Northern Trust. In fact, it wasn't even the only close call involving Koepka and this reporter. While watching Spieth play the par-5 sixth, a ball from the seventh tee just missed me again.
That turned out to be Cameron Smith's ball, but when I ran to take cover, Koepka rattled one off the very tree I was cowering under. Last to play in the group was Hideki Matsuyama, who made it a trifecta missing way right and missed drilling a volunteer by inches. I asked her if that had been happening all day.
"Yes," she replied with a deep sigh. Fingers crossed she made it through the rest of the round.
There have been breezier days for sure on the PGA Tour this season, but the swirling wind off the Hudson River fooled the best golfers in the world—and wreaked havoc with those outside the ropes—in the first round. In other words, if you plan on attending the tournament this week, be careful.
In any event, while Jon Rahm and Justin Thomas are three shots clear of the field, here are five other takeaways from Day 1 at The Northern Trust:
Adam Scott continued to roll
Four days after missing a four-footer that would have won him the Wyndham Championship, the Aussie remained in great form. Yes, there were some missed opporunties—most notably from about six feet for birdie on Nos. 7 and 8—but Scott converted a par putt on No. 9, his final hole, from a similar length to the one he bricked on Sunday.
"I'm very disappointed I didn't win that tournament," Scott said. "I gave myself about as good a chance as you could possibly have, and I do pride myself on the fact that I really—there haven't been many putts to win a tournament that I haven't made when I've had that chance, and that's a pretty short one to miss. So I mean, a little embarrassing."
But there was nothing embarrassing about a first-round 67 for Scott. And the 41-year-old likes the groove he's in for the playoffs.
"I've really struggled to get my game in the shape to contend at that level out here this year, and finally it was feeling that way," Scott said. "Importantly, I wanted to bring it here this week, and so far I have. So that outweighs the disappointment, the encouragement of where tee to green I feel like I'm going is really good. But I'm running out of weeks to put that to use, so I'd better play well."
And Scott should like his chances of doing just that as a winner at Liberty National in 2013. He also ranks only behind Dustin Johnson in all-time playoff top-10s with 18. Considering how he's played his last three rounds, it's hard to imagine him not contending again come Sunday.
Tony Finau (finally) found his form again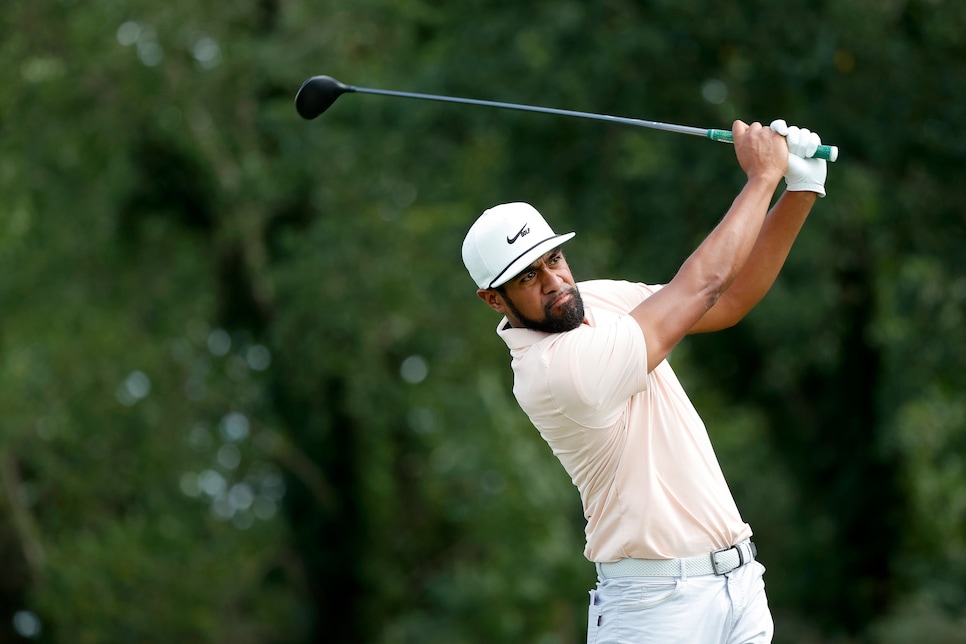 Cue our favorite leader-board-update giver, Chris Vernon: "TONY FINAU! WHERE HE BE NOW?!" Actually, he's back among the leaders. For the first time in a (surprisingly) long time.
Finau shot a 67, which would be right near the lead if not for Rahm and Thomas having a birdie party on their respective back nines. Regardless, the 31-year-old has to be thrilled with his position considering the rut he's been in.
After a hot start to the year, it's been three months since Finau's last top-10, at the PGA Championship. He's even missed (gasp!) two cuts during that seven-tournament stretch.
But a high finish this week could go a long way for him receiving a captain's pick for a second consecutive Ryder Cup. Finau is currently 12th on the U.S. points list in a year where captain Steve Stricker will pick half of his 12-man roster for next month's event at Whistling Straits. TONY FINAU! THERE HE BE NOW!
Victor Hovland hit the shot of the day that you (probably) didn't see
If you happened to be following the young Norwegian star while he played the fifth hole on Thursday, you'd never guess the weakest part of his game is around the green. That's because Hovland pulled off one of the most ridiculous flop shots imaginable from a hazard—and with a tree restricting his backswing. Here's how he described it, although words really don't do it justice.
"I pulled a shot on No. 5 that looked like it was going to go in the water, but since I got a flier, it went over the water on the left side by kind of the trees, by the bridge, and it was right on the red line and my backswing was kind of up against a tree, so I had to take a very slow backswing," Hovland said. "I hit a flop shot that hit the side of the slope on the green and rolled to maybe four feet. Went from looking like having to fight for a bogey to making a par, so that was big for momentum."
Hovland birdied his next two holes and shot an opening 68 to put himself among the early leaders. And while he's been hard on his shortcomings in the short game, the 23-year-old is encouraged by the improvements he's been making in that area.
"Yeah, I feel my technique has gotten a lot better, and in practice it's way better than it is in tournaments.
"I think for me it's just kind of … I have some scar tissue in there, and just trusting kind of what I'm doing now. You know, I have a tendency of getting a little tentative on the chips out there, so I'll hit good chips but they're just eight, 10 feet short because I just don't hit it; whereas I feel like as soon as I get more of that confidence I can hit it harder to create more spin just because I know I'm going to clip it the way I want to."
Cam Davis made the luckiest eagle of the year
And that's not an exaggeration. The drivable par-4 16th hole at Liberty National is the site of arguably the luckiest eagle in PGA Tour history—Scott Brown's bounce off a bridge in 2013—but Davis may have topped that on Thursday by making a big bird that required two big and fortunate bounces.
Watch as Davis' tee shot on the 283-yard hole (the tee box was moved up for the first round) takes a huge carom off the rocks in the pond guarding the right side of the green and then ricochets off a tree before settling about nine feet behind the hole:
Good, clean living, am I right? Just incredible. Go buy a lotto ticket tonight, Cam.