The Northern Trust
For these Ryder Cup hopefuls, the FedEx Cup Playoffs present a final opportunity to make a statement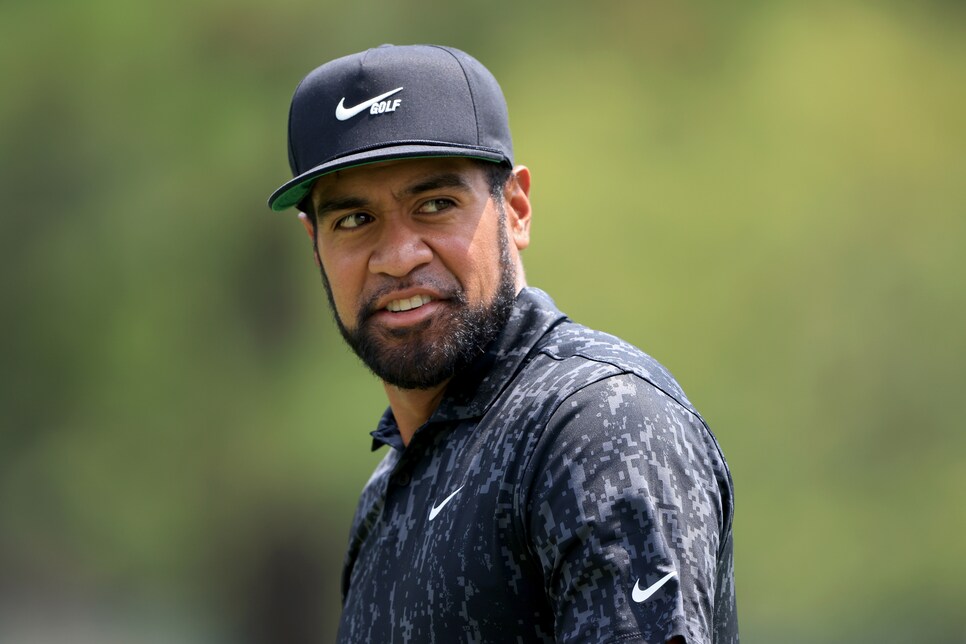 It appears that Tony Finau will again have to play his way into being a captain's pick for the Ryder Cup.
Sam Greenwood
JERSEY CITY, N.J. — The Northern Trust does not exist on an island, and that's actually not a cheesy joke about Liberty National's proximity to Manhattan. It's the beginning of the three-event FedEx Cup Playoffs, and only 70 of the 124 players teeing it up here will advance to next week's BMW Championship outside Baltimore, which leads to a bunch of tournaments-within-the-tournament. Guys above, say, 50th in the points race are focused on keeping their seasons alive. Anyone who wins this week will be in great position to earn the FedEx Cup and its $15 million grand prize.
All that talk exists within the PGA Tour ecosystem and its financial implications. But the most compelling side-story of these times involves a tournament that does not offer any prize money at all.
Just two tournaments remain before the Ryder Cup points list locks after the BMW—at that point, the six auto-qualifiers for the American side will become official. After the following week's Tour Championship, captain Steve Stricker will fill out a full half of his team with six captain's picks, a one-time expansion of selections due to COVID-19. Only two American players have clinched their spot at Whistling Straits: Collin Morikawa and Dustin Johnson. The other 10 men who will join Stricker's side in Wisconsin remain a mystery, meaning these playoffs present a final opportunity to prove you deserve on the team.
"You don't think about it while you play, but you know there's definitely that feel of a tournament inside of a tournament," said Tony Finau, who sits at No. 12 in the points race and will likely need a captain's pick if he's to play in his second straight Ryder Cup. He was one of the lone bright spots for the Americans at Le Golf National in 2018, going 2-1 that week near Paris—also as a captain's pick—and waxing a previously 4-0 Tommy Fleetwood in singles. "There are some guys on the bubble, a few guys that have made the team already, and, honestly, some guys that are most likely going to make the team.
"The biggest reason I made the team [in 2018] is I showed the captain in the playoffs that I was in great form. I think I'm in a similar situation this year where I'm going to have to play well in the playoffs, and I welcome the challenge."
Finau finished second, T-4 and T-8 in the first three playoff events in 2018 to make captain Jim Furyk's decision an easy one. This cycle, Finau's part of a group text with the other Ryder Cup hopefuls, some of whom will make the cut and some who will not. The next four in the standings after Morikawa and Johnson would seem to be quasi locks: Bryson DeChambeau, Brooks Koepka, Justin Thomas and Xander Schauffele. The man in seventh, Jordan Spieth, will almost certainly be there as well.
Past that, it's wide open. Patrick Reed's strong team-play pedigree—Paris aside, where he went 1-2—gives him an excellent chance, and Patrick Cantlay's two-win season and natural pairing with fellow Californian Schauffele bode well. Harris English, who also has two wins on the wraparound campaign, sits eighth in the standings and would be a Ryder Cup rookie.
"Obviously it's been on my mind some," English said, "but playing these playoffs has been much more on my mind. Finishing off a great year is important to me and the rest with the Ryder Cup will take care of itself with good golf."
Phil Mickelson looked a shoe-in to make his 13th consecutive Ryder Cup team after winning the PGA Championship in May, but he's done a whole lot of nothing since, with zero top-10s and just one finish better than T-61 in his last six starts. It won't be easy for Stricker to leave off an all-time legend and reigning major champion, but Mickelson took a bit of the pressure off with some honest self-evaluation during last week's WGC-FedEx St. Jude Invitational.
"I haven't had a top-10 outside of the PGA," Mickelson told ESPN. "You can't take somebody that is that inconsistent. I have three events, here and the two playoff events. And if I finish high in those events and move up on the list, you never know. But you have to have a little bit more consistency and momentum I think."
No one has more momentum than Kevin Kisner, who won last week's Wyndham Championship but still sits down at No. 18 in the points standings. Kisner has excelled in the WGC-Match Play event and profiles as the exact type to excel in Ryder Cups: great putter, competitive, tenacious, fiery. An American version of Ian Poulter, so to speak. But he's been passed over multiple times before, and there's been concern that his shorter-than-average length would not play well at a course as beefy as Whistling Straits.
"Whistling Straits, I don't even really remember from the PGA, which I think was about '15," Kisner said. "So I can't recall. I know it's long. In match play, it's a total different animal than stroke play, so I'm not having to beat 155 other guys on the golf course. I just have to beat one or two depending on the format. So I can bring value to the team in the ways I can get the ball in the hole.
"What if I'm playing with D.J. and I'm hitting all his approach shots? The game's pretty equal from there out."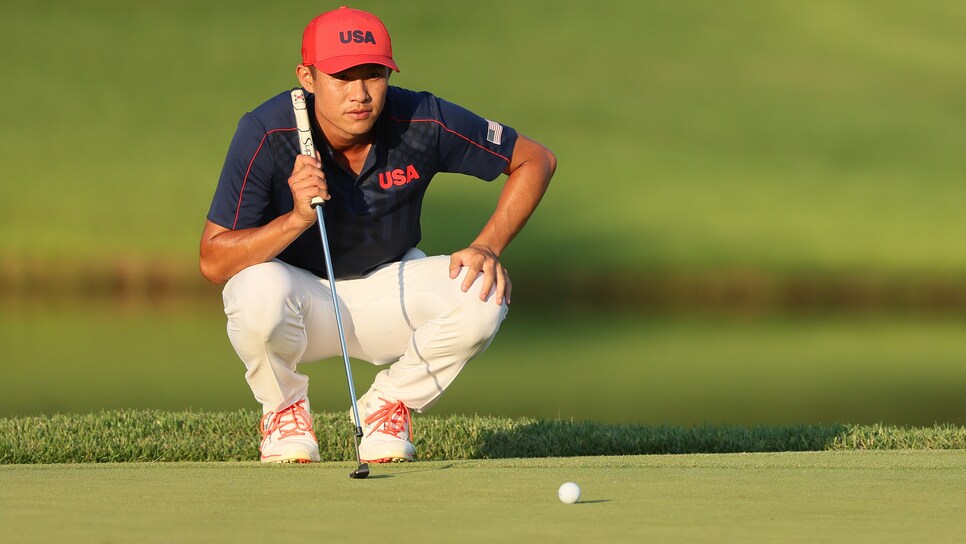 Collin Morikawa is one of the few locks to be on this year's Ryder Cup team.
Mike Ehrmann
Morikawa stopped short of naming names, but when asked what kind of players he feels could help the team he'll be a part of, he seemed to be describing Kisner.
"I think guys that are going to be scared—and I'm not saying any of the guys will, but some guys are willing to step up a little more, whether they're a veteran or whether they're a rookie," Morikawa said. "It doesn't matter, right? Some guys are willing to take that next step and really just embrace it. I think that's what the team needs is guys embracing what the Ryder Cup is rather than going out there and just hitting for fun."
The always under-the-radar Daniel Berger is 10th in the standings, has been consistent all year and still seems at risk of a snub. A casualty of his own laid backness, perhaps. Perhaps he should take a lesson from Webb Simpson, No. 13 on the list, whos has played on three Ryder Cup teams and lost three times. The second of those three appearances was courtesy of a captain's pick from Tom Watson, which came only after he sent some last-minute text messages openly campaigning for a spot. It's about as controversial as the mild-mannered Simpson has ever gotten in his career.
"Would I do that again?" he asked at last week's Wyndham Championship, where he finished T-7. "I don't know. I was so, I guess, anxious about making that team in 2014, and maybe it was good and bad that I texted him, but in that moment I felt like I didn't know Tom as well, I don't know if he knows how much I want to make this team. Stricker and I have texted, but I haven't sent that text like I sent to Tom. I think he knows how much I love team events. But also, I guess getting older, playing these events more, I've realized Stricker's going to pick who he feels is the best team for that week and I trust that."
There's always the potential for an off-the-radar player to catch a heater and throw a wrench into the bubble picture. In 2014, Billy Horschel went T-2/WIN/WIN in the final three playoff events but did not make the team because Watson had already made his picks. The deadline for picks was extended after that Ryder Cup in what became known as the "Billy Horschel rule." Perhaps Horschel, who won the WGC-Match Play this year, could emerge as the charging horse once again. Or maybe it'll be Max Homa, or Will Zalatoris, or Sam Burns, or Scottie Scheffler, or Jason Kokrak, or Kevin Na. We'll know a lot more in three weeks' time.