Ryder Cup
Ryder Cup watch: Euro wildcards, the prospects of a Patrick Reed snub, and growing concerns over Bryson DeChambeau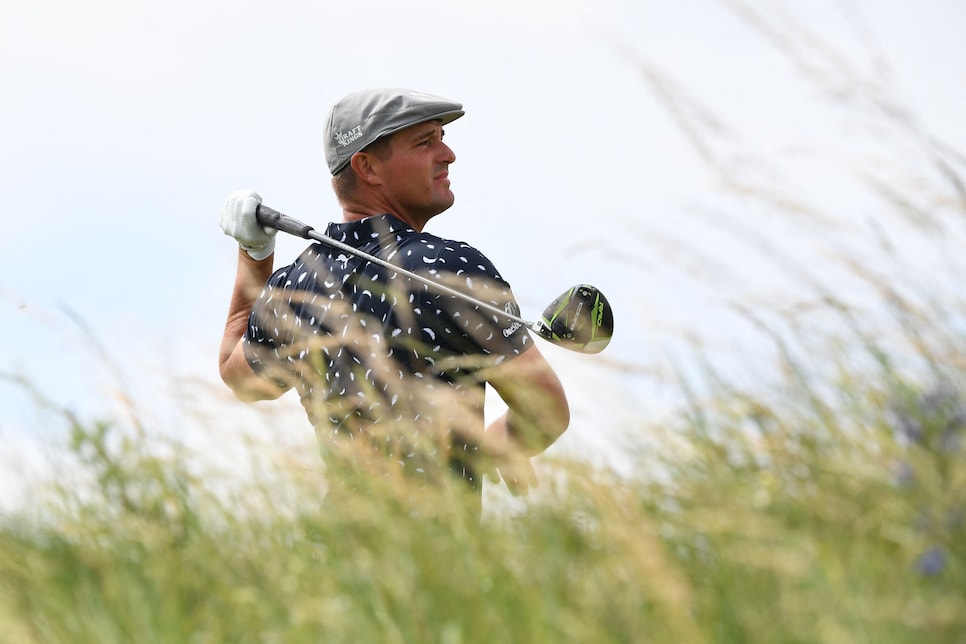 Welcome to the latest edition of the Ryder Cup stock watch, where we'll periodically take a look at how the U.S. and European teams are shaping up heading into this year's match at Whistling Straits. Golf Digest writers Joel Beall and Daniel Rapaport assess where Ryder Cup matters stand heading into the final week of the PGA Tour's regular season:
USA Rankings - Top 6 automatically qualify
1. Collin Morikawa
2. Dustin Johnson
3. Bryson DeChambeau
4. Brooks Koepka
5. Justin Thomas
6. Xander Schauffele
7. Jordan Spieth
8. Harris English
9. Patrick Reed
10. Daniel Berger
11. Patrick Cantlay
12. Tony Finau
European Rankings - Top 4 in Team Points, Top 5 World Points
1. Jon Rahm / Jon Rahm
2. Tommy Fleetwood / Rory McIlroy
3. Tyrrell Hatton / Viktor Hovland
4. Rory McIlroy / Paul Casey
5. Matt Fitzpatrick / Tyrrell Hatton
6. Paul Casey / Matt Fitzpatrick
7. Bernd Wiesberger / Lee Westwood
8. Victor Perez / Tommy Fleetwood
9. Robert MacIntyre / Shane Lowry
10. Guido Migliozzi / Victor Perez
11. Thomas Detry / Robert MacIntyre
12. Viktor Hovland / Ian Poulter
JB: Time is running out for American and European players to make their case. Give me one guy from each side who needs to prove their mettle over the next month.
DR: As far as the U.S. goes, the clear answer is Phil. He said so himself after a T-17 at the WGC-FedEx St. Jude Invitational, which was actually his best finish (by far) since tha magical week at Kiawah. "I haven't had a top-10 outside of the PGA," Mickelson told ESPN on Saturday after his third round in Memphis. "You can't take somebody that is that inconsistent. I have three events, here and the two playoff events. And if I finish high in those events and move up on the list, you never know. But you have to have a little bit more consistency and momentum I think." By saying that, he's consciously taking the pressure of captain Steve Stricker, who'd have a really hard time leaving off an all-time great in a year he's won a major championship. If Phil pushes hard in the playoffs, either with his play or with his words, I still think he gets a pick. But he's not doing that right now, and he seems to be a couple bad performances away from voluntarily taking himself out of consideration.
The European side is pretty intriguing; all the sudden, it feels like the team is basically set apart from one person. Yes, there are still four big events to shuffle the rankings—the three FedEx Cup playoffs, plus the BMW PGA Championship—but the nine players currently in the auto-qualifier spots are essentially locks: Jon Rahm, Tyrrell Hatton, Rory McIlroy, Viktor Hovland, Lee Westwood, Paul Casey, Matt Fitzpatrick, Tommy Fleetwood and Shane Lowry. Ian Poulter has shown plenty of form recently, and judging by Paddy Harrington's pro-veteran comments, he's a lock. So is Sergio Garcia. That would seem to leave one spot for Robert MacIntyre, Justin Rose ... who else?
JB: Victor Perez is ahead of Young Bob, Rose and Sergio in the World Ranking, but he missed the cut in every major this season and is in a funk something fierce, so don't think he's in the running. Bernd Wiesberger's shot at Bryson on Twitter over the weekend felt baked in "Hey guys, don't forget about me!" vibes, and with a win and T-5 in his last six starts, suppose we could throw him into the mix. But to me, Guido Migliozzi is the interesting watch. Understand that Harrington has telegraphed he wants vets with his captain's picks, but if he goes with Sergio and Poulter, that's four 40-plus players (along with Westwood and Casey) to go along with seasoned Ryder Cuppers in McIlroy, Fleetwood and Lowry. Coupled with Rose sputtering, think a shot of youthful vitality could be in order, and if that's the case it comes down to MacIntyre or Migliozzi, who had back-to-back runner-ups before finishing T-4 at the U.S. Open.
As for the Americans … one of the most deluded notions of the Ryder Cup over the last two decades is that the Europeans are a band of brothers while the American locker room orders 12 taxis for 12 players. In truth the Europeans aren't as buddy-buddy as portrayed and the American team culture isn't permeated with dysfunction or animosity. I say that to say this: With the Brooks-Bryson thing inching closer to a dark space and Patrick Reed's baggage from Paris and Melbourne and San Diego, the U.S. could use an extra adult in the room. And with Phil going south since South Carolina, Stricker desperately wants that adult to be Webb Simpson.
The former U.S. Open champ hasn't been bad this year; he enters the week ranked 22nd in strokes gained. He also hasn't been lights-out, with a lone top-five finish since the fall. Simpson wouldn't be a controversial choice if he was picked today—he's 13th in the Ryder Cup rankings entering the Wyndham Championship (a tournament so dear to Webb's heart that he named his daughter after it)—and his experience at team events can't be overlooked, but a handful of strong showings in August could make that pick a lock.
Speaking of locks, you mentioned the Euro auto-qualifiers are basically set. Same can be said for the American side (Morikawa, Johnson, DeChambeau, Koepka, Thomas, Schauffele). Spieth would have to announce he's taking up the game left-handed to not be picked, and even then I think Stricker would still give him a spot. Despite his stumble in Memphis, something would be amiss if Harris English (No. 10 in the world!) was left off. Adding Simpson makes nine and there's still Patrick Cantlay, Tony Finau, Daniel Berger and Scottie Scheffler, plus the Mickelson question AND a possible playoff run from somone not on the list. What I'm getting to is this: As shocking as it sounds, is Patrick Reed in danger of missing this team?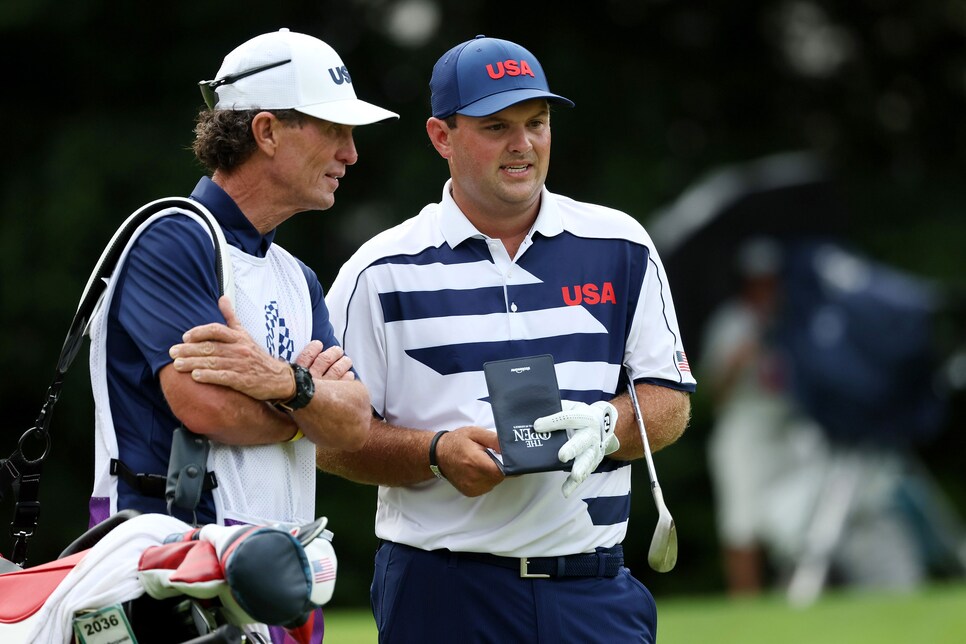 DR: I can't see them not taking him. It feels like just enough time has passed since Le Golf National, and the Bahamas, and the Presidents Cup, and Torrey Pines—man, the guy truly can't stay out of his own way—and Bryson has supplanted him as the No. 1 guy people love to hate, which does take some attention off. P-Reed's been in kind of meh form recently—five finishes between T-19 and T-34 and one missed cut in his last six starts—but the guy has a preternatural scoring ability, which always plays well in match play. Stricker also needs to find DeChambeau a partner, and with Tiger out of the mix and Phil's chances on life support, could we see an all-time heel duo of BDC and P-Reed at Whistling Straits?
Back to your list of potential U.S. captains' picks. The most likely to get snubbed from the guys you mentioned is Berger, right? Wouldn't that be the most on-brand thing ever for golf's forgotten man.
JB: Couple points, since you just blew my mind with a Reed-DeChambeau pairing:
–Should Reed-DeChambeau come to pass, we may have a reverse "Rocky IV" situation, where the American crowd begins to cheer for the Europeans, leading to Bryson channeling Ivan Drago and yelling "I FIGHT FOR ME!"
-If Reed does make it, Bryson would be the natural match. Not only do they complement each other's games, let's face it, the rest of the Americans aren't banging down the door to play with either.
-Reed's selection would seemingly solidify Webb's spot, because if Stricker doesn't pair Reed and DeChambeau, you're going to need someone willing to play with Bryson (more on this later). Worth noting that Reed and Webb struggled mightily together (0-3) at the 2019 Presidents Cup, and while Reed's teamed up with Patrick Cantlay at the Zurich Classic, don't think Stricker is going to break up Cantlay and Schauffele (played four matches together in Melbourne).
I'm with you on Reed though. While that possibility does exist—and make no mistake, it is a possibility—when it comes time to make the final call, I can't see him sitting the Ryder Cup out.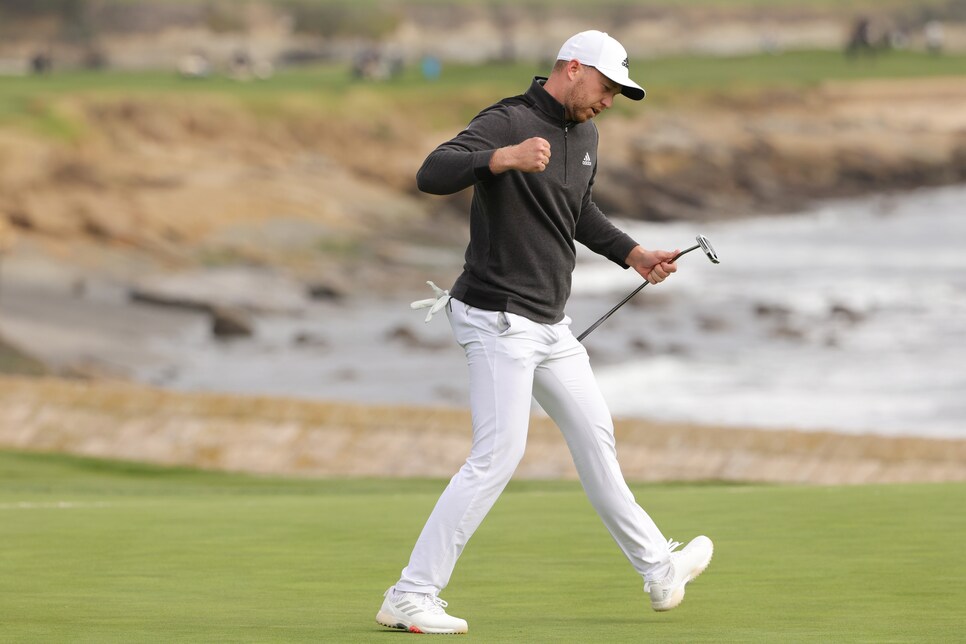 Back to your Berger question. on the surface, it seems like he's tracking to be the odd man out. Which is absurd. He's eighth in strokes gained (and sixth among Americans) on tour this season and has eight top-10s in just 20 starts, which include a win at Pebble, a a T-7 at the U.S. Open and a T-8 at the Open Championship. Moreover his strong approach play and steady putting makes him an enviable partner. Granted, Berger wouldn't necessarily view a non-invite as a snub; just means more time to shoot music videos on his boat. Still, even with the notion that someone really, really good is going to be left off … Berger missing the team doesn't feel right.
So I'm combating your sensible Berger snub with something more shocking: Tony Finau. He hasn't been right since losing the playoff at Riviera, the U.S. already has enough bombers and his putting makes him a liability. He's 100,000 percent in the running for a wildcard spot, but if he doesn't do anything spectacular over the next month, Finau may be sweating it out. And this is under the assumption that the status quo is maintained; if someone like Scheffler or Sam Burns gets hot in August, Finau could be on the outside looking in.
Then again, Whistling Straits is a bomb-and-gouge ballpark, and one of the lessons of 2018 should be to tailor your team to the course. What I'm saying is I have no idea how Stricker is getting more than three hours of sleep a night with these decisions looming.
We're spending a lot of time talking about who might be on the team. Let's hit on some players who most definitely will be at Whisting Straits. Is there anybody from either side that you think is trending in the wrong direction to the point of worry?
DR: Finau was one of the bright spots in France—he went 2-1 that week and, lest people forget, waxed a previously undefeated Tommy Fleetwood 6 and 4. You're correct in that he's hit something of a wall toward the second half of this season, but he's an absolute birdie machine with a game tailor-made for big parks like Whistling Straits. I still think he gets the nod.
As far as guys who will be there ... where's JT been this summer? His win at the Players seemed to turn the page on a rough start to the season off the course, but his one top-10 in 12 starts since came at the Scottish Open. He's since slid to No. 5 in the world and while he's not missing cuts, he's missing putts, which is always concerning heading into a Ryder Cup.
The Euros have something of an English problem. Three of the six Brits likely to make the team are simply not playing well: Tommy Fleetwood, who will miss the FedEx Cup Playoffs unless he makes a move at the Wyndham; Lee Westwood, who doesn't have a top-15 since his magical Florida Swing; and Tyrrell Hatton.
Speaking of Fleetwood ... with Molinari nowhere near the picture, who's going to play with Tommy Lad? And who's going to be tasked with shepherding Viktor through his first Ryder Cup?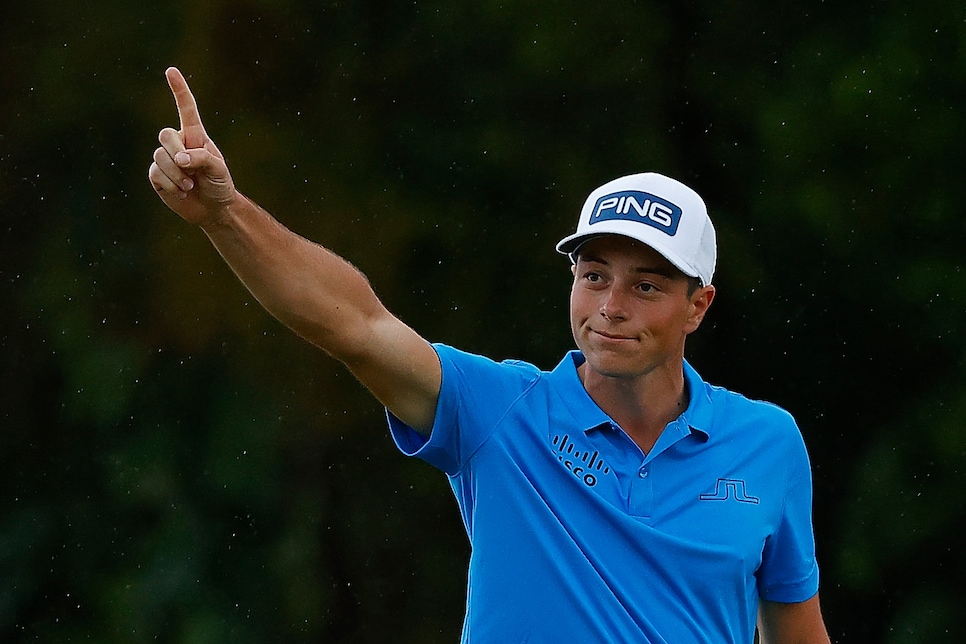 JB: Don't think Hovland needs any shepherding. Only Rahm and McIlroy rank higher in the OWGR than Hovland on the Euro team, and the Norweigian could very well pass McIlroy by the end of the month. Hovland is 12th in tee-to-green and 15th in strokes gained, and already showed he's a big-game hunter with a victory at the 2018 U.S. Amateur. A shaky short game doesn't make him an ideal foursomes (alternate shot) candidate, yet the best thing that can happen to the Americans is the Europeans keeping Hovland sidelined out of a misguided "Well, he's a rookie" principle. Truthfully, Fleetwood and Hovland would be a delight; only Lowry and Rahm have better touch around the green than Fleetwood, and his personality would be the perfect backdrop should Hovland have any unexpected nerves.
Staying on Fleetwood, his struggles make him the obvious answer, but Hatton is the odd duck in this sense: it really, really looked like Hatton was making the leap last year, and while he has been solid this season (nine top-25s in 18 starts), he hasn't been the guy from 2020, either. Coupled with his continued no-shows at majors (five MCs in last seven appearances), it doesn't look like Hatton, presently, is the war horse we thought he was becoming.
For the Americans, the worry runs deep. You mentioned Thomas' up-and-down season. Dustin Johnson finally reached the echelon the sport believed he could reach at the end of 2020, only to regress to a form that's simply been off in 2021. There's a belief that Johnson could turn it back on at any time, and certainly he's shown that sentiment to be true throughout his career ... but if he's been unable to switch the light on over the past eight months, should we be banking him to do it in September?
Then there's Bryson. On one hand he was seven holes away from going back-to-back at the U.S. Open. He's also been fighting a slump since the Players Championship, and no matter what you think of him, his opinions or actions, his feud with Koepka and interactions with fans are visibly taking a toll on the man. Whistling Straits should be a playground for Bryson, but if there's wind—and we know how Bryson feels about the wind—it could go bad and go bad quickly. He remains one of the best in the world when he's right, but right now, in so many ways, he's not. One could even argue if, for his own sake, he should be in the type of raucous environment that breaks out at Ryder Cups.
Admittedly we're treading on gloomy territory, so we'll end on a more positive note, and with Bryson: Any chance a DeChambeau-Koepka pairing could work? And with no Tiger and possibly no Phil, isn't that the best potential storyline?
DR: While it'd be incredible theater, I can't see it happening simply because Brooks would rather drink bleach than try to pump up Bryson for five hours. Koepka is one of the U.S. top horses, and you don't want to put him in a bad mood by giving him a partner he's specifically said he doesn't want.
BDC will be worth keeping an eye on all week. Of course, there's the Brooksy stuff—but we've also seen a number of other players be increasingly vocal in their ... how should we put this ... less-than-love for him. JT has zinged him on social media a few times, the Euros can't stand that he doesn't yell FORE, and the fans seem to be turning on him a bit. Sunday in Memphis was a tough scene all around, and that was at a buzz-less stroke play event. The lights will only be brighter at the Ryder Cup and the chirps will be louder, and DeChambeau's clearly uncomfortable with the whole situation. It'd be worse if the matches were in Europe, but it's going to be fascinating to see how he's treated all week—by the fans and his teammates.