Keep it simple
Dustin Johnson has a quintessentially DJ explanation for why some guys play well in the Ryder Cup and some don't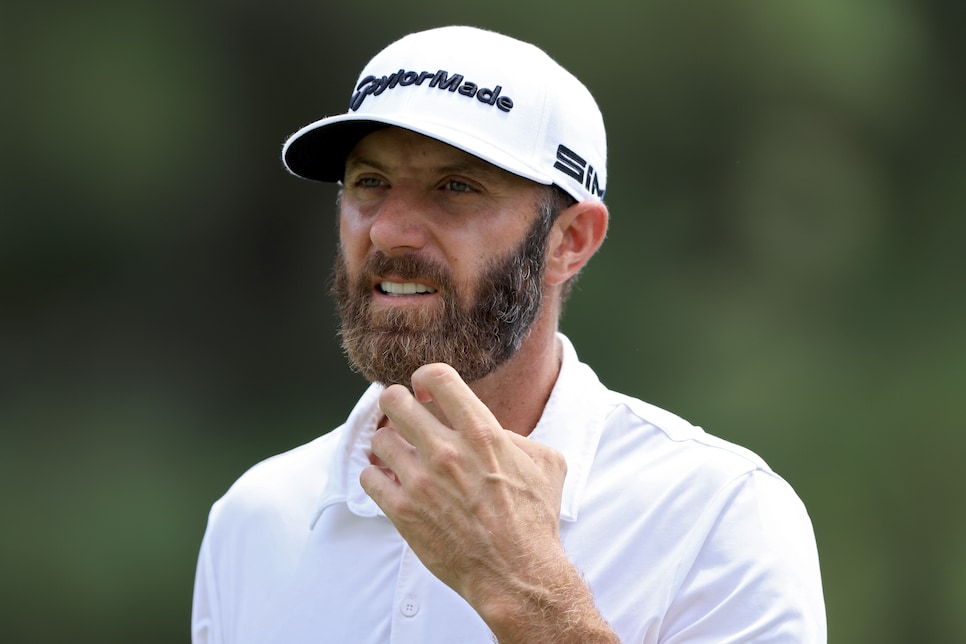 JERSEY CITY, N.J. — With just three weeks left until the points race locks, only two Americans have clinched an auto-qualifying spot for next month's Ryder Cup at Whistling Straits. One is Collin Morikawa, the Open champion who enters this week's Northern Trust leading the FedEx Cup standings. The 24-year-old will be making his first appearance in the biennial matches. The other is Dustin Johnson, who recently locked up his spot in what will be his fifth Ryder Cup.
Johnson, like every other American of his generation, has done more losing than winning at the Ryder Cup—both on a personal level, where he's 7-9-0, and collectively, having been on just one victorious team (in 2016 at Hazeltine).
The recent American struggles, despite usually coming in with the stronger team on paper—Europe has won seven of the last nine matches—have prompted extensive post-mortem brainstorming sessions. After the 2014 debacle, the PGA of America facilitated a "task force" to pinpoint areas for improvement. There are several theories: The Europeans gel together better in the team room; the Europeans grow up playing more team golf; the American captains have erred in their captain's picks, to name a few.
Johnson, as is his nature, has a much simpler explanation.
"Golf, as we all know, is a very frustrating and difficult game," Johnson said Tuesday, as he prepares to defend his Northern Trust title from a year ago, when he shot 30 under at TPC Boston to win by 11. "But the Ryder Cup, it's match play. It's a lot different because you know you're not out there just playing for yourself. You're playing for, obviously, your teammates, your captains, your country. So it's a little bit different of feelings out there.
"But as far as why people play good and some don't, it's a golf tournament pretty much. So we're out there playing golf. It's whichever guys have their game that week are the ones that are going to play well and win their matches. You've got to get a little lucky too because sometimes if you're playing every match or four matches, most likely you're going to be a little bit off in one of them, and that's the one where you need, obviously, a little help from the other side."
Or, put differently: golf happens. Guys play well for seemingly no reason and guys play awful for seemingly no reason. Consider Johnson's last 12 months. After his romp at TPC Boston, he lost in a playoff at the BMW Championship and won the FedEx Cup the following week. He won the Masters two months later to tease a dominant stretch to come. It simply hasn't happened. He has not won since January and enters the FedEx Cup Playoffs 17th in the points race.
Johnson has a preternatural ability to avoid overthinking things. With 24 wins and two majors to his name, it's worked out just fine for him so far. As for the Ryder Cup struggles? Golf happens.