News
Cut-line drama remains undefeated and four other takeaways from Day 2 at the Memorial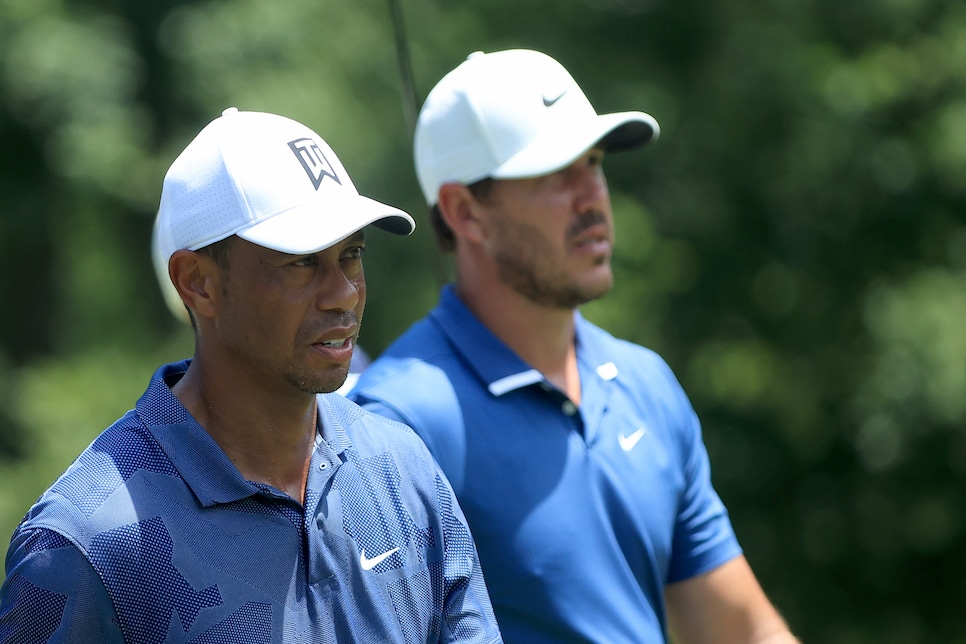 Tiger Woods and Brooks Koepka walk from the ninth tee during the second round of the Memorial Tournament.
Sam Greenwood
Through two rounds of the Memorial Tournament, the top of the leader board is once again littered with some of the top players in world. But the real drama could be found on the cut line on Friday at Muirifield Village, mostly thanks to some guy named Tiger.
Now that Woods [and Brooks Koepka] lived to fight another day, everybody can rest easy knowing we'll have a few more rounds of the Big Cat on the weekend. While that will be fun to watch, the real excitement will come in the final pairings. It's not a major, but it certainly feels and looks like one so far.
Here are our five takeaways from Day 2 at the Memorial.
Cut-line drama remains undefeated
At the beginning of the day it was certain that two over would make the cut. Then it was possible that it moved up to one over. Three over seemed out of the question. Then it was suddenly within the realm of possibility that three over would be enough. By the time a few more guys melted down late on Friday [we'll get to the mega meltdown in a second], four over was still on life-support. OK, maybe four over never had a chance, but you get the point. The cut-line drama was at an all-time high on Friday.
The entertainment factor ratchets up quite a bit when the man himself, Tiger Woods, is directly on the cut line for a solid three to four hours. Woods' second-round 76 had him and the collective golf world sweating all afternoon, as it put him three over for the week. PGA Tour Live commentators seemed to be eulogizing him at the end of his round, which is why cut-line speculation, especially in extreme course conditions, is never a smart idea.
Ultimately, three over did indeed make it, bringing Woods, Brooks Koepka, Patrick Reed and Xander Schauffele all back into the mix for the weekend. Wouldn't it be cool if there was a channel dedicated only to the cut-line sweat? Golf's version of "NFL RedZone." This is not my original idea, and I want to say fantasy guru Pat Mayo implanted it in my brain at some point, so all credit to him. Not only would the gambling portion of golf's fan base enjoy it, but regular fans would find it extremely entertaining as well. There's something about that grind that people enjoy watching, and even relate to. It should be much more prominent on the broadcast.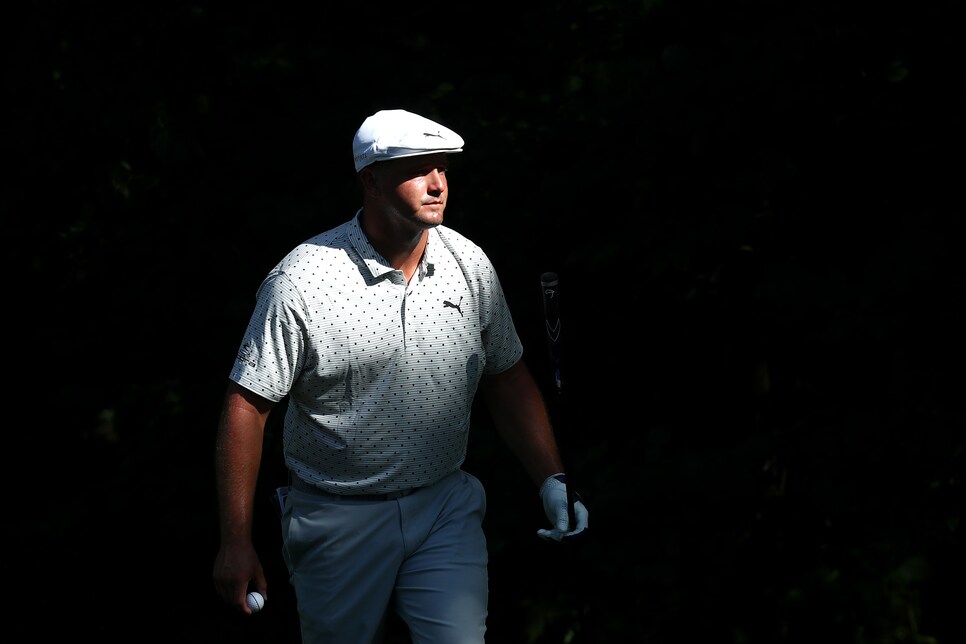 Bryson DeChambeau made a 10 on the 15th hole on Friday.
Jamie Squire
That was an iconic Bryson meltdown
No need to break it down shot by shot, as our Daniel Rapaport did a great job of that here. But I'd be remiss to gloss over his epic 10 on the par-5 15th entirely, even though that's exactly what DeChambeau wishes we all did. There are a number of videos on Twitter that I cannot share here that you simply must see.
There's one of Bryson counting up his 10 like every hacker on the weekend looking back at the fairway and pointing at each shot. There's one of Bryson's caddie blocking a cameraman from filming Bryson walking [yes, walking, not kidding] after his tee shot at 16. There's one of Bryson questionably patting down some rough before one of his drops in the woods on 15. There's one of Bryson asking for a second ruling, not getting it and appearing very upset at the whole situation while a few people watched in their backyard from behind a fence.
It's all over the ol' Twitter machine if you look hard enough, and it's all GRIPPING television. He gets a ton of flack, and rightfully so, for some of his actions on Friday evening, but no one can say that the man isn't the ultimate content machine right now. He has everyone's full attention, and that includes hardcore golf fans, casual golf fans and people watching golf for the first time ever. He and some folks in Ponte Vedra might not agree, but that's very good for the sport. Controversy=good. Villains=good. Controversy involving villains=GOLD, Jerry, GOLD!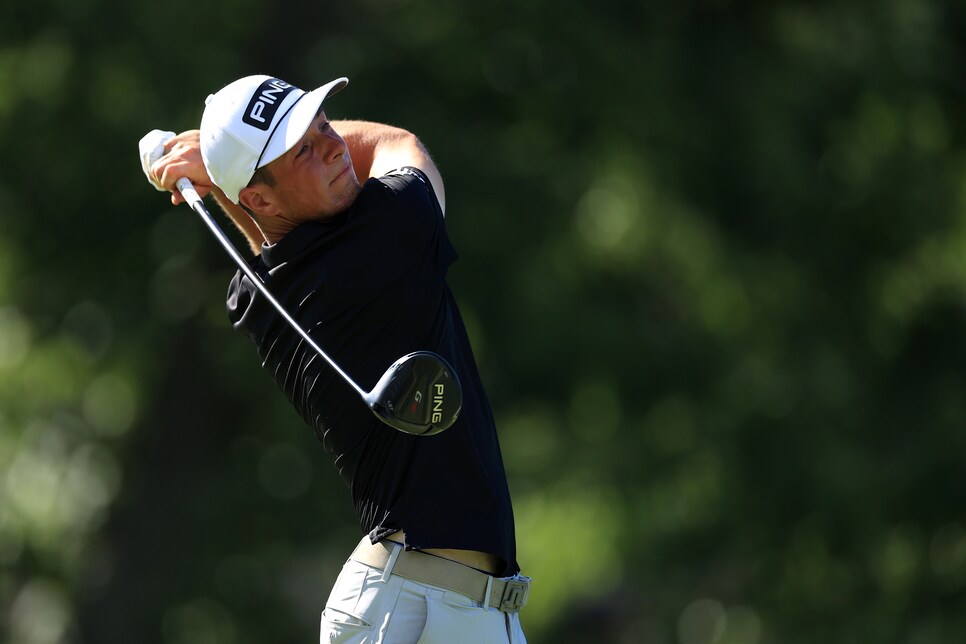 Viktor Hovland drives off 18th tee in Memorial.
Andy Lyons
The HOV train keeps rolling
For the first time in 20 rounds, Viktor Hovland shot an over-par round on Thursday at the Memorial. Finally, five straight weeks of golf caught up to the former U.S. Amateur winner.
Ehh, not quite. Hovland responded with a six-under 66 on Friday, matching the round of the day and putting him into a tie for eighth at four under. He made seven birdies, six of which came on the front nine, where he shot 30. Even more impressive. though, was his finish. After making his first bogey of the day at the 10th, Hovland held on tight the rest of the way, bouncing back with a birdie at 11 and then parring his way home. As we've seen so far this week, Muirfield Village has played much closer to a U.S. Open than to the Workday Charity Open. In U.S. Open conditions, pars are always good. Can he get into contention once again despite this being his sixth consecutive week of golf?
"I'm getting pretty tired," Hovland said on Friday. "But it's fun. I could get used to doing this every week."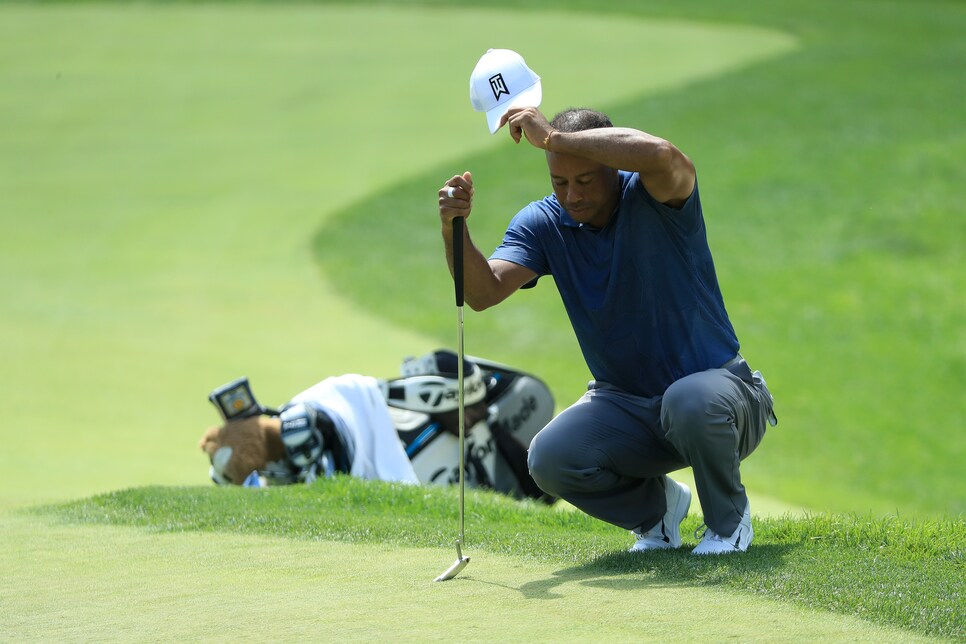 Based off the way he looked on Friday, and the way he sounded afterward, no, most likely not.
But we are talking about Tiger Woods, who will go out early on Saturday morning [with Koepka!] with fresh greens and ideal conditions on a course at which he's won five times. That sounds like a recipe for a social-media explosion when he goes out in 31. Winning seems out of the question with a 12-shot deficit, but it'd make everybody take a nice deep breath if he could throw up a pair of under-par rounds on the weekend. If you recall, Woods was first in third-round scoring average in 2018, and this season, albeit in limited starts, he's averaging 69.13 on Saturdays. He knows how to make a move. The question is, will he be feeling good and swinging freely in the morning? If so, we can expect a low one.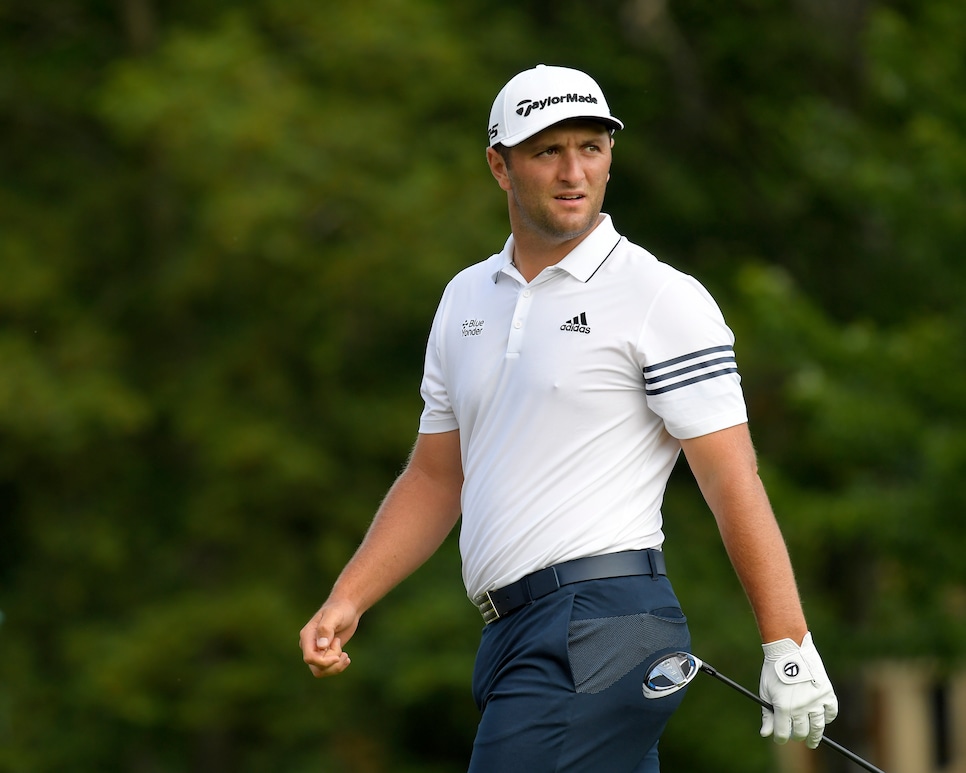 Jon Rahm watches his tee shot on the 18th hole in the Memorial.
Stan Badz
Another great leader board
We've been treated to some great leader boards since the restart, but some of them lose their luster when it's a complete birdie fest. That is hardly the case so far at the Memorial, which has featured plenty of solid scores but also plenty of big ones too.
If the conditions remain as difficult as the first 36 holes on the weekend, it should be a special one. Generally speaking, the big boys rise to the top in those situations. As of now, Tony Finau (nine under) and Jon Rahm (eight under) are the prohibitive favorites, but reigning U.S. Open winner Gary Woodland (six under), Jason Day (five under) and Hovland (four under) are all right there. Dare we mention that Jordan Spieth is also at four under? Let's not jinx it.
No, we didn't forget about Ryan Palmer (nine under), Chez Reavie (six under) and Luke List (six under), the underdogs looking to spoil the party. It's supposed to be another beautiful summer weekend outside, but no one would judge you if you spent the majority of it on the couch.