News
Tiger Woods sweated it out, but makes Memorial cut after a frustrating four-over 76 on Friday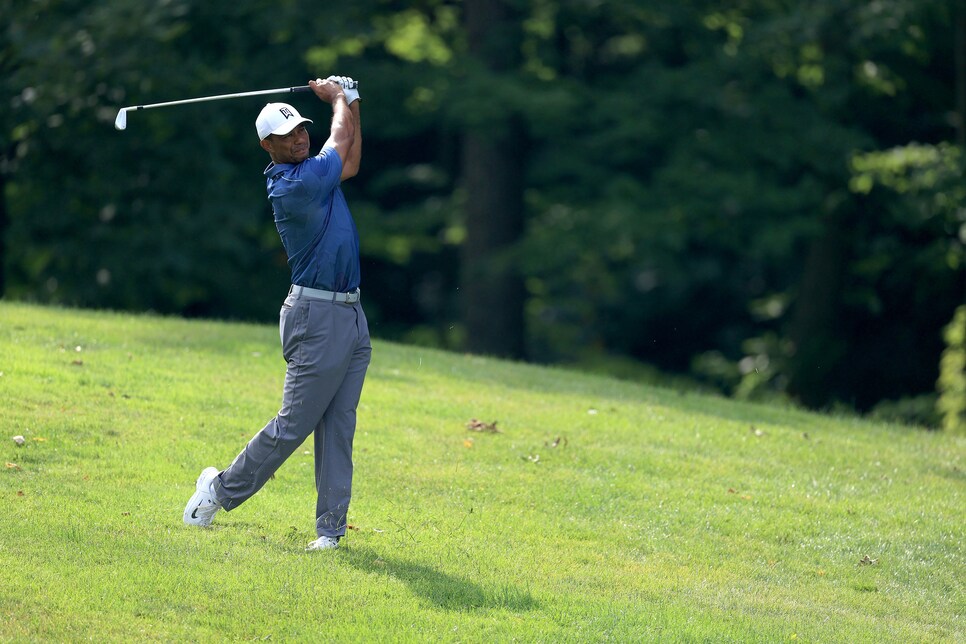 It was more of a struggle for Tiger on Friday at Muirfield Village, as he made six bogeys and a double en route to a four-over 76.
Andy Lyons
DUBLIN, Ohio — It started off well enough. A beautiful flop shot on his first hole of the day to save par, two perfect swings on his second to reach the par-5 11th in two. It was all going swimmingly for Tiger Woods to start the second round at the Memorial.
But nothing kills a buzz quite like a three-putt, especially a three-putt for par, which is how Woods finished up on 11. In hindsight, it was a sign of struggles ahead—nothing came easy for Woods on Friday at Muirfield Village, where he had to summon two late birdies to salvage a four-over 76. At three over for the tournament after his first-round 71, Woods had to wait for hours to know if that late flurry was good enough to make the cut and play some more on the weekend.
He did make the weekend, right on the number.
"Not very good," Woods said of the round. "I three-putted two holes early, and whatever kind of momentum I was going to create, I stifled that early and fought it the rest of the day."
The second three-putt came at the 13th, directly following a birdie at 12 that was set up by a picture-perfect iron shot to three feet. The next sign of concern came at the par-5 15th, where he blocked a drive well right of the fairway, hit his pitch-out through the fairway and made bogey. Woods battled the right miss all day, a function of his frequent body stiffness and struggling to clear to his left side on the downswing, which creates space for the club to move freely through the hitting zone.
When Woods isn't moving well, often times he can't quite create that space, which leads to some right misses.
"I wasn't quite moving as well as I'd like," Woods said, "and couldn't quite turn back and couldn't quite clear. It was a bit of a struggle. It started this morning during the warmup. It wasn't quite as good as I'd like, and it is what it is."
Woods, a five-time winner of this event, looked destined for an early trip home after playing a four-hole stretch in four over, including a double-bogey 6 at the first hole. It seemed a certainty after he couldn't convert a slippery six-footer for par at 6.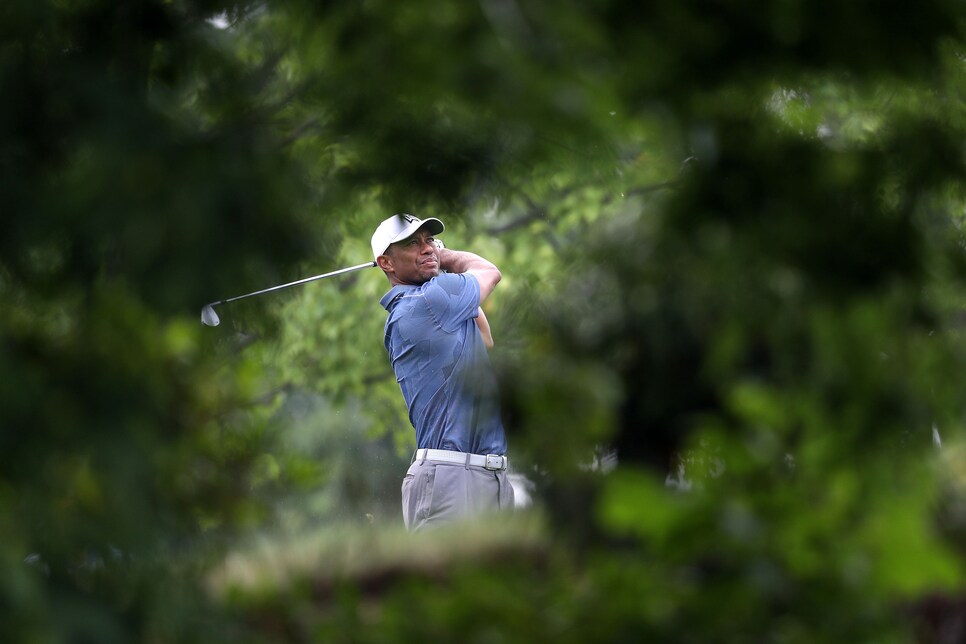 Tiger plays his tee shot from the 12th tee during the second round of the 2020 Memorial.
Jamie Squire
But Woods wasn't going to go down that easy. He never does, and especially not at Memorial, where he has never missed a cut in 17 appearances. Despite a one-hand finish off the tee, Woods found the fairway on the par-5 seventh and hit his best iron shot in two hours, a dart that came up just short but left a relatively simple up-and-in for birdie from the bunker, which he converted. He then canned a 20-footer for birdie on 8 and got up and down from 101 yards after another right miss off the tee at 9 and a punch out to the fairway to get in at 76.
He is, after all, perhaps the greatest grinder this sport has ever seen.
"I think that anyone who fights all day, I think that's the guys that have typically been grinders," Woods said. Guys that don't ever want to make bogeys.
Does he consider himself one of those guys?
He knows he can grind, but Woods will surely hope he won't have to this weekend.