News
In his return to the PGA Tour, Tiger Woods shoots a comfortable one-under 71 at the Memorial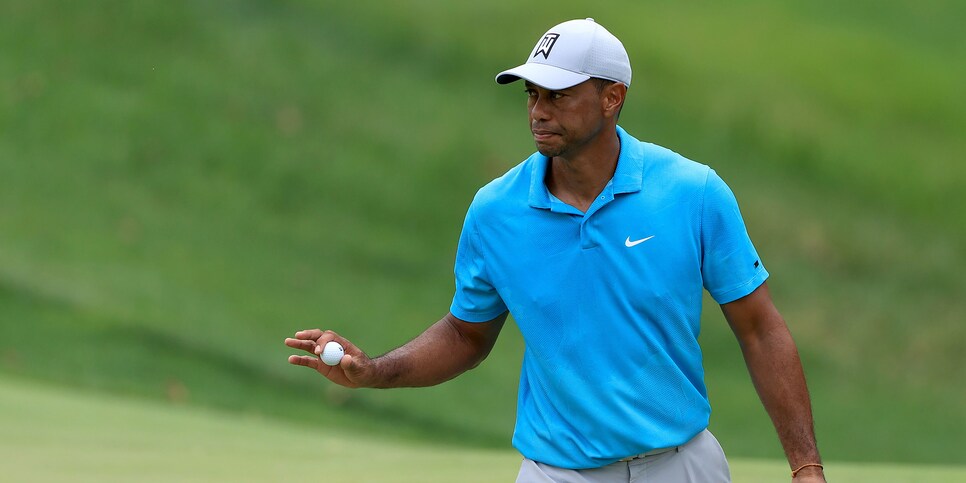 In his first PGA Tour round since February, Tiger Woods shot a one-under 71 on Thursday at the Memorial Tournament.
Sam Greenwood
DUBLIN, Ohio — The return was quiet. Strangely so. Tiger Woods was about to hit his first official tee shot in more than five months. He was standing on the first tee of an iconic golf course, and next to him were Brooks Koepka and Rory McIlroy. When he striped it down the center, no one made any noise.
Such is the new (and hopefully temporary) reality of today's PGA Tour. Woods didn't seem to mind much. He followed up that perfect tee shot with a tasty wedge to 10 feet, then hearted the birdie putt for an opening birdie.
The rest of the round didn't go quite so smoothly. Hardly anything did Thursday at Muirfield Village Golf Club, where a consistent 15 mile-per-hour wind, juicy rough and slippery greens made for the toughest day since the tour returned from the coronavirus hiatus last month.
Still, a birdie on 18 helped Woods finish with a one-under 71, a solid start in his quest for a sixth victory at the Memorial Tournament and a record-breaking 83rd PGA Tour victory. He'll begin Friday's round in a tie for 18th, five shots back of Tony Finau, who set the pace with a six-under 66.
"It felt good," Woods said of his first tour round in since the Genesis Invitational in February, 151 days ago for those who are counting. "I mean, it felt good. I was a little bit rusty, but felt like overall it was a good start."
A good start indeed. Woods put his name near the top of the leader board early—truly a sight for sore eyes—when he birdied the par-4 third after hitting another wedge to tap-in range. A two-putt par at the fourth had him at two under heading to the reachable par-5 fifth, an opportunity to really set the tone. But Woods fanned a 3-wood off the tee, drew a miserable lie and was forced to pitch out sideways. A terrific long iron allowed him to save par, but the early momentum had stalled.
Bogeys at 6 and 8 saw Woods make the turn at even par, where he remained until yet another perfect wedge at 15 spun back to kick-in range—it was four inches from the cup, you literally could have kicked it in—got him back into red numbers.
One can only imagine the roars a shot like that would have produced had there been fans to see it. This is now the sixth event the tour has run without spectators, and it was strange watching the first five. But Thursday felt extra-odd.
After all these years, all these wins and all these injuries, Woods is still this sport's biggest draw. It's not close. The first tee at Muirfield Village is a short pitch away from the putting green, and virtually every player and caddie stopped what they were doing to watch the 15-time major champion's return to competition. But they, of course, didn't clap. There was not even one GET IN THE HOLE all day, no MASHED POTATOES in ear shot.
"I definitely didn't have any issue with energy and not having the fans' reactions out there," he said. "I still felt the same eagerness, edginess, nerviness starting out, and it was good. It was a good feel. I haven't felt this in a while."
Contrast the silence with the last time he returned after a long layoff. That was in Japan last October, at the Zozo Championship, and the crowds during that opening round were among the largest you'll ever see at a golf tournament. He opened with 64, followed it up with another 64, and cruised to his 82nd PGA Tour victory.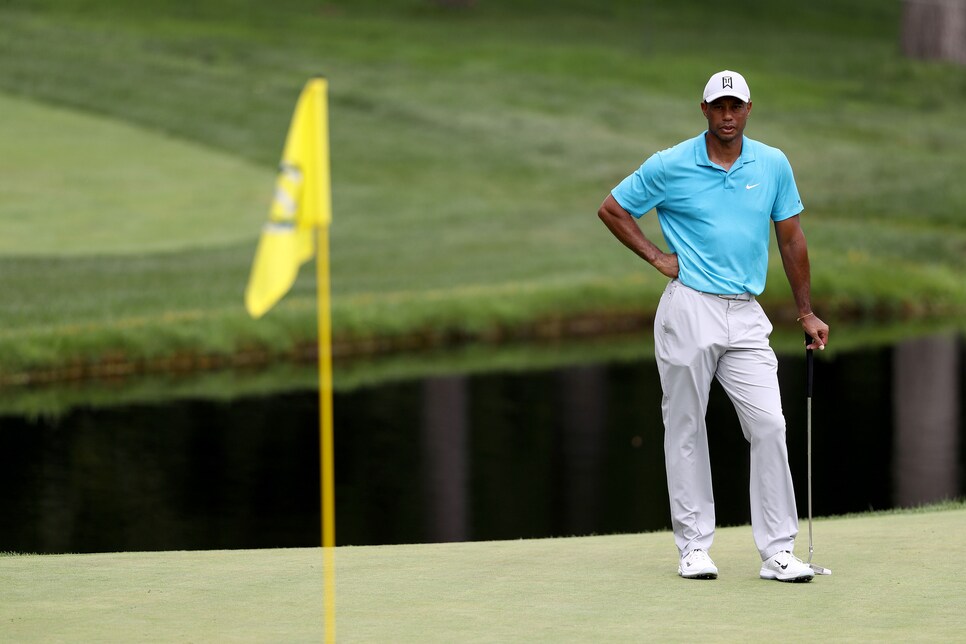 Tiger said he was "a little bit rusty" in first round on the PGA Tour in 151 days but that he "felt like overall it was a good start."
Jamie Squire
Should he return with a win again, it will be quieter, and it won't be quite so straightforward. He'll have to beat the strongest-ever field in a non-major championship, and he'll have to do some catching up.
Woods left himself an impossible bunker shot on the par-3 16th and did well to make bogey, then saved par from a fairway bunker at 17 to keep things at level par.
Still, that birdie at the last surely has Woods feeling better about his chances. It was set up by a drive that caught the right edge of the fairway, and he hit a sky-high mid-iron that landed on the very front edge of the green—a gutsy play, given the false front that guard the putting surface—bounced, then settled to 14 feet. The right-to-left curler fell right in the center.
Any golfer can relate to the feeling of birdieing the last, of wanting to get back out there as soon as possible. The good news for Woods: he won't have to wait long. He'll start his second round off the 10th tee at 8:17 a.m. local time. Asked if he's at all uneasy about the quick turnaround, Woods didn't waste words.
"No. I've felt good about my training over the last few months, and I've gotten ready for this."