News
Jon Rahm can reach No. 1 this week, and he's off to stellar start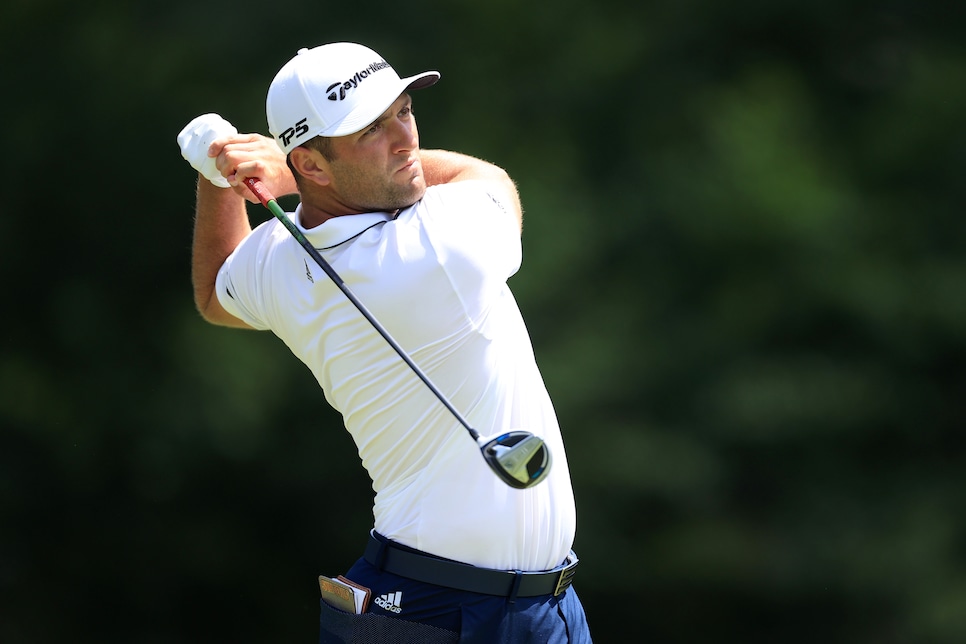 Jon Rahm drives on the ninth tee in the second round of the Memorial.
Andy Lyons
Jon Rahm can surpass Rory McIlroy as the No. 1 player in the world without winning this week's Memorial Tournament. Through two rounds at Muirfield Village Golf Club, Rahm looks like he wants to ascend to the coveted top spot in style.
Thanks to a "solid" five-under 67 on a calm Friday morning in Dublin, Ohio, Rahm is in prime position heading into the weekend, sitting a stroke behind second-round leaders Tony Finau and Ryan Palmer with a 36-hole total of eight-under 136. Rahm converted six birdies against a lone bogey, and just as importantly, he was steady in cleaning up a handful of par saves when trouble arose.
"The key today was making a few par putts," said Rahm, currently No. 2 in the world. "A couple three-, four-, five-, six-footers for par that kept the round going. Making those pars on 3 and 4 and then making birdie on 5 was a big difference, so I'm happy about that and happy to close out with a birdie after making a mistake on 8. Overall really solid. Feel really comfortable."
Rahm, 25, didn't have much going last week during the Workday Charity Open when the setup was drastically less demanding—at least not until the final round, when he scorched Muirfield Village for an eight-under 64. So, the Spaniard had more than a little momentum heading into just his second Memorial appearance. His only other Memorial start, in 2017, resulted in a missed cut after a second-round 77.
"I started with a bogey on 10," Rahm said of his second-lowest round of the season on Sunday, "and I think I just told Adam [Hayes, his caddie], 'Let's just go for it; I have nothing to lose whatsoever, a lot to win.' I started hitting good shots, making a couple putts, and that's how I ended up being low. Didn't really focus on the score or anything special."
Two days later, after what was statistically his best tee-to-green round of his career, Rahm fine-tuned his swing on the practice range. "Just looked at one of my swings and went to just a different feel based on how the ball flight was going," he explained. "I felt a little bit more comfortable. Not 100 percent with the irons. I'm comfortable off the tee, but some of my iron shots have been rather bad just because I wasn't too confident. But it was getting better."
Rahm, like McIlroy, was playing well before the PGA Tour shut down because of the coronavirus pandemic, but he hasn't been as sharp in the five weeks since golf restarted. In five events before the break, he posted four top-10s with a runner-up at the Farmers Insurance Open, and he was T-17 in his other start.
Finishing T-27 last week marked his best finish since golf's return.
Fitness was a focus for Rahm during the forced sabbatical, and he has added distance—as if he needed it; he averages 305 yards off the tee—which he hasn't quite gotten used to, at least not with his irons. In response, he had the lofts on his irons adjusted and is starting to dial those in.
Rahm, who lives in Arizona, actually wasn't planning on entering last week's event at Muirfield Village. Now it appears to have been wholly beneficial. He escaped the heat at home and is bringing it to the Memorial Tournament.
"It's hard to see back home at the end of the day Arizona is so hot everything flies straight, everything goes far," he said. "I knew it was going to happen; I knew I was going to need most likely two, three weeks to get used to things, and that's what I did, and hopefully this is the beginning of a good run."