News
'Inspired by Bryson,' Tony Finau is swinging harder than ever—and in the lead—at the Memorial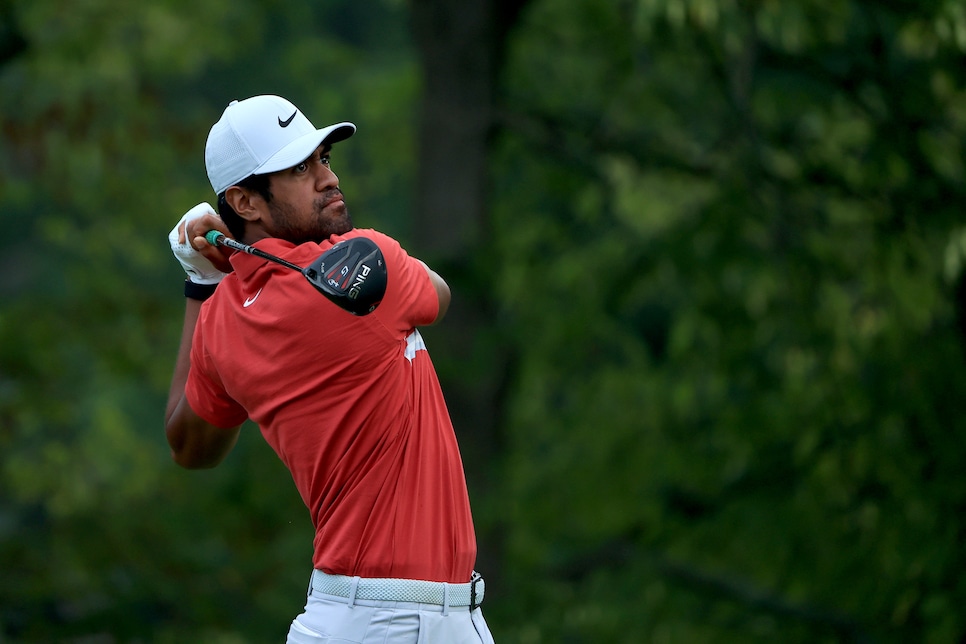 TBD on those first two. But we can now answer No. 3—yes. At least to some degree.
Despite an extremely short backswing, Tony Finau is one of the longest players on the PGA Tour. Last year, he finished ninth in driving distance at more than 309 yards despite never taking the club back past his sternum, and never going at a ball anywhere close to 100 percent.
He's able to do that because he's 6-feet-4 and 200 pounds, and his size and easy speed has long had fans wondering just how far he could hit the ball if he took the club back past parallel and really let it rip. We got a sneak peek over the weekend, when Finau's coach, Boyd Summerhays, posted a video showing Finau taking a longer swing and reaching 206 miles per hour of ball speed, and carrying a drive an altitude-aided 383 yards.
Finau decided to bring a watered-down version of that swing to Muirfield Village this week, where he was tied for the lead at nine under on Friday after a 66-69 start.
"Kind of in the middle of last week, my coach Boyd Summerhays and I decided to crank some up a little bit after being inspired by Bryson," he said. "Seeing how straight he was hitting it and how hard, and so I decided to crank it up and work on hitting a really hard fade.
"I've let a few go so far this week, and it's been pretty fun for me to kind of reach back more so than I have in the past."
That doesn't mean Finau is going all-out on every hole, of course. Even DeChambeau doesn't unleash the self-proclaimed "Kraken" unless the hole allows for it. It's a balancing act—finding fairways when you need to, letting it rip when the time is right.
"I kind of make up my mind as to when I'm going to do it on a hole or not. I think I'm still figuring it out. I don't know the exact balance. But the good thing is I've got that extra in the tank when I need it on certain holes. To fly a bunker on a handful of these holes, I've got to kind of reach back and give it that extra. So it's nice to have that in the tank."
And unlike DeChambeau, he didn't have to put on 40 pounds of muscle to create that speed.
"My swing just goes back a little bit further," Finau said. "It's not something that I think about; it's just something that happens when I try and hit it harder. I don't really think about it, just stand over it and say I'm going to hit this one a little harder."
He's managing the balance quite well, at least so far. In addition to being squarely in contention for his second career PGA Tour victory, Finau is currently second in driving distance for the week at 322.2 yards. The only guy ahead of him? Bryson, of course.