The Loop
Collin Morikawa's talented girlfriend, Phil Mickelson's entertaining TV cameo(?) and Tiger Woods' brutal off weeks
Welcome to another edition of The Grind where we have no doubts about the 2020 PGA Championship being considered a legit major. The money I made off Collin Morikawa winning at TPC Harding Park was certainly real, and the only asterisk associated with the event in my book is that I wasn't able to attend and pick up the nice polo shirt members of the media get every year.
But seriously, what a freaking golf tournament with more twists and turns than nearby Lombard Street. Bryson DeChambeau could practically taste the protein shakes from the Wanamaker Trophy at one point, but in the end, we got a much less bulky champ. Let's discuss.
Collin Morikawa: How good is this guy? He now has as many major titles as he does missed cuts as a pro after hoisting the Wanamaker Trophy on Sunday. What a remarkable 15 months it's been since he was finishing up his final exams at Cal-Berkley. In 27 PGA Tour starts, Morikawa has three wins and has ascended to No. 5 in the Official World Golf Ranking. And if anything, that's not high enough:
Collin Morikawa's finish: In the span of about 20 minutes, this 23-year-old had not one, but TWO "That's the shot of his life!" moments. First, a chip-in birdie on No. 14 to take the outright lead for the first time:
It was all part of a major championship record score of 129 for the final 36 holes. Just call this guy Collin MONEYkawa, am I right? Sorry, I'm still workshopping nicknames.
Phil Mickelson in the booth: The least-surprising revelation from a wild week in San Francisco? Phil Mickelson would be an incredible golf analyst. The five-time major champ had an extended stay in CBS' 18th tower with Jim Nantz and Nick Faldo during Saturday's telecast.
After that awkward intro, Phil drew rave reviews from those watching. So much so that Faldo might want to watch his back when Phil ever quits his day job. Then again, he's still pretty good at his day job so that probably won't happen for a while.
Dustin Johnson's "ratio": Maybe even more incredible than Morikawa having as many majors as missed cuts is the fact Johnson remains stuck on one major despite having 21 PGA Tour titles. Poor DJ. That being said, he made close to another million bucks for finishing runner-up so perhaps "poor" isn't the right word.
Tiger Woods' putter change: Tiger, my man, we've gone through this song-and-dance before. You get a little shaky with the putter, swap it out for a new one and then go back to old faithful a few weeks later. So what's the point? Stop wasting time and precious opportunities! You're 44! You don't know how many more chances you're going to get! And you've got a putter that has brought you FOURTEEN majors. If it ain't broke, don't fix switch it.
Tiger Woods' off-weeks: It's not all fun and games when Woods takes the week off. In fact, it sounds like there's no fun and games at all. Listen to this interview in which he uses the term "puke sessions" at the 2:13 mark:
On one hand, I'm encouraged by how much he still wants to win. On the other, that seems a tad extreme.
Lydia Ko's finish: Wow, that was rough. Greenside in two on a closing par 5 and just needing a par to win, Ko couldn't even get into a playoff thanks to a disastrous double bogey. Ouch. Also ouch? After winning 14 of her first 81 starts on the LPGA Tour, Ko has only won once in her last 89 tries. But I am buying her attitude!
Oh, and I'm buying Danielle Kang, who has now won both events since the restart of the LPGA season.
The PGA Tour heads to Greensboro for the Wyndham Championship, AKA the final event of the regular season. Wait, what? Already? Oh. Right. This was not your grandfather's full PGA Tour season. Well, unless your grandfather was around for the Spanish Flu. But down the road an even more important tournament will be going on: the 27th HGGA Championship, AKA my annual golf trip/tournament. Like Jordan Spieth, I'm a three-time major champ mired in a three-year drought. And like Phil at Pinehurst in 1999, I'll be on call with an expecting wife. Send your good vibes—and best swing tips—my way.
Random tournament fact: I won the only other time the HGGA Championship was contested in the Tar Heel State way back in 2008. Oh, were you expecting a random fact about the Wyndham Championship? Fine. Fellow Wake Forest grad Webb Simpson won this event in 2011 and named his daughter Wyndham a couple years later.
RANDOM PROP BETS OF THE WEEK
—My wife will let me name the baby "Carolina" if I win: 1 MILLION-to-1 odds
—Webb Simpson will win this year's Wyndham: 10-to-1 odds (Actual odds)
—Webb will earn more prize money than me this week: LOCK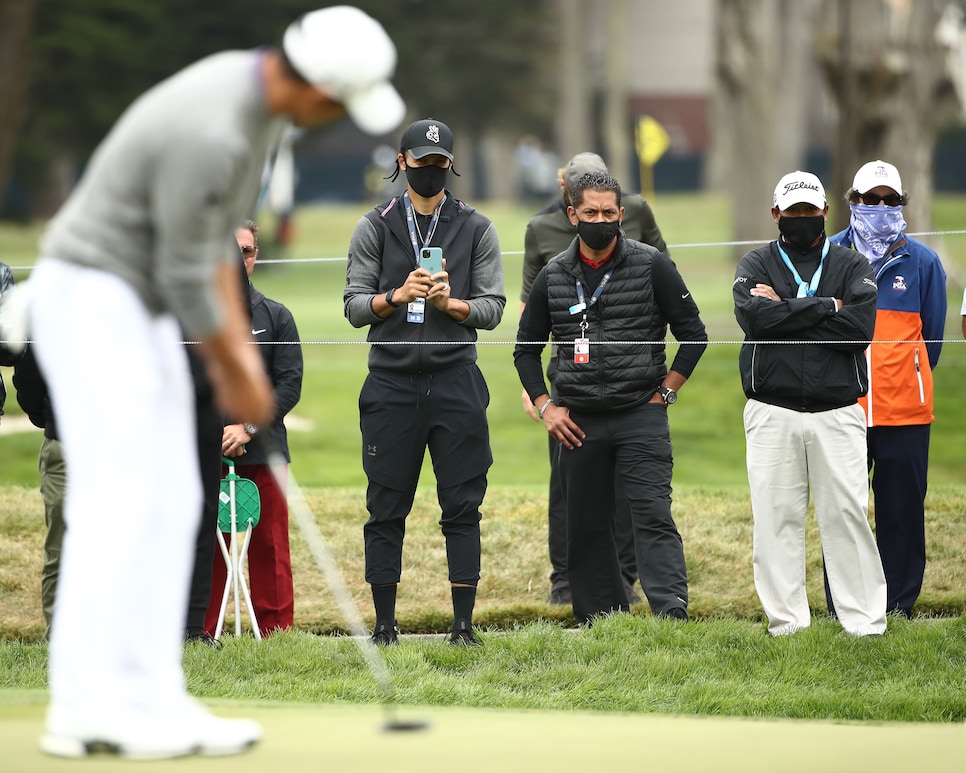 That tall masked man in the center is none other than Stephen Curry. This 2020 is a really weird yeah, huh?
How about 84-year-old Gary Player doing flips into the pool?
What a legend. Take notes, Bryson, because GP might actually live to 140.
VIRAL VIDEO OF THE WEEK (FAIL DIVISION)
As my Golf Digest colleague Jim Nantz noted, this was Collin Morikawa's biggest mistake of the week:
More like Col-LID Morikawa, am I right? Again, my apologies. Good thing we have plenty of time to come up with a suitable nickname.
THIS WEEK IN TOUR PRO PUBLIC DISPLAYS OF AFFECTION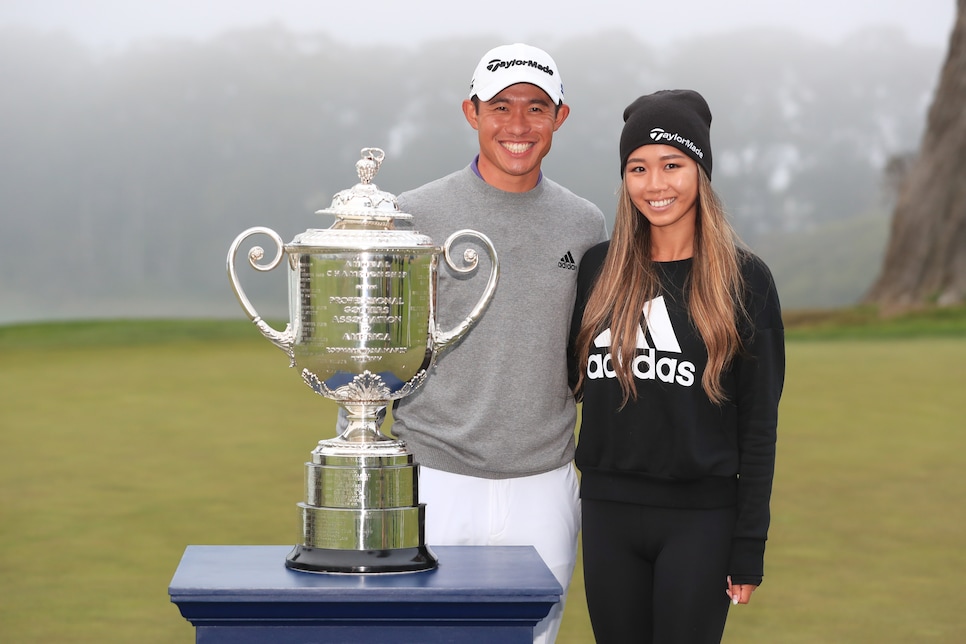 The high-five Collin Morikawa initially gave girlfriend Katherine Zhu after walking off the 18th green was, um, interesting. But later, he gushed about the influence the former Pepperdine golfer has had on his career.
"I am very lucky to have her," he said. "Kat has been by my side through it all. She would hate me if I didn't say this, but I didn't start winning in college until she showed up in my life, so thanks Kat."
Awww. And check out her swing, which might be even silkier than her boyfriend's:
Yep, she's a keeper alright.
"I like my chances. When I've been in this position before, I've capitalized. I don't know, [DJ's] only won one." —Brooks Koepka.
Hey, even though Koepka didn't play well on Sunday, he's not wrong about DJ's total. Still, even for Brooks, that's pretty blunt. Then Rory got dragged into this thanks to our own Dan Rapaport asking him about Koepka's comments:
"Yeah, I mean, sort of hard to knock a guy that's got 21 wins on the PGA Tour, which is three times what Brooks has."
Kudos to Dan for stirring the pot! And to Rory for going along with it. And again to Rory for knowing DJ and Koepka's exact PGA Tour win totals! Heck, DJ might not even know how many he's won!
THIS WEEK IN PROS ARE JUST LIKE US! (SORT OF)
A hot mic caught Justin Thomas uttering some NSFW language in response to a missed putt:
Been there, done that, JT.
The Presidents Cup will be returning to Canada in 2024. That is, if the Ryder Cup or Presidents Cup ever returns anywhere. … Former Ryder Cupper Andy Sullivan picked up his first European Tour title in nearly five years at the English Championship. If he keeps this up, he could qualify for this year's Euro team for next year's event. … If it seemed like CBS showed a lot of action during the final round (it helps when dozens of players are contending), well, they did, according to Classic TV Sports, which has been keeping track of the total number of shots shown during major final rounds since 2014:
Of course, this also explains why the complaining by Golf Twitter was at an all-time low on Sunday night. In any event, looks like NBC has something to shoot for next month at the U.S. Open!
RANDOM QUESTIONS TO PONDER
How many shots did CBS show during that crazy 2011 Masters?
How many majors will Collin Morikawa win?
How many "Cure your slice!" videos will I watch on the drive to N.C.?