News
PGA Championship 2020: Rory McIlroy defends Dustin Johnson, takes a dig at Brooks Koepka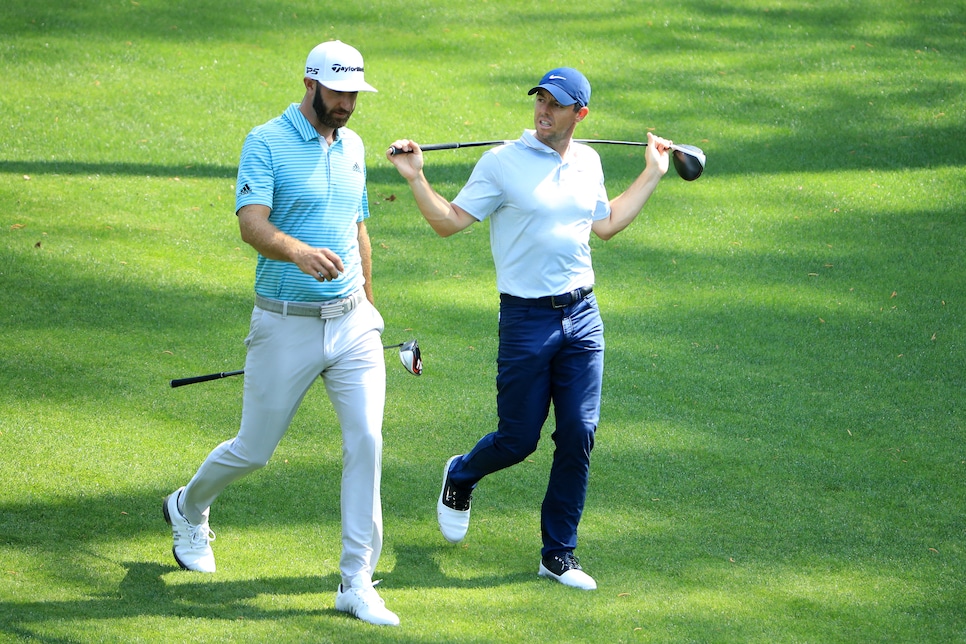 Less than 24 hours after Brooks Koepka lorded his four major titles over the rest of the leader board at the 2020 PGA Championship—in particular, over Dustin Johnson—a fellow four-time major champ, Rory McIlroy, came to DJ's defense.
In case you missed it, Koepka exuded plenty of confidence after finishing his third round two shots behind his good friend. Well, his one-time good friend, that is.
"I like my chances," Koepka told reporters on Saturday. "When I've been in this position before, I've capitalized. I don't know, [DJ's] only won one."
Oh, snap! Those are fighting words. At least, in golf.
But while many people (other than Dustin Johnson) got a kick out of Koepka's cockiness, McIlroy wasn't a big fan of his comments. Here was his response when our Dan Rapaport asked about them on Sunday.
"Yeah, I certainly wouldn't say -- it's different, right; it's a very different mentality to bring to golf that I don't think a lot of golfers have.
Yeah, it's a -- when I heard -- I was watching the golf last night and heard the interview and was just sort of taken aback a little bit by sort of what he said and whether he was trying to play mind games or not -- if he's trying to play mind games, he's trying to do it to the wrong person. I don't think DJ really gives much of a concern that.
But just different. I certainly try to respect everyone out here. Everyone is a great player. If you've won a major championship, you're a hell of a player. Doesn't mean you've only won one; you've won one, and you've had to do a lot of good things to do that.
Yeah, I mean, sort of hard to knock a guy that's got 21 wins on the PGA TOUR, which is three times what Brooks has."
Not that Brooks will care in the slightest. Nor will Johnson care that McIlroy came to his defense or that Brooks daggered him. In fact, there's a good chance DJ has no clue how many majors either of them have won.
Regardless, there's a better chance we know who Rory is rooting for between the two on Sunday.