News
PGA Championship 2020: Collin Morikawa slams the door shut at TPC Harding Park, wins first major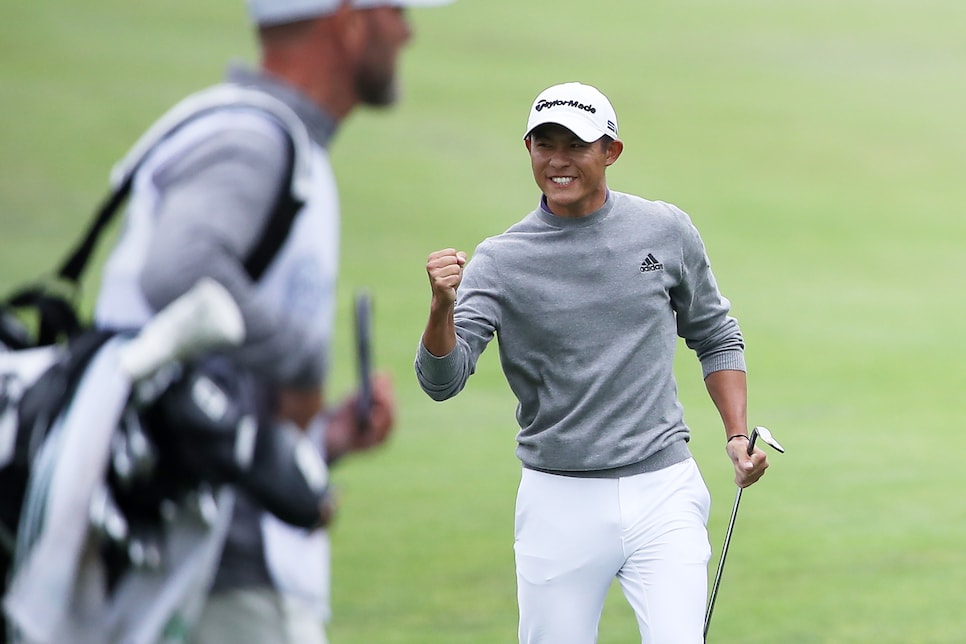 Only 18 holes remain until the Wanamaker is presented at TPC Harding Park. Of course, given the leaderboard looks like an elevator packed with elephants, maybe we'll need to play a couple more.
There are 17 players boasting a score of five under or better through three days at the PGA Championship, with Dustin Johnson leading the pack at nine under. Leading the field in strokes gained/putting, Johnson is primed to capture that elusive second major that will elevate his legacy to a new strata. To do so, Johnson will have to hold off a crowd, comprised of formidable opponents top to bottom.
There are young guns in Cam Champ and Scottie Scheffler, players molded out of the bomb-and-gouge cauldron. At two behind is Collin Morikawa, who within one year of turning professional has already asserted himself as one of the best second-shot players in the sport (second on tour in approach). There are former major winners and World No. 1s Jason Day and Justin Rose, and a battle-tested veteran in Paul Casey. Tony Finau and Xandre Schauffele have made a living at the majors, and this course seems as good as any to capture their breakthrough.
There is also Bryson DeChambeau, whose transformation into a long-drive contestant that can putt has been the primary storyline this season. Oh, and some guy named Brooks Koepka, who has won four of the Big 4 since 2017 and is looking to become the first player since the '50s to three-peat at a major. Better yet, Koepka has thrown down the gauntlet, questioning the leader board that stands in front of him, adding the dagger that DJ "only has one" major. So much for being gym buddies.
The Golf Digest team will be your guides for the final round of action at Harding Park, delivering updates and commentary throughout Sunday at the PGA Championship.
8:47 p.m.: No ace for DJ on 18. Collin Morikawa has won the 2020 PGA Championship. He now has as many majors as he does missed cuts on the PGA Tour. Think he'll have a decent career?
8:42 p.m.: Looks like he's human! Morikawa misses the birdie putt but finishes with a 64. Legendary stuff. As long as Dustin Johnson doesn't make a hole in one on the 18th, Morikawa is your 2020 PGA Champion.
8:36 p.m.: LOL. Morikawa appears to pull his approach at 18, doing the one-hand follow through a la Hideki Matsuyama. The result? It was all over the flag and he has about 15 to 20 feet for birdie. The kid can't miss.
8:33 p.m.: Morikawa pipes one down the center of the fairway at 18. The kid is nails. Back at 16, Dustin Johnson hits his drive into a penalty area, takes a drop, then chips in for birdie to get to 10 under. Unfortunately, it's too little, too late DJ.
8:18 p.m.: There it is. Morikawa's seven-foot eagle putt never left the center of the cup. He's at 13 under, two clear of Casey, three clear of the group at 10 under, and four clear of Dustin Johnson. This is an all-time door slamming, by a 23-year-old, no less.
8:10 p.m.: Oh. My. God. Collin Morikawa just ended the tournament. The Cali kid absolutely PURES a driver to inside of 10 feet at the par-4 16th. Break out the Vince Carter GIF, because this thing is OVA.
8:08 p.m.: Day was able to get up and down at the 18th, posting 10 under, putting him in the clubhouse lead with Matthew Wolff. That's the number to beat right now. Meanwhile, Morikawa has company. Paul Casey gets to 11 under with a birdie at the 16th.
8:05 p.m.: Morikawa misses at 15, keeping the 10 under crowd alive and well. But he has a prime opportunity to get it to 12 under at the short 16th. Dustin Johnson, who was battling to stay in it all day, just made a disastrous bogey at the 14th to fall to nine under. Cripes. Would hate to see him let another major get away.
8 p.m.: Just a birdie for Bryson ast the 16th, which puts him among the group at 10 under. At 15, Morikawa pures another iron about 20 feet below the hole. Could be witnessing a dagger shortly...
Speaking of daggers, Day misses the green at 18, finding the left greenside bunker. Unless he can hole out, that could be a wrap for the Aussie.
7:56 p.m.: Welp, Jason Day may have blown his chance to win this thing. After making a par at the short par-4 16th, he lipped out a birdie at the par-3 17th. What an absolute dagger. At 18, he found a fairway bunker off the tee. He pretty much has to make birdie from there to have any chance, unless Morikawa melts down, which is highly unlikely with the way he swings the golf club.
7:50 p.m.: Good lord. Bryson DeChambeau isn't among the group at -10, but he is at -9 and he just hit a 3 wood just off the green art 16. Watch out for an eagle chip-in.
Speaking of chip-ins, Collin Morikawa just chipped in for birdie at the 14th hole, giving him the solo lead at -11. Oh MY.
7:47 p.m.: It's an absolute war out there right now, but there aren't many birdies dropping. Just a bunch of scrambling pars, which could be enough to get into a playoff. But all it's going to take is a birdie-birdie stretch at 15 and 16 or 16 and 17 or 16 and 18 to get this thing done. Matthew Wolff, who is in the clubhouse at 10 under, must be biting his fingernails off right now. Unfortunately for him, chances are somebody gets to -11 or -12.
7:40 p.m.: It's legitimately difficult to keep up with all the action right now. What a Sunday so far. Seven players are tied for the lead at 10 under right now. SEVEN!
7:28 p.m.: Matthew Wolff finishes his day at 10-under, tied for the lead at the moment. Might be enough, but with a few others at the top, he's going to need a lot of luck to get to extra holes.
And Tony Finau drains a birdie putt at 14 from the fringe to tie the lead. It doesn't get much better than this. We're on the back 9 on Sunday and still have a half-dozen players that have a legitimate shot at the Wanamaker Trophy.
7:14 p.m.: Let's recap the leader board, now that we're on the back 9 on a major championship Sunday. DJ, Casey, Scheffler and Morikawa all are at 10-under at the moment with Wolff, Finau and J-Day just one stroke back. Brooks Koepka...is not having a good Sunday. He's at 4-over now.
6:51 p.m: Paul Casey now shares the 10-under lead with Dustin Johnson after a birdie on 10. He's seven strokes ahead of Brooks Koepka, his playing partner. Simultaneously, Tony Finau misses a birdie putt to catch up to Casey and DJ. It seems like every putt will give whoever's taking it a share of the lead at the moment. Not breaking any news here, but this is fun.
Oh, and now Collin Morikawa is at 10-under. It just doesn't stop.
6:41 p.m.: You may be wondering, "What happens if there's a tie?" Good question. Thanks for asking. We have the answer for you.
6:30 p.m.: A birdie on the tenth hole by Jason Day gets him to the 8-under club. It's jam-packed at the top. Haotong Li also joins J-Day and Tony Finau just two strokes back from the lead. The 25-year-old has held his own even with the influx of attention over the past few days.
6:18 p.m.: Champ lips out, missing a chance to take the outright lead. At the ninth, Bryson's approach finds the tough ninth but a 50 footer awaits. Back at 7, Morikawa's putt to join the lead comes up short. Not exactly a highlight package we were presented.
6:12 p.m.: DJ two-putts the sixth to stay at 10 under,. At the seventh, Morikawa puts his approach to 15 feet or get into a tie for the lead. And up ahead at the 12th, Wolff has a six footer to tie the lead...and misses.
6:10 p.m.: Whoops. Bryson chunks his chip at the eighth. Will need to get that up-and-down to save bogey.
6:05 p.m.: Champ drops one from 60 feet at the sixth to jump to 10 under. There's simply too much happening right now. I think I need to lie down.
5:58 p.m.: Bryson sinks a 15-footer for birdie at the seventh, his fourth birdie of the day to again tie Johnson. Guy is FEELING it.
5:52 p.m.: Wolff sighting. The fledging star makes eagle at the 10th, his fourth straight red figure, to get to nine under, one shot back of Johnson.
5:41 p.m.: Disappointing par at the par-5 fourth for Scheffler. But after a poor chip, Johnson drains a 15-footer for birdie to move back to 10 under and take the lead.
5:31 p.m.: Cam Champ joins the nine-under crowd after a long birdie at the fourth. Morikawa drops a birdie at the fourth as well. That's a six-way tie at the top.
5:27 p.m.: Bryson DeChambeau is now tied for the lead. Of a major. On Sunday. That is all...Joining the lead is Paul Casey, who nearly holes out from the fairway at the fifth.
5:26 p.m.: DJ's lag at the third leaves something to be desired, a tricky six feet or so left for par...which he can't convert. Paul Casey birdies the fourth to move to eight under.
5:18 p.m.: There is so much happening right now I'm not sure what to write. But it seems like every shot is a birdie or a putt grazing the hole.
5:10 p.m.: Cam Champ opens par-par, as does Morikawa. At the second, Scheffler hits his second to 12 feet or so, while DJ hits it thin over the green. Still a good chance to get up and down.
At the fourth, Bryson's eagle attempt misses by THIS much. Still, three birdies in the first four holes for Bryson has him at nine under, one back. OUt of the bunker, Finau's third raced by 10 feet, which he cannot make.
5:04 p.m.: X-Man birdies the sixth and puts his approach at the seventh to five feet. At the par-5 fourth, Bryson reaches the green in two, giving him a shot to tie the lead.
4:55 p.m.: Morikawa drops a 20-footer to save par at the first. Scheffler hits a nice shot at the first but puts a tad too much spin in his approach, while DJ, after a bombed drive, puts his wedge from 60 yards to five feet. Great starts for the leaders.
4:50 p.m.: Brooks pars the first. That feels like dropping one to the field. He proceeds to push his approach left on the par-4 2nd. Not the start he was hoping for. Bryson nukes his tee shot on the par-3 third, leaving a 50-footer and change.
4:43 p.m: Bryson puts his approach to three feet at the second. Finau drops a 20-footer. Strap in, folks.
4:30 p.m: Finau stuffs his approach on the first. Bryson follows suit. Birdies takes Big Tone and Bryson to seven under.
4:21 p.m.: Next pairing on the tee: Bryson DeChambeau and Tony Finau. There will be no laying up of any kind in this group.
4:01 p.m.: HV3 birdies the sixth to go to three under for the day and six under for the tournament. Couple more birdies and Varner could make things interesting on the back.
3:45 p.m.: Let's check in with Phil talking about his stint on CBS yesterday afternoon: "Having a guy like Jim Nantz set things up and stage what to talk about made it easy … And then to have a wonderful target like Nick (Faldo), that made it nice, too."
3:28 p.m.: Phil was having a so-so round heading into 18, but after losing his ball left on the final hole and unable to find it, Mickelson is back in the golf cart to re-tee. Likely a 73 or 74 from Phil to close out his PGA.
3:20 p.m.: Benny An JUST misses a birdie on the 18 for a 63 to tie the championship record. Still, 64 is getting it done.
3:11 p.m.: Harold Varner makes a birdie at the second to get to four under. It's going to be a firework display this evening, folks.
On 18, Tiger's drive finds the rough, his approach is well short as well as his pitch...and his par putt falls to the right. Still, a nice 67 to finish out for Tiger.
3:01 p.m.: Tiger Woods makes birdie at 17, four under for the day and two under for the championship. A birdie at the last gives him a 65, which would be a fantastic bounce back after a rough Friday and Saturday at Harding Park. No matter how he finishes, his swing and physicality has looked good throughout the week.
2:37 p.m.: Rory is hitting the ball well this afternoon (morning?) but can't get it going on the score card thanks to his putter letting him down. Makes the turn in one under, which won't get it done for the usual backdoor top-10 finish.
2:25 p.m.: Good as the broadcast has been this week, we are begging them, STOP with the bunker commentary. "It's so hard to hit out of them, there's no sand!" Fellas, have you ever played a public course? That's what a bunker is.
1:58 p.m.: There's no cheering in the press box...but there are two kinds of people in this world. Those that love Ben An, and those without a soul. An makes an ace at the 11th, the first hole-in-one of the tournament.
1:45 p.m.: After his round Spieth said "There could be a back-nine 30 today. I would not be surprised if you saw somebody really make a move on the back nine." Given he just watched Palmer shoot 31, not hyperbole.
1:24 p.m.: Jordan Spieth turns in a nice bounce-back round with a three-under 67. As does his playing partner, Ryan Palmer, who ties the tournament low with a 64.
1:17 p.m.: Hard-fought par from the Big Cat at the ninth. Got through the gauntlet at 8-9 at one over, turning in two-under 33. Big birdie opportunity at the 10th, and then it'll be more grinding on the challenging back nine at Harding Park. Three or four under would be pretty solid from Woods on the final day.

1:03 p.m.: After missing the green, Woods had his work cut out for him at the par-3 eighth, which has played more like a short par 4 this week. He failed to get up and down from a greenside bunker, dropping a shot in the process.
12:53 p.m.: Well, well, well, somebody learned how to putt. Woods, who is swinging it beautifully, makes an 11-foot swing for his third birdie of the round. He's now one under par for the championship.
12:37 p.m.: At the sixth Woods hits a momentum-killing block into the right rough, leaving him with a juicy lie from 210 yards out. He pulled 3 wood and chopped one out that bounded onto the green but rolled through. No birdie putt, but on a scale of 1 to 10 that shot was still an 8. On the chip, he runs out a wedge on a perfect and sets up a tap-in par. Really nice save there, the type that can keep a run alive.
With the wind down, the scores are looking very good right now. Woods is among a group of seven players who are working on two-under rounds. That group includes Jordan Spieth, Erik van Rooyen and Viktor Hovland, as well as Woods' playing partner Tom Hoge. Weather looks like it'll be similar the rest of the day. There is still plenty of danger at TPC Harding Park, but without much wind, the scores will still be very strong today.
12:30 p.m.: Best way to get the putter working again? Just hit everything inside five feet. That's what Woods just did at the fifth, hitting one of his best shots of the week out of the rough. From 153 yards out Woods hit a perfect cut shot that landed on the front of the putting surface and rolled all the way to the back pin, three feet from the hole. He cleans it up to reach even par for the tournament. Hey now ...

12:13 p.m.: Ladies and gentlemen, Tiger Woods is on the board. After some more putter struggles at No.'s 2 and 3, Woods makes it easy on himself with a great sand shot to kick-in range at the par-5 fourth. By the way, that's the first time he's gotten up and down from a bunker this week. He's now 1-for-8. Considering he's now within 10 shots, you have to wonder where he'd be if he could have gotten a few more up and down from the traps and made a few extra putts.
11:42 a.m.: Tiger Woods is off on Sunday at the PGA Championship, and he is looking real good in the red sweater. The swing looks great too, as Woods put his approach to nine feet at the par-4 first. Unfortunately, the putter remains ice cold. Woods misses on the low side and settles for par. To add insult to injury, Woods' playing partner Tom Hoge dropped an absolute bomb from 40 feet for birdie right in Tiger's eye. Brutal. Woods just laced a drive at the second, however, while Hoge found the rough. Can he get something, anything going here?