News
PGA Championship 2020: It's time for DJ to get it done and four other takeaways from Day 3 at TPC Harding Park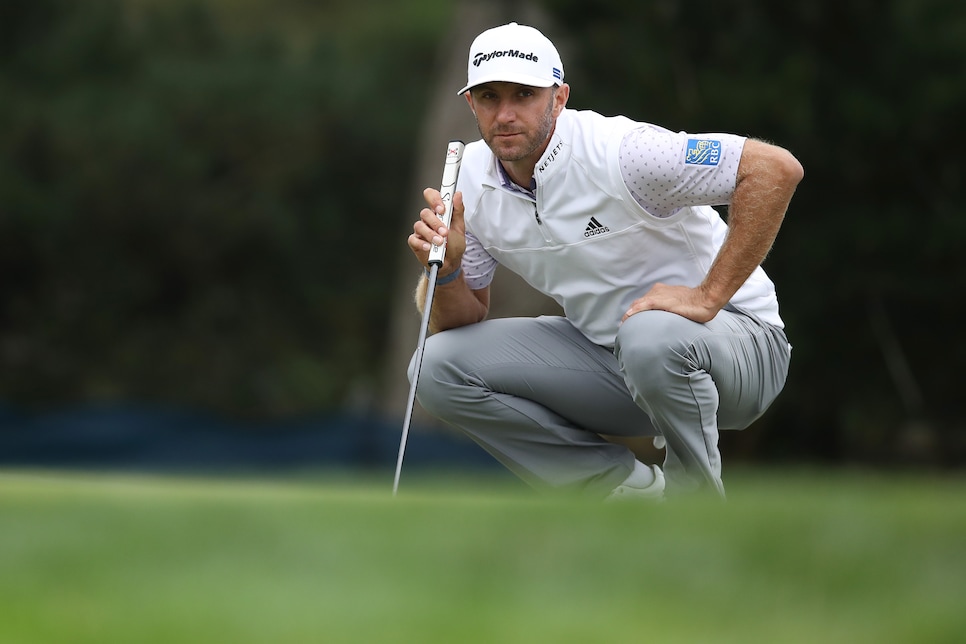 Christian Petersen/PGA of America
Folks, we've officially entered "hold onto your butts" territory at the 2020 PGA Championship.
As if the leader board through 36 holes wasn't good enough, Dustin Johnson decided he wanted to take control of the tournament, setting up what could be DJ vs. Brooks Koepka, Part 1 million (at least that's what it feels like). Can Johnson finally stare down his fellow bash bro on Sunday in San Francisco? We're going to find out, which is the best part.
Here are our five takeaways from Day 3 at TPC Harding Park.
Dustin Johnson has to get it done on Sunday
There really isn't much to break down here. Dustin Johnson should have, conservatively speaking, four major titles (I could make a very strong case for eight, by the way). And yet he's still stuck on the one, albeit an incredibly impressive one at Oakmont after going through a world of major championship heartbreak in the years leading up to it. But for a player of his caliber—we are talking one of the 10 most talented players of all-time here—one is not going to cut it. Frankly, two won't either, but two is a hell of a lot better than one (just ask Johnny Miller, John Daly, Zach Johnson, etc.). Not to mention, a second at 36 years old, the beginning of his "second prime" could awaken a beast. He's already a Hall-of-Famer due to his PGA Tour win total (21 in case you forgot), but the last thing you want to be is a "man, great player, but he only had one major" guy. He's currently this generation's Greg Norman—an all-time great talent without the majors to match. He can begin to change that narrative by closing this thing out on Sunday.
Let's be clear: In no way am I suggesting this is a layup for Johnson. Sunday is going to be a battle. But he faced a pretty similar situation at perhaps the toughest golf course on the planet at the 2016 U.S. Open, so it's not like he's not used to it. Two or three under could get the job done. That doesn't seem like so much to ask for the former World No. 1.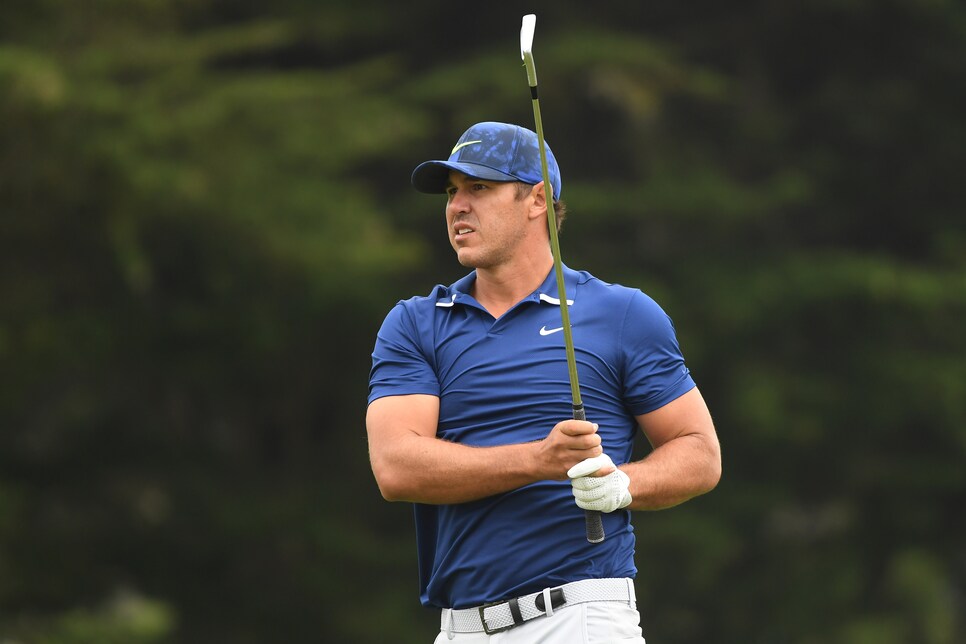 Just when you thought Brooks Koepka exited the picture, he quickly reminded everyone that Brooks Koepka does not simply "exit the picture" in a major championship. After a bogey-bogey-bogey stretch beginning at the 13th hole, Koepka responded by making birdie at the 16th and then hitting his approach to five feet on 18 and cashing in on one last birdie to post 69, putting him at seven under and just two off Johnson's lead. He's not in the final or penultimate pairing, but he will be in the third-to-last off, and it feels like there is almost zero doubt he will shoot a number that puts him in the lead in the clubhouse, where he'll wait to see how it all shakes out. Does this man sound concerned to you?
The joy he got out of delivering that "DJ has only won one" line is absolutely terrifying. That said, Johnson was the only one he even acknowledged on the leader board, which tells you that in Koepka's mind, that's the only guy he's playing against. Isn't that the mentality he's weaponized over the last few years? You beat DJ, you're doing OK for yourself. Seems like he is sticking to that gameplan.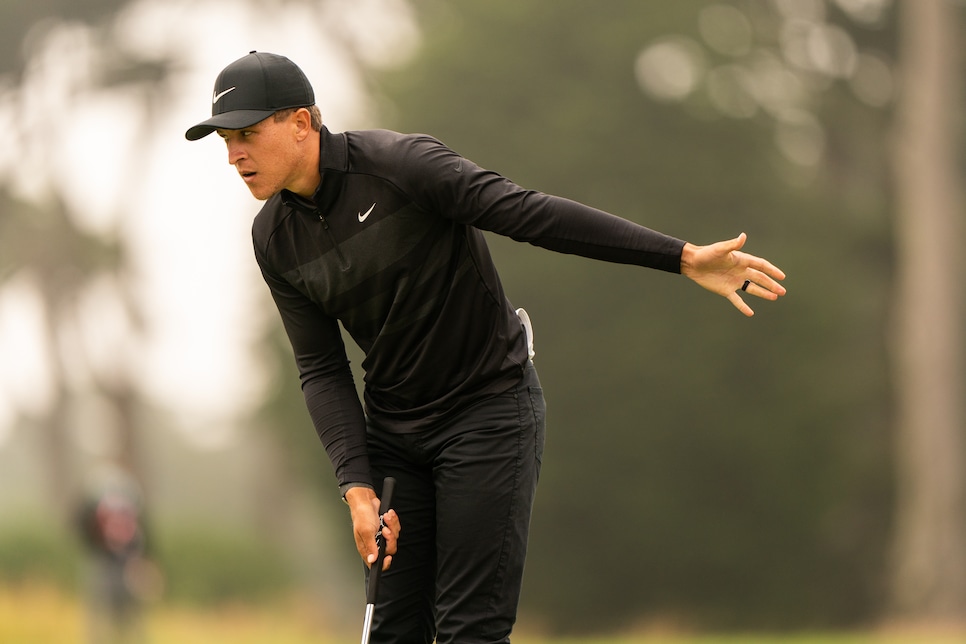 Darren Carroll/PGA of America
Some other decent names on the board
Koepka may have scoffed at them, but there are some pretty good players at the top of this leader board. I have a take that we'll save for later about just this.
Anyway, Scottie Scheffler is immensely talented, as are Cameron Champ and Collin Morikawa. The thing working against this group, of course, is (GASP) experience. You may laugh at it, but there is definitely something to the "he hasn't been there before" narrative. All three of these guys have contended and/or won PGA Tour events, but a major is different. Between them, this trio has a combined six major starts, with one top 30 (it was Scheffler finishing T-27 and low am at the 2017 U.S. Open). A young rising star breaking through on such a massive stage would be a sexy story, but Sunday is a stage none of them have ever been on before, fans or no fans. That's just a fact.
As for the rest of the pack, there are a number of guys looking for major No. 1 (Bryson DeChambeau, Tony Finau, Paul Casey, Daniel Berger, Tommy Fleetwood) and some looking for No. 2 (Jason Day, Justin Rose). Hard to complain with what we've been treated to so far this week, and what we're going to be treated to on Sunday.
Is the PGA underrated among the majors?
Yes, this is recency bias like you read about. Guilty as charged. But think about what this tournament has given us since 2014: the ending in the dark at Valhalla, which Rory McIlroy won, was out of control, in 2015 we got peak Day vs. peak Spieth, in 2016 … moving on … in 2017 Justin Thomas put on a show, in 2018 Brooks edged out Tiger in front of massive St. Louis crowds, last year it was Koepka-DJ at Bethpage Black. This year, we may get Koepka-DJ all over again at TPC Harding Park, which has been an A+ major championship venue. Meanwhile, the U.S. Open feeds us nothing but controversy, rules issues and poor course setup. And we're still calling the PGA the yellow Starburst? Doesn't seem right.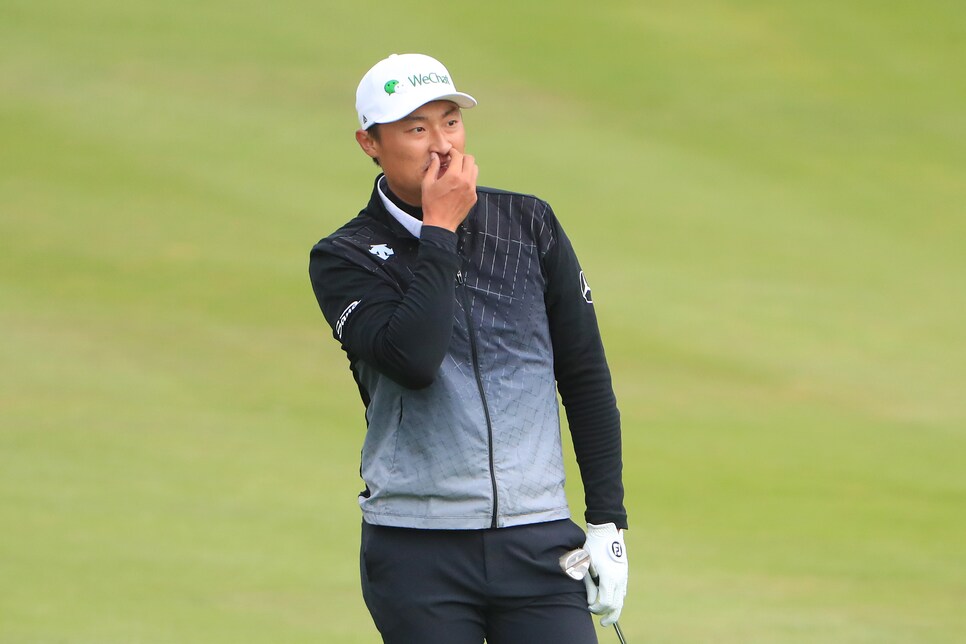 Let's all root for Haotong Li on Sunday
No cheering in the press box, yes, but Haotong Li is such a great character and we can only hope he becomes the force it looks like he could become in the coming years. After a three-over 73, he won't be shocking the world with a major this week, but is there any doubt he's the leading candidate to become his country's first male major champion? He battled hard on Saturday, and the same should be expected from him on Sunday. Come to think of it, he's probably on the range right now preparing. Keep grinding Haotong, your time will come.