The Loop
Collin Morikawa's girlfriend Katherine Zhu, who he credits his winning to, is a damn good golfer herself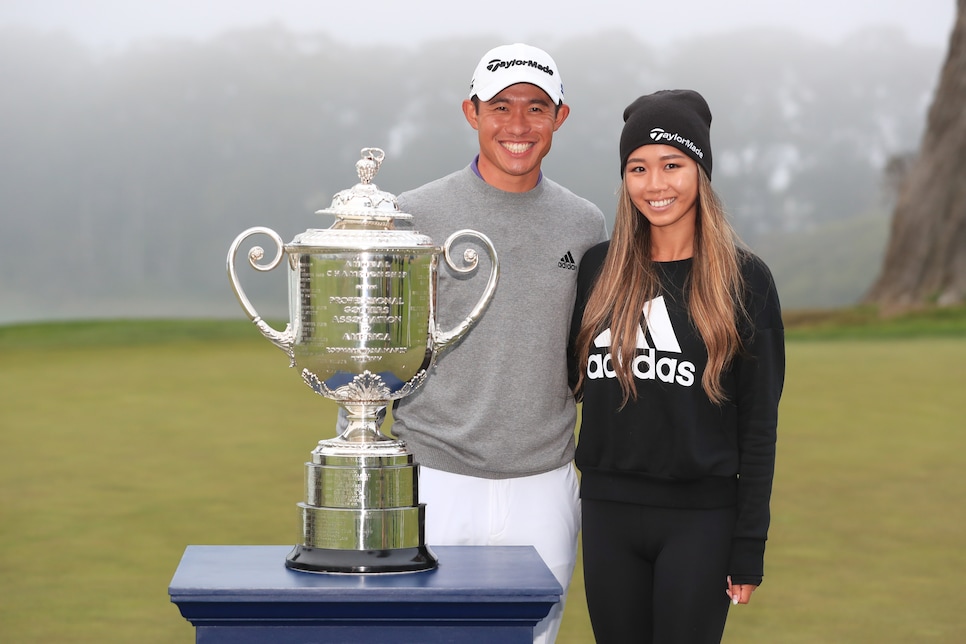 What's the saying? "Behind every great man is a great woman"? "An even greater woman?" Honestly, I'm not sure if that's the whole saying, if there is more to it, or if it's even PC to say that anymore. But whatever, it's obviously true.
But the thing is, it's true for a couple who has been together for a very long time, like 10-plus years. It's not a saying used for a couple of young pups who haven't even tied the knot yet.
But, as as he proved on Sunday afternoon and as he had already proven before Sunday afternoon, Collin Morikawa is no ordinary young pup. He may be 23 years old, but he acts, speaks and carries himself like a guy in his early 40s who already has it all figured out. Judging by his win count so far, and his nerves of steel down the stretch at TPC Harding Park, he just might.
A quote he delivered to Golf Channel's Todd Lewis late Sunday evening following his 2020 PGA Championship victory further hammered that point home. When Lewis asked Morikawa about the effect his girlfriend Katherine Zhu, a former college golfer at Pepperdine, has had on his life, he could not have given a more brilliant answer.
"I am very lucky to have her," he said. "Kat has been by my side through it all. She would hate me if I didn't say this, but I didn't start winning in college until she showed up in my life, so thanks Kat. Whenever she's there, it always just gets me away from golf. She knows how I'm feeling after golf, like you said, she's played collegiately, she knows golf can take a toll on you, whether it's a good or bad day. So she's on that same swing of if we're playing well or not well, but, yeah, I'm very lucky to have her. Having someone at dinner makes things a lot nicer than sitting down there at the hotel by myself."
First of all, AWWWWWW. Second of all, this kid is freaking unbelievable. Not only did he repeatedly say he's lucky to have Zhu, he basically credited her for his winning in college and beyond. Men who have been married for multiple decades aren't smart enough to say stuff like this, and he's saying all the right things two years after he became of legal drinking age. If Morikawa has made you feel completely inadequate in the last 24 hours, do not worry, you're not alone.
But back to Zhu, who played all four years on the Pepperdine Women's golf team. In 2014, she averaged 76.75 strokes in 24 rounds, and steadily improved from there. In her junior season she played in every event, averaging 76.13 and earning a first-team All-WCC selection. The following season, her last as a Wave, she averaged 75.60 and made the WGCA All-American Scholar list for the fourth time, in addition to making the WCC All-Academic first team. Sounds like Collin found a good one.
Obligatory photos of the adorable couple:
And some obligatory videos of her silky swing, which isn't quite as silky as Collin's but no one's is: