News
European Tour pro Andy Sullivan, still reeling from Ryder Cup stumble, finally a winner again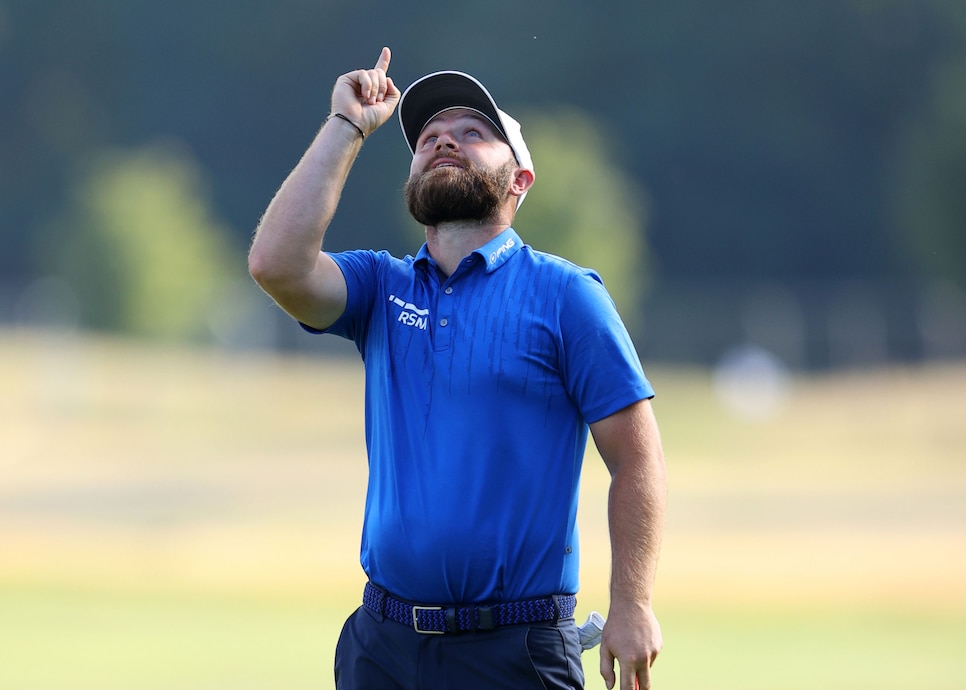 Andy Sullivan celebrates after winning the English Championship, his fourth career Euro Tour title but first in nearly five years.
Richard Heathcote
It had been a while for Andy Sullivan. So it was perhaps not too surprising that it was, at least for a time, a bit of a struggle, too. But four years and 297 days on from his third European Tour victory, the 33-year-old Englishman finally has a fourth.
Armed with an overnight five-shot lead that once shrunk to as little as two during the final round, Sullivan's Sunday 65 was eventually good enough to win the English Championship. By the close of play, runner-up Adrian Otaegui was seven shots back, one ahead of Rasmus Hojgaard in third. The Danish teenager's hot run—second at the British Masters T-6 finish in the Hero Open—continued into a third week. A closing 64 means Hojgaard is now 47-under-par for his last 12 competitive rounds.
Impressive, but Sullivan was the undoubted star of this particular show. His 27-under 257 score for his four days on the 7,042-yard Hanbury Manor course north of London earned the former Ryder Cup player €156,825 from the total purse of €1 million. It didn't come easy though. Not at first.
On multiple occasions on the front-nine Sullivan made vital putts to save par, although the 12-footer he holed for birdie on the par-5 12th, the first of what would be four in seven holes, was surely the most telling. After making 15 birdies and two eagles en route to shooting 62-64 on Friday and Saturday, Sunday's early stages proved to be a lot harder on the nerves of the former supermarket shelf-stacker. Otaegui's six birdies over his first 12 holes weren't helping on that front either.
"This is really emotional," said Sullivan, whose recent T-4 finish at the British Masters hinted at this welcome return to form. "For a while there that wasn't as easy as it turned out. I wasn't hitting enough fairways on the front nine, which made it hard for me to get close to the pins. I ground it out really well though. I knew that putt on 12 was important. I loosened up from that point onwards and hit some really good shots. I was fighting back tears over the last few holes.
As the lead began to increase on the back nine, Sullivan understandably felt the pressure lifting. "It's just nice to be back in the winner's circle after so long," he said. "It has been frustrating that my game didn't kick on from 2015. But my team and I have worked so hard. I'm proud of myself."
Indeed, the last few seasons have been ones of almost constant disappointment for Sullivan, once viewed as one of Europe's most promising rising stars. Three victories in 2015 saw the Nuneaton-native make his Ryder Cup debut at Hazeltine National a year later. Not only that, in the run-up to the matches he was earmarked as a foursomes and four-ball partner for the star of the European team, Rory McIlroy.
That partnership didn't last too long though. In the opening session of foursomes matches, with the match all-square, Sullivan found water with his tee-shot at the short 17th. It was to prove crucial as he and McIlroy lost on the final green to Phil Mickelson and Rickie Fowler. Worse, Sullivan, a Walker Cup player in 2011, was not seen again until the final day singles, when he lost to Brandt Snedeker.
Scarred by the overall experience, Sullivan almost immediately went into what turned out to be a slow and steady decline. To his credit, the marked deterioration in his fortunes never seemed to affect his upbeat persona, never more so than when her became the first man to make an ace in the European Tour's 500-ball "Hole-in-One Challenge." With his 230th attempt, Sullivan's 7-iron from 171 yards found the bottom of the cup, a feat that provoked an amusing and highly vocal sprint from tee to green.
Elsewhere, however, laughs were harder to come by. Ranked as high as 28 in the world in February 2016, Sullivan finished that year as 44th. Twelve months later he was 129th. And by the end of last year he was 137th, 11 places higher than his position when he arrived at Hanbury Manor.
Still, he left the picturesque parkland course feeling a lot better about life and golf. Sully's smile is back.