News
Cantlay cashes in, Stenson's bizarre injury, Trump plays with Hideki and Tiger weighs in on distance issue: What you missed this weekend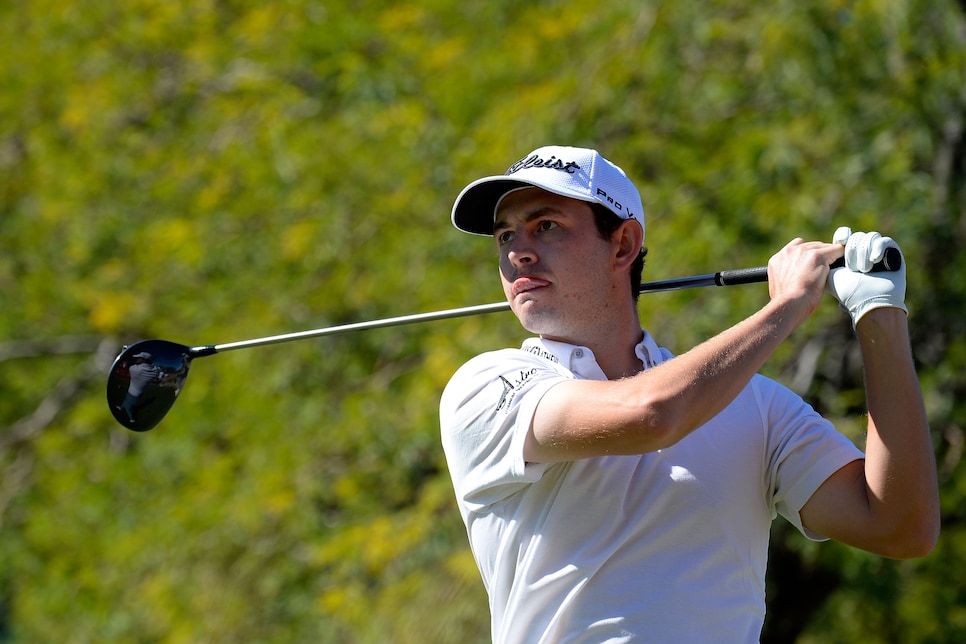 Welcome to the Dew Sweeper, your one-stop shop to catch up on the weekend action from the golf world. From the professional tours, trending news, social media headlines and upcoming events, here's every golf-related thing you need to know for the morning of Nov. 6.
Cantlay leaves Vegas a winner
Last year proved to be Patrick Cantlay's long-awaited breakout campaign. In his second start of the new season, the former phenom showed no signs of a sophomore slump.
"I had so many lows," the 25-year-old told reporters afterwards. "To all the hard work that I did, it's just so different from where I was that it's hard to describe the feeling."
Gusty conditions wreaked havoc down the closing stretch -- Cantlay bogeyed the final two holes, while J.J. Spaun went from leading on the 17th tee to T-10 after a double-double finish -- yet Cantlay's 67 was good enough to earn a spot in sudden death against Alex Cejka and Whee Kim. After all three bogeyed the first playoff hole, they replayed TPC Summerlin's 18th, where Cantlay hit a cut 4-iron from behind a tree to the back of the green. A two-putt par from the fringe was good enough for his first PGA Tour victory.
It was Cantlay's eighth top 15 in 2017, impressive considering he's made only 15 appearances. For a guy playing on a medical exemption just seven months ago, don't be surprised if the young gun is on the American Ryder Cup roster next fall.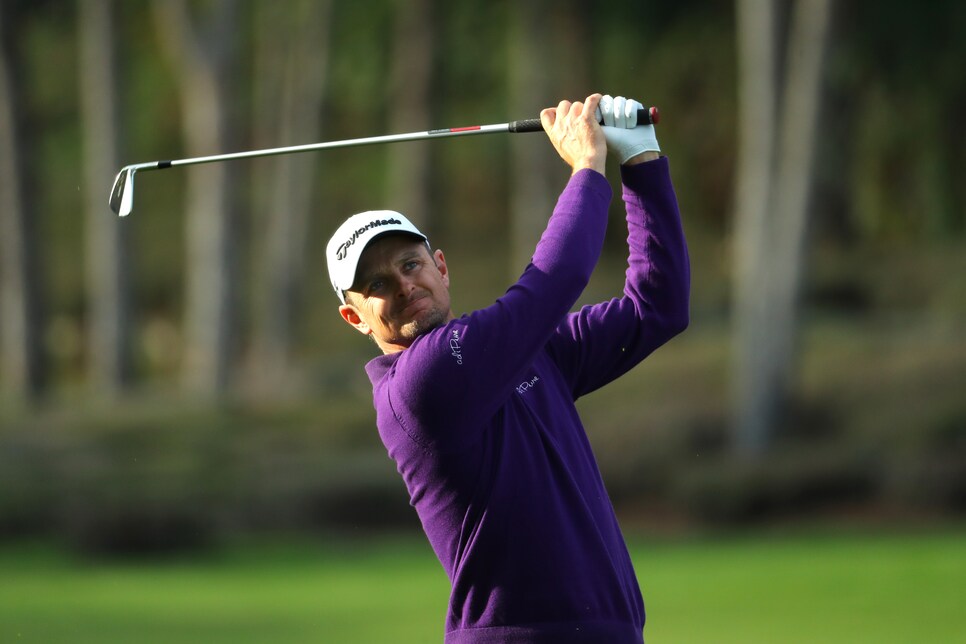 Rose grabs second straight win
Following his near-miss at the Masters, Justin Rose fell into a summer-long swoon. The past two months, however, have been a different tale.
Riding the waves from his historic surge at the WGC-HSBC, Rose turned in a final-round 63 to capture the Turkish Airlines Open. It was the first time in the 37-year-old's venerable career that he's won back-to-back tournaments, a charge that's changed Tommy Fleetwood's seemingly inevitable Race to Dubai ordination into a contest.
"I like achieving new firsts," Rose said. "But the Race to Dubai is still in Tommy's hands. I just know I need to go and play well in Dubai. That's been my mentality from the outset, and it's not going to change. But it's exciting to be within touching distance."
Rose has a few obstacles in his path; he'll be sitting out the Nedbank Golf Challenge, which will only further Fleetwood's advantage. Still, with his sixth straight top-10 finish, you better believe Fleetwood will be looking over his shoulder when the gold medalist tees it up at the tour finale in two weeks.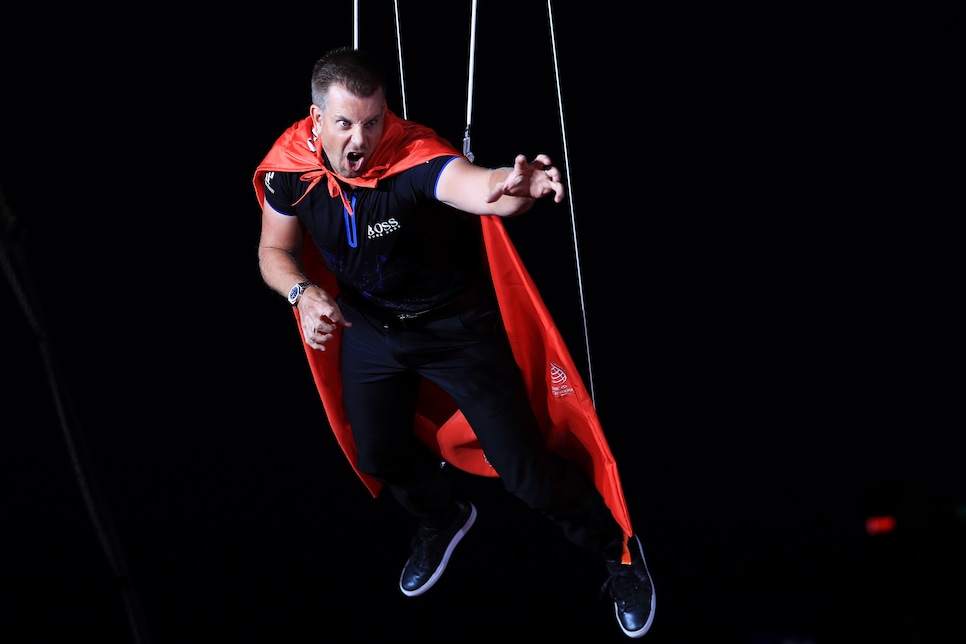 The reigning Euro Player of the Year may be sidelined from the circuit's final two events. Henrik Stenson revealed on Sunday he's battling a rib injury, one that worsened in the past week due to travel and play.
"It's not been good and obviously I haven't been able to do myself justice in terms of the golf," the 2016 Open champ said after finishing T-35 in Turkey.
And the cause of the injury? Though he didn't specify, Stenson made a not-so-veiled reference to the HSBC's infamous pre-event photo op. This year's shoot involved Stenson -- along with Dustin Johnson and Haotong Li -- "flying" in the air over Hideki Matsuyama.
"I'm not Superman even though certain people thought I was Superman," Stenson remarked.
Trump plays with Matsuyama, Abe
Being the most powerful man in the world has its benefits, especially when it comes to filling out your foursome. Since winning the election, Donald Trump has played with Tiger Woods, Rory McIlroy, Ernie Els and Peyton Manning. Add another superstar to the list: Hideki Matsuyama.
Teeing it up at Kasumigaseki C.C. -- the course that's set to host the 2020 Olympic tournament -- Trump played with Matsuyama and Prime Minster Shinzo Abe on Sunday, as the president begins a 12-day tour of Asia.
Abe has been one of Trump's closest foreign allies, with the two finding a bond through golf. Last November, Abe gifted Trump a gold Honma driver.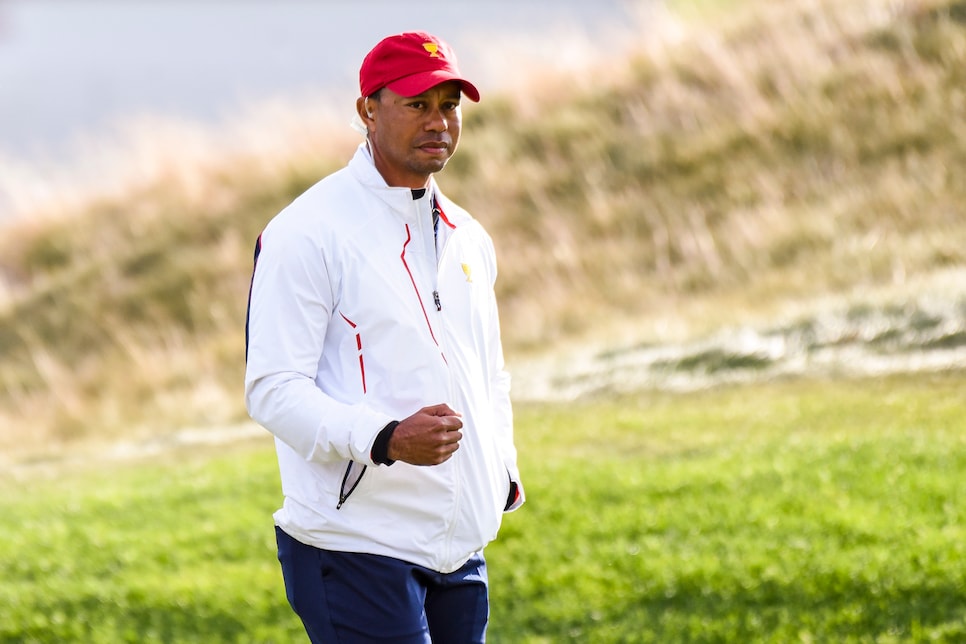 Woods weighs in on distance controversy
Tiger Woods has historically shied away from hot-button topics. Yet, speaking with UConn women's basketball coach Gino Auriemma on a podcast, the 14-time major winner made some surprising comments about the distance increases seen at the sport's top levels.
"We need to do something about the golf ball," Woods said. "I just think it's going too far because we're having to build golf courses, if they want to have a championship venue, they've got to be 7,400-7,800 yards long. And if the game keeps progressing the way it is with technology, I think the 8,000-yard golf course is not too far away. And that's pretty scary because we don't have enough property to start designing these type of golf courses and it just makes it so much more complicated."
Though few current players have spoken on the issue, perhaps it's not the most shocking take from Woods. After all, the 41-year-old has spent the past few years delving into course design. Conversely, given many properties tried to "Tiger-proof" themselves during his peak, Woods siding with the distance outcry is somewhat remarkable.