News
Patrick Cantlay finally settles in and resumes pursuit of stardom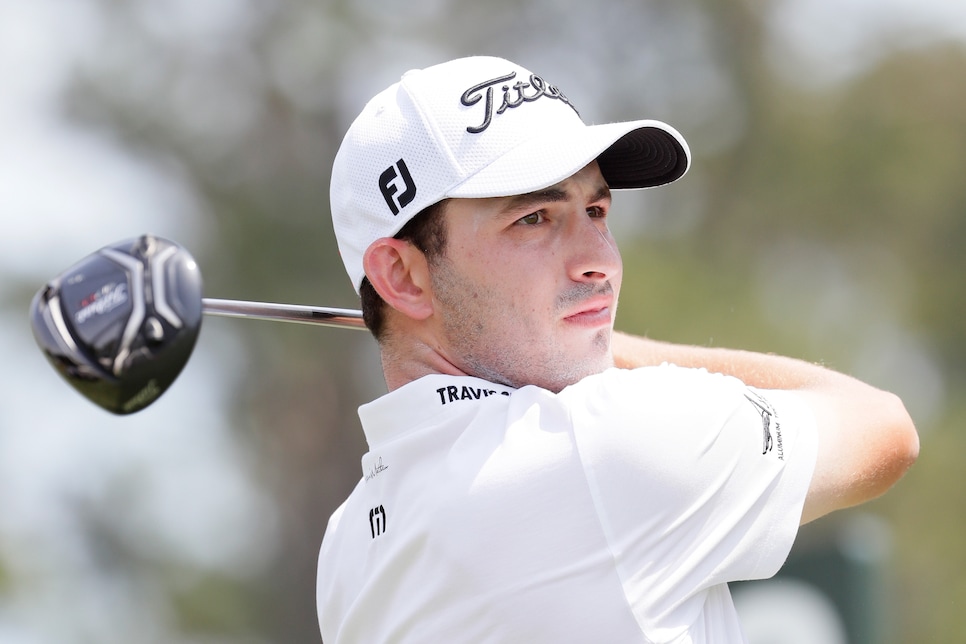 PONTE VEDRA BEACH, Fla. -- There is a sense of normalcy for Patrick Cantlay. Finally.
Thursday, the 25-year-old shot a three-under 69 to sit just two strokes off the lead in the opening round of the Players Championship.
"Any time you play well and give yourself a chance to win, it's a confidence booster, especially not having played for so long," Cantlay said Thursday. "That one was a confidence booster for me, just coming back out and being able to play."
It's his first time playing in the tournament but not his first time at TPC Sawgrass. Twice, Cantlay played the Junior Players Championship, in 2008 and 2009, finishing sixth and 14th, respectively.
Two years later, he won four tournaments as a freshman at UCLA, also capturing the Haskins Award as college golf's most outstanding player and being named the Jack Nicklaus National Player of the Year.
That summer, he was one of only three amateurs to make the cut at the U.S. Open at Congressional, where he also finished as the low amateur. A week later he recorded the lowest round by an amateur in PGA Tour history with a 60 at the Travelers Championship before adding two more finishes in the top 20 at the AT&T National and RBC Canadian Open.
Cantlay also reached the finals of the U.S. Amateur at Erin Hills, went 2-1-1 for the Americans in the Walker Cup and ended his amateur career in June 2012 with a then-record 54 consecutive weeks at No. 1 in the World Amateur Golf Ranking.
Soon, though, everything would go to hell.
Less than a year after turning pro, winning on the Web.com Tour and getting a PGA Tour card, Cantlay was diagnosed with a stress fracture in his L5 vertebrae in the summer of 2013. He returned three months later and after two straight missed cuts finished second in the season-ending playoff event.
Cantlay didn't play for seven more months but his back still wasn't right. In five starts on the PGA Tour in 2014, he missed three cuts and his best finish was a tie for 23rd. With back problems lingering he would make just one more start the next two years.
Then in February 2016 tragedy struck. Cantlay's best friend -- also his caddie -- Chris Roth was killed by a hit-and-run driver 10 feet in front of him during a night out in Newport Beach, Calif.
"You go through a tragedy like that and don't think you ever get back to exactly the place in life where you were," says his agent Mark Steinberg. "But you have to do your best to move on."
Time heals most wounds and it did for Cantlay -- eventually. He returned to the tour at Pebble Beach earlier this year, with 10 starts to earn $624,746 or 389 FedEx Cup points to earn playing privileges for the rest of the season.
"He's been smart about how he's coming back, not trying to play four in a row," Steinberg said. "I think he's feeling physically better every day. You go through a tragedy [like he went through] and I don't think you ever get back to exactly the place in life where you were, but you have to do your best to move on. All in all, Patrick is in a good place right now. He's realizing he's fortunate to be back playing the sport he loves. I imagine there were times he wondered if he would ever be a professional golfer again."
In the opening round at TPC Sawgrass, Cantlay didn't miss a green until the 18th hole, where he also made his lone bogey of the day after finding the bunker when his approach sailed long.
Despite the miscue there was plenty to be happy about. There has been a lot more positive than negative for Cantlay of late. This is where many in golf always expected he would be, Cantlay included. TPC Sawgrass, with its demand for controlled iron shots and good putting, also suits his game well.
"It's just nice being back out here again," Cantlay said. "The more tournament rounds I play, the more comfortable I get, and I'm enjoying it."