News
How Good is Donald Trump the Golfer?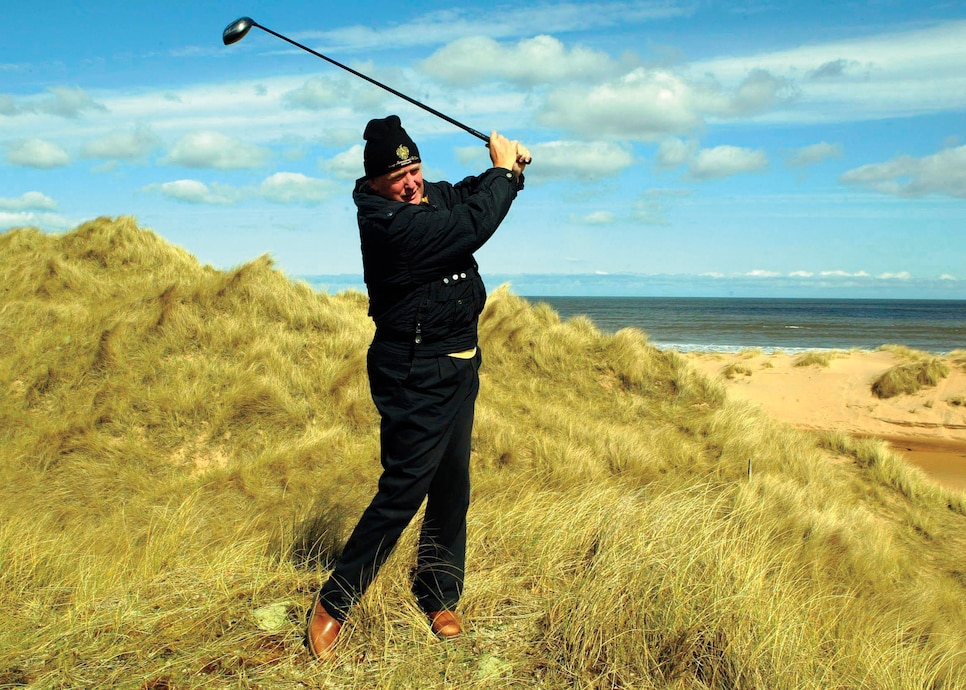 PA Wire/Press Association Images
My main memory of playing golf with Donald Trump—preserved with more care now that he's the president—is that he really went after the ball hard. But the interesting thing is that though Trump's action might have looked a little reckless, it soon became clear that it was quite under control.
Hmmm. Perhaps more support for the quote, "How you do anything is how you do everything."
Trump was 67 when I played with him in 2013 at his course outside Charlotte and in early 2014 at Doral, but he still possessed a significant remnant of big-man athleticism. He was not particularly long off the tee—averaging about 230 yards—but a big reason was a steep downswing that produced a low fade and was better suited to good iron play. Trump had clearly made a calculation that being exceedingly straight—he was rarely in the rough and never in chip-out or penalty trouble—works better than long and (too often) wrong.
When I asked Trump about this, he said he hadn't given it a lot of thought. He's basically self-taught, never consistently working with an instructor. "I think of golf as a very natural game," he said. "I never really wanted to know a lot about my technique. I really trust instinct a lot, in golf and a lot of things."
Another impression of Trump the golfer is that he genuinely likes playing the game. On the course, playing quickly, he projects the contentment of a man in his element. Settling into a sound and relaxed address position that identifies him as a good player, he appears very much a confident golfer relishing the opportunity to flush another one.
Trump's swing is imperfect but grooved, and it soon engenders a certainty that nothing really bad is going to happen to his golf ball. He has a flat takeaway well to the inside and loads hard onto his right side. Before starting down, his shoulder plane raises into what at first looks like a duffer's over-the-top move. But Trump simultaneously unleashes the kind of aggressive opening of the left hip that is rarely seen in older amateurs, clearing the way for the club to release from an inside path.
"For me, it's all about the hips," Trump said while walking down the fairway. "Just get them out of the way as fast and as hard as I can and let the arms really swing through. I read about the hips a long time ago in Ben Hogan's book, and it became my simple key, and I've stayed with it. It might look a little crazy, but the more I clear, the straighter I hit it."
Check video or photos of Trump's swing (see photos below), which reveal a very sound impact position, validated by an almost exaggerated extension past the ball that evokes Lee Trevino, and sometimes a walk-through finish reminiscent of Gary Player. In essence, Trump's swing contains some flaws, but he does the most important things right.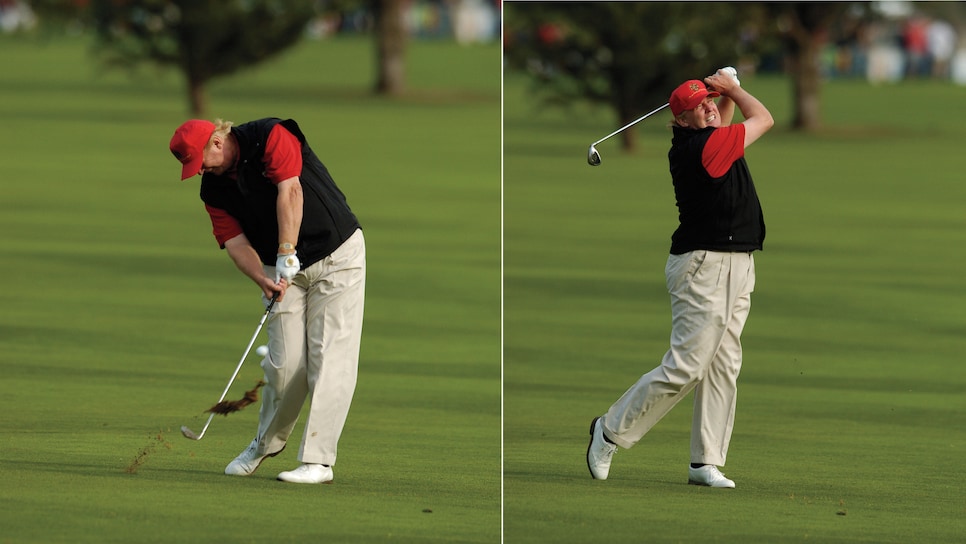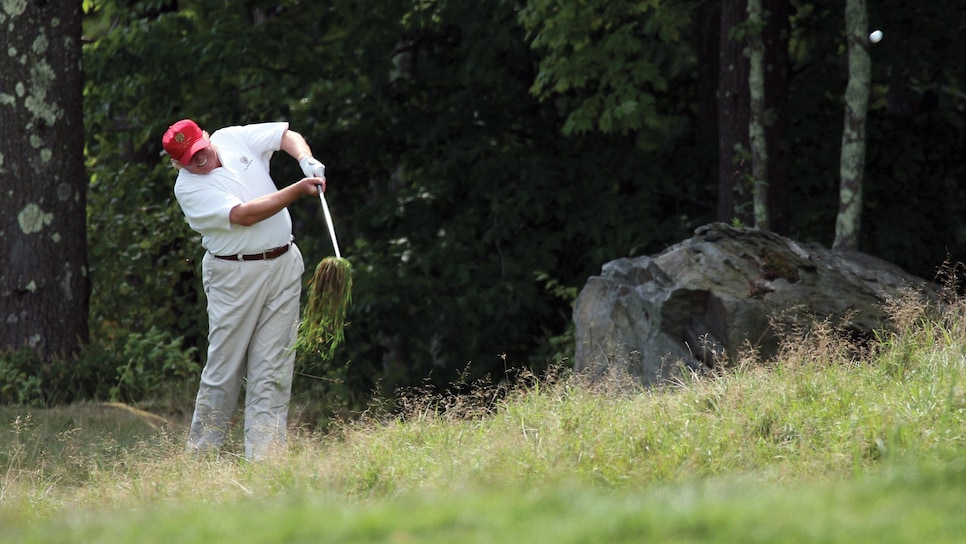 To my eye, the best part of Trump's game is his ball-striking. His play around the green is serviceable but without much variety— more chip-and-run than high and soft—although his aggressive lower-body move helps create some spin out of the sand.
Trump considers his putting the best part of his game. He boasted more than once, "I'm a great putter." Clearly that self-belief has helped him be a good putter, but judging by his stroke, which features a wristy release, I found his long game more reliable.
'I never really wanted to know a lot about my technique. I really trust instinct a lot, in golf and a lot of things.' – Donald Trump
Both our rounds came during openings of redesigns to his courses and were played casually, with plenty of putts inside five feet over-generously slapped away. But I certainly didn't get the feeling that Trump shoots in the 70s only because he doesn't putt the short ones. His ball-striking, from medium-length tees, made him a legitimate 4-handicap at the time. Today he's officially a 2.8 in the United States Golf Association's GHIN system (see chart below), though he has posted only scores going back to 2009.
As a golfer, the 45th president is the real deal.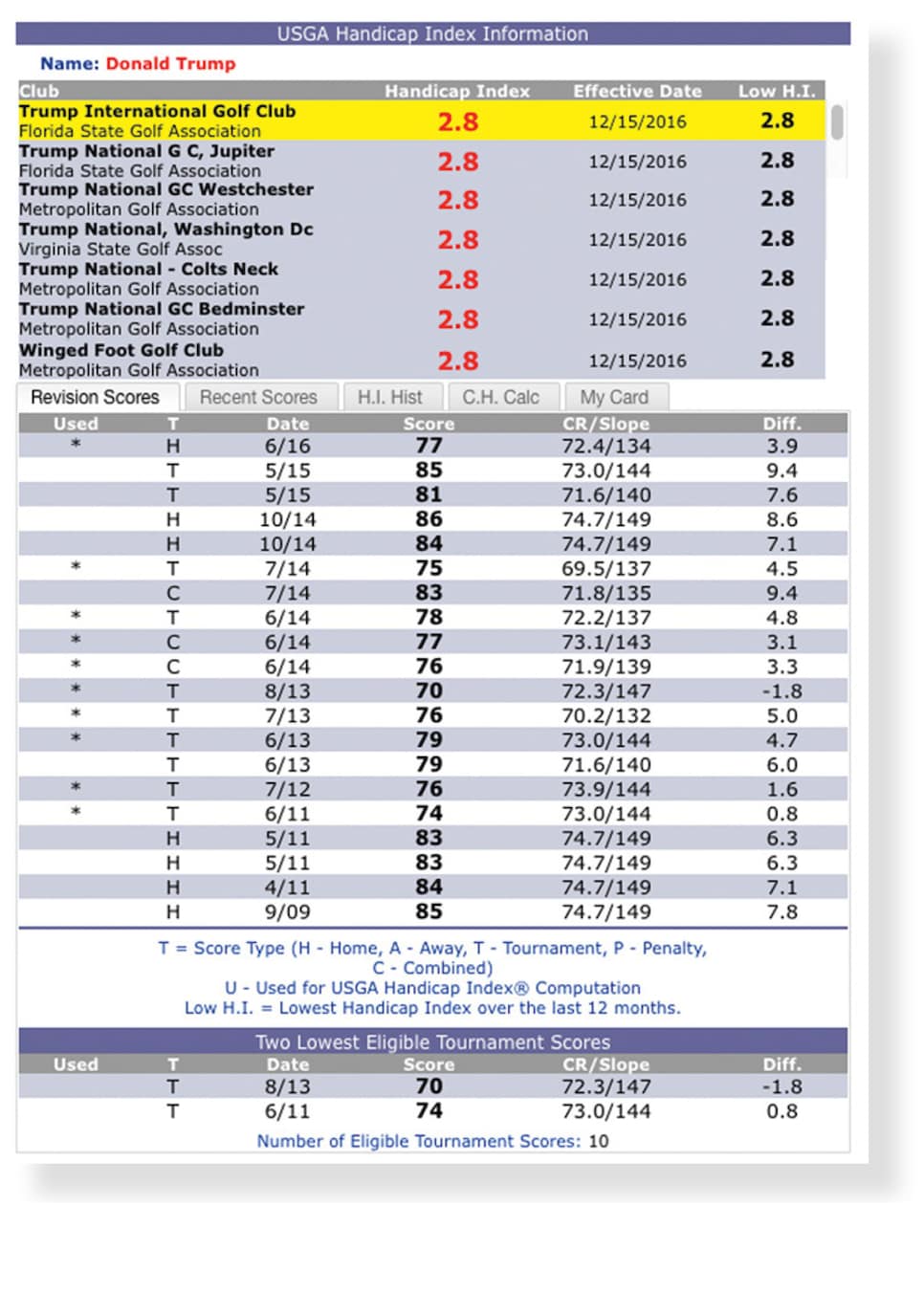 WHAT YOU CAN LEARN FROM TRUMP'S SCORES
Seven of Trump's 10 "counting" scores have occurred in tournament play. That's a high tournament-to-casual-rounds ratio and indicates a gutsy player and good member-guest invitee. It means something else: There were lots of witnesses to his performance.
Trump's scoring history dates to 2009. Forgive the arched eyebrow, but has he really played only 20 rounds in the past seven years? Perhaps he finds himself rushing to board his helicopter, but to make the handicap system meaningful, all scores should be entered.
Check out Trump's "anti-handicap"—the range of his throw-out scores. Not too many hideous numbers in there, which indicates he's more a Steady Eddie than a Wild Willie.
Trump's home courses all are stout. Course and Slope Ratings notwithstanding, experienced players are wary when a good player journeys from a hard course to an easy one. They frequently shoot lights-out on the easier layout.
The vast majority of his scores were shot in May, June and July. The weather is better, the courses are in prime scoring condition and our games are in great shape. If more scores from early spring were included, it's rational to believe they would be higher.
Always watch out for anomalies—scores inordinately higher or lower than the player shoots normally.
In Trump's case, the tournament round of 70 he shot in August 2013 is four shots lower than his next-lowest score. It shows he's capable of going low.
When Trump comes back from a seemingly long layoff, invariably he shoots a "counting" score. This is a sign of pure talent. Or perhaps clandestine hours spent whacking balls into a net in his office at Trump Tower. — Guy Yocom
TRUMP'S 19 CLUB CHAMPIONSHIPS
1999
Trump International West Palm Beach men's club champion
2001
Trump National Westchester men's club champion
2001
Trump International West Palm Beach men's club champion
2002
Trump National Westchester men's club champion
2004
Trump National Westchester men's club champion
2007
Trump National Westchester senior club champion
2008
Trump National Westchester senior club champion
2009
Trump International West Palm Beach men's club champion
2009
Trump National Westchester senior club champion
2010 Trump National Westchester senior club champion
2011
Trump National Bedminster senior club champion
2012
Trump National Bedminster senior club champion
2012
Trump International West Palm Beach senior club champion
2012
Trump National Westchester senior club champion
2013
Trump National Bedminster senior club champion
2013
Trump International West Palm Beach senior club champion
2013
Trump National Westchester senior club champion
2014
Trump National Bedminster senior club champion
2014
Trump National Westchester senior club champion