The Grind
The Canadian Open's crazy finish, Phil Mickelson's big land grab, and a seemingly unbreakable Tiger Woods record goes down (sort of)
Welcome to another edition of The Grind, where we never thought the Canadian Open would upstage the U.S. Open, but here we are. How do you top a guy becoming the first Canadian to win his national championship in 69 years by making a 72-foot eagle putt on a fourth playoff hole?! And then one of his friends going viral for getting laid out by a security guard?! Of all the dramatic things! Seriously, that was amazing, and it capped the wildest week in pro golf history, led by the shocking news of the proposed partnership between the PGA Tour and Saudi Arabia. And I thought Bill Murray and Kelis were an unlikely couple. Also, if you go by Canadian-born players, this hadn't happened since 1914, which is right when World War I was starting! See, mom? I told you that history major would pay off someday. In any event, let's get to the golf world's current events.
Nick Taylor: This 35-year-old will never have to buy a drink in Canada again after ending that long drought for his country at the Canadian Open. With that dramatic putt (the longest of his career, by the way), Taylor picked up a third PGA Tour title, but this is undoubtedly the crown jewel of his career.
Just Hollywood stuff that even a Hollywood venue this week will have a hard time equaling. By the way, we're also buying Canadian golfers in general. Taylor became the fourth different Canuck to win on the PGA Tour this season. Meanwhile, a Canadian hockey team hasn't won the Stanley Cup in three decades! Canada might officially be a golf country now. And watch out, Justin Trudeau, because Nick Taylor might just be its prime minister one day.
University of Illinois: What an incredible week for this golf program. First, Michael Feagles shot the ninth sub-60 round in Korn Ferry Tour history. And then fellow fighting Illini Adrien Dumont De Chassart became the first PGA Tour University graduate to win his pro debut. Pretty darn impressive. And pretty darn impressive name. Sounds like a duke from the Renaissance (History!).
That kid is going places. So I really better learn how to properly pronounce his name. But let's not forget about an alum who is three decades older than these guys. That would be Steve Stricker, who won the American Family Insurance Championship in his home state of Wisconsin by five shots for his third victory in four PGA Tour Champions starts—with his entire family in attendance (including his wife being back on his bag instead of his daughter):
Aww. More on Stricker in a bit . . .
Phil Mickelson's land grab: As in Phil Mickelson has been using his riches to buy up land in San Diego. According to the New York Post, Mickelson has purchased four adjacent properties in Rancho Santa Fe for approximately $67.4 million that total 21 acres.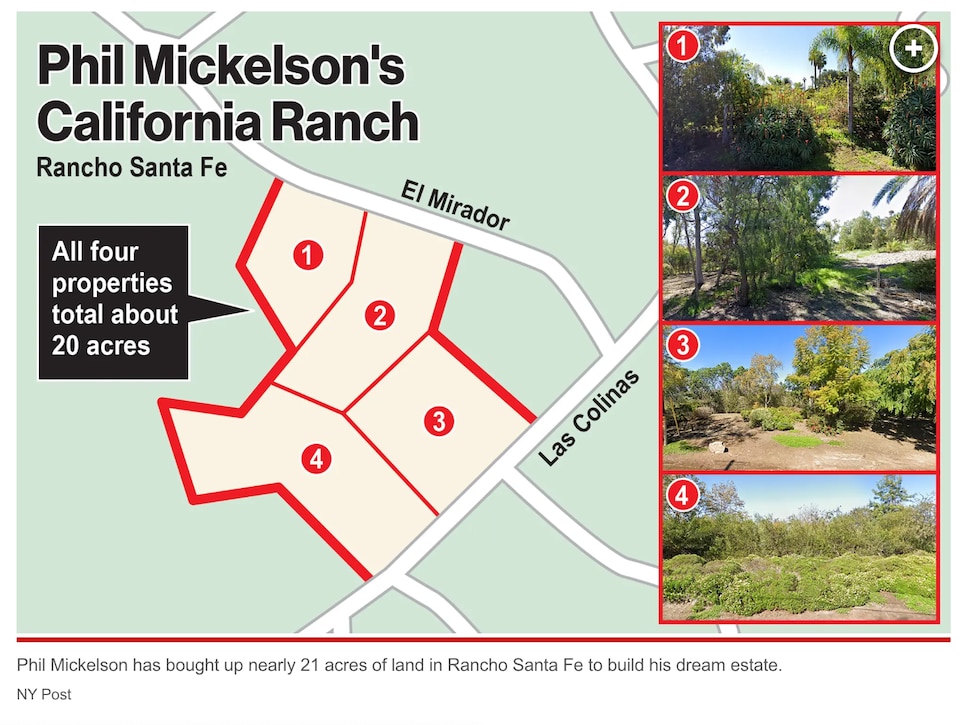 And he plans to create his dream compound on the land. Sounds a lot like "Yellowstone." Only without all the mountains and ridiculous plot twists. Anyway, in case you're wondering what guys like Phil do with all that money, well, apparently, they do this. Hey, real estate is always a good investment. Savvy move, Phil, and certainly a lot safer to park your money there than in NFL futures bets.
Tommy Fleetwood's "record": Lost amid the chaos of Taylor's win is the fact that Fleetwood now holds the distinction of having the most career PGA Tour earnings without a win. Poor guy. Except, of course, for the fact that he's made more than $17 million on the PGA Tour alone so "poor" probably is the wrong term. This one had to hurt the most as Fleetwood missed out on an opportunity to win on 18 in regulation and then got daggered by Taylor's bomb on the same green about an hour later.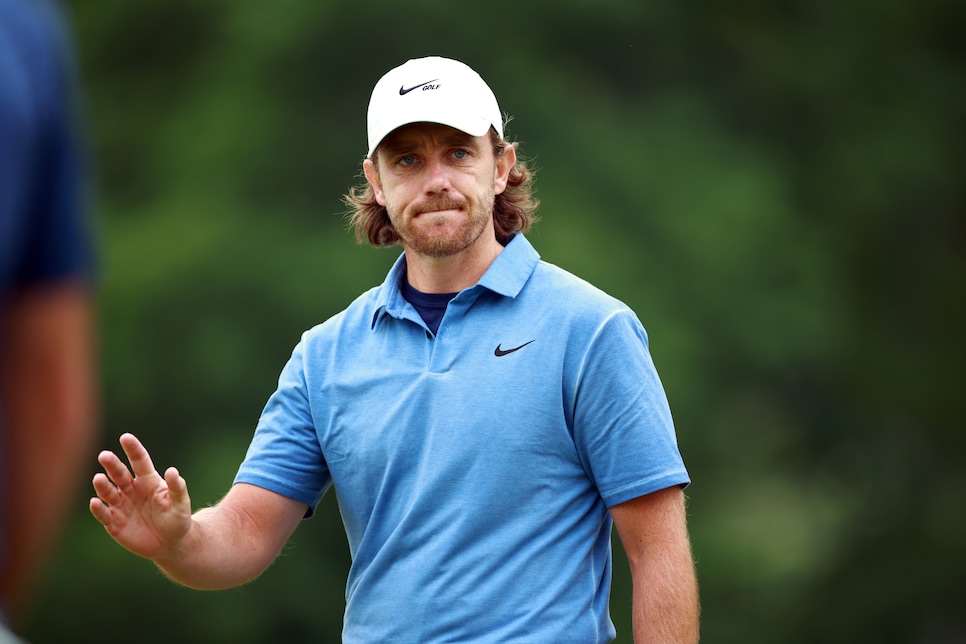 In a weird twist, Fleetwood passed Cameron Tringale, who left the PGA Tour for LIV last year, but who could come back with this proposed merger. If we're betting on either of them to actually win at some point on the PGA Tour, our money is on Fleetwood. So chin up, Tommy. And at least you'll be allowed back in Canada now.
Tiger's record being broken: According to some people, Steve Stricker broke a seemingly unbreakable Tiger Woods record during his latest win. Look, I love Steve Stricker, AKA the Strick Show, and I marvel at how such a sweet man can be such a killer on the golf course—at least now that he's the dominant force on the senior circuit. I'm also amazed by his current streak of 55 consecutive rounds of par or better. It's amazing. But to give him credit for breaking Tiger Woods' record of 52 consecutive rounds by categorizing the mark as one for PGA Tour-sanctioned events instead of simply PGA Tour events is a bit much.
The stakes—and the setups—are slightly different on the PGA Tour Champions. But again, congrats to Steve on winning. Again. And for shooting par or better. Again. The dude is an absolute beast. But you can tell he didn't take this record seriously because he didn't even cry!
Getting tackled by a security guard: A crazy week for Adam Hadwin began with him bouncing a first pitch in the dirt at a Toronto Blue Jays game and ended with him being tackled into the dirt by a security guard. Just an absolutely wild scene that will likely go down as golf's top viral video of 2023.
This wasn't "Bird Man" trying to interrupt the 2012 U.S. Open trophy presentation. This was a fellow PGA Tour pro! And one of Canada's top athletes to boot! Anyway, we can laugh now because Adam wasn't hurt. And everyone had fun with this, from the NFL:
Golf's governing body's got jokes! Who knew?!
It's finally time for the long-awaited 2023 U.S. Open at Los Angeles Country Club, AKA that place golf architecture nerds are freaking out over, AKA that place that borders the Playboy Mansion. Players and fans will hear weird noises coming from Hugh Hefner's old place all week, but get your head out of the gutter, because they're coming from the animals that are part of the zoo that remains on property.
Random tournament fact: Scottie Scheffler is the tournament favorite (7-to-1 odds) and my pick to win it, but the bad news for Scottie and myself is that only one World No. 1 (at the time) has ever won the U.S. Open. Of course, that would be Tiger Woods, who did it three times.
RANDOM PROP BETS OF THE WEEK
—A player will get tackled by a security guard on 18: 1 MILLION-to-1 odds
—Tyrrell Hatton will curse out a monkey: 5-to-1 odds
—Tyrrell Hatton will find something to complain about at LACC: LOCK
TWEET OF THE WEEK (TOUR PRO DIVISION)
Michael Kim had the best reaction of anyone to the Adam Hadwin tackle:
And when Kim did wind up getting into the U.S. Open, he had to clarify that it was not due to a Hadwin injury/hit:
CLUB PRO GUY TWEET OF THE WEEK
As you can read in the caption, this Cincinnati-area high school golfer made THREE aces on the same hole while hitting for various groups during a VFW outing.
VIRAL VIDEO(S) OF THE WEEK (NON-ADAM HADWIN DIVISION)
I should have just grouped this with the photo and called it "THIS WEEK IN TEENS MAKING HOLES-IN-ONE BEFORE I DO" because this video is of a 16-year-old Aussie who made an ace—and won a car worth $60K:
They still make Isuzus? Anyway, good for her. And good for Conor. I'm not jealous. Nope. Not. At. All.
THIS WEEK IN PUBLIC DISPLAYS OF AFFECTION
Lost in the whole Adam Hadwin tackle is the fact that Nick Taylor's Canadian peers stuck around to shower their buddy in praise—and champagne. Very sweet. But we're going with Jessica Hadwin really getting a kick out of her husband getting bodied by that security guard:
And that's why they're our favorite couple in golf.
THIS WEEK IN PUBLIC DISPLAYS OF GRIT
There's going above and beyond and then there's what this Canadian Open volunteer did during the final round, but taking off her socks and shoes and wading into a murky stream to identify Tyrrell Hatton's golf ball:
It's really true what they say: Canadians are the nicest people in the world.
THIS WEEK IN PUBLIC DISPLAYS OF CADDYING
Geno Bonnalie came up with possibly the most brilliant caddying move in history, paying for a Ric Flair Cameo video to motivate his boss, Joel Dahmen. And Joel loved it:
That's going to wind up being the best $500 Geno ever spent.
THIS WEEK IN CELEBRITY GOLFERS
He's former NFL Pro Bowler Todd Gurley cracking open a beer as soon as he finished up a tough round:
Todd Gurley is one of us.
"My therapist tells me 'just don't hit it in the rough.'" —C.T. Pan with an all-time deadpan quote when asked about his recovery from a wrist injury.
Congrats to Ashleigh Buhai on winning her second LPGA title at the ShopRite Classic and saying after she didn't want to be a "one-hit wonder." Good for you, Ashleigh, but when that one hit is a British Open, it's nothing to sneeze at. . . . Congrats to 15-year-old Tyler Watts for winning the Alabama State Amateur title by four shots to become the youngest winner in the event's history. Considering he broke Gordon Sargent's recent record, Tyler appears to have a mega-watts bright future ahead of him. Sorry, that was bad. . . . Phil Mickelson and LIV Golf are being sued for trademark infringement over the HyFlyers logo. Hopefully for him, this doesn't wind up cutting into that dream compound. . . . And, finally, shout-out to Titleist for sending me (and probably every other golf media member on the planet) some new golf balls: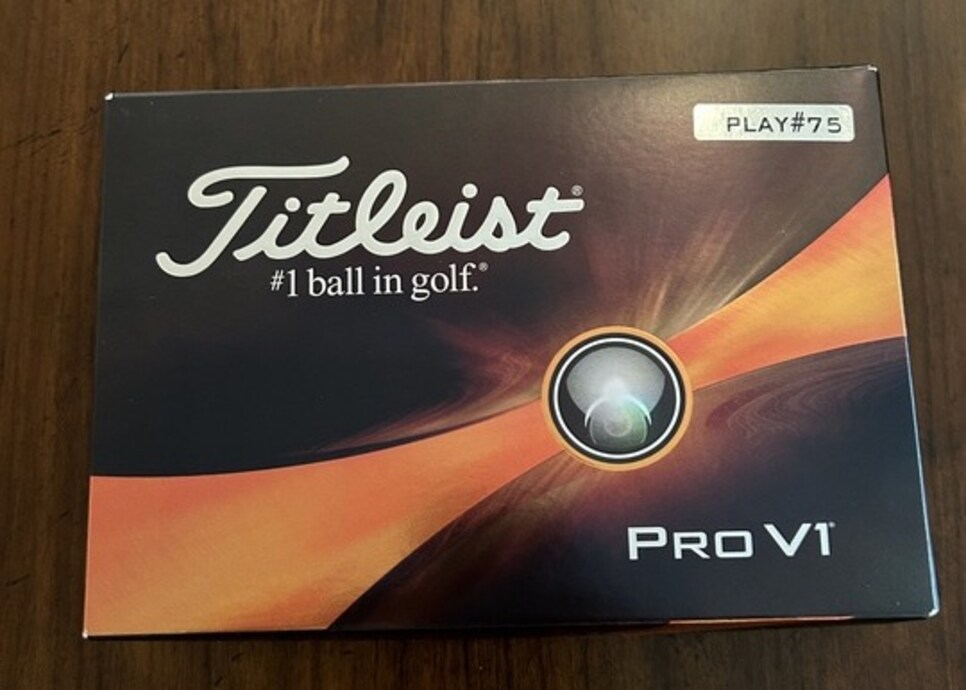 RANDOM QUESTIONS TO PONDER
How many holes will it take to lose those golf balls?
How much has Steve Stricker saved by having his family caddie for him?
How long will Bill Murray and Kelis stay together?