A week that started with tumult and uncertainty ended with jubilation and relief as Nick Taylor ended one of the longest droughts in golf, sending an entire golf nation into a frenzy. The 35-year-old held off an assortment of pursuers in regulation Sunday, then topped Tommy Fleetwood on the fourth hole of a playoff by draining a 72-foot putt for eagle at Oakdale Golf & Country Club, becoming the first Canadian to win the RBC Canadian Open in 69 years.
"For that to go in is unbelievable," an emotional Taylor said immediately after, with the home gallery still in hysterics. "I don't know what to say."
On Sunday, Taylor was holding the RBC Canadian Open hardware just outside Toronto, after capturing his third tour title, with the adoring fans serenading the new champion. Canadian PGA Tour pros Corey Conners, Adam Hadwin and Mike Weir waited anxiously with the masses, hanging on every moment during the four playoff holes. They were not going to miss history.
"This is for all the guys who are here, this is for my family at home," Taylor said. "This is the most incredible feeling ever."
The drama capped a crazy four days for the British Columbia native. Taylor shot 75 on Thursday and was tied for 120th place. Rounds of 67-63 got him into contention on Sunday, where he actually held a three-shot lead for a moment in the middle of the round. But Fleetwood, Tyrrell Hatton, Aaron Rai and C.T. Pan, among others began making birdies, and it was clear that Taylor was not going to run away with his national open.
After a bogey on the 16th hole, Taylor birdied the last two holes to top Hatton by one for the clubhouse lead at 17 under, making a 12-footer on the final hole. But Fleetwood, a European Ryder Cup stalwart searching for his first PGA Tour victory in 119 starts, stormed back and birdied Nos. 16 and 17 to tie Taylor. Fleetwood played a nervy 18th hole in regulation and made par, sending the tournament into a playoff.
Of course, the playoff turned downright nutty. It started raining and continued the entire time.
Both men were short right of the green in two shots on 18 the first time but both got up and down for birdie, Taylor with a chip shot to five feet and Fleetwood by draining a 20-footer. The second time both men, again playing the 18th hole, made par after nervy approach shots. Then they marched to the par-3 ninth hole and hit tee shots to similar distances, around 15 feet, but both two putted for par.
Finally, on the fourth playoff hole, back on the par-5 18th, Fleetwood faced 12 feet for birdie and Taylor was 72 feet away for eagle, having reached the green in two. With the whole country holding its collective breaths, Taylor made the putt for eagle, sending the adoring gallery, Taylor and his caddie Dave Markle, into a celebration that'll likely last well into the Canadian night.
"It's huge for our game," Weir said.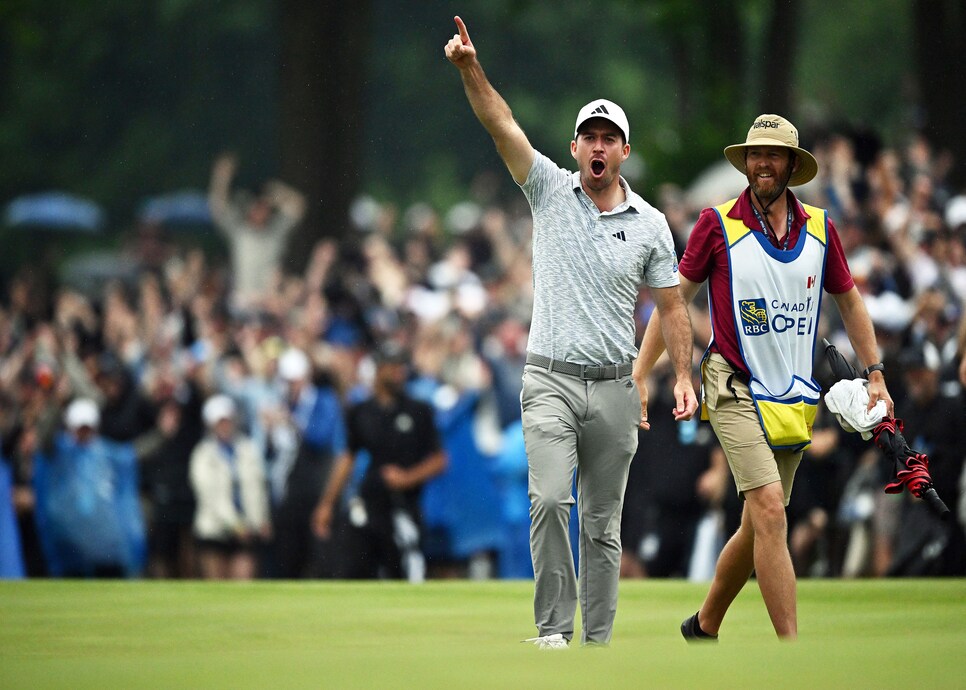 With victory on Sunday, Taylor is the first Canadian to win the national Open since Pat Fletcher in 1954.
Minas Panagiotakis
Pat Fletcher was the last Canadian to win the Canadian Open, doing so in 1954. Since records began being kept in earnest in 1983, only one player has been T-120 or worse in a PGA Tour event after the first round and gone on to win—Ian Poulter at the 2018 Houston Open. He opened with 73 then shot 64-65-67 and topped Beau Hossler in a playoff.
"It was the most incredible atmosphere I've ever been a part of and it's not even close," Taylor said. "I think even walking the first tee today, walking to the first green, there's ovations on every single tee and green. When Tommy would miss and they would cheer I kind of felt bad for him. But I knew just how pumped they were and they were trying to put every ounce of energy into it to help me pull it through.
"I blacked out when that ball went [on the fourth playoff hole] with Dave. So I'm curious to watch what we did. I don't even remember what we did. But that was an incredible moment."
Historical significance aside, the victory was just another piece of a golf résumé that continues to impress. Taylor won both the Canadian Junior (2006) and Canadian Amateur (2007) in consecutive years as a youth and was a standout in college at the University of Washington, being named Player of the Year twice in what was then called the Pac-10 Conference. He was a three-time All-American and won the Ben Hogan Award in 2010 as college golf's best player.
As a professional, the Canadian Open win is his third on tour, following the Sanderson Farms Championship in 2014 and the AT&T Pebble Beach Pro-Am in 2020. He's the fourth Canadian to win on the PGA Tour this year, following Mackenzie Hughes, Adam Svensson and Conners and he's up to a career-high 44th in the Official World Golf Ranking. He had missed his previous two cuts.
For Fleetwood, he'll continue searching for that first tour title after yet another near miss. After opening with consecutive rounds of 70, a third-round 64 vaulted the Englishman directly into contention. The final-round 67 was good enough to get into the playoff this time, but he may have a couple sleepless nights thinking about how lackluster he played the 18th hole in regulation.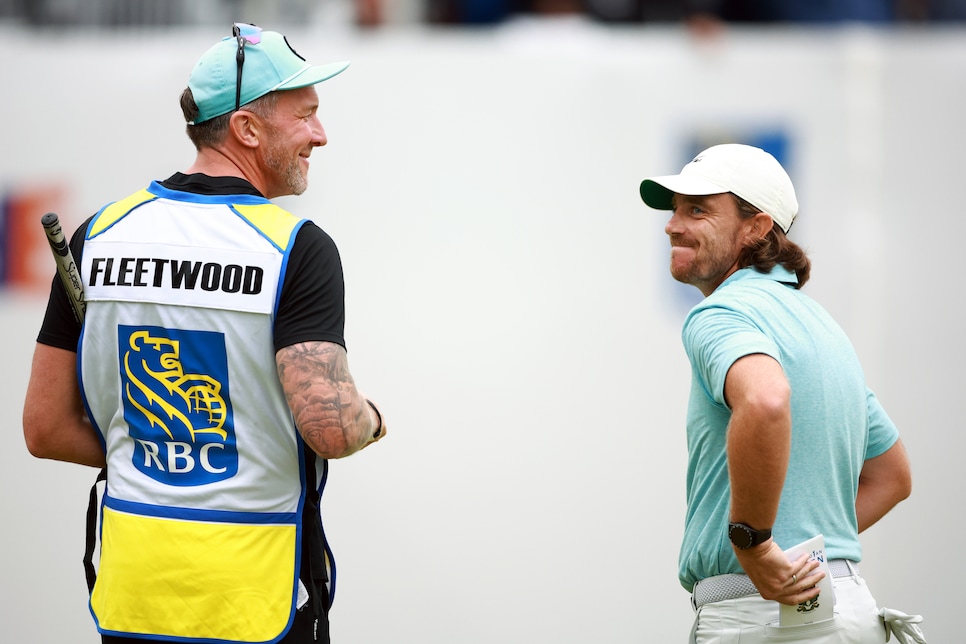 All Tommy Fleetwood could do was smile after Nick Taylor's dramatic putt dropped, leaving the Englishman still in search of his first career PGA Tour title.
Vaughn Ridley
"Nice moment for Nick and the fans here," said Fleetwood, with Hatton, Justin Rose and Shane Lowry watching the playoff to show support. "It's great to be a part of that Sunday and that playoff. I had my chances, really. It wasn't to be this time."
Hatton birdied the last four holes to shoot an eight-under 64, which included a double bogey on the eighth hole. He was a shot out of the playoff. Rai (67) and Pan (70) were tied for third place with Hatton. Eric Cole made nine birdies to shoot 63 and jumped 18 positions on the leaderboard to tie for sixth place with Mark Hubbard.
It was another Sunday disappointment for Rory McIlroy. The World No. 3 entered the final round two shots off the lead and with a chance to win for the second consecutive week. Last week at the Memorial Tournament he shot a final-round 75 to tumble from contention. In Canada, he made consecutive bogeys on Nos. 5 and 6 to quickly drop out of contention again and ultimately shot 72 to tie for ninth place.
McIlroy was the two-time defending champion in Canada and a victory by him would've been significant for the game heading into the U.S. Open next week at Los Angeles Country Club. But it's difficult to be disappointed with the way this prestigious tournament ended. A golf-crazed nation was rewarded with the victory that it had so desperately wanted for seven decades.
And Nick Taylor will never have to buy a beer in his beloved Canada ever again.