PGA TOUR CHAMPIONS
Steve Stricker topples a Tiger Woods record, wins again on PGA Tour Champions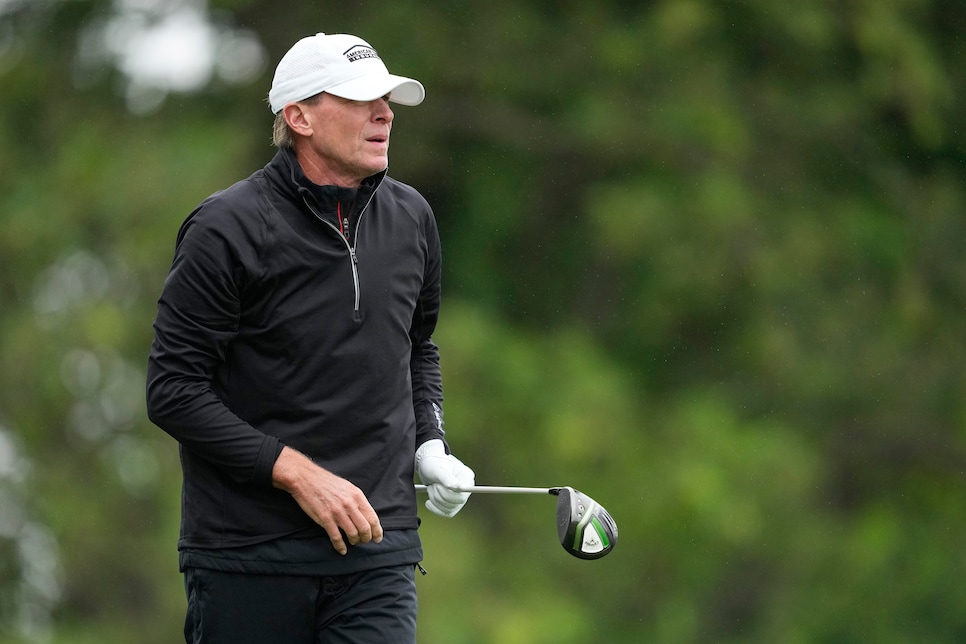 Steve Stricker accomplished the improbable at the American Family Insurance Championship over the weekend by outshining himself, his fourth victory in 12 starts this season the lesser of two newsworthy achievements.
In the first round at University Ridge Golf Course in Madison, Wis., on Friday, he posted a seven-under-par 65, his 53rd consecutive round of par or better, the longest streak by any player in PGA Tour-sanctioned events, erasing the record previously held by Tiger Woods.
"It really wasn't on my mind," he said Friday, "but anytime you can pass Tiger Woods in something like that, I may text him and just remind him that I did pass him. No, seriously, I'm proud of that. I would have rather done that on the regular tour, but to do it here is even special, too."
This was bigger news than Stricker winning again on PGA Tour Champions, by now virtually expected. With a 64 on Saturday and a three-under 69 on Sunday, he ran the streak to 55 straight rounds of par or better, while winning for the first time the tournament he hosts in his hometown by five strokes. It was his third victory in his last four starts and 15th of his senior career.
"I'll tell you what, that was a hard day," he said. "I wanted to win this one right here in our own backyard. We started this tournament, we get so much fan support, player support. Gotten in my own way over the years, but today I was kind of determined to get it done. It was tough right out of the chute. We had a 30-degree change [in temperature], 80-something down into the 50s. It was a challenge today and I'm just glad I got it done."
Stricker, 56, started the final round tied with England's Paul Broadhurst, but took a two-stroke lead onto the back nine, a victory lap of sorts, as he completed 54 holes in 18-under par 198. Broadhurst and Steven Alker tied for second.
The last time Stricker played an over-par round was nearly a year ago, a one-over 73 in the third round of the U.S. Senior Open at Saucon Valley on June 26, 2022.
"I'm pretty consistent," he said. "I think I'm more consistent now than [on the PGA Tour]. The courses are easier. I read some social media stuff that…I shouldn't have that record over Tiger, and I kind of agree, really. Two different tours. It's two different styles of golf courses. Much harder out on the PGA Tour than it is here, but you still have to do it. Otherwise there would have been somebody else on this tour breaking that record before, too."