The Grind
Cameron Smith's secret weapon, Tiger Woods' secret identity, and a tour pro's chain restaurant letdown
Welcome to another edition of The Grind where we're glad we didn't make it down to the Players this year. With all those weather delays, I would have drank my weight in soda in that media center and eaten even more at my favorite Ponte Vedra Beach Chili's (More on that later). Instead, I enjoyed a few less calories—and a ton of golf on Monday—from the comfort of my own couch. What a nice way to start the work week! Oh, and I didn't ruin any of my shoes walking around a sopping-wet TPC Sawgrass. Anyway, we've got plenty to talk about after a wild, wet week at the PGA Tour's flagship event. Let's get started.
Cameron Smith: It seems so easy in retrospect. A Jacksonville resident who broke the PGA Tour scoring record already this year winning his (adopted) hometown tournament, the Players Championship. Why didn't we all bet on Cameron Smith?! Then again, never has living five miles from an event paid such dividends. There were so many stoppages of play that the first round alone took more than 55 hours to complete. Heck, that's longer than Tom Brady's retirement lasted. So while Smith's strokes gained putting was off the charts, particularly on Sunday Monday, he had an even bigger edge in strokes gained resting. Or strokes gained home cooking. We're still working out the details.
Point is, we make a big deal when guys get to sleep in their OWN BEDS. But what about being able to shuttle quickly to your OWN COUCH to put your feet up during a delay? OK OK, the putting, though. This dude one-putted eight of his last nine holes with $3.6 million on the line. And the 28-year-old Aussie hit this BOLD shot on 17:
On a week when the PGA Tour unveiled that bizarre Gold Man, Mullet Man stole the show. Well done, Mullet Man.
Anirban Lahiri: The Players almost saw an all-time Cinderella story with the world's 322nd-ranked golfer grabbing the 54-hole lead and hanging in there all the way until the end.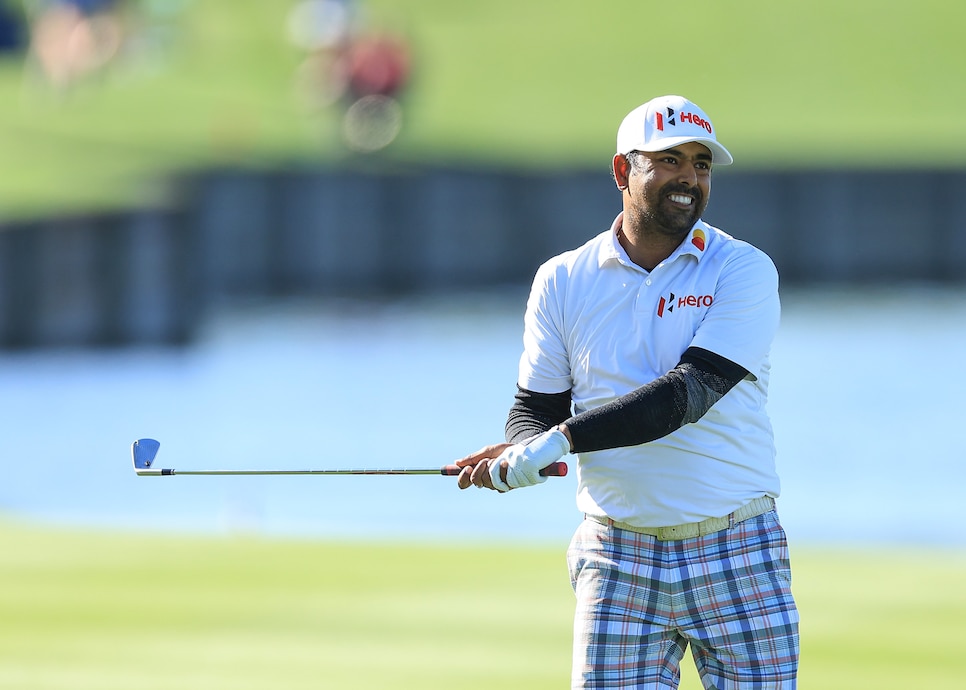 Nevertheless, the Indian's runner-up performance will certainly inspire many from his part of the world to take up the game. And he'll probably inspire some more golfers to take up yoga.
Tiger Woods: Obviously, this guy getting into the Hall of Fame has been a formality for more than 20 years, but when the actual moment finally arrived, he delivered like he's done so many times. In this case, it was a heartfelt, emotional speech that lasted for 17 minutes. Here's a highlight:
Good stuff, Tiger. And good stuff from Sam Woods as she introduced her father and revealed that her dad attends Comic-Con dressed as Batman. We knew about Mack Daddy Santa, but doing this out in public is a whole other level. Can you imagine stumbling into the Big Cat dressed as the Dark Knight? Wild stuff.
Paul Casey's bad break: Bad break is an understatement. This is just awful:
The worst part? It wouldn't matter if the USGA just changed the freaking rule! For years, I've argued against having to play out of a divot, but out of a pitch mark?! That should be a no-brainer. It only cost Paul possibly the biggest win of his career and an extra $2 million. No biggie.
Zach Johnson's pre-shot routine: OK, this is getting ridiculous now:
That's the third time this has happened in the past three years! Move a little farther from the ball before you take a practice swing! Someone is going to get hurt!
Gold Man: Look, I love the Players as much as anyone, but what the heck was this?
And they made Tiger re-watch the "Better than most putt" with this thing on the screen instead of Tiger? Insulting.
The PGA Tour heads to Tampa for the Valspar Championship, AKA that one with the Snake Pit, AKA that one that is probably going to get snake-bit by that late Monday finish causing golfers to WD. As if being in the midst of the Florida Swing wasn't enough. I feel bad for the Tampa area. Although I don't feel as bad for them now because they still have Tom Brady.
Random tournament fact: Paul Casey won this event over Tiger Woods in 2018, in what was the least popular outcome of a golf tournament since Stewart Cink topped Tom Watson at the 2009 British Open. But Casey won't be back this year after, you guessed it, withdrawing on Tuesday.
RANDOM PROP BETS OF THE WEEK
—Another tee shot will wind up buried in a fairway pitch mark: 1 MILLION-to-1 odds
—Cam Smith will regret not playing this week: 3.6 MILLION-to-1 odds
—Tiger Woods has already seen the new Batman movie: LOCK
How about this tremendous SCOOP that co-worker Chris Powers tracked down at the Jacksonville Airport?
Nicely done, CP. Also, as the No. 1 Chili's fan in the world, I feel a need to address this tendies tragedy. While my heart goes out to Max, in defense of my favorite chain restaurant, I must point out that this particular establishment is a "Chili's too" and not a big boy Chili's with a full menu like my favorite one down the road from TPC Sawgrass. For instance, you won't find the delectable Cajun chicken pasta at a Chili's too. Anyway, that's my statement on all this Chili's slander. Please respect my privacy at this time.
How about that lovely Florida weather, huh? Don't people retire there because it's warm?
No hate from me, by the way. I begin layering up when the temp drops below 75. So these guys are all warriors in my book.
Things got a bit SPICY down the stretch between Daniel Berger and playing partners Viktor Hovland and Joel Dahmen after Berger knocked his second shot into the water on No. 16. Fortunately, the cameras—and mics—were rolling!
Ooo boy. These guys are all fun and games until there's a $20 million purse on the line! Seriously, I love this. And while I'm not sure where Berger's ball crossed because I wasn't there, you've got to PROTECT THE FIELD.
THIS WEEK IN PUBLIC DISPLAYS OF AFFECTION
What a beautiful scene with Cam Smith celebrating with his family after not seeing them for two years:
And he also posed with girlfriend Shanel Naoum: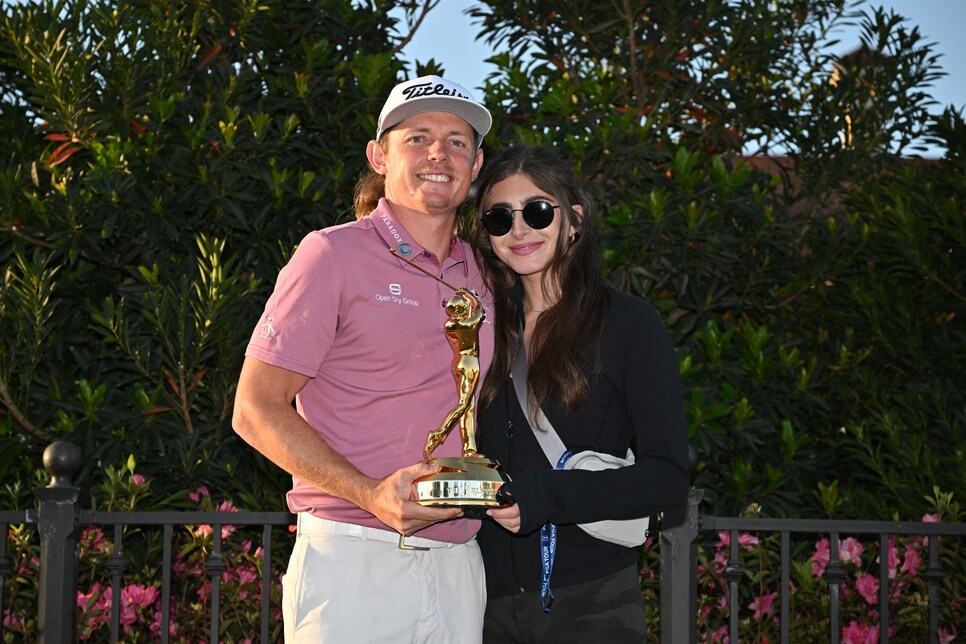 Aww. Although it must be pointed out that Shanel is not the same girlfriend Cam broke his promise to by not cutting his mullet last year after he won the Zurich Classic with fellow Aussie Marc Leishman. So . . . you have to wonder . . . did the mullet actually cause the breakup? I wanted our Chris Powers to get to the bottom of this after the tournament ended, but he was too busy stalking Max Homa at that airport Chili's.
"A lot of Frozen. A lot of Peppa Pig. A lot of Mickey Mouse Clubhouse." —Rory McIlroy on what he was doing during all those weather delays. Feel your pain, Rors. Frozen is fantastic (at least, the first 17 times), but Mickey Mouse Clubhouse? That's just brutal.
Henrik Stenson has been named the European captain for next year's Ryder Cup. That's fantastic news for anyone covering the event because those press conferences in Italy just got a lot more fun. . . . Congrats to Nanna Koerstz on becoming the first Danish LPGA winner. As our Chris Powers reported (dude just keeps popping up!) a couple years back, she sucks on lemons during rounds to calm our nerves. Interesting. . . . And, finally, your boy turned (gulp) 40 this past week—and here are the festive decorations to prove it: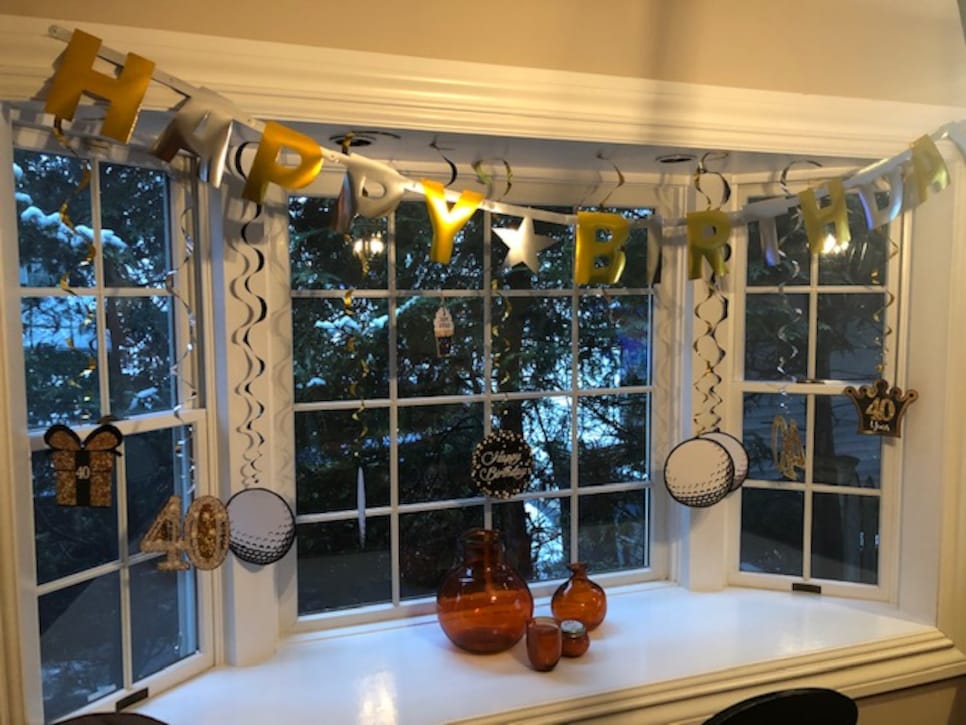 A bit depressing, sure, but also a great day with family. Oh, and like Tom Brady, I'm also not retiring at this time. I feel like my place is still on the keyboard and not in the stands.
RANDOM QUESTIONS TO PONDER
Will Tom Brady retire before me?
Would rocking a mullet help my golf game?
Would rocking a mullet end my marriage?